Hinsdale Kitchen, Bathroom and Basement Remodeling
Chicago Suburbs | Dupage County | Cook County
Every home reaches a point when it inevitably feels a bit tired. The same wall color, the same wood flooring, lighting, the same furniture placement etc. Is it not time for some much-needed change?
A full home remodel in Hinsdale can be a lot of work and be quite pricey, but it is all worth it. Not only do you add value to your home, it brings fresh life to it. It will not be the same average home anymore! Considering the amount of work and money home renovation involves, it is paramount that you have the best professionals working on it. At Sebring, we have dedicated ourselves to serving our clients with the utmost professionalism, grace, and passion. We know what it takes to achieve a successful home remodel and we are more than ready to go the extra mile to see your home enjoy a fresh new look. Are you saying yes to all of this? Then call us today!
Renovation and remodeling are two of the most often used terms in the construction, real estate, interior design, and contracting industries. There is, however, a considerable difference between them. To renovate implies to "revive" or restore something to its former condition by improvements such as repainting, refacing, or repairing. Remodel, on the other hand, means to rearrange the status of something to effectively "remake."
Renovation, in its widest definition, is to make something fresh again. When used for remodeling or construction in general, this term might signify anything. Repairing, installing new fixtures, adding finishes, and refacing cabinets are all part of the process.
Regardless of the kind of remodeling work, the original design is never drastically altered. An office is still an office, and a kitchen is still a kitchen. It is easily updated, fixed, or adjusted to match the rest of the workplace or house decor. Renovation is often carried out to meet new or amended requirements.
Unlike renovation, which entails reviving or repairing the home, remodeling entails changing the layout, structure, or function of a space. This completely alters the structure of the room, kitchen, or whatever area is being renovated. A renovation is a full modification of a room's design, layout, structure, or aesthetic.
Hinsdale Home Remodeling Project Photos
Sugar Grove IL Master, Guest, and Hall Bathroom Remodel Projects
Bryan Sebring
2023-10-23T15:01:23-05:00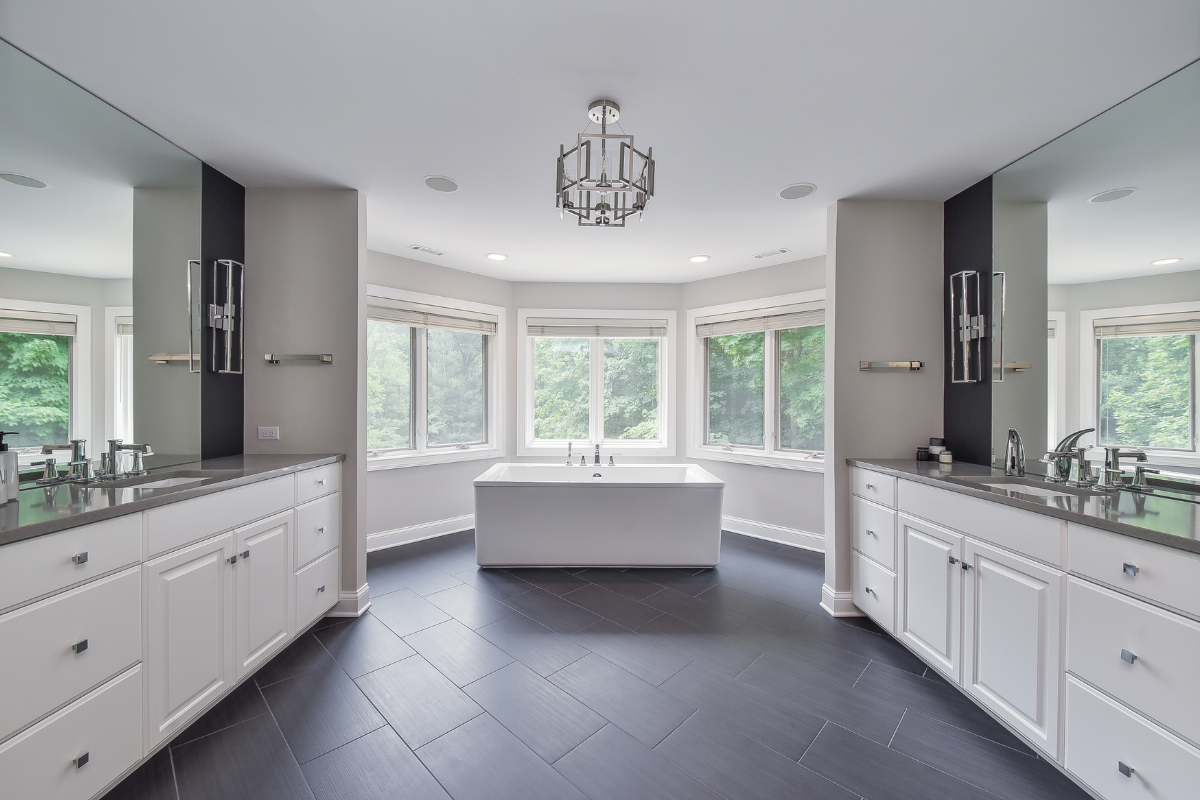 Hinsdale Remodeling Testimonials
" As soon as I had a meeting with Bryan Sebring and he drew up an initial proposal, I knew I was done shopping for contractors. When you meet someone that you know you can trust implicitly to assist you with major decisions and send you to good suppliers, and whose staff you can trust in your house for 8 weeks without any homeowner supervision, your decision transcends price… "
" I would highly recommend Sebring! All those that were involved in my home remodel were both professional AND nice. Bryan provided all services that were expected and on some occasions went beyond with what was necessary just to make us happy. Thanks Sebring! "
" My experience with Sebring felt right from the start – I felt comfortable and at ease from the first meeting and throughout the entire project. The entire team was extremely friendly and professional and always helpful! They were prompt in answering questions and returning calls and very accommodating. They were clean and courteous and respectful, which I truly appreciated. I would definitely recommend using Sebring!! "
" We used Sebring to remodel our bathroom. They were very professional and the end result is just beautiful! Everyone was prompt, courteous and very skilled. The price was very fair. Justin, in particular, went out of his way to make sure everything was perfect! I highly recommend Sebring! "
Hinsdale Kitchen Remodeling and Design
There is nothing like a cozy warm kitchen to welcome you home after a long day. Beautiful colors and stylish cabinets can draw away your stress like magic. A beautiful kitchen is a place where the entire family can come together and where you can spend your weekends cooking up your favorite recipes.
If this does not describe your kitchen, then it is time to do some services kitchen remodeling project. A well-designed kitchen installation can be a major source of happiness and relaxation. It becomes the center of a home, a place for nourishment as well as joyful gatherings. If your kitchen does not feel bright and happy, there are things you can do to change that. A kitchen master remodel and installation can do wonders!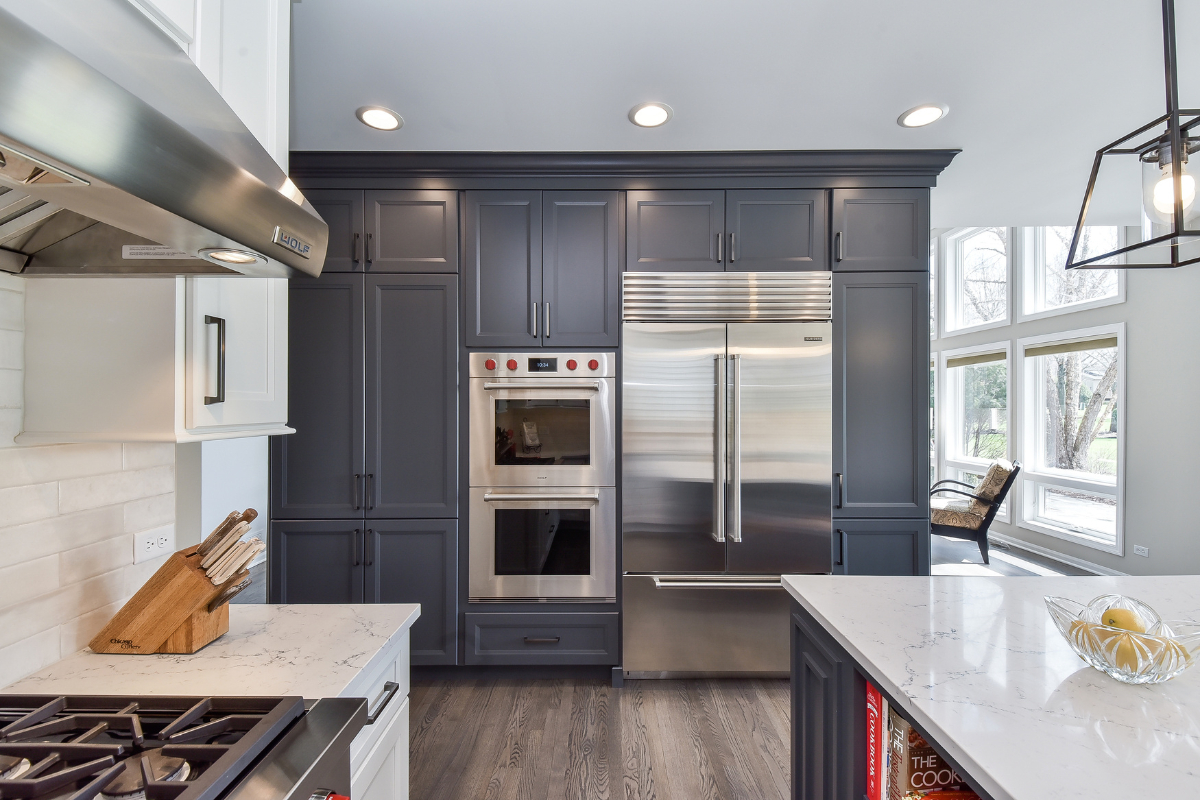 Why You Should Choose Sebring for Kitchen Remodeling in Hinsdale Illinois
Sebring Design Build has been lucky to see firsthand the joy on our clients' faces as we present their new kitchens to them. A space that was previously dull and cramped transforms into a bright, beautiful and happy place. We are more than glad to do the same for our Hinsdale customers.
Hinsdale IL kitchen remodeling requires both brains and brute. The process of creating a dream kitchen requires knowing how different colors work together, how various materials fit different uses, and how to unite all aspects like sinks and kitchen floor plans into one beautiful project. This is an art. It requires the best of skills and a lot of experience. At Sebring Design Build, we have plenty of both. If you plan to update your kitchen, our suburb Hinsdale designer can help you. Check out our gallery to view our featured projects for inspiration!
We start with an extensive consultation process finding out exactly what our client wants. We even help with some creative ideas. The end result is a remodeling strategy that has a definite timetable and is within budget.
We take the planning part very seriously, as this is where all the art happens. We decide, in collaboration with the client, the best colors and materials for their project. Our aim is to come up with a kitchen that fits our client's preferences, fulfills their needs, and is easy to maintain.
Quality Hinsdale Kitchen Remodeling
There is so much to consider when remodeling a kitchen and so much can go wrong without proper planning. It is not just the color of the walls; you also have to consider the flooring material, what cabinet design to get, the amount of light coming in, placement of utilities, fire safety and so on.
Bringing all these elements together under one comprehensive remodeling plan requires plenty of experience. Sebring Design Build has been around for more than 15 years and in that time, we have handled hundreds of Hinsdale kitchen remodeling projects. We have encountered almost every problem and we have employed creative solutions to see each project to a successful end.
Our kitchen remodeling services in Hinsdale Illinois come with a guarantee of nothing but the best. When we take on your project, we apply our experience, integrity, expertise and professionalism to make it a breath taking success.
Call or email us today to set up a free, no-obligation consultation in your Hinsdale location. Let's build your dream kitchen remodel together.
Hinsdale Bathroom Remodeling and Design Services
What is your dream bathroom? Maybe it includes a beautiful rainfall shower and mosaic tile wall; perhaps a large bathtub overlooking a serene flower garden; or marble flooring with cottage-style shiplap walls.
It is time to get your dream bathroom into your actual house. Our bathroom remodeling services in Hinsdale are hinged on professionalism, integrity and quality. At Sebring, the goal is giving our clients nothing but the best.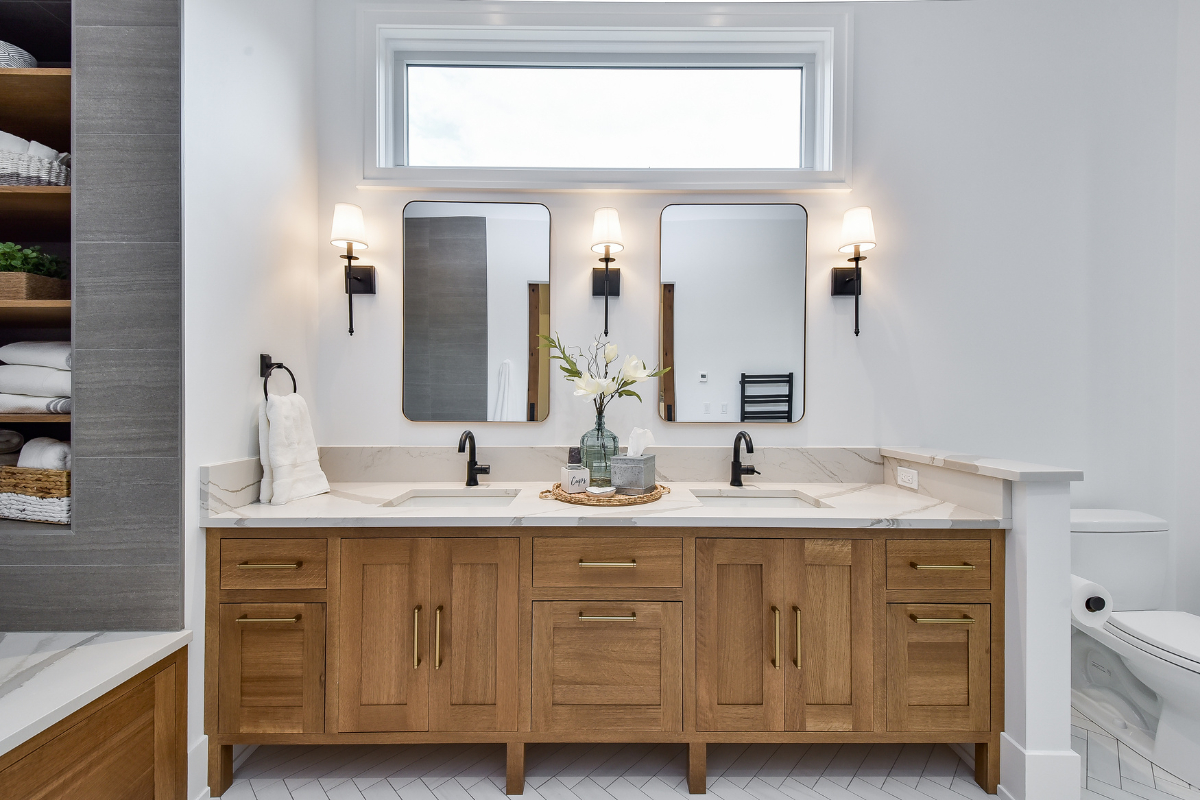 Is your bathroom genuinely out of date? Is the layout uncomfortable and out of place? If this is the case, it may be time to consider a bathroom remodel. Whether you're just moving in or planning to sell your house, upgrading or remodeling your bathroom may have a major impact. Renovating your master bathroom, guest bathroom, or powder room may potentially boost the value of your house and result in a better selling price in the future. However, before you hire a professional, you need to understand the fundamentals of a bathroom makeover job.
Here are four things you should know before beginning your bathroom makeover project.
Establish a reasonable bathroom remodeling budget.
Understand the scope and schedule of your bathroom remodeling project.
Select the best interior design company to carry out your bathroom makeover project.
Make a bathroom remodeling checklist/wishlist!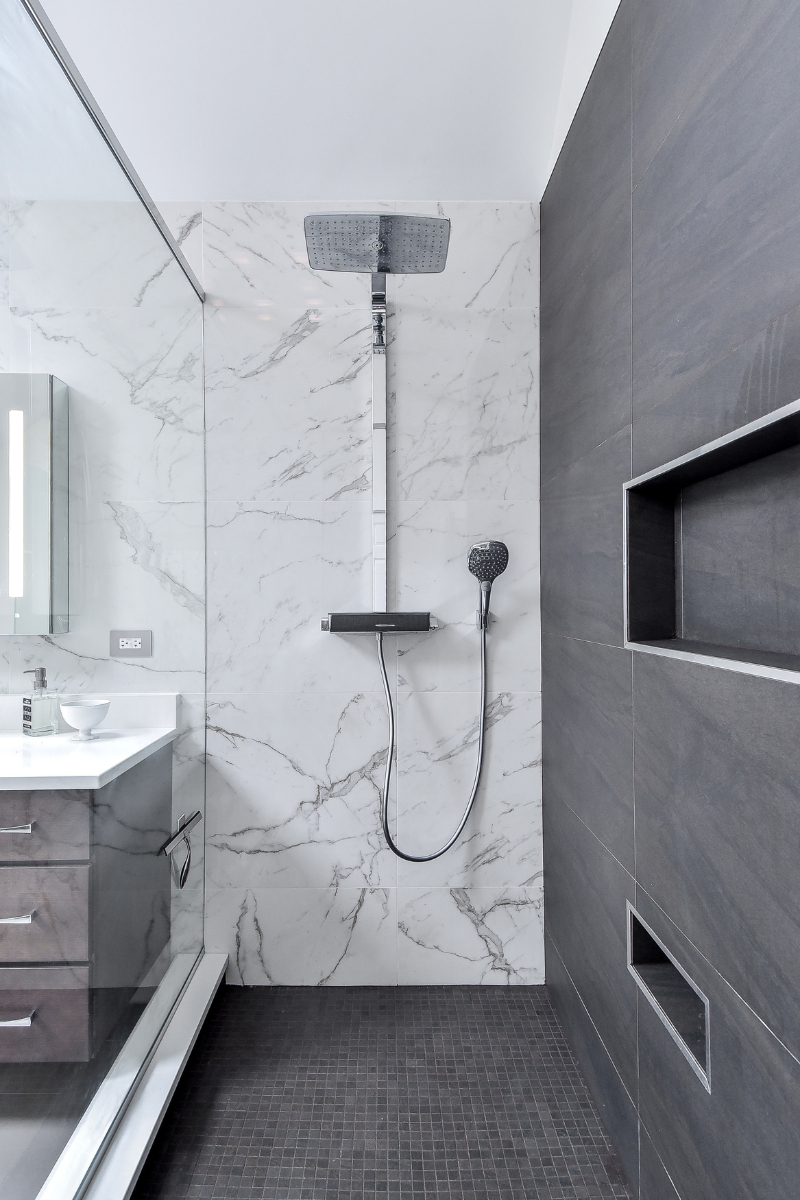 Do You Need Help Designing Your Kitchen?
Bathrooms come in all shapes and styles. We will help you create a unique, beautiful style for your bathroom that not only fits your preferences but also meets your specific needs. If you need something old and charming, then vintage is for you. If you prefer neutral colors with plenty of light, then perhaps a contemporary design is a fit. If you are one to ogle luxe magazine bathrooms with their natural stone floors and spa-like styles, a luxury bathroom is something we can do too.
Here at Sebring, we like to think of style as representing personalities and personal tastes. Seeing as how people differ in taste and personalities, we are always ready to handle unique creative projects. So whatever you have imagined for your dream bathroom, bring it on. We can do it all.
WHY HIRE SEBRING TO REMODEL YOUR BATHROOM
Sebring has been around for more than 15 years and our remodeling experts have decades in combined experience. We do everything in our power and go the extra thousand miles to give our Hinsdale customers nothing but the best.
We start by crafting a solid plan to guide you through the remodeling process. Through our years of experience, we have created good plans that take into account every little aspect of the project, even the unexpected issues that sometimes arise.
From there, we roll up our sleeves and get down to work creating what you had imagined for your Silver Leaf construction. We spare nothing in sticking to high standards, staying within budget and keeping to the timetable. Our work priorities include integrity, clear and constant communication with our clients which includes utter honesty even when something is not going quite right and unwavering professionalism.
Year after year, we have built a sterling reputation of providing nothing but the best. In our wake, we have left a string of happy and satisfied homeowners. Call us today to arrange a free consultation and start the path towards your dream bathroom.
Hinsdale Basement Finishing and Basement Remodeling
The basement is one of the most overlooked spaces in the house. Many homeowners resort to using it as a storage space for old and unused junk. The basement is precious real estate that when well utilized, could add a lot of value to your home, monetary and otherwise.
An extensive basement remodeling Chicago project can turn the dark and neglected space into a beautiful and cozy living space. We provide professional Chicago basement remodeling services, helping homeowners add more warmth and value to their home.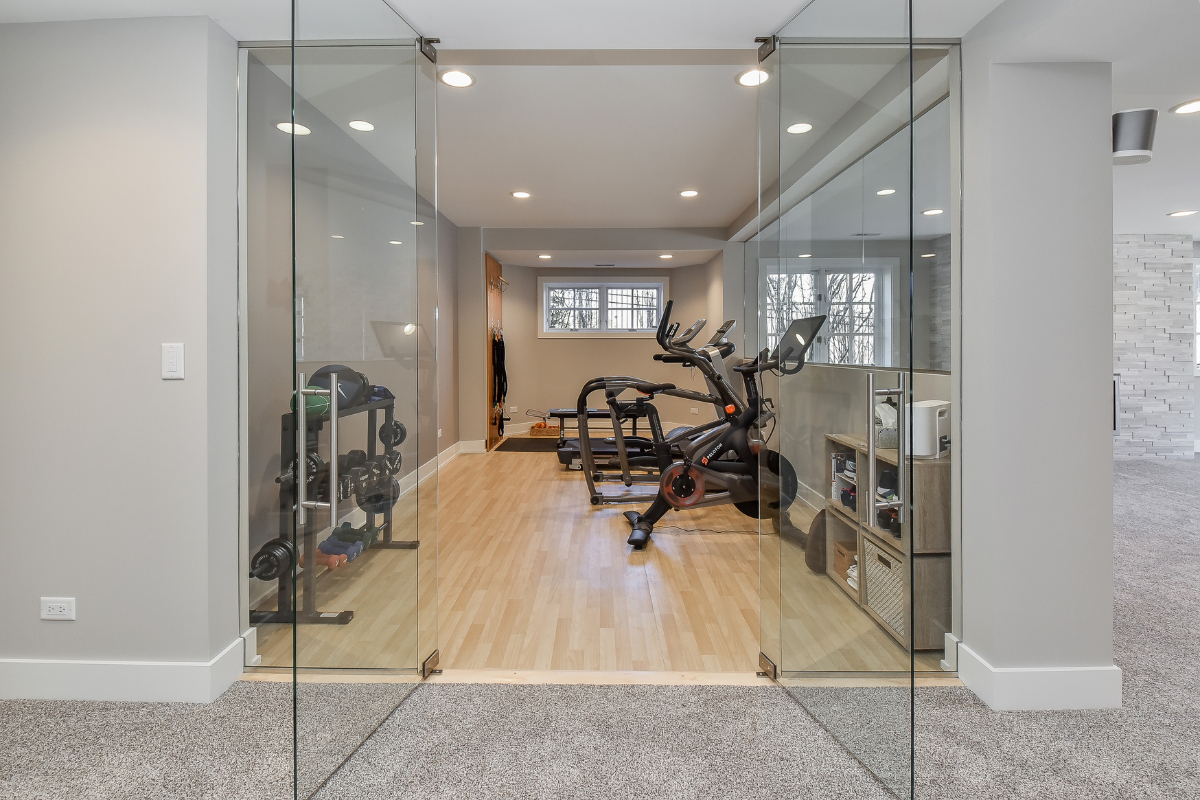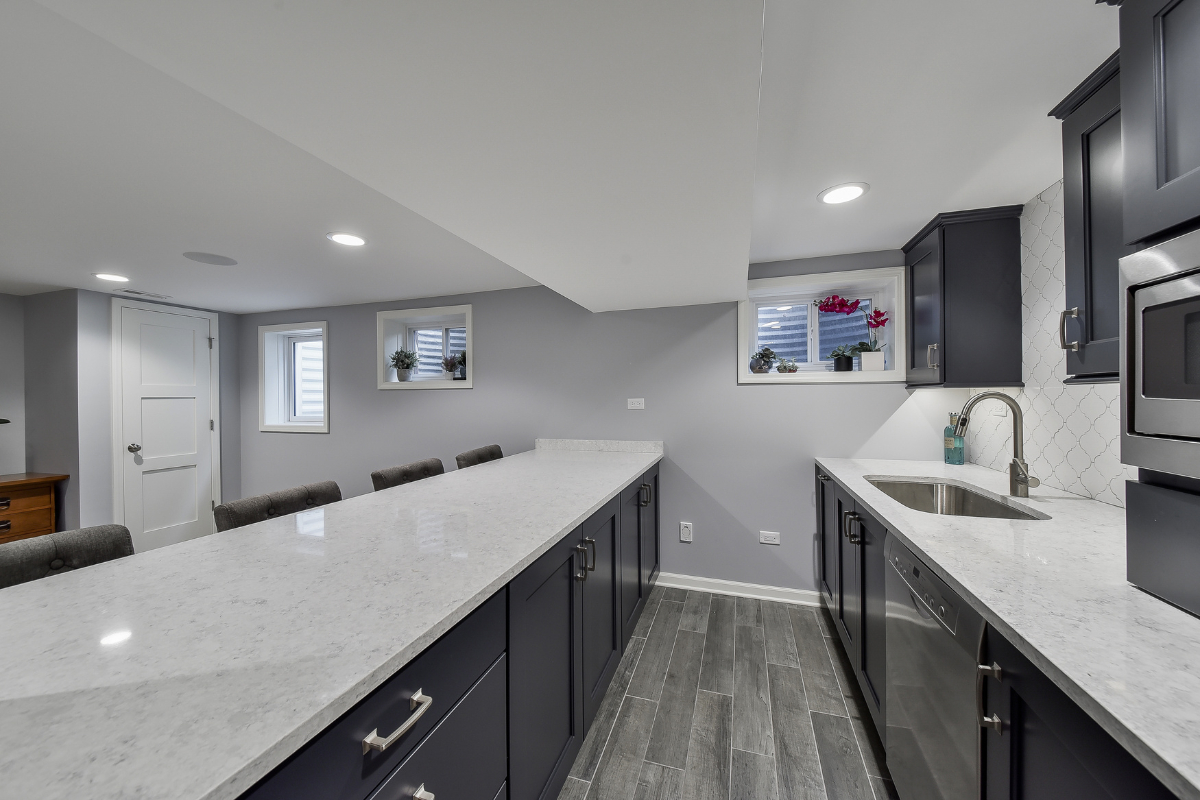 Remodeling a basement in Hinsdale is not an easy job. It is not a project that you can just decide to DIY. Not only does it require a lot of work, it is also relatively expensive. Do you really want to risk your hard-earned money by not getting a professional? We highly recommend that homeowners seek out professional Hinsdale remodeling services to ensure that the project is completed safely, on time and with the highest quality standards.
We have the skills and experience necessary to turn the basement into whatever you want. With over 15 years' experience and hundreds of basement remodeling projects under our belt, you can be assured that we are the best people for the job.
Why Hire Sebring to Remodel Your Basement in Hinsdale
We have transformed dingy basements into beautiful spaces, and we have developed a refined process from planning to completion. We create customized remodeling strategies for each project, ensuring that everything goes as smoothly as possible. Our aim is to stay within budget, keep to the timetable and deliver nothing short of the best to our Hinsdale clients. We aim for perfection.
Remodeling a basement is not just about giving the walls a fresh coat of paint and installing new flooring. You have to think about the safety of its inhabitants; you may have to tackle moisture issues that can wreak havoc if not dealt with properly. You need to make sure the space is comfortable through proper climate control (heating, cooling and humidity). To bring all these crucial issues together under successful project management, vast experience and unparalleled skill is indispensable. Sebring has all of these–thanks to our experts and technicians who have spent years creating dream basements for our loyal customers.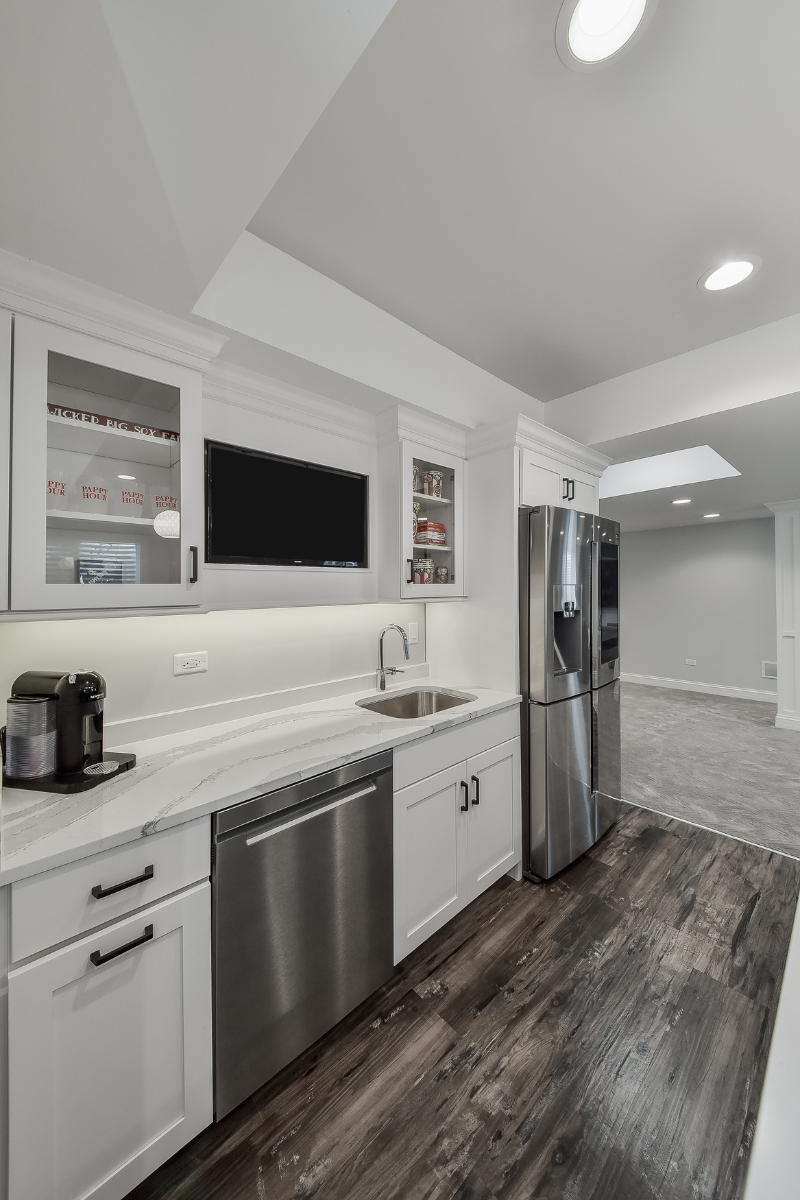 We not only help you with the remodeling, we also assist with ideas on what to do with your basement. The options are endless. What you choose to do should depend mostly on what your greatest needs are. If you are short of bedrooms, the basement is an ideal place to set up an extra one. If the house tends to get a bit chaotic, a quiet library or man/woman cave is a great idea. We work together with our clients to decide what the best use of the space below would be. This includes considering the cost comparisons (e.g. cost of renovating it into a bedroom vs. cost of turning it into a bar) and taking into account the complexities involved.
If you think your Hinsdale basement space needs some sprucing up, we are the people to call. Feel free to reach out to us today.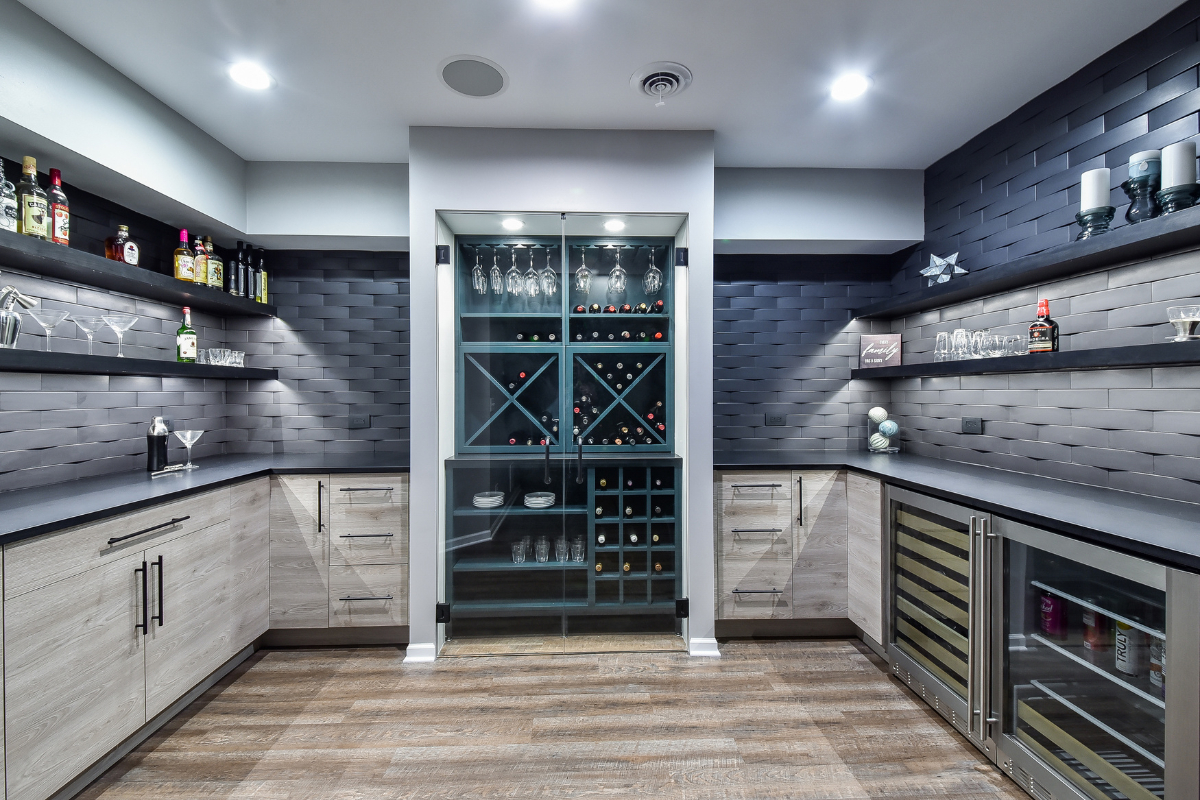 QUALITY HOME REMODELING & DESIGN IN HINSDALE
Home renovation in Hinsdale is by no means a project to be taken lightly. A precise project plan has to be made taking into account all aspects involved in the project, including those that might come up unexpectedly. You also have to consider your budget, weighing the cost of achieving your dream home against what you can actually afford. Another important consideration is that of time. A good remodeling project should be done within a strict, but flexible, timetable. This is important in keeping costs down and making the house fully livable as quickly as possible.
All this might feel a little bit overwhelming, but we are here to make it look easy. We have over 15 years' experience in Hinsdale and plenty of skill under our belt. In the many years we have helped clients renovate their homes; we have encountered just about every kind of situation you can think of. We have solved some pretty tough problems, come up with creative solutions and worked hard to make each and every project a big success. But what we look forward to most, is the satisfied and happy look on our clients' faces when we hand over the finished project to them.
Knowing that we helped our client get what they desired most is why we do what we do. Our home remodeling services in Hinsdale are geared towards creating reality out of dreams and seeing that our clients see their visions become an actual part of their homes.
WHY HIRE US TO DESIGN AND REMODEL YOUR HINSDALE HOME
Hinsdale Home remodeling takes a lot of planning, experience and skill to successfully pull it off. At Sebring Design Build, we see what we do as more of a responsibility towards our clients. We are in a position to provide the highest quality remodeling services in Hinsdale and we spare nothing in doing so.
Whether you want a room addition or a complete overhaul of your house, we can work together to see it happen. The first step is to arrange a free no-obligation consultation with you. Contact us today to set a date. From there, we come up with a comprehensive project plan. Let's get down to work. We look forward to witnessing dreams coming true.