Whether you're building a basement gym or a workout room in your guest room, there are a few factors you should consider before deciding on the best home gym flooring. The way you plan on using the room, in addition to your exercise needs and specifications, can determine what floor would work best.
For avid workout fans and fitness enthusiasts alike, there are many benefits to having an at-home gym and workout room. Getting started with a fun and unique home workout room can be exciting yet overwhelming, with many different options of flooring or carpeting to choose from. The type of gym flooring you choose can determine what kind of workout you're looking for, and it can help you to stay supported and on your feet while you go through your favorite physical activities. From residential rubber flooring to carpet tiles, there are several options to decide on. Check out this quick guide to help you determine which exercise room flooring is best for you.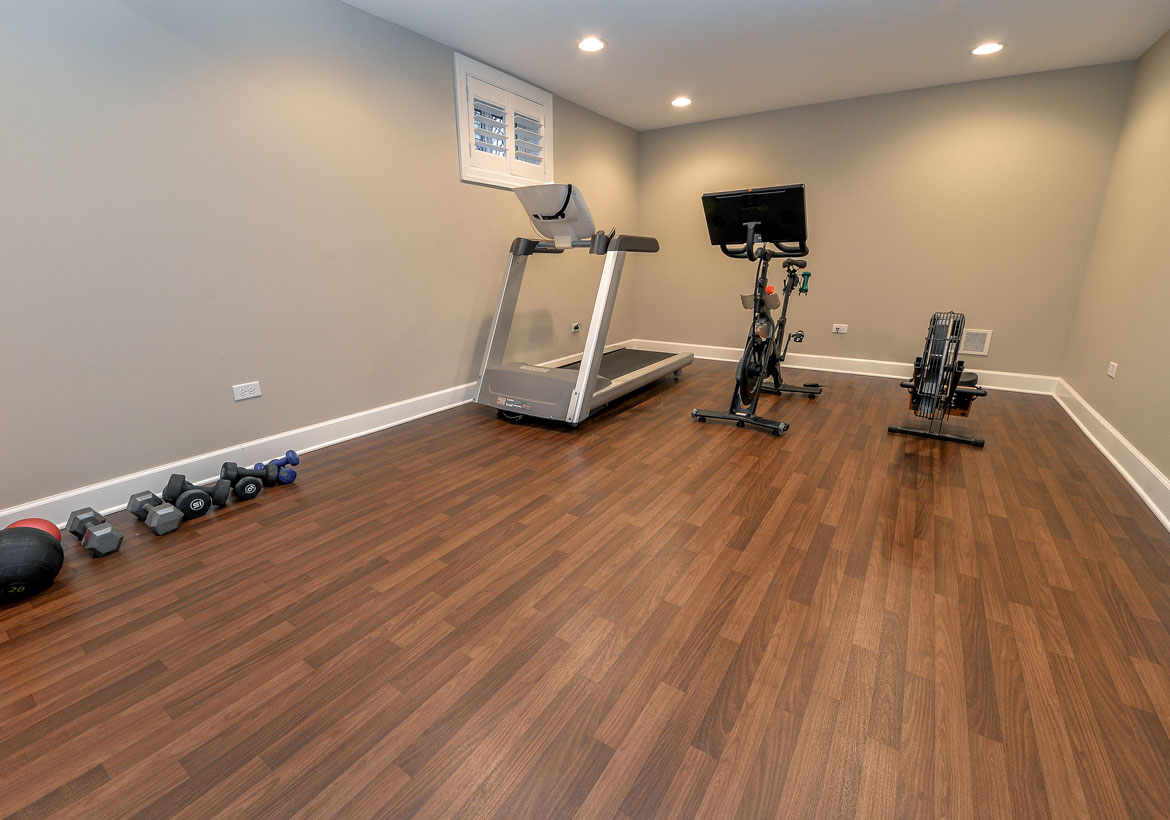 Spacious home gym with medium-toned wood flooring.
Guide to the Best Home Gym Flooring
Since there's a wide variety of fitness flooring options available for your at-home gym, you can start narrowing down your choices by deciding what your fitness needs and room requirements are. Some people only require a small corner of their room to dedicate towards a few workout machines and weights. Others want to transform entire basements into a workout paradise, to save the trouble of having to drive to a distant gym somewhere in town. The right kind of workout room flooring is different depending on what kind of room you want, and how big of a space you are planning on using.
There are of course other factors to consider such as budget, comfortability, aesthetic appeal, and ergonomic fit. All of these considerations are combined to create the best home gym flooring for your at-home fitness room.
Below are the four most common and popular types of home gym flooring that you can easily find at your local hardware or gym supply store. Take a look at the options listed below to see if any of them would work best for your needs.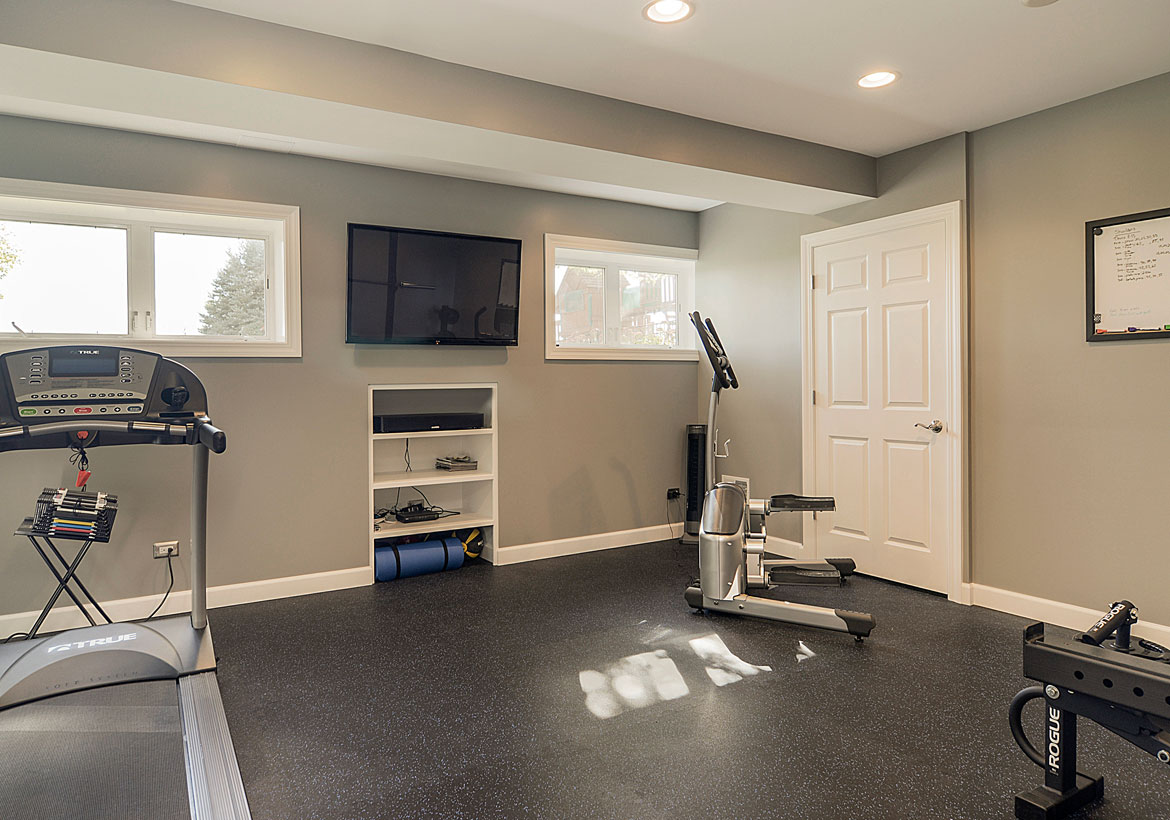 Gray rubber flooring blends well with the light gray walls and white accents.
Home Gym Rubber Flooring Ideas
Rubber flooring for basement or workout room gyms is one of the most viable options on the market today. This is because it is available both in large rolls and in tiles, so you can place them in whichever way is easiest for you. They are also some of the more affordable options, making it easier to buy them in bulk.
Some of the advantages and benefits of rubber flooring include: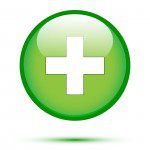 Easy installation – Rubber flooring can be easily installed, requiring little to no installation experience for it to work properly. This makes it an easy option for the average homeowner.
Long lasting – Rubber basement flooring can last over 10 years. It can even withstand heavy amounts of wear and tear, with equipment and footsteps, for many years.
Healthy – This kind of rubber floor is antimicrobial, meaning that it will never grow mold or mildew. It does not absorb water, making it one of the best flooring options available for fitness flooring. Plus, you can easily pick it or roll it up and store it or transport it to another location.
Not to mention that rubber is super sound absorbent, meaning that you can keep your workouts quiet while you're at home. If you are worried about disturbing your other family members who are sleeping, you can incorporate rubber flooring to absorb some of the sound and keep your routine contained to that room.
Some of the drawbacks of rubber basement flooring include:
Expensive for colors – If you want bright colors, might be more expensive.
No temperature insulation – If you install your rubber flooring on a cold floor, the rubber will feel cold, too. There isn't a good amount of temperature transmission.
If you are looking for bright colors for your flooring that won't hurt your whole wallet, you can consider the following additional options as a good alternative to rubber flooring.
BIEGE RUBBER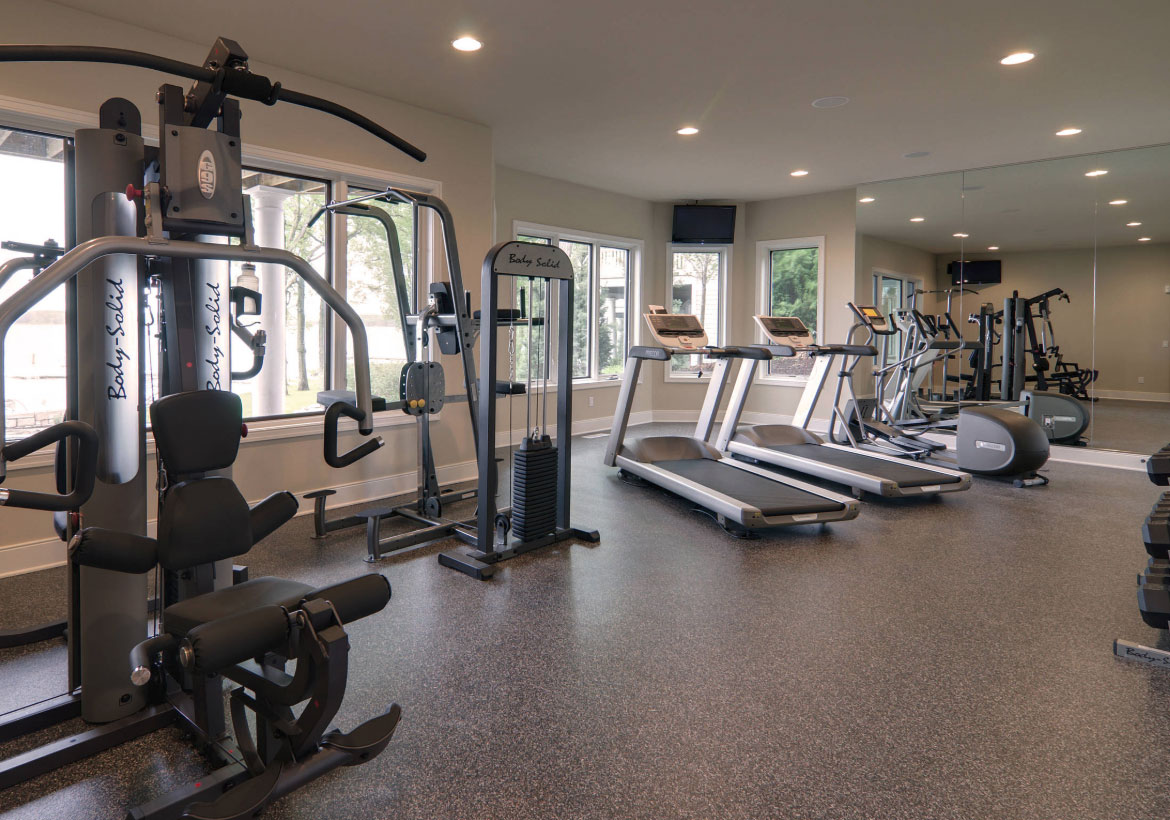 This Michigan home features Ultimate Design-Color 631 rubber flooring, 4 feet wide and 9 millimeters thick. After installation and regular maintenance, it should be sealed. It can be purchased in shades, rolls, or tiles that snap together. Wow, AVB Inc. has created a stunning piece of art.
TAN RUBBER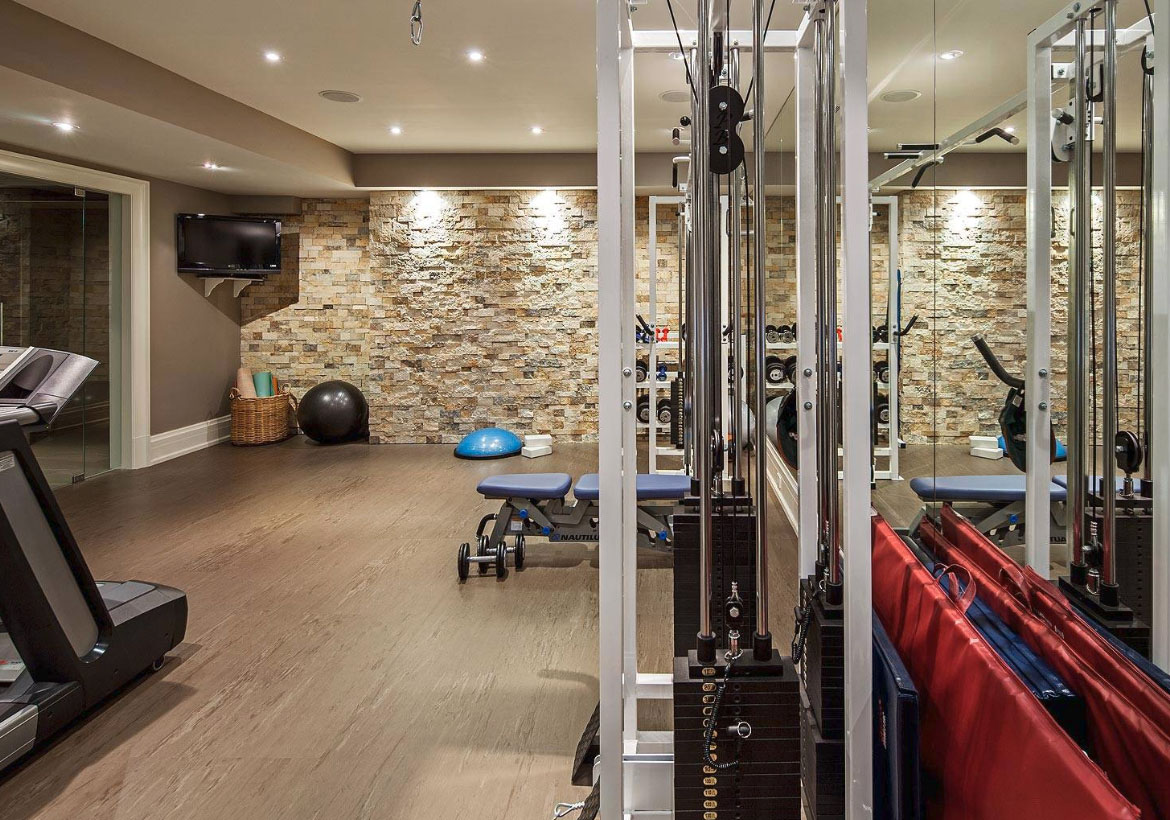 Ramflex flooring by MONDO and a beautiful wall of rough-cut limestone tiles make this basement gym appealing. Benjamin Moore's Ashley Gray was used for the remaining walls. Douglas Design Studio has created the most aesthetically pleasing and functional layout for a home gym you'll ever see.
Vinyl plank flooring that looks exactly like wood.
Home Gym Flooring – Vinyl Flooring
Vinyl tiles are a popular flooring option, both for home gym flooring and for other types of flooring as well. This versatile, functional material is adaptable to almost any situation, and it comes in a variety of colors and patterns for you to choose from.
A lot of companies that manufacture vinyl do so because it is great for use in basements and garages. They will also work with your fitness room. They provide a lot of benefits, the biggest of which include: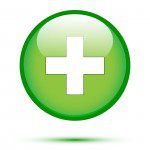 Durable – Vinyl is extremely flexible and durable. This means that there are a lot of cushioning and comfortability options when you customize your personal at-home gym.
Easy to install – Much like rubber, vinyl is very easy to install. Since it typically comes in assorted tiles, it's easy to place them down across as small or as big of a space as you want.
Easy to clean – Vinyl is very easy to clean. It just requires a quick sleep or even a wash with a wet cloth. You don't have to worry about mildew and mold, as vinyl is resistant to most water-based growths.
Vinyl is a popular choice for many different types of flooring needs. Since there isn't any experience required to install it, homeowners are naturally drawn to the ease and flexibility of this material. Plus, you can choose almost any kind of color, texture, or pattern for your vinyl tiles, transforming your home gym into a space that is truly unique.
There are a couple of drawbacks to vinyl, however. These disadvantages include:
No shock absorbency – Vinyl is not very shock absorbent. Once they are on the ground, they act like a hard floor. This can be hard to work with for specific workout equipment you might want to use.

Prone to sharp object damage

– If your home gym deals with a lot of sharp or extremely heavy objects, vinyl flooring may not stand up super well against them Just be aware that vinyl is prone to damage if it takes heavy amounts of wear and tear.
It's easy to see how certain situations would call for certain types of flooring. Vinyl may work great for you if you are building a dance or yoga studio, or if you want brightly-lit colors decorating your floor. However, if you need shock absorbency for heavy workout equipment, you may need to go with another choice.
VINYL 1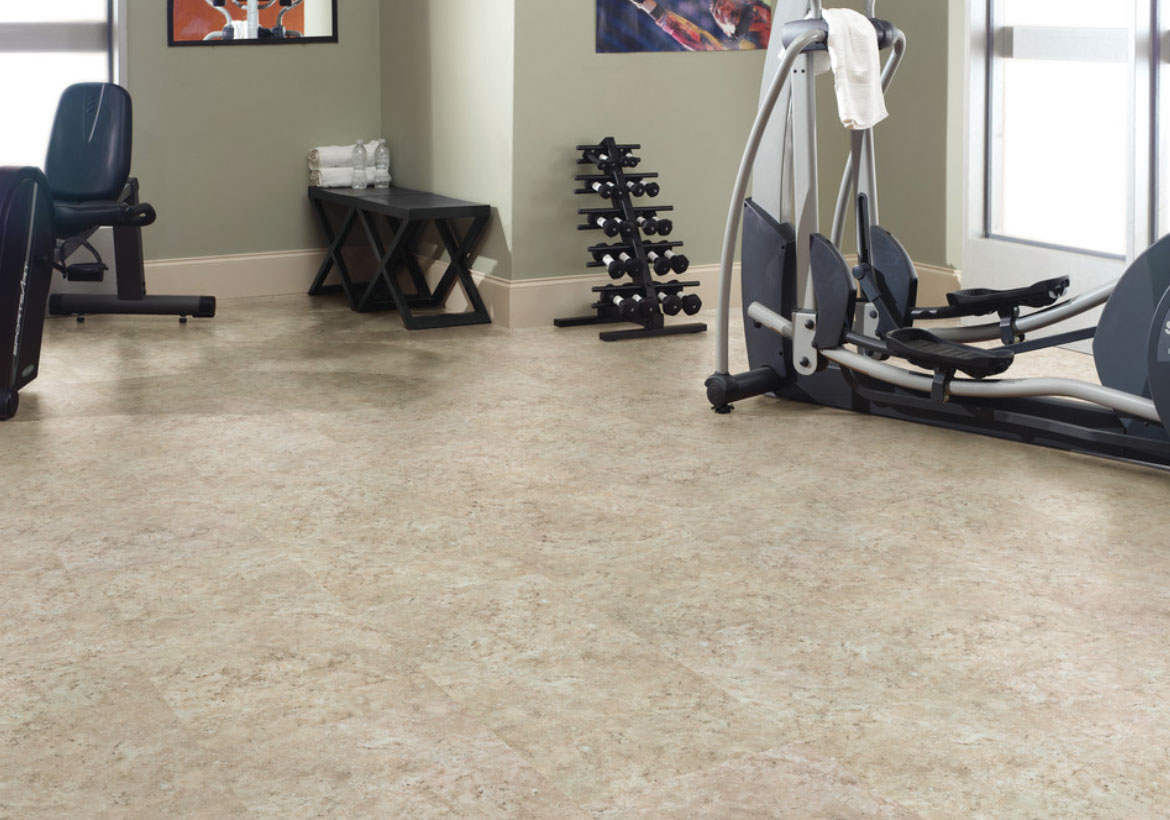 CoreTec by US Floors is a deluxe vinyl product (Amalfi Grey 50LVT102). The floor covering appears to be an integral part of the environment. This realistic yet pristine flooring was crafted by Geneva Flooring.
VINYL 2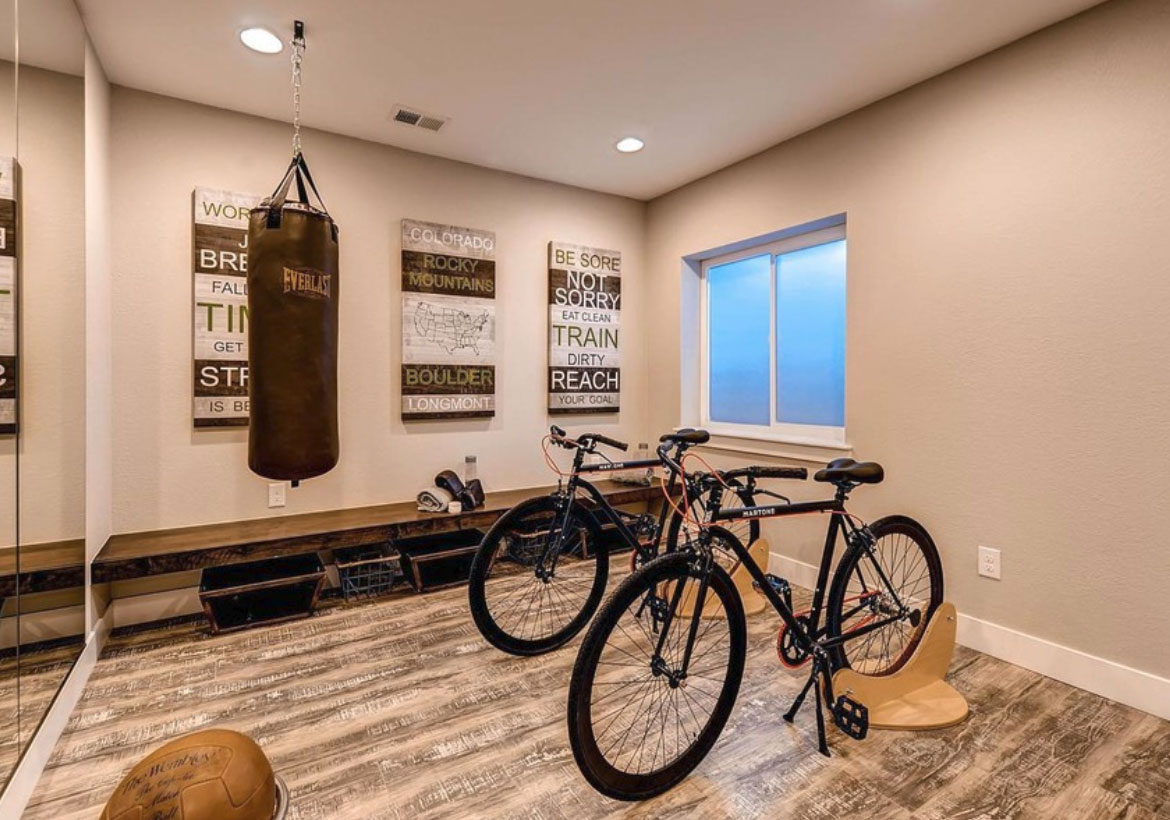 Need wood-style flooring but don't want to spend a fortune? This one is a great choice for a modern home gym. Kentwood Evoke provided this space's luxurious wide plank 7.5″ vinyl flooring. That fantastic flooring was manufactured by Dream Finders Homes.
Colorful floor mats are perfect for kids' mini gym or playroom.
Home Gym Flooring – Foam Flooring
Foam is an extremely common and popular option for many different types of physical activity needs. Foam mats can be purchased in individual rolls as yoga mats for traveling exercisers. They can also be sold in interlocking tiles that look like huge puzzle pieces, which are often used as a soft flooring space for children while they play. This can be a great flooring option for your workout room flooring needs.
The benefits of foam flooring include: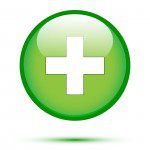 Low cost – Foam flooring is super affordable, especially when it comes in interlocking tiles and puzzle pieces. I can also be used in an interlocking style to create custom designs and combine any colors you wish.
High comfortability – It is super cushioning, making it the softest flooring option available. The cushioning makes it super lightweight as well, making it a portable option.
Good shock absorption – It is great at absorbing the impact from machines or physical activity. This makes it a good choice for homeowners who want to make workout rooms that include lightweight equipment.
Foam is a great idea for homeowners who want to create a unique look with their interlocking tiles, or who want to provide a super-absorbent type of flooring to best support their heavy workout equipment. This lightweight and portable flooring is also great for floor stretches, such as pilates and yoga.
It's difficult to find any drawbacks with this kind of flooring, although some homeowners have complained about the following pitfalls:
Not good for heavy equipment – It's too easy to cut or slice this kind of foam, making it difficult to use heavy pieces of equipment with. You might risk puncturing the foam with something too heavy. Normal cycles and weight machines should be okay, though.
People choose foam flooring because it's soft, affordable, and creative, and it can be versatile depending on the kind of workouts you enjoy. However, if you're looking for a floor that will do well underneath your heavy machinery and equipment, you may need to look for another option.
FOAM 1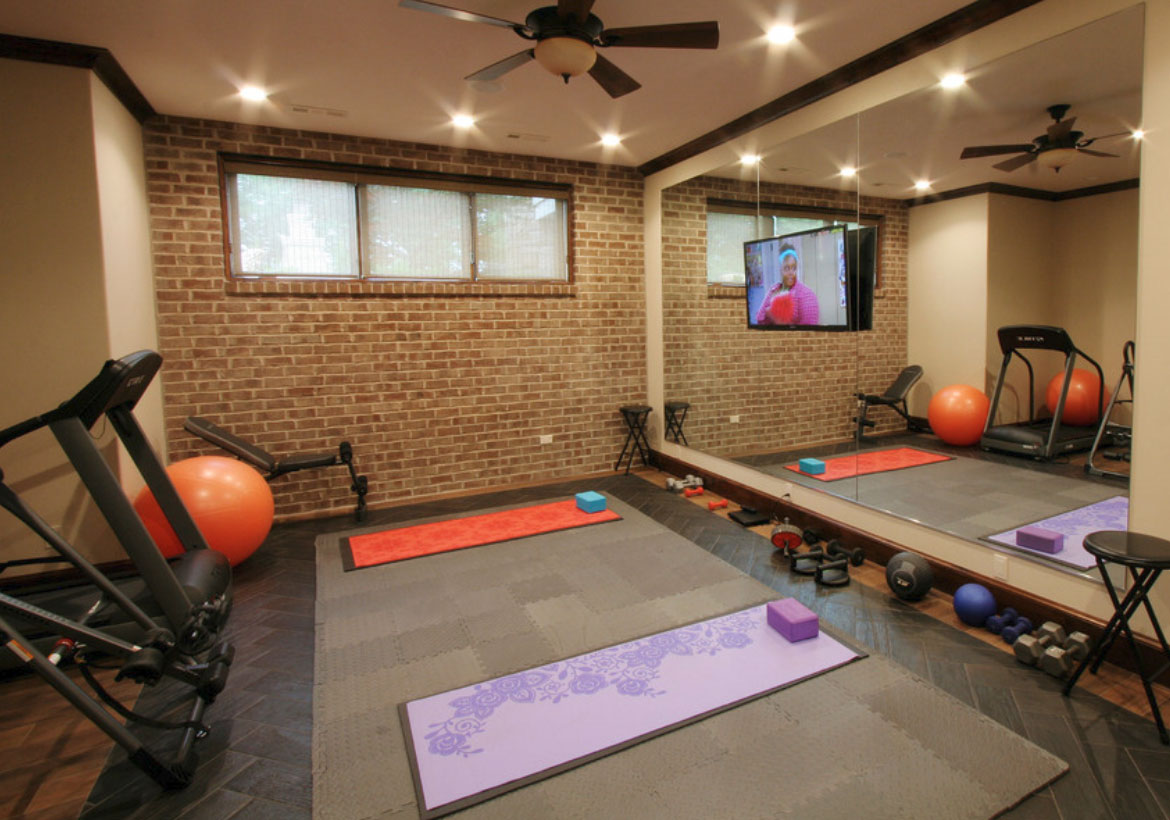 The home gym in this lodge-style dwelling is excellent. The foam mats soften the impact of walking on a tough surface. NSPJ Architects has designed a space where working out won't be a hassle anymore. The supportive foam mats underfoot will ensure you never feel serious aches or pains.
FOAM 3
This type of foam is best described as having a very zen-like quality; it is very clean and crisp. This training area now has a more fashionable appearance thanks to the installation of colorful foam tiles. The entire homeroom gym has taken on an aesthetically attractive and energetic appearance. One Three Design Inc. is responsible for the design of this product.
This carpet flooring is perfect for comfort and style.
Carpet Flooring Ideas
Carpet tiles are the most popular home gym flooring types in the world. Carpet is used to cover many different types of floors, from retail centers to large gyms. And now you can enjoy that same level of ease and comfort in your very own home, with your own workout room. A basement gym with carpet flooring can be a highly durable and long-lasting option.
Some of the benefits of carpet flooring include: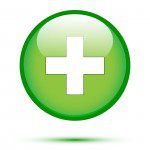 Easy to install – Carpet that comes as interlocking tiles can be very easy to install, especially for the average homeowner. The tiles snap together easily and can be laid right on top of the existing floor in your space.
Durable – This kind of flooring is very durable. Most gym carpet floor tiles are more durable than shag carpets or fluffy residential carpets. Plus, it's longer-lasting than foam and more versatile than vinyl.
Soft – Even this durable and rigid carpet is softer than a vinyl or wood option, making it a safe choice for your kids to play on. It's also comfortable if you want to lay down on it during a peaceful yoga session.
Carpet is a familiar material that most people already know and understand. Since it's so easy to install, and it can hold a lot of weight without being ruined, it lends itself to the popularity and reputation that it's built up.
There are, however, a few drawbacks that include:
Cleaning requirements – Unlike rubber and vinyl, carpet is not water resistant. They do hold moisture, and may develop mildew or mold if they are not properly cleaned. They may require a professional touch-up every couple of years.
Stretching – Carpet does tend to stretch over time, and it may need to be re-stretched by a professional.
Regardless of its water absorbency, carpet is still the most popular choice for homeowners and gym lovers alike. It is soft, versatile, and extremely durable, and will stay with you for years to come.
CARPET 1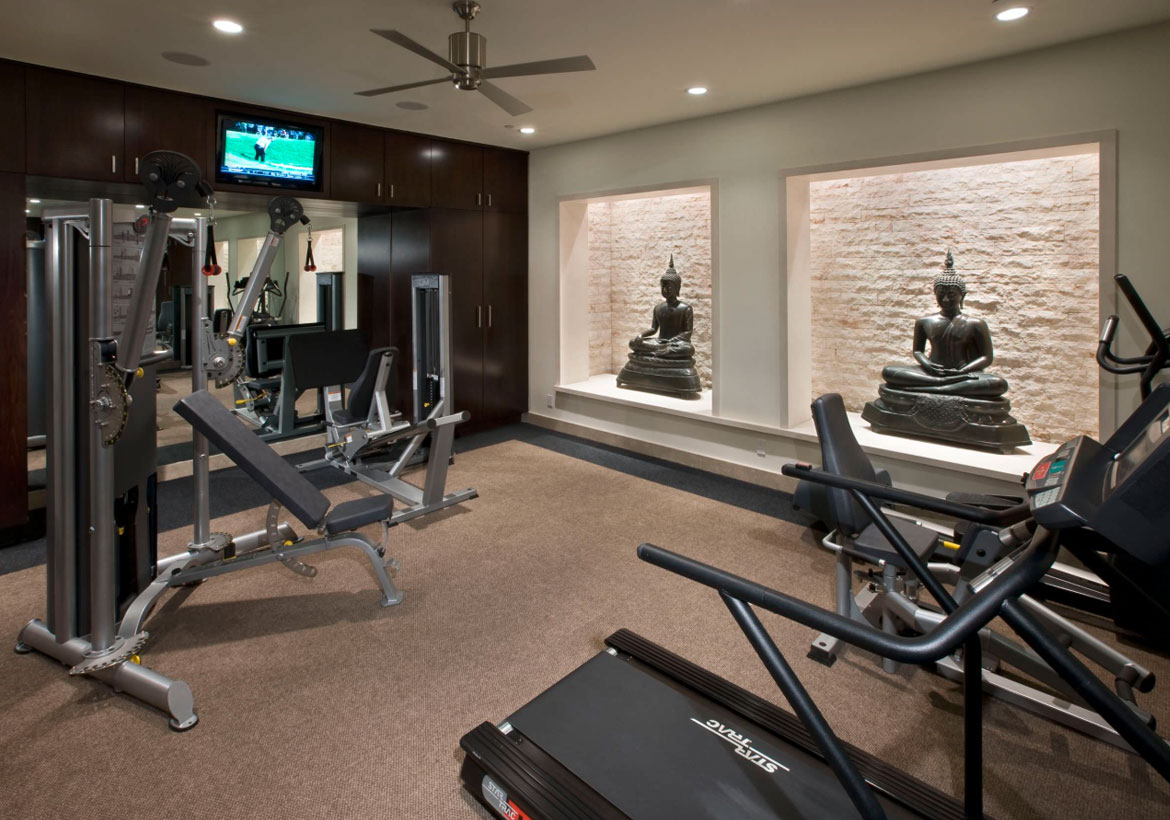 The homeowner concluded that the best option for the flooring in the fitness area was a low-pile, heavy-duty carpet. The entire carpet maintains a very immaculate appearance, which is in keeping with the contemporary and sophisticated ambiance of the whole room. Kollin Altomare Architects is responsible for the design of this home gym.
CARPET 2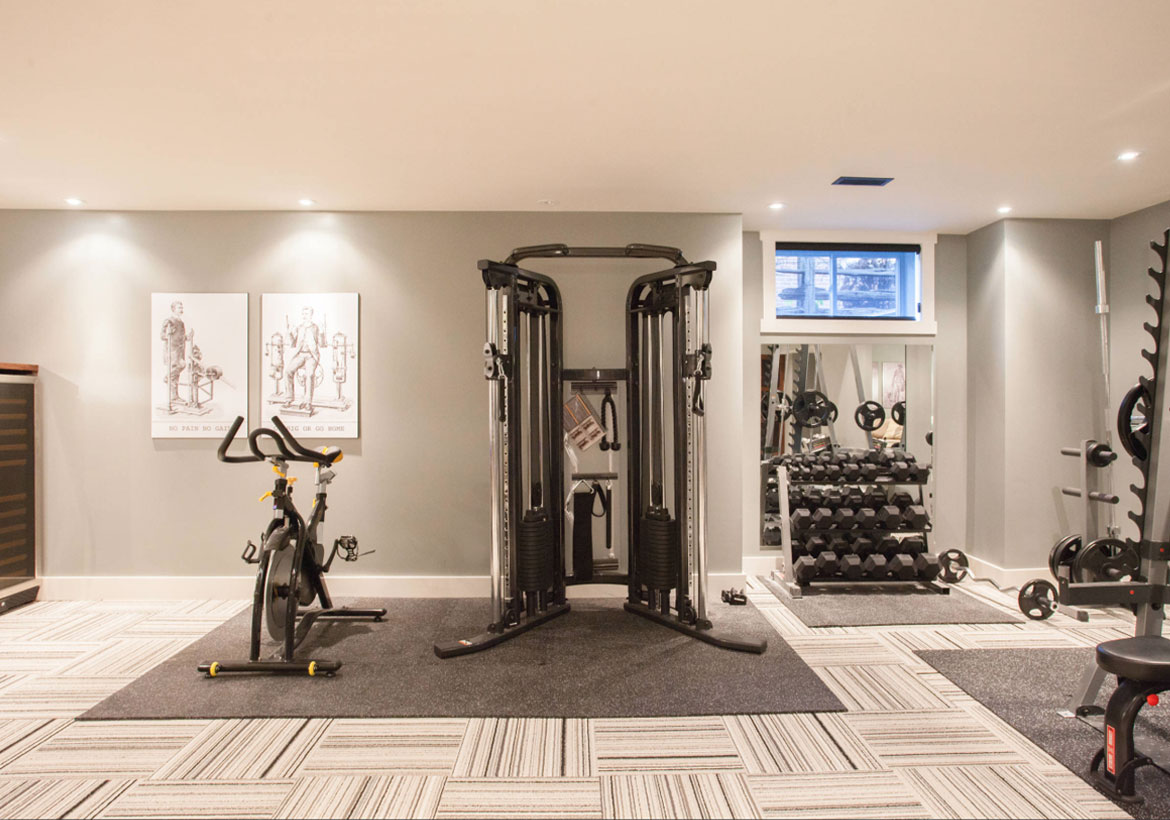 Carpet tiles and rubber mats are now being used for the flooring of this particular fitness area—carpet tile by Flor-Like-Minded. Sherwin-Williams' Earl Grey was used to paint the walls in this room. What a wonderfully intricate carpet that you will never grow tired of looking at! Madison Taylor is the designer of this piece.
CARPET 3
This at-home gym has a stylish carpet pattern—Forbo, which resists microbiological growth and wears well. The carpet tiles are thick, and the artist chose the color scheme. This setup involved the use of adhesive. This is the only carpet you'll ever need or want. Danielle Loven of Vivid Interior Design outdid herself with this one.
You can go for square tiles like these for easy installation.
Choose the Best Home Gym Flooring Options Today
Residential rubber flooring, carpet tiles, vinyl mats, and foam pieces are all viable options for your at-home workout room. Your fitness flooring choices depend on the level of durability, affordability, and water absorption you require. While some types of flooring can last for years without needing any cleaning or repair, others require a more careful attention. If you're building a basement gym, you can decide what kind of flooring is best for adapting to the temperatures of the room.
Whether you are building your gym in a small space or by completely renovating a new room, this guide should be able to help you find a flooring type that works best for you.
This is an image roundup post, curated to showcase and promote other reputable contracting companies' and their amazing work. To have any of the images removed, please reach out to us and we would be happy to do so.