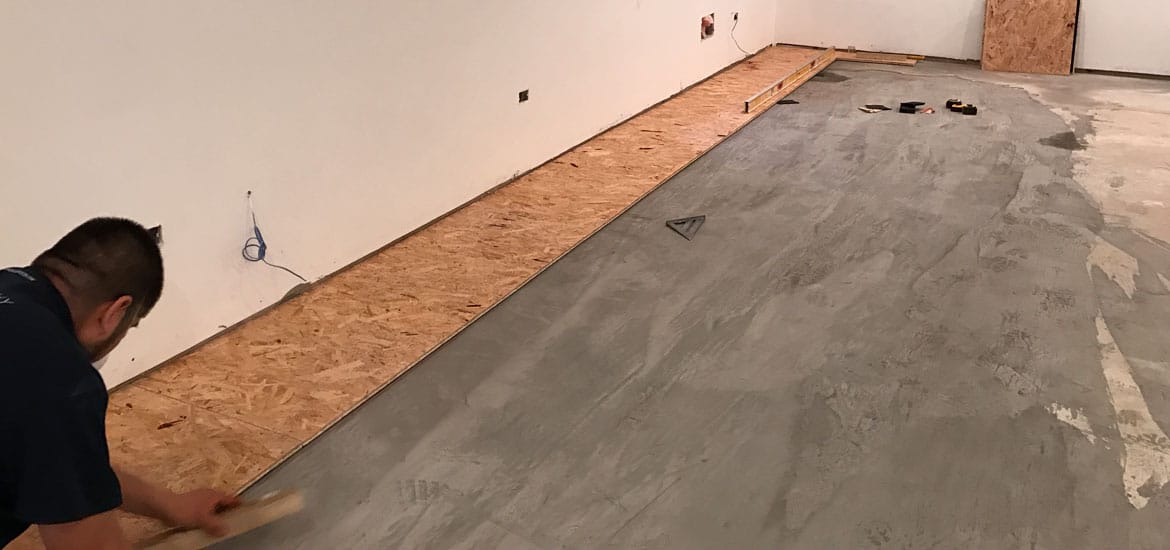 When constructing or renovating a basement, one of the most important things you can do is ensure that your basement subfloor remains as dry as possible. This is the best way to prevent water from seeping in. It's tricky to tell where water is going to come from, as sometimes it can creep in from the most unexpected of places.
Plumbing, water heaters, washing machines, and concrete floor wicking are just some of the places that water can sneak in from. Therefore, it's more crucial than ever to keep your basement floor as dry as bones. To achieve this, you must install a basement subfloor.
When it comes to the basement subfloor, you have a variety of options to choose from. In this article, we will review the benefits of DRIcore subfloor versus plywood subfloor. We will also review other flooring options as well, such as OSB subfloor and tongue and groove subfloor for your basement. By the end of the review, you should be able to determine what kind of basement subfloor will work best for your special construction project.

What Is A Subfloor?
A subfloor is a sort of floor cover for your basement, which elevates the floor itself and creates a strong and sturdy shield to prevent water from seeping through. Think of it as an impenetrable barrier that keeps your basement floor dry. The subfloor definition is professionally listed as "the foundation for a floor in a building".
This is the best and most effective way to keep your floors dry. By successfully installing a basement subfloor, you will keep your basement bone-dry. Basements are especially prone to developing pockets of unwanted water. This is because a lot of utility tools typically rest near the basement: Water heaters, washing machines, and so on. In most residential homes, there are plenty of avenues for water to sneak in.

Having the right kind of subfloor can guarantee that your basement remains dry as a desert. You can achieve a subfloor in one of two ways:
Building your own subfloor from scratch. You can do this using a variety of different prefab subfloor materials, which are built in the shape of tiles to be easily installed. They can also come in rolls and sheets.
Installing a basement subfloor system. This uses pre-made and pre-formed materials that already provide a barrier between the floor and the water, making it easy to install in a jiffy.
DRI-core and plywood tiles are available as prefab slabs to install on your own subfloor. Below, we'll describe the differences and benefits of DRIcore subflooring versus plywood subflooring.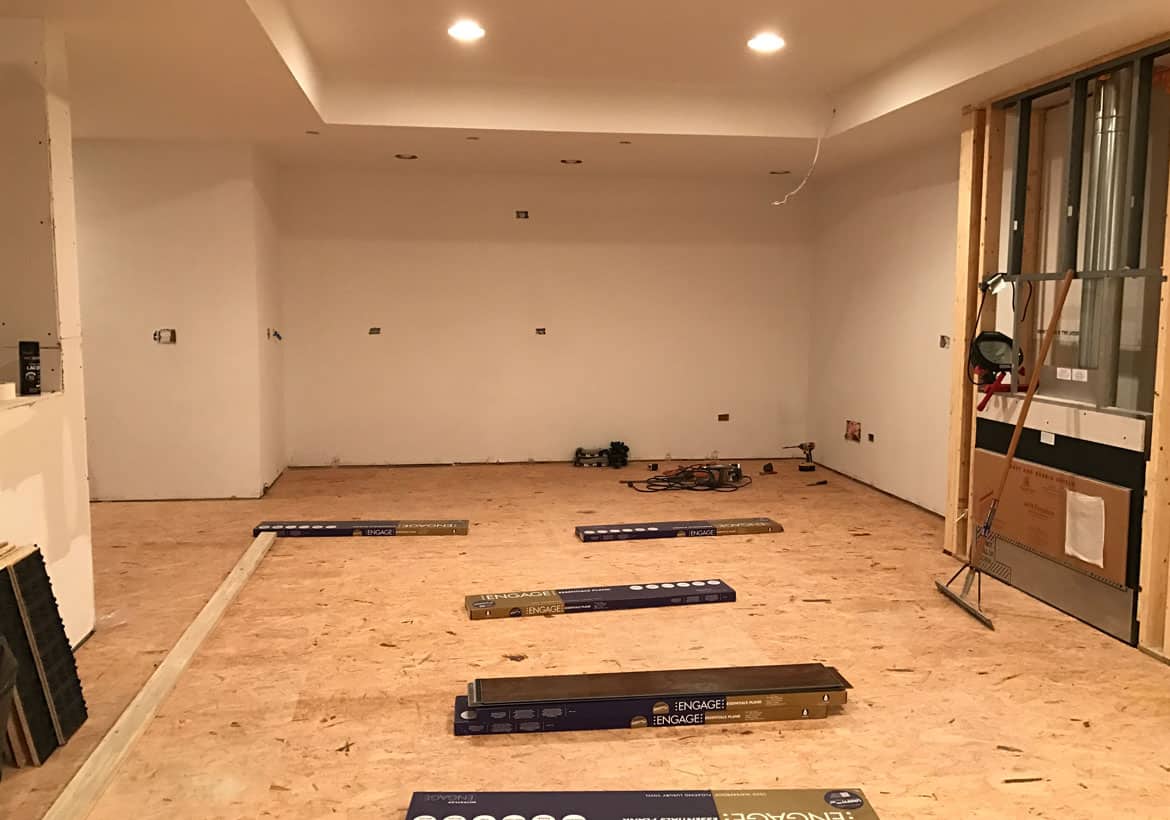 DRIcore Subflooring Options
DRIcore subfloor systems are one of the newer systems in the industry, invented in the 1990s to more easily cover flooring that has obstacles or hidden nooks. DRIcore floors typically come in panel shapes that are smaller than the plywood sheets available.
As a brand, DRIcore is great for subflooring a basement with low to mid-range moisture problems. The panels are made from OSB as well as a premade moisture barrier, which is typically constructed of polyethylene or durable foam. It is a lot like insulating a floor, but with the added protection of a water barrier.
What Is The Cost Of DRIcore Subfloor?
Generally, there is not too big of a pricing difference between DRIcore subfloor and plywood subfloor. Since the DRIcore system is a newer and more branded model, it can cost about $6.43 per panel or tile. While each tile measures 2' x 2', this means that each square foot of DRIcore costs $1.61.
With any average sized basement, you can look to spend about a few hundred dollars more than you would with plywood. But there are several reasons why many contractors still prefer DRIcore over plywood subflooring.
Benefits of DRICore Subfloor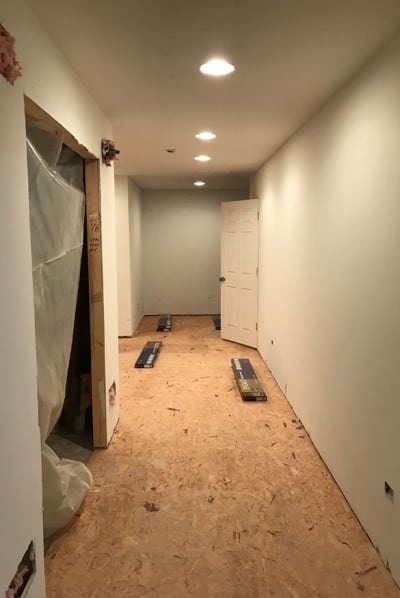 DRIcore subfloor has become a popular favorite among those with low-hanging ceilings in their basements, or for those who are looking for the most durable and moisture-proof flooring option.
Here are some of the benefits that DRIcore subfloor has to offer:
DRIcore subfloor does not raise the floor as high as plywood. This is a good choice when your basement has a low ceiling.
DRIcore can make premade subfloor application more efficient. With this option, you don't have to deal with scratch or build-it-yourself subflooring.
DRIcore uses OSB panels. These are some of the most trusted materials in the industry.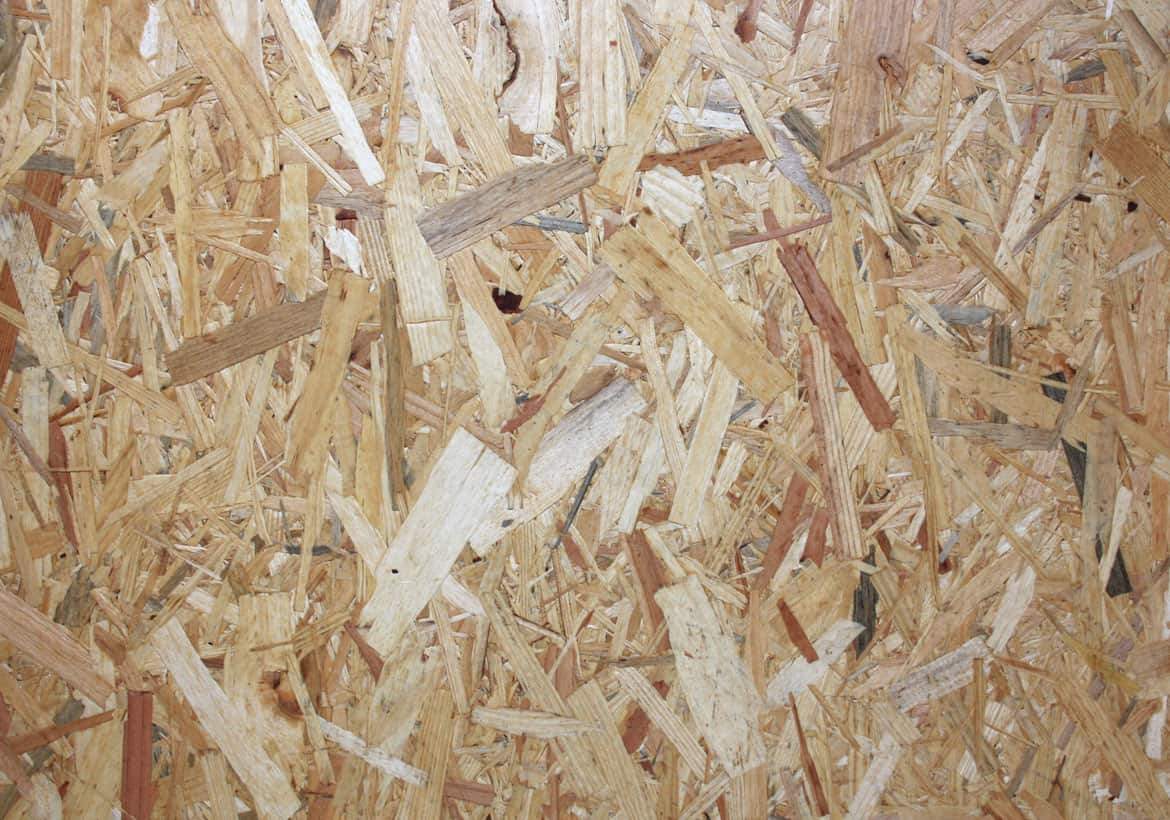 What is OSB Subfloor?
OSB subfloor stands for oriented strand board. It is described as having the appearance of giant cornflakes or cereals pressed together in the shape of panels. While its sizing is similar to plywood, it comes in other availabilities as well.
While OSB is generally not great for a floor covering itself, due to its appearance and moisture swelling, it is a great option for subflooring, which is why DRIcore subfloor tiles will often contain OSB panels.
OSB panels are heavier than plywood panels, as it uses wood as a base. Some contractors favor it due to its ability to be clean, smooth, and always flat. There are some contractors who still prefer plywood over OSB and DRIcore subflooring, however.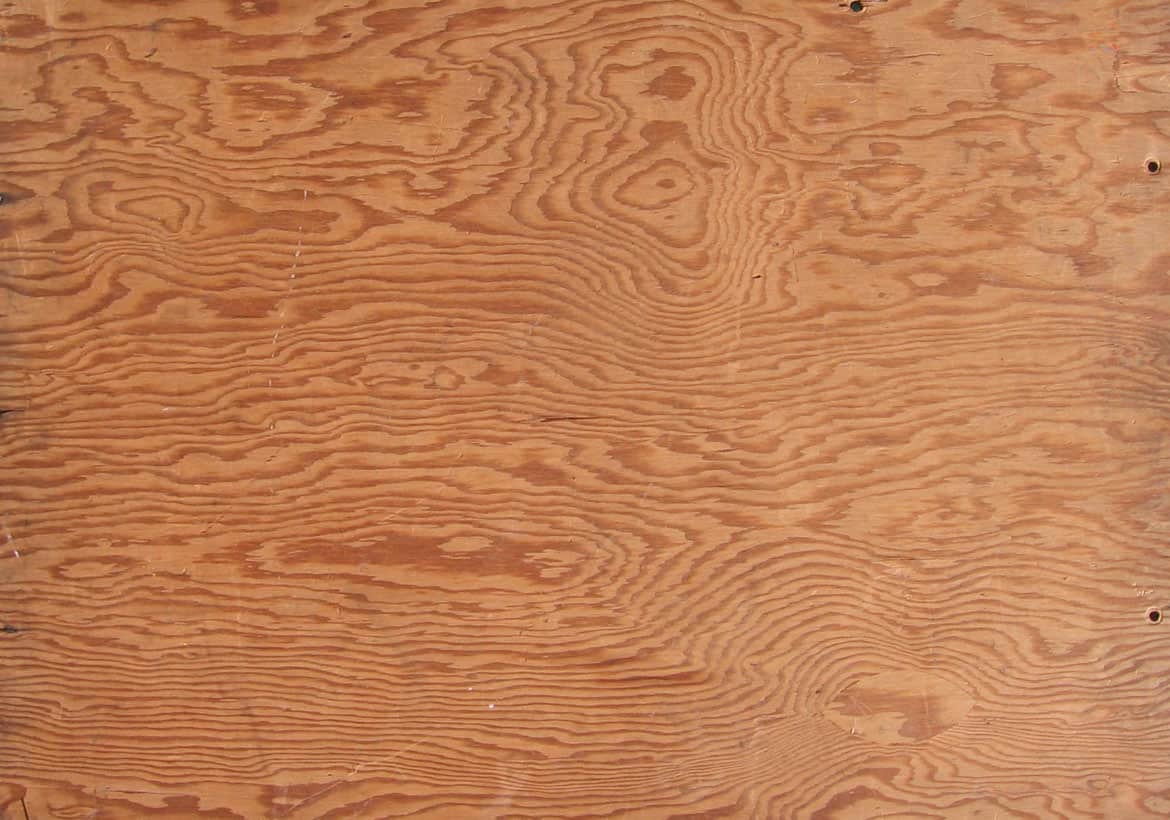 Plywood Subflooring Options
Plywood is a viable option for those looking to keep renovations cheap and install a hearty and durable subflooring.
Subfloor plywood is considered the more traditional method of subflooring. This method allows you to create your own subfloor using cheap wood materials. Typically, plywood subflooring is constructed of the following:
⅝" Plywood, exterior grade
Rigid foam insulation (foam core)
2×4 Sleepers
Plastic vapor barrier, either paper or composite materials
If you hear a contractor mentioning "scratch-built subflooring", they are most likely talking about this method. Plywood subflooring is extremely efficient, cheap, and easy to assemble. You can do it yourself with the right materials.
What is the Cost of Plywood Subfloor?
Plywood subflooring is the most affordable subflooring option available. Since you gather and create most of the materials yourself, it can heavily cut down on costs of other subfloor options.
Typically, installing a from-scratch plywood subfloor can cost anywhere from $700 to $1000. However, these prices may drastically change depending on the state and nature of your basement. Is your basement smaller than average? What is the ceiling height in your basement? These factors and more ultimately make up the price, which is still more affordable than DRIcore subfloor or OSB options.
Benefits of Plywood Subfloor
There are a lot of ways in which plywood subfloor is superior to other prefab and premade subflooring options. Some contractors, as well as do-it-yourself homeowners, will prefer plywood for the following reasons:
Plywood subflooring is cheap. This is a huge draw for many residents and contractors, as this kind of scratch subfloor can be made using common and affordable materials from your local hardware store.
Plywood subflooring has better area spacing. Did you know that DRIcore subfloor only takes up 96% of a true square foot? Plywood allows for plenty of space, and the panels are usually larger as well.
Plywood subflooring is convenient. It's easy to lay down your own panels and cover a huge amount of ground with this flooring option.
Ultimately, it's your choice. You can decide whether you want the ease of convenience or affordability on your side. Both DRIcore and plywood subflooring options are equally functional, durable, and long-lasting.
What is Tongue and Groove Subfloor?
This is the term describing the method used to replace old subfloor and create a solid and strong foundation for new subflooring. Tongue and groove boards are specially cut pieces of wood that can be found at your local hardware store. They are used to fit to the mold of your home, setting nicely under the floor as a solid foundation that will never wear or tear.
The method of laying tongue and groove subfloors is simple. First, you can position the primary board the right way up, with the tongue (the grooved dip on one end of the wood) facing you. Then, the next board slips into the groove, much like stacking perfect Jenga tiles.
Use nails to hold the tongue and groove subfloor boards into place. After this foundation is set, you can replace your old subfloor with brand new materials.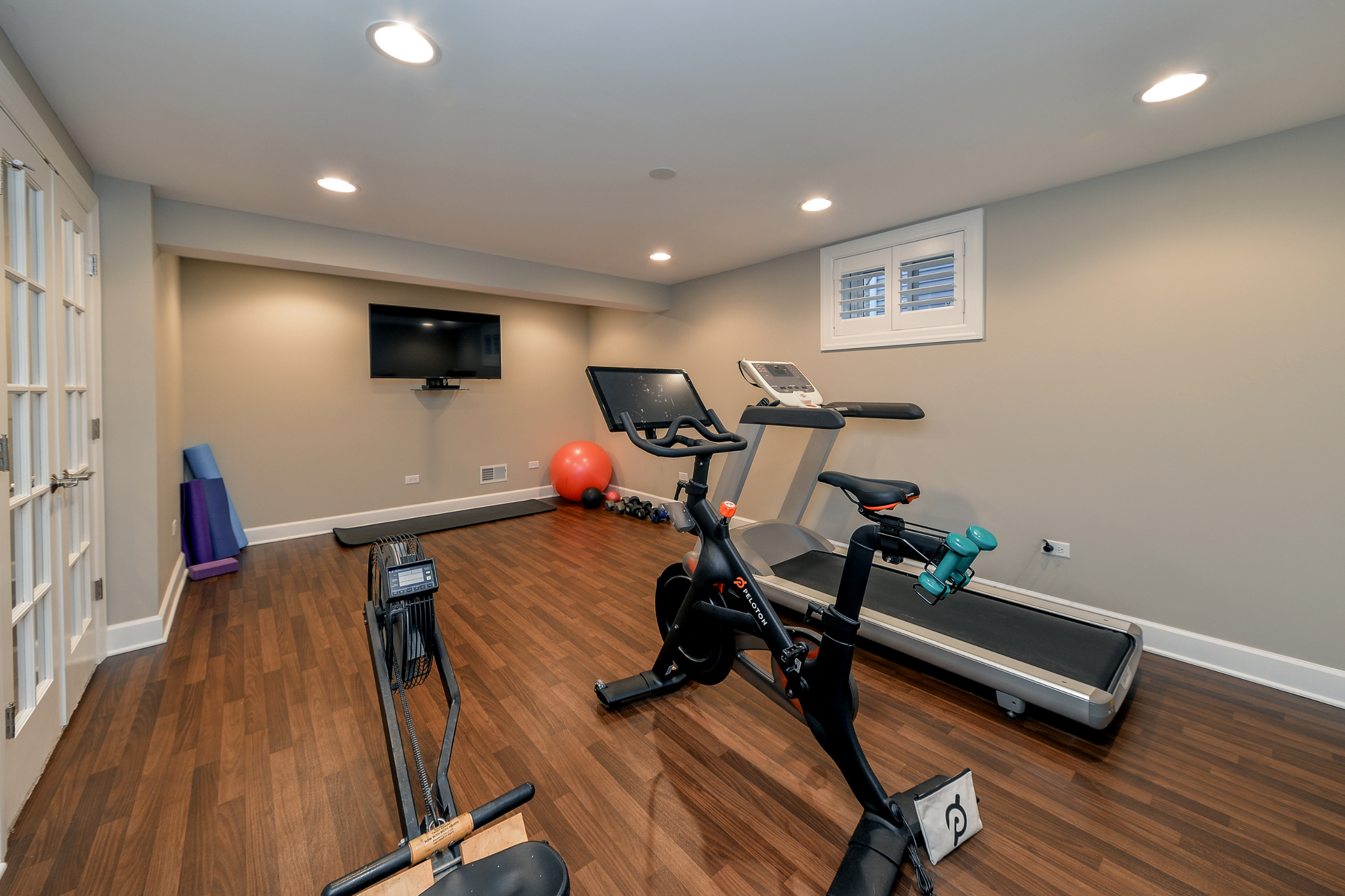 Preparing Subfloor for Tile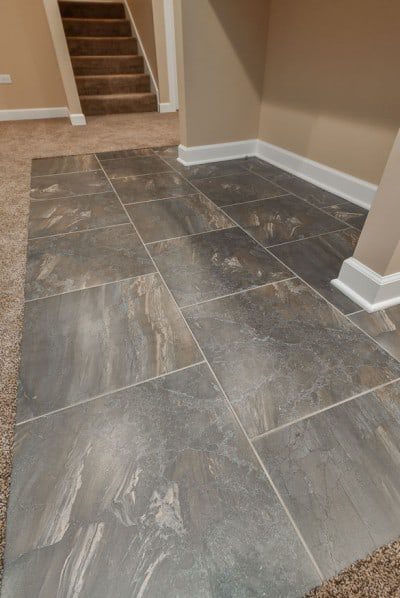 Are you planning on adding ceramic or porcelain tile flooring to your basement? If so, you may be lost trying to understand how you can possibly apply subflooring underneath.
But don't worry – it can be done!
There are several steps you can take to prepare a subfloor for tile. You simply need to buy a few extra items from your local hardware store, such as latex primer and grout sealers, as well as some caulk and nails to add the finishing touches.
You can prepare subfloors for tile if they are made of the following materials:
Wood (Plywood or DRIcore)
Concrete
Cement
Mat or Membrane
You essentially need to cover your floor with a solution that acts as a self-leveling compound, which will also seal the subfloor as a moisture barrier and help to keep your flooring elevated. With a few coats of primer, you can have your subfloor ready to apply a ceramic or porcelain tile to your basement.
Can You Replace Subfloor That Has Been Damaged?
Many homeowners are concerned that subfloor, once applied, cannot be removed or replaced. However, there are a variety of ways in which you can replace subfloor that has been damaged or subfloor that you need to take away in order to reconstruct part of the basement.
Older homes have subfloors made of plank woods, which may be exposed to too much moisture over time. If you are remodeling your basement and discover these old pieces of wood, it may be time to replace that old subfloor and add new subfloor underneath. The best way to do this is with tongue and groove subfloor options.
Make Sure to Get the Right Foundation!
Regardless if you prefer plywood over DRIcore subflooring, or vice versa, it is essential that you apply a proper subfloor throughout the entirety of your basement to tightly seal and protect it against intruding water. Having this solid foundation underneath will give your basement the lifespan and security it needs to survive as long as a lifetime.