When winter ends for most folks in this country, some home owners, tired of paying large power bills, may be considering the idea of a more efficient heating system for their home. I'm all for that and want to help you make some good decisions if you decide you're ready to move on that idea. After all, this is one of those projects we call an "investment" as it represents a major change in the way your house will function and, more importantly, represents a substantial improvement in your comfort. It's also a good time to be thinking about remodeling as summer approaches and contractors are looking for projects.
With that said, here are the answers to questions about radiant heating that you'll want for your current or new home.
1. How is a Radiant Floor Heating System Better than the Conventional Forced Air System?
Comparing the two is like comparing a horse and buggy with an automobile. The Radiant Heat system technology is miles ahead of the forced air system in many ways:
| | | |
| --- | --- | --- |
| Performance | Conventional Gas or Electrical Forced Air | Radiant Heat |
| Heating Efficiency | Temperature differs from floor to ceiling and wall to wall | Consistent temperature throughout the space |
| Air Quality | Broadcasts dust, dirt, odors | Air remains uncontaminated |
| Performance Adjustments | Adjust vents & temp to compensate for weather changes | No noise |
| Ambience | Fan and duct noise | One-time setting |
| Maintenance | Filter changing – Repairs | No maintenance/repairs |
| Moving Parts Countless | Countless | None |
| Cost to Run | No improvement in life-cycle | Begins to save money with time |
2. How Does Radiant Floor Heating Work?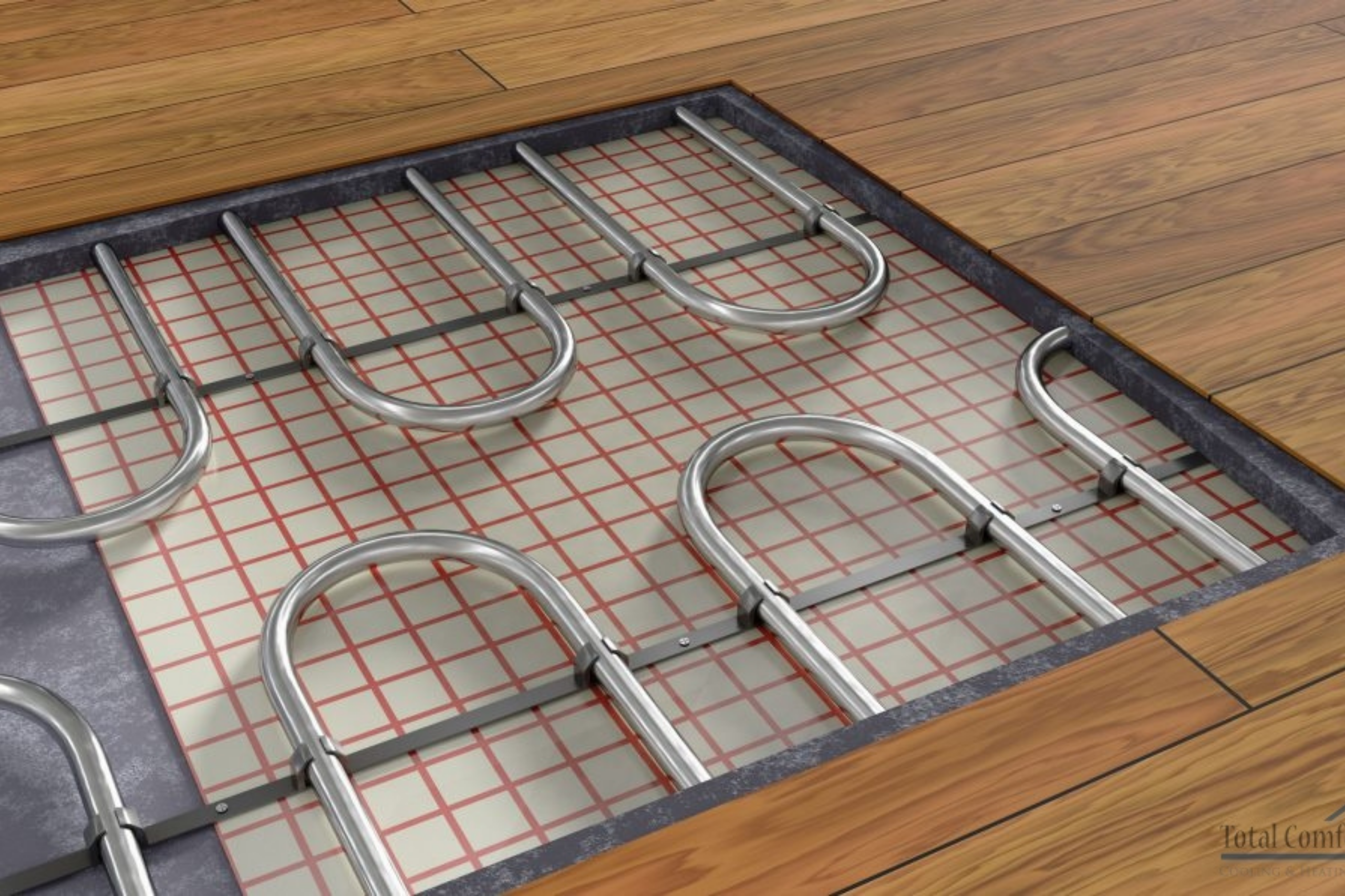 So that in place of a fan that distributes warm air, the radiant floor system uses the natural movement of heat that passes directly into the room from the platform in the floor. Similar to the warm sunlight in the winter the entire floor is engaged as a heating device and once reaching the range of 70-72 degrees warms the whole space with an even distribution according to the thermostat signals. Now you have a consistently comfortable space with no moving parts to cause concern and no noise to hear. One of the best features of this system is its maintenance-free configuration. Being entirely enclosed in the floor keeps it in pristine condition to last indefinitely. You set the desired performance.
The two types of heated flooring systems are electric radiant heated floors and hydronic heated floor:
Electric radiant heat is provided by electric under-floor heating cables.
Hydronic radiant floor heating system, with the help of a boiler, generates hot water, then pumps it through plastic PEX tubing installed underneath the surface to be heated.
Both systems rely on a proper design that produces an even heat and set at the best temperature for the space.
Both systems consist of a continuous series of tubing under the floor and administered by a thermostat that responds to sensors. This system is what promotes a consistent environment with floors maintaining the best temperature for your family's comfort. Which one is best for your project? It depends on who is performing the installation.
3. What are the Pros of Radiant Floor Heating?
The main benefit of radiant floor heating is the accuracy of its affect–an even temperature throughout the space that, once set to your comfort, needs no adjustment during the cold season. The space is just as warm at head height as it is at your feet. No adjusting the thermostat or vents to accommodate the occupants or respond to weather conditions. You're able to maintain a consistant power bill as well and before you know it, the system will have paid for itself with money saved. Best of all, no worries about system repairs or replacement. With no moving parts, the system remains completely in tact at all times.
4. What are the Cons of Radiant Floor Heating?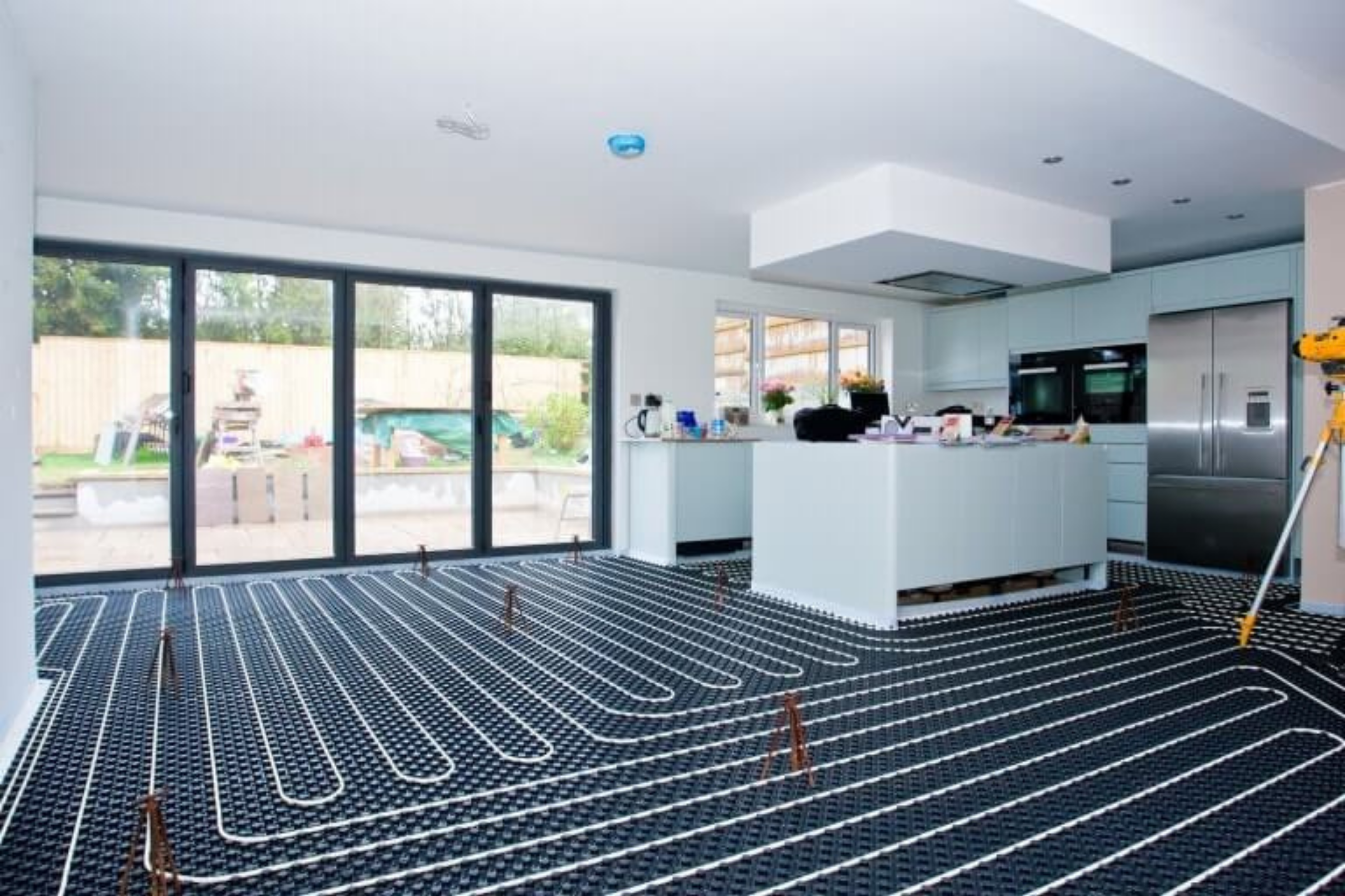 Home owners need to be prepared to replace the floors in their existing home which is a considerable expense and often a deal breaker. Unless the floor can be accessed from underneath between floor joists, there are no other options. However, if you're building a new home, or have plans to replace the floors in a remodeling project, happy day! Easily installed before final floor covering is put down.
Cable vs. Mat Installation
There has been some discussion regarding the preferred way to install the radiant cable.
To give home owners an idea of the discussion we are providing the following information to increase your knowledge toward a good decision when the opportunity arises to purchase one or the other.
The main contrast between a cable and mat radiant system is the way the cable is handled in each case.
If you're a do-it-yourselfer, who doesn't mind devoting one Saturday to keep $200 in your bank account (about the difference between 200 sq. ft. of cable vs. mat) then choose cable. However, if you're a general contractor who needs the crew in, out, and on to the next hot project sooner rather than later. Finally, if you're an independent tradesman a lot rides on how well you plan your days, but all three are decisions based on the choice of a version of this brilliant device for heating your rooms with the most efficient heating system on the planet.
In the cable system, the cable is loose and can be designed in several different ways. Whereas the mat system is pre-designed on a surface to be cut in sections and then applied. You might agree that the mat system will take less time as you can cut and fit sections within an area more quickly than taking the time to design a loose cable system. Particularly in a room that contains 200 square feet or so. So does it always work out that the mat version saves time? When you consider a smaller room, such as a 40 square foot bathroom and you have a different challenge that seems easily handled with the loose cable system that can be manipulated around objects in the room whereas a mat would be difficult. Time saved under these circumstances. Trying to fit a mat around the commode or out into the room to fit up to the shower or around a tub on a curved plantoform would require some special skills if you were to choose a mat installation. Wise to look at the room and decide which configuration is best suited, paying attention to size and shapes when making the decision.
Not the least of which is cost when considering which system you want to choose. With less material involved it's natural that the loose cable would cost less than the mat embedded version. The bigger the space the more you save with the cable. But there is a compensation when it comes to a larger room if you decide the use the mat version. It will take far less time to install, so with that in mind, you will be making the choice based on how valuable you think your time is.
At the end of the day, if you are an avid DIY person who can devote a week-end to save $200 (plus or minus the difference between 200 sq. ft of cable vs. mat, you might choose the cable. Were you a general contractor with several crews to move between jobs, you will most certainly choose the mat version. Whereas an independent tradesman will make a more fine-tuned decision. How much is the home owner committed to saving money? Or how much time do you feel you can devote to a little one-room project?
5. Who Distributes Electric Radiant Floor Heat?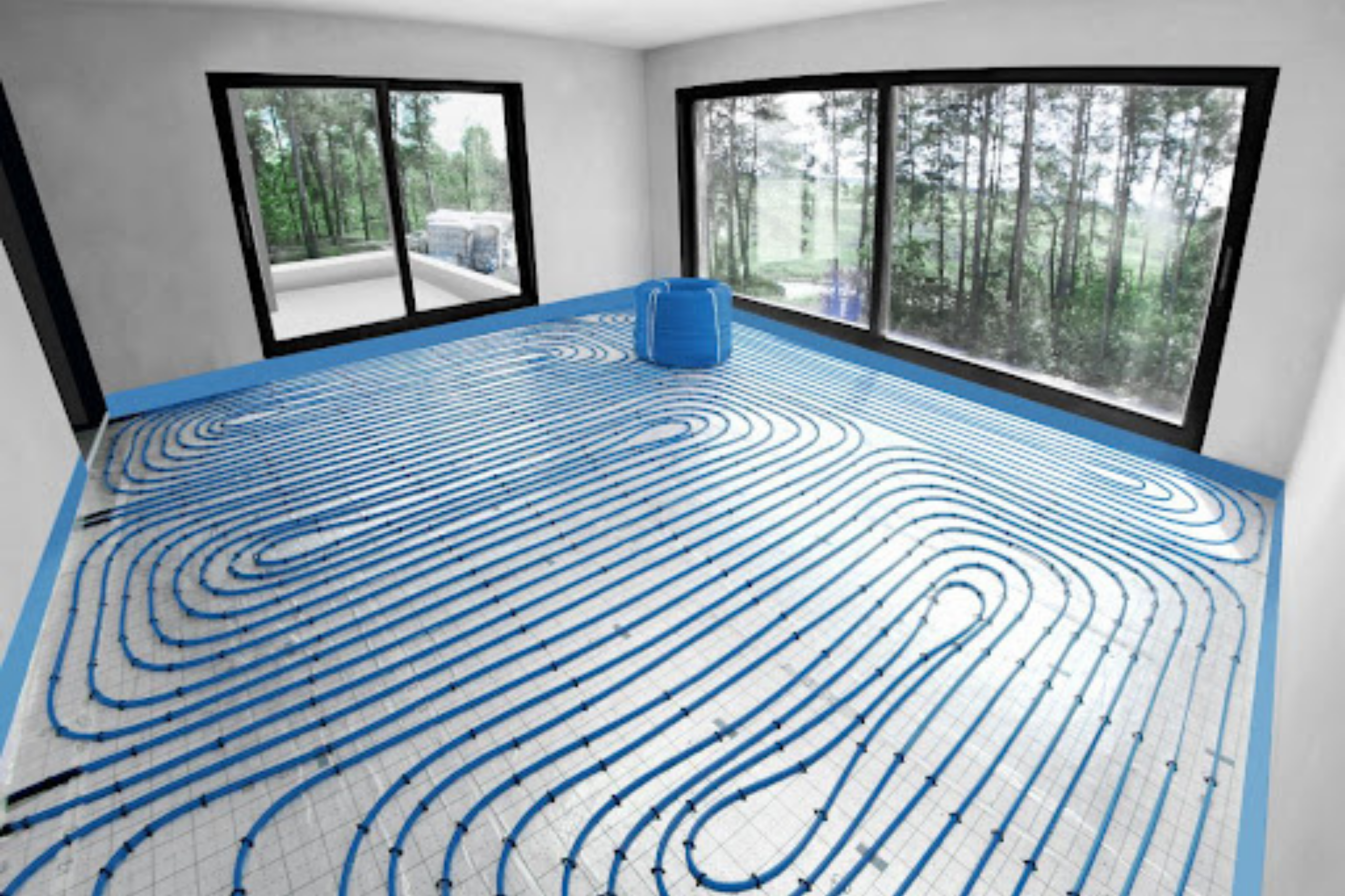 Distributor
Product 1
Product 2
Product 3
Warranty
NuHeat

Nuheat Floor Heating Systems keep tile, stone, granite, marble, and slate surfaces at just-right temperatures.

Tile/stone

radiant installation

Laminate
Shower/

Custom Mats

25 years
Warmly Yours

WarmlyYours also provides design services

Tile/stone

concrete

installation

Laminate
Wood
25 years
Suntouch
Floor heating mats
Floor heating wire
UnderFloor Heating
25 years
Schluter

DITRA-HEAT

DITRA-HEAT is the only system that provides floor warming and uncoupling in a single layer.
Tile/stone

installation

Wood:

Natural

engineered

Conditional 25 years
Thermosoft
Ceramic/stone

tile installation

Laminate & wood installation
Carpet & vinyl tile
Lifetime warranty
Heatizon
Tile and stone floor installation
Heated hardwood floors
Heated carpet floors

Heated floating floors

Various

See website for each product

Quiet Warmth
For radiant heated traditional tile floors, glue-down floors, and engineered wood floors.
Not intended for use under natural stones.
Comes in two convenient sizes: 3′ x 5′ covering 15 S.F and 3′ x 10′ covering.
Installation instructions on website
Warmup

Warmup Floor Heating Systems and 4iE Smart Thermostat keep tile, stone, carpet, laminate and even vinyl at just-right temperatures.

Tile/stone
installation
Laminate
Shower/custom mats
30 years
6. How Do I Install Radiant Heating System Under Carpet?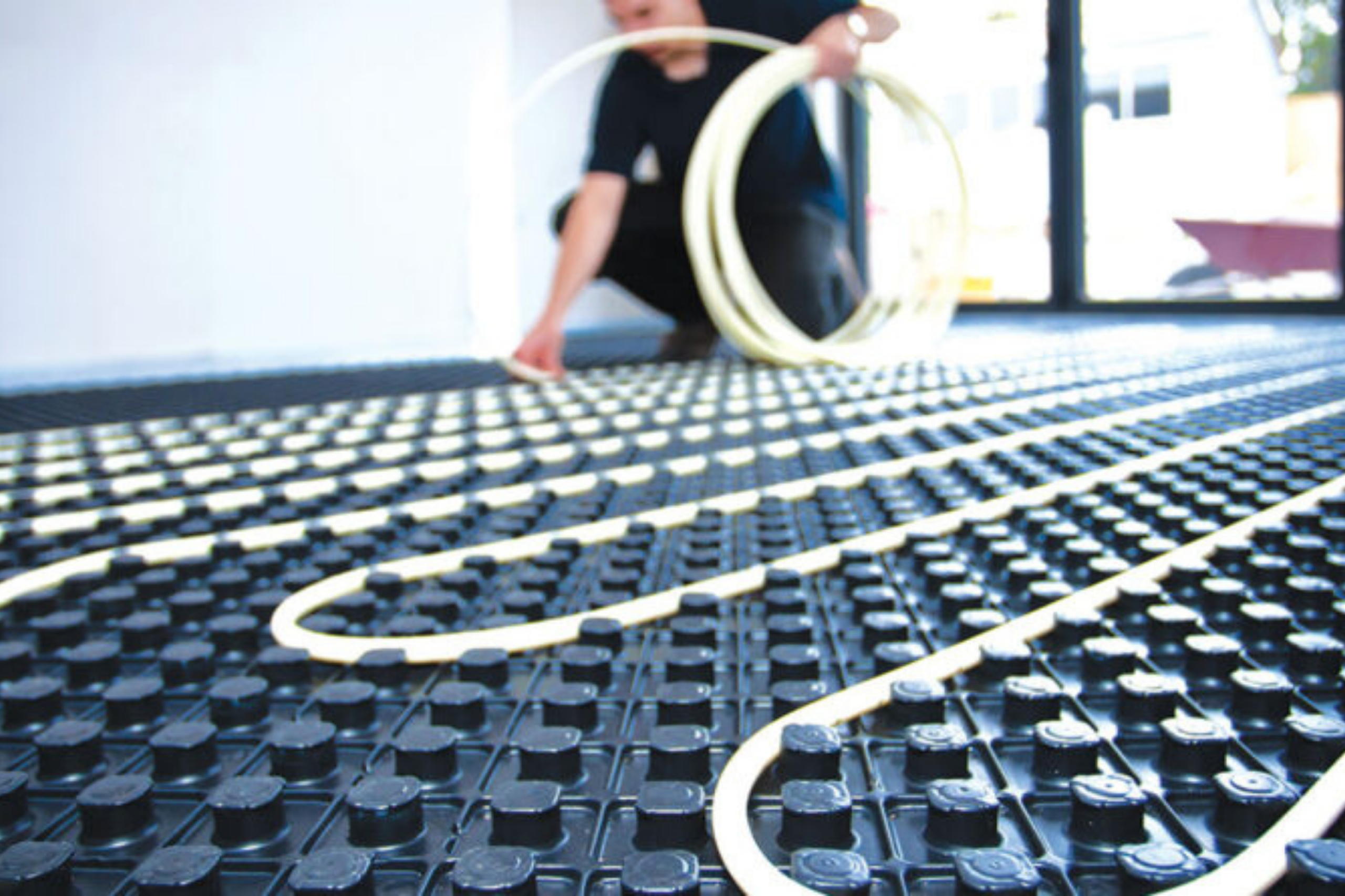 Floor heating installation under carpet, as suggested by Warm Zone, Inc.:
Attach the the components to the subfloor, taking care that they do not come into any contact with one another; you can accomplish this by applying staples, specified tape or latex modified morter to hold them in place as you install them. (Avoid using adhesives—they can interfere with the functional performance of the semi-conductive components.)
Be especially careful not to penetrate on either side of the components with nails or any other sharp fixing object because, again, a short circuit could result and become a fire hazard.
Once the electrical contacts are accomplished, route the wires to the transformer, as instructed by the manufacturer as well as following electrical and local regulations.
The wires can be located on the floor, for conventional foundations, or under the substrate.
Cover the components and install the flooring above as instructed by the manufacturer.
7. How do I Install Radiant Floor Heating Under Tile?
If a home owner decides to install this floor we advise a comprehensive consultation with the distributor to learn all the details of installation before attempting the project. Schluter has provided an excellent example of a comprehensive installation manual and warranty criteria; please download this manual and study it in preparation for your consultation with your distributor. There is also a video on their website we urge you to view and help you identify various items addressed in the installation instructions.
It is critical to note the materials requirements and be certain you can obtain the exact specification so that the tile format is appropriate for the installation.
The minimum tile size is 2″ x 2″ (5 cm x 5 cm).
Be certain the foundation is pristine, plum and adheres to the load-bearing specification to be certain that the surface is level.
The mortar specified is "thin-set" to be applied to the foundation platform. The mortar mixture needs to be easily manipulated by a ¼" x ¼" square-notched trowel.
With fleece-side facing down, apply it to the foundation, firmly integrating the matting into the mortar via a float, screed trowel, or obtain a DITRA-ROLLER. It is important to wait the open time of the bonding-mortar. Should the mortar "skin" over before the matting installation, remove it and reapply.
Schluter informs us that it may be an advantage to "back-roll the end of the matting before installation, or place boxes of tile on top of the matting after installation, to avoid curling." Recommended by Schluter: *When using the DITRA-ROLLER, place a weight (e.g., bags of mortar/grout or box of tile) not to exceed 75 lbs on the DITRA-ROLLER shelf. Slowly move the roller from one end of the matting to the other, slightly overlapping successive passes.
Check mortar at a corner of the matting to be sure full contact has been achieved between fleece webbing the the mortar. Note that coverage may differ depending on mortar consistency, angle of trowel, foundation's surface, etc.. Remove and reapply if coverage is faulty; must be consistent all the way across the surface.
Match end and side sections of adjacent mats and align studs on the top of matting while installing so as to assist with facilitating cable installation.
The cables can be installed and tile can be installed directly over the membrane after the cables have been installed using an "unmodified" think-set. The manual contains these instructions.
8. How Do I Install Radiant Heat Under Laminate Flooring?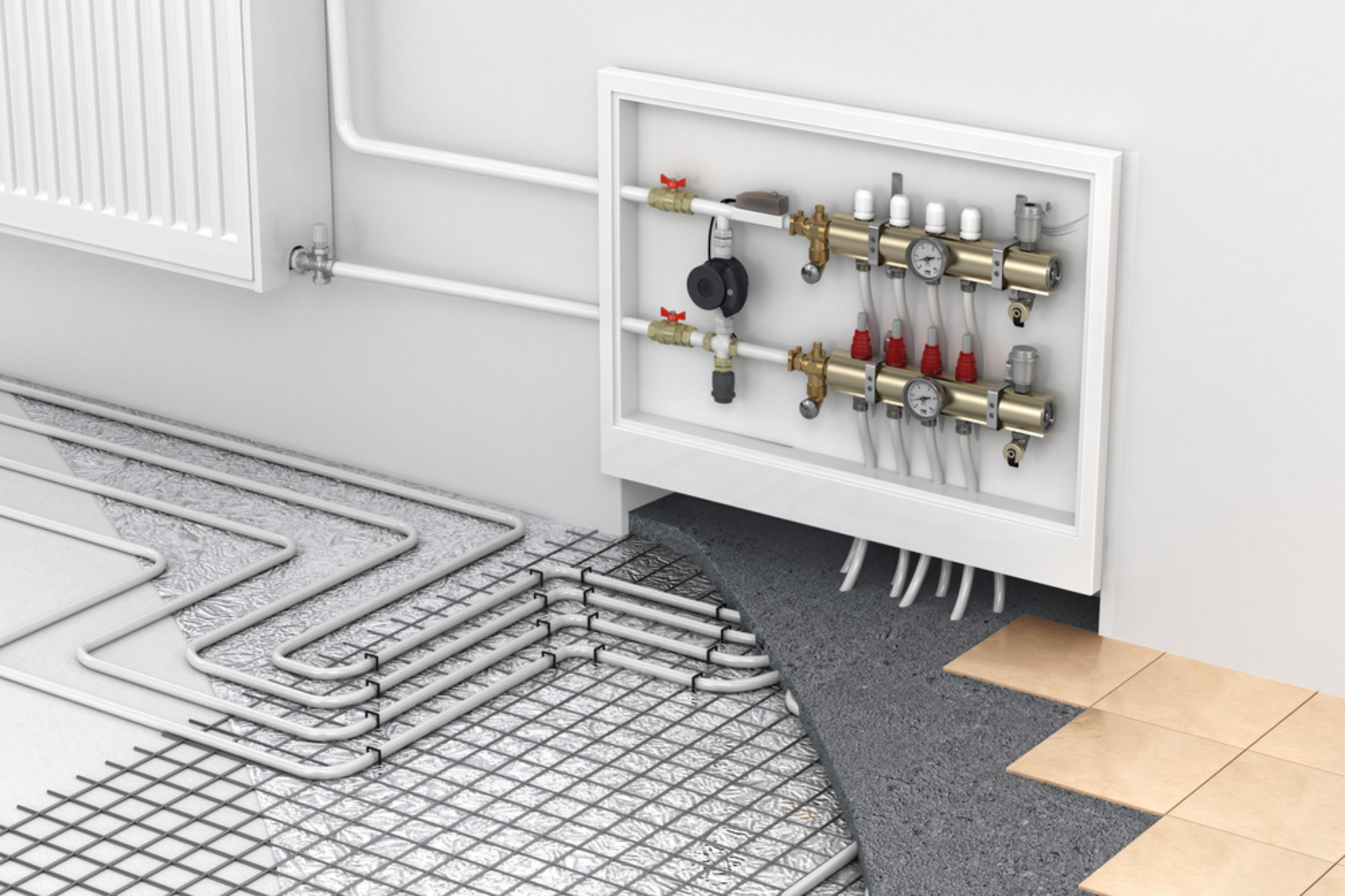 The first thing to do is arrange the radiant floor warming pads to fit in the area you want to heat.
In the unheated areas use Insulayment or alternative underlayment pad.
Connect floor temperature sensor and bring the lead wires from the end of each pad to the electric box.
Install thermostat and make electrical connections.
Glue the mats to the subfloor, then glue the laminate or wood floor to the "ThermoFloor".
Install floor using manufacturer's instructions.
9. Which Flooring Materials Work Best with Radiant Heat?
You can consider that all flooring materials will work with radiant floors. However some will facilitate the system more efficiently than their counterparts. It's best to think of this under certain circumstances—to be more specific—for the best answer.
Ceramic tile, stone and concrete have thermal-conducting properties, that allow it to perform well, are known to conduct, which conduct, transfer, and handle heat effectively while concurrently maintaining a consistent temperature.
With their inclination to expand and contract with variable temperatures the installer will have rememdies applied to compensate for this action.
**Extensive laboratory testing by Launstein Hardwood Floors in Mason, Mich., found that American hardwoods – including cherry, oak, ash, maple, hickory and walnut – are good choices for radiant-heat flooring.
Vinyl and plastic exhibit temperature boundaries, while carpets will have variable spacing.
By consensus, the material most often recommended is tile. It's regular features and heat resistance beng the commanding attributes.
When chosen, concrete will perform well when using a hydronic system, integrated within the concrete as it's poured from a concrete company.
Manufacturers agree that wood, carpet and tile will respond positively to hydronic heat. Be certain careful planning is accomplished when designing with this type of heat, and consult the distributor for peak performance..
10. How Much Does a Radiant Heat System Cost?
Category
Low Estimate
High Estimate
2000 square foot residence with open/direct system.
40 hour Labor Allotment
2000 square ft joisted floor area
$1,700.00
$3,000.00
Two heating zones
$1,200.00
$1,450.00
Boiler or water heater allowance
$3,000.00
$3,500.00
Total
$5,900.00
$7,950.00
Check out our Other Great Articles:
Sources: