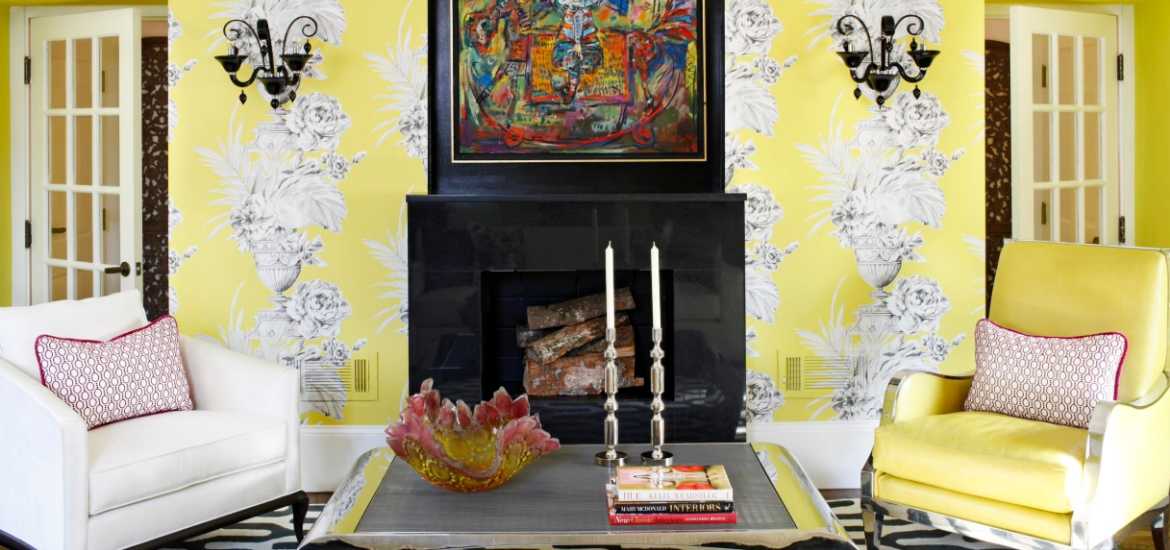 A refreshing yellow living room will be the perfect project if you want to stir the current mood in one of the most important areas of your house. Experimenting on the color palettes for your home will create a drastic change in the atmosphere and probably will be the change that you were looking for. Living in yellow rooms or even just having pieces of furniture and accents which have a similar tone affects your mood greatly.
Remodeling your living area once you get tired of its monotonous color scheme will be a welcomed change that everyone needs to look forward to. If you are still contemplating how a yellow interior would look like in your living room, installing yellow patterned curtains will be a great starting point. See how it will affect the whole room and look for ways how you can make the whole interior project work. We all know how this decision will change your house so starting with something small will point you in the right direction.
WARHOL INSPIRED
Everything looks fantastic in Ross Alexander Designs, LLC's bright living room design. The design looks terrific, thanks to the current style. Unusual color accents that dance throughout the space draw your attention to them like a work of art.
HIDDEN ELEGANCE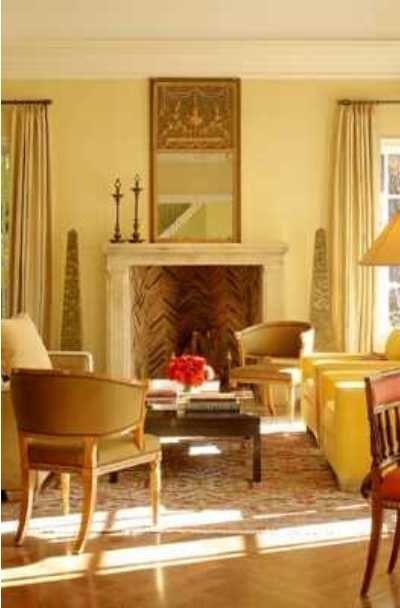 Do you want a traditional and tasteful yellow living room decor for your home? Andrew Mann Architecture is the designer of this sunny living space. A tranquil décor is embodied by conventional style, comforting symmetry, and a warm color palette.
VICTORIAN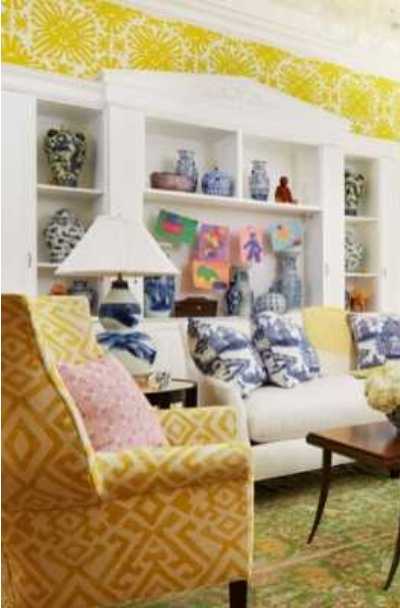 Want to decorate your living room with a Victorian theme? This contemporary revival is fresh air, combining vibrant hues with classic forms that harken back to bygone eras. Home On Cameron created such a lovely design.
TRADITIONAL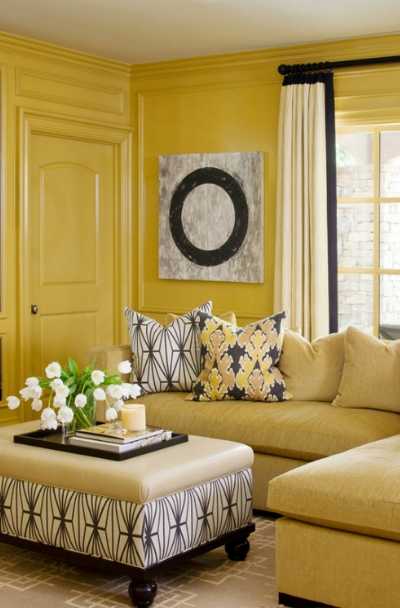 A conventional living room layout like this one will never let you down. Tobi Fairley Interior Design created such a magnificent design. The ideal parlor has standard components, a neutral color scheme, and straight lines.
ECLECTIC TASTE
Everything in this contemporary yellow living room decor seems so electric. Rich golden hues, an eclectic combination of design elements, and a tray ceiling surround the fireplace—such a great design for someone with varied tastes by Rikki Snyder.
PURE CLASSICISM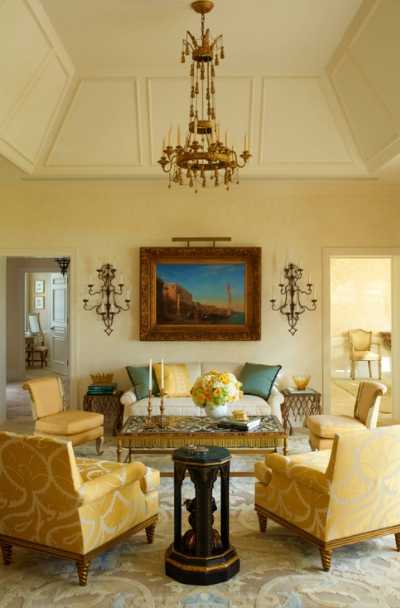 Many prefer traditional and rustic living room designs over contemporary ones—such as a classic design for living space by Cullman and Kravis. Conventional and ornate interior design is the foundation of opulent sophistication and classic design.
COUNTRY DECOR
With this imaginative farmhouse-yellow decor, it will be simple for you to decide to spend your golden years in the country. You will adore this VanBrouck & Associates, Inc. rural living room design: kind and friendly.
COASTAL COMFORT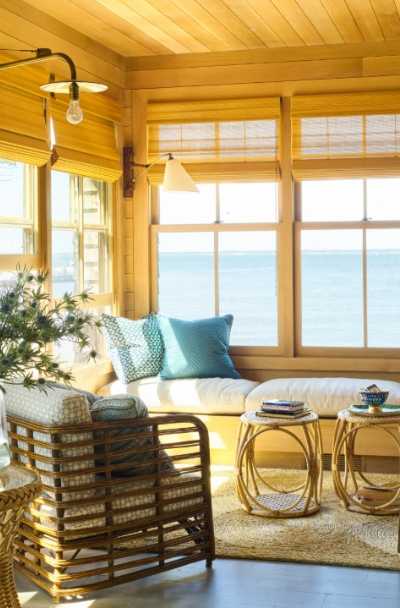 This Hutker Architects' seaside living room design seems light and airy. A seaside refuge is created with natural fiber furnishings, plush window box seats, and panoramic ocean views.
CONTEMPORARY
Do you want a straightforward but contemporary living room design for your home? The modern appeal is punctuated with a geometric stripe pattern painted in an intense shade of yellow. Possibilities for design created the most amazing living room design.
Yellow Psychology
Yellow as the color of sunshine is often associated with hope and energy. When connected to its meaningful stands, we can say that this will be a perfect choice when you are looking for ideas to decorate living rooms. The positivity that this color embodies radiates happiness that everyone in the family can benefit from. Aside from energy, happiness, and joy, it also creates a feeling of warmth. Your newly transformed yellow walls in your living area will surely make more winters bearable.
According to studies, this color can also bring out a positive effect on one's nervous system, especially on memory. Science proved that this color helps you to be more creative and find solutions to some tricky problems. I am sure these will be enough reasons why you will be convinced to switch into more yellow rooms in your house. This beautiful color that will help brighten your day does more than what you were expecting it to do with your home.
The dynamic aura at your house will be amped up when you go for this color palette for your living room remodeling. One top reason why this will suit your living room is that this is the area in the house frequented by everyone. The positive effects that this color into your room will radiate through how relaxing it will be for the whole family especially during gatherings and simple entertainment.
MEDITERRANEAN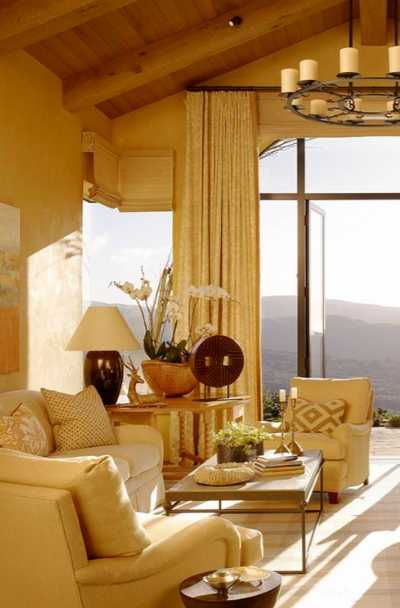 The style of this Mediterranean living room makes everything seem to be so cozy and vibrant. A stunning background is an ideal complement to an understated, classy interior. Tucker & Marks created a masterpiece with this.
AFRICAN SERENITY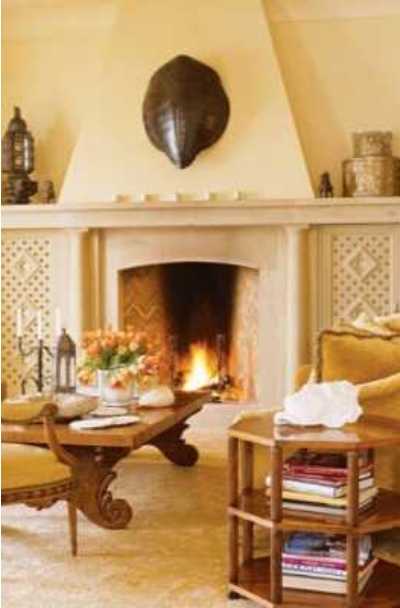 This living room has a beautiful, rustic style that will win your heart. Wow, Stephen Shubel, Inc. outdid themselves with this living room. There is peace in the perfectly carved woodwork and the monochrome color palette.
SCANDINAVIAN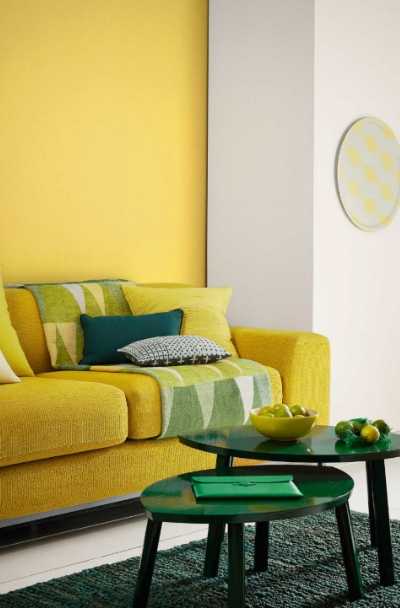 The Scandinavian-style living room is exceptionally light and airy. There was precisely the proper amount of everything to make the room comfortable and welcoming. The best colors are yellow, green, and white. Crown Paints nailed it with this one.
Living Room Remodeling
Floor Expansion
While thinking about having a blue and yellow living room, you can also take this project as an opportunity to expand your living room. You can always use more space in your living room. This will involve a bit of sacrificing some adjoining room but this will be worth a try especially if the new couch is taking up all the space. There are things which compact and space-saving appliances can no longer save. So if you think that the living room has become narrower, it is high time for you to open up your floor plan and check where you can get the additional space you need. Creating a wide and open living room will give a more relaxing feel for everyone anyway. A perfect way to bring in the light into your magnificent house.
Freshen up Your Entrance
Aside from just deciding on repainting it into a gray and yellow living room, another way to create something grand for this room is reinventing the entrance. Do not take this tip literally by building a new door especially when the room is small, what you can do is to create a fresh way how the living room welcomes everyone. Rearrange the furniture and make sure that it will create a pleasant impression for your guests. Once your walls are painted and new curtains are installed, you can try arranging the furniture in different ways and walk into the room to check the impression it gives off.
Is it Time to Update Your Windows?
More often than not, homeowners tend to forget their windows whenever they try to attempt an update in the living room. This item is sometimes pushed off in the list to make way for other things but your windows might ruin the whole remodeling project if they won't go with the entire interior plan. To make sure that this will not be a problem, always include the windows in the list even if it will be left untouched. Once the windows are listed in your remodeling plan, you can actually revisit the option of adding new ones, when your living room lacks the presence of natural light in it.
However, when you think it will be too much to add new windows, updating your existing ones can also do the trick. Drafty windows can sometimes be the cause of why the natural lights are being blocked. Give them a new life by replacing them with newer ones. This will be way cheaper than adding a few more windows. Discuss the possible options with professionals because window replacement jobs can sometimes get a little bit complicated.
FRENCH COUNTRY
This living room design by Designers North Carpet has an air of refined sophistication and classic French country chic in every detail. Featuring sophisticated yellow walls and a cozy aesthetic, with furnishings arranged in symmetrical patterns around the room.
SOUTHERN LIVING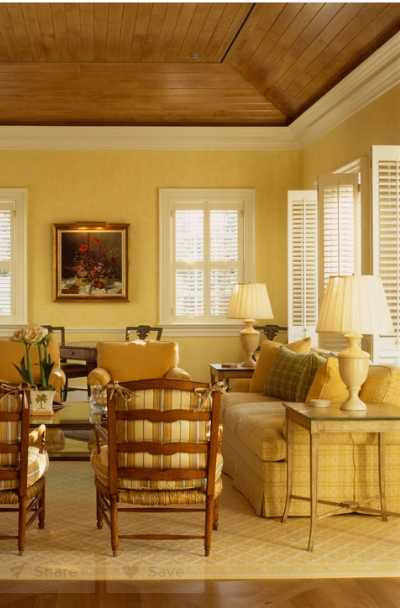 The Southern aesthetic in this living room design by Linda Ashley Interior Decoration, Inc. will appeal to everyone. Living rooms with antique furniture and family artifacts all convey a complicated tale.
Choose a Color Palette
As the main room used often by the family, the living room should represent a personality that can encompass the characters of its inhabitants. Updating your walls will be a difficult option that is why it will be very helpful to research some relevant wall ideas for living rooms. You can always use the internet when doing this, home magazines might be an outdated option but they can come in handy too. If you can't fully commit to a particular color palette yet, using bright colors like a yellow accent wall might help you get the right mix of color tones.
The color scheme that you will be having for your living room will stick around because of the multiple uses that we can put this room into. Experimenting on different color tones can be done but you will need to pick the perfect color to nail that interior remodeling project. Toning down your living room into the shades of white, gray, beige and other neutral colors usually appears to homeowners who want minimalist interiors. While red, pink, and yellow living rooms are just some of the options for more adventurous ones.
Make the Room Look Spacious
The illusion of making your room appear wide and spacious depends on the furniture and accents that you will be using. One of the most common ways is to paint the ceiling white. Having this color on your ceiling will avoid the overwhelming feeling of being enclosed in a small space. Storage and shelves must be built and installed higher to direct the eyes on an upward swing. Aside from that, these items will also keep your clutter out of sight and make the room appear more organized and neat. Installing a chandelier as a focal point for your interior design will also help as long as you get the correct size.
Final Thoughts
May it be an addition of yellow living room curtains or yellow and grey wall decor, starting your remodeling project, and transitioning your decision into a larger scale yellow living room project will be a welcomed change within your house as long as you do it properly. Updating the living room is a drastic change that all homeowners are faced when they get tired of their existing interiors, and updating into a livelier color palette might just be the transformation you need.
No matter how you want to indulge in a yellow room interior, it will not just happen if you do not do your part to kickstart the project. If you are worried about the results, you can always refer to professionals and check the internet for the right yellow tones that will work for your own living room. There will never be a perfect timing unless you start creating your timeline. Your living room deserves an upgrade and your timeline should start now.
Other Great Articles to Read: