High-end kitchen countertops like granite and marble have long hogged the limelight. It's time for them to move over. Why? There is a trendier, more practical and aesthetically-pleasing alternative that is giving the old stalwarts a run for their money. We're talking quartz countertops. Since 2004, its popularity has soared almost 60 percent and it's predicted to continue to rise. So, if you're tired of the same old options and are looking for a countertop facelift that has character, spunk and class, look at quartz choices, especially the new quartz countertop colors of 2016.



If you're still on the fence about quartz kitchen countertops, here is some background information that will help you make a smart and informed move. No regrets, only accolades given to your smart choice.
What is Quartz?
Although you can find quartz countertops made of quarried slabs of natural stone, modern quartz contains about 95 percent ground natural quartz with five percent polymer resin to bind materials to create a sturdy, non-porous surface. It's skillfully engineered to capture the polished, sophisticated look of natural stone while providing durability. In the process, pigments are added to achieve a variety of colors. To provide more exciting choices, manufacturers add recycled glass and metallic flecks for interest and effect.
Why Pick Quartz Countertops?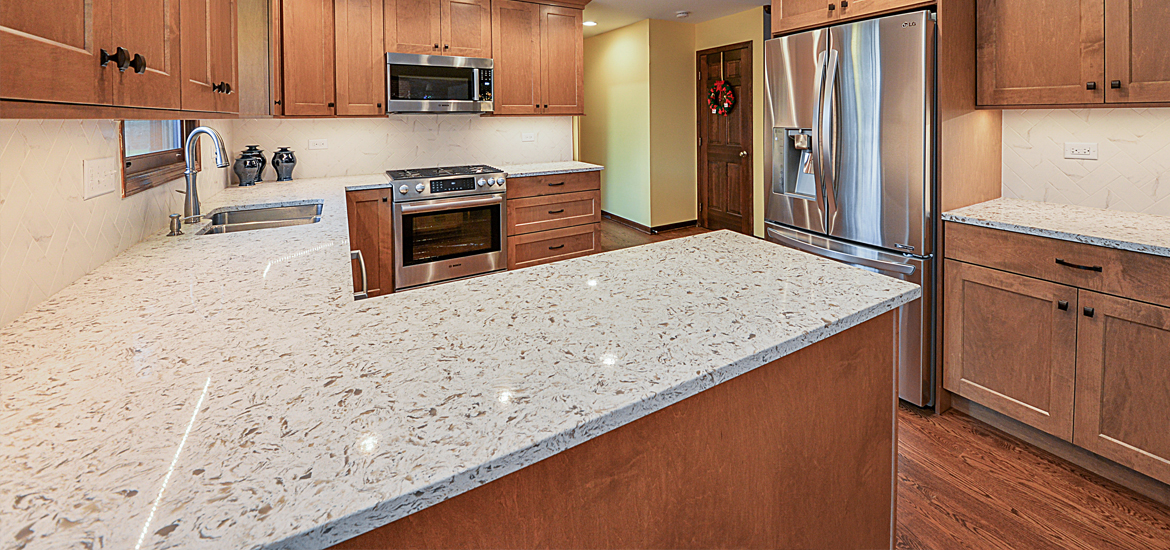 Not only is quartz the emerging star of kitchen countertops, it has star qualities:
Hard as a Rock
Granted that most quartz are manufactured, that doesn't mean poorer quality. On the contrary, engineering science blends ground quartz and resin to produce a stronger and more durable surface. It's almost indestructible, industry experts point out.  In fact, it's so durable, most manufacturers offer a warranty, something you won't find with granite or marble. If you're looking for a countertop that will endure all the knocking around and the flow of kitchen traffic (sometimes rowdy and messy), especially if you have small children, quartz will face up to the challenge.
More Practical & Sanitary
A kitchen is a place where spills happen–juice (oh, the damage stain can do), cooking liquid, wine, cleaning products, and even raw meat. That means a number of things: stains can be feisty and resistant to cleaning, and bacteria from raw foods can be a health threat. Quartz can safely combat all of that. The engineering process causes the surface to be less porous and more kitchen friendly. It resists staining, corrosion, and gives the bacteria less surface area to hide (you can keep it 99.9 percent bacteria free). Good news for those who know what bacteria can do. And even better news: Quartz surface doesn't need periodic resealing like natural stone, which means less fuss and maintenance. So what's not to like about this super low-maintenance surface that offers great functionality without sacrificing good looks?



Oh, the Colors You'll See
The world runs on colors, and colors are magical. A carefully and thoughtfully selected countertop that plays into your color scheme or kitchen theme does wonders for the kitchen. It perks it up and gives the kitchen a cohesive, yet stunning look. The old complaint about the lack of color selection for quartz is a thing of the past. Newer quartz selection offers more patterns and color variations. They have more choices with more flecks, swirls, and patterns to rival natural stone. HanStone's new 2016 quartz selections offer an astounding number of choices such as
Classic Statue
Italian Wave
Ambrosial
Rampart
Majesty
Argil
Arete
Kindred
Concord
Anejo
Whether you're looking for a classic and simple slab such as Classic Statue, or something with more character like Italian Wave, or a bolder more earth-tone shade like Rampart, the choices will make your upgrade easier and more satisfying. If you have further questions about quartz countertops check out a blog article we created titled Quartz vs Granite: A Complete Rundown,  or contact us. Our experts will be happy to help you. Please comment below and give your opinion about quartz kitchen countertops, or ask any questions you may have. We are happy to help!
Share the Above Infographic On Your Site