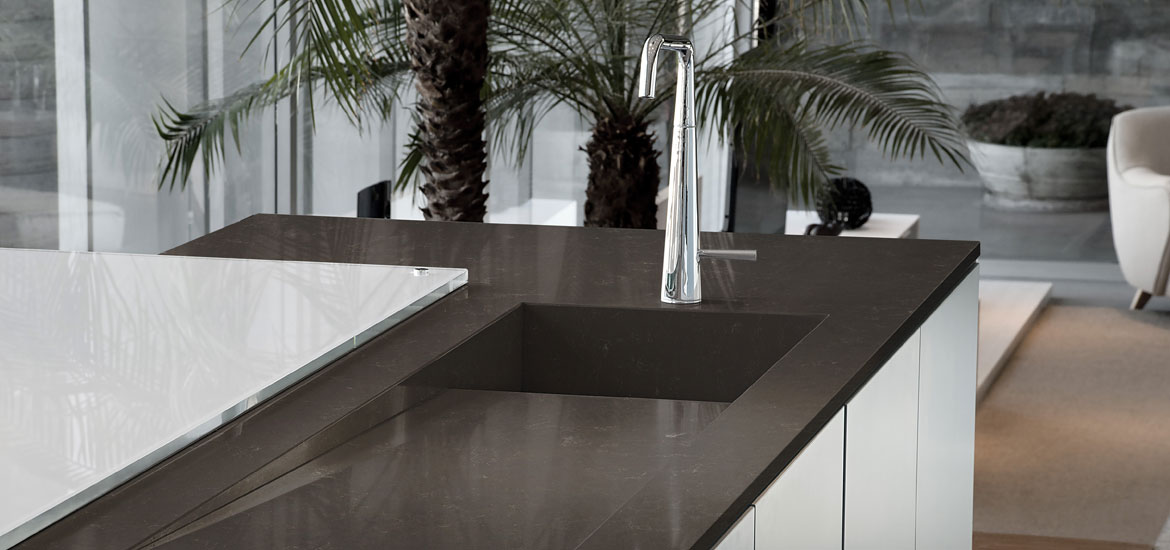 Choosing the best countertop option for your bathroom or kitchen is tough, particularly with kitchens. Choosing the right countertop with all of the alternatives on the market, like marble and granite is a challenge, but when comparing features like staining and scratches, silestone fares well. Silestone is manufactured from quartz, which provides many color tones, styles, and finishes for kitchen countertops and bathroom treatments, complementing many home styles and decorating tastes.
What is Silestone?
Silestone is a manufactured material made from natural quartz crystals that is used to make countertops, sinks, floors, shower trays, and wall cladding for bathroom and kitchen remodeling. Known for its durability and non-porous structure, the material is hard and more resistant to scratches, stains, bacteria, and viruses than other countertop surfaces. Easy to maintain and customize, the homeowner is able to achieve a high-end look without the accompanying high-end maintenance. Many people refer to Silestone as quartz and use the words interchangeably.How is Silestone Made?
Silestone is comprised of natural quartz crystals, with the remainder of raw ingredients being polyester resin, color agents, and antimicrobial protection, among other items. The polyester resin is what binds and holds the quartz crystals together, creating the Silestone surface.
Silestone resembles granite and marble but shines a little brighter because the quartz crystals give it more sparkle than the naturally occurring materials. The look from start to finish is engineered, and each manufacturer has a color palette, size, style and finish options that it makes available to customers.
How is Silestone Made?
Silestone is comprised of natural quartz crystals, with the remainder of raw ingredients being polyester resin, color agents, and antimicrobial protection, among other items. The polyester resin is what binds and holds the quartz crystals together, creating the Silestone surface.
Silestone resembles granite and marble but shines a little brighter because the quartz crystals give it more sparkle than the naturally occurring materials. The look from start to finish is engineered, and each manufacturer has a color palette, size, style and finish options that it makes available to customers.
Silestone in Kitchens
The kitchen is the heart of the home, particularly in modern open floor plan kitchens that connect into the family room. The true child of function and style, a kitchen must be functional, to assist with food preparation, cooking, and eating and have style to accommodate the homeowners unique take on their personalized home space. To do this best, size, color, and style preferences must be determined.
Good for Large or Small Kitchens
No matter the size of the kitchen, there is a Silestone surface for you. Your countertop, sink, floors, and walls can be covered with Silestone. No space is too small or too big.
Contemporary Style Best Use of Silestone
Much is said about the type of home Silestone is best for. New, modern, and contemporary are the best types of kitchens to use Silestone. Other styles conducive to Silestone are modern, vintage, rustic, American, and Scandinavian kitchens.
Most Color Options Available On the Market Today
The most interesting feature of quartz is the variety of colors that can be made in the Silestone products. On trend whites, greys, and dark tones or pastel tones are available. No matter your color preference there is an extensive and growing color library available for perusal during the kitchen design process.
Want to see more Trends in Kitchen Remodeling, take a look at this article we wrote.
What are the Silestone Quartz Colors?
Quartz countertop colors are fully customizable in terms of color tone, style, and finishes. Among the choices a homeowner or designer can make are as follows.
The available color tones range from light grey to white, cream to beige, dark grey and black, yellow and orange, pink and red, green, blue, and brown. Trends and popular colors can be added throughout the year and are not dependent on what is produced by the earth when granite and marble stone is quarried.
The available quartz countertop styles are plain, veined, fine grain, or coarse grain. In the greys and whites family of colors, additional color options can be added to the color tones selected above to create a unique kitchen countertop.
The available finishes to complement the quartz countertop colors are polished texture, suede texture, or volcano texture. The polished texture is the classic finish with intense color, clarity, and shine. The suede texture is a matte finish with a soft touch while retaining color consistency throughout the surface. The volcano texture rustic yet smooth to the feel and appearance.
The edges of the Silestone surface is also customizable. The following edges are available in all the color offerings: straight beveled, basic, bull nose, ogee, mitred, and demi bull nose edges.
The straight beveled edge is square with slanted top edge.
The basic edge is square with a slightly eased top edge.
A bull nose edge is completely finished round.
An ogee edge is a conclave arch that transitions into a cortex arch.
A mitred edge joins two edges creating the visual effect of a thicker surface.
A demi bull nose edge is rounded oblong at the top and flattens at bottom for a straight edge.
Silestone Formats
The formats or sizes available depend on the Silestone treatment. Countertop slab formats are offered in two sizes: standard 55" x 120" or jumbo 63" x 128." Flooring tiles come in the five following sizes: 12" x 12", 12" x 24", 12" x 35", 18" x 18", and 24" x 24". The Silestone surface thickness is available in three sizes: 1.2 cm, 2 cm, and 3 cm.
Why Silestone is a Good Choice for Quartz Countertops Colors for Kitchens
Scratch Resistant
Silestone is scratch resistant and scorch resistant. Quartz is one of the most durable materials found in nature. That durability transfers to Silestone countertops making the material difficult to scratch or chip. The material is less hard and formal than marble or granite, softening the overall feel of the kitchen countertop. Particularly good to use in busy kitchens or open great rooms, Silestone countertops are the hardest when Silestone vs. granite is compared.
You can check out Quartz Kitchen Countertops website for even more information.
Non-porous Surface
The Silestone countertop surface is non-porous. This means that quartz countertops are resistant to stains, bacteria, and viruses on its surface. Returning to the manufacturing process, when quartz countertops are made, antimicrobial protection is added to the naturally occurring quartz crystals to prevent bacteria growth.
Easy to Clean
Silestone is easy to maintain. Silestone mimics the beauty and feel of granite and marble, but it does not require sealing or special maintenance. Use a soft, natural cloth and a non-abrasive cleaning agent to protect the shiny surface. No need to wipe or scrub hard. But you do need to wipe often, especially with spills and stains. Make sure heavy objects are not dropped on the Silestone. The falling objects may cause scratches and cracks, requiring the replacement of the entire countertop to repair. Use cutting boards when using knives and trivets when placing hot items on the Silestone countertops for best results.
Stain Resistant
The non-porous surface of the quartz countertops is highly resistant to staining especially when Silestone vs. granite countertops are being considered. Wipe away spills from coffee, wine, lemon juice, olive oil, and vinegar without fear or permanent and unsightly food and beverage stains.
High Impact Resistant
Silestone is high impact resistant and allows you to handle any object in your kitchen without the fear of damaging the surface.
Cloudy Blotches
Some people report cloudy blotches on their quartz countertop after many months of use. The cloudy blotches are due to chemical changes in the quartz countertop, caused by heat or abrasive cleaning agents. Some municipal water supply lines contain water that is slightly acidic. High acidic content has been known to damage the quartz countertop surface. Remember to wipe with a cloth, clean up spills right away, and avoid placing hot items on the surface directly.
Warranty
Silestone surfaces come with a warranty depending on the manufacturer. Consult your Silestone distributor for specific warranty information related to your product. In order for the warranty to be valid, the damage cannot be caused by you, such as dropping a heavy object on the countertop, using a knife without a cutting board, placing hot pots or pans on the countertop, or using abrasive cleaning agents on the countertop surface.
Check out this Silestone slideshow video below:
Quartz Countertops Colors for Kitchens
Silestone colors are uniform, connecting large areas in the kitchen with the same color, style, and texture. Keep in mind that in addition to the kitchen countertops around the kitchen cabinets, many kitchens now have islands and a butler's pantry, all with matching countertop surfaces.
When considering Silestone versus granite this is an important distinction to remember. Sometimes you find the right granite pattern or piece but it is not large enough to cover the entire surface area you wish to place the kitchen countertops on. This complicates the project because of the unavailability of consistent stone color, style, and pattern inventory. Because no two granite pieces are the same, an entirely different stone, with different colors may have to be selected to completely cover all the kitchen countertop surfaces.
The colors of quartz countertops are premade. Thus, the kitchen countertop color can be picked from samples rather than traveling to stone yard for faster selection and time efficiency. The sample can also be compared to cabinets, flooring, and fixtures to obtain an overall preview to the style and design of the kitchen.
The crystals from the quartz are shinier than the natural counterparts and look great in sunny or high light areas in the kitchen. Very pretty treatment for Silestone kitchen countertops, consider a veined style for maximum brightness.
No Radon Emissions
Silestone does not emit radon gas as granite and other stone surfaces do. In large quantities it may affect indoor air quality according to the U.S. Environmental Protection Agency. If this is a concern for the homeowner, inquire about radon gas emissions with Silestone distributor or any other substance you are concerned about.
Why You Should Not Use Silestone Countertops?
Best Countertop for Contemporary or Open Floor Plan Homes
Silestone countertops work best in contemporary kitchens or open floor plan homes. Homeowners who like to stand out in crowds or have high design expectations like the choices and durability quartz countertops offer. Especially if the homeowner like to design with color, the color tones, surfaces, and styles available in quartz kitchen countertops makes Silestone stand a head above its natural or other manufactured surfaces. Some people opine that the feel of the Silestone is less grand and opulent than granite or marble, but again, this is a stylistic concern sprinkled with functionality. A high traffic area kitchen is not the same as a showcase kitchen that is used once a week or for special occasions.
Not Heat Resistant
Silestone is not heat resistant. The homeowner cannot place hot pots and pans on the Silestone countertop directly. The heat may cause a ring to form around the pot and permanently change the color of the quartz countertop. It is recommended that a pot-holder, coaster, or trivet be used in between the hot pots or pans and the Silestone countertop.
Cost of Silestone is High
If cost is a factor in the kitchen remodel or buildout, you will not save any money by selecting a quartz countertop. Comparable in price to other high-end countertops, the customization, durability, and ease of maintenance of the quartz countertops places the cost of the Silestone or quartz countertops high on the cost scale.
Mano a Mano Combat: Quartz Versus Granite Countertops
Little to No Maintenance with Quartz
Quartz countertops easily resist spills and ultimately stains. Granite on the other hand must be sealed annually to be protected. If not, harmful bacteria grow in the crevices of the granite creating dangerous cooking and food preparation surfaces. Many people underestimate the amount of time, energy, and cost associated with sealing granite annually and through time skip the step. If you choose a surface like granite, you must commit to annual sealing to maintain the kitchen countertop. Advantage: Quartz Countertop.
Quartz is Stronger
Like any surface, drop any heavy item on another item, and a crack or chip will happen. Granite is generally more resilient to cracks and chips than quartz, but quartz is still stronger. Advantage: Quartz Countertop.
Beauty is in the Eye of the Beholder
Aesthetically, both granite and quartz are nice to look out. Take a look at more remodeling ideas in our previous project page. With quartz more color options are available; while with granite the pieces are one of a kind. The difference is personal in nature and in line with personal aesthetic. Some people like the natural look and feel of granite and marble. Others are attracted to the newness and uniformity of quartz. The best counter aesthetically is one that you like best. Advantage: Tie.
When Damaged Not Easily Repaired
It is very difficult to repair quartz when damaged. Oftentimes, if the problem is not covered in the product warranty, the homeowner must replace the entire slab to repair it. Granite on the other hand can be repaired. Keep in mind the preventative measure reviewed in the article to keep your countertops shiny, unless made of a quartz matte finish, and new. Advantage: Granite Countertop.
What Does Silestone Countertops Cost?
Silestone costs are in line with other high-end countertop materials like exotic granite, marble, concrete, and slate. Expect quotes in the $100-$175 per square foot range. Silestone vs. granite cost is similar. Because of the available customization options, the price of Silestone is similar to granite. Many stores and stone yards sell Silestone or granite remnants from jobs that are cancelled or customers that change their mind. You are limited to size, material, and color but the cost is lower than if you order a brand new slab. Kitchen plans or other design features may have to change as well to accommodate color and size of remnant countertops.
Where Else Can Silestone be Used?
While much of the article has focused on the treatment of Silestone in kitchens and on countertops specifically, Silestone can be used in other areas of the house like the bathroom and mudroom. Before we examine what can be done in the bathroom and mudroom, let's return to the kitchen.
Silestone Sinks in Kitchens
Kitchen sinks can be made of Silestone material in the same color, style and texture as the countertop. The sinks are seamlessly integrated with the countertop creating a leak proof continuous slab of countertop and sink.
Silestone Backsplashes in Kitchens
With the technique of wall cladding, which is creating a decorative visual interest in a wall, the kitchen backsplash can be made from Silestone. Making all active kitchen surfaces from the same durable and easy to maintain surface, will keep cleaning and tidying up simple. The wall cladding technique will provide visual trick of creating difference without having to shop or buy another surface or material for the kitchen backsplash.
Bathrooms, Flooring, and Walls
Bathrooms are another area in the house that can benefit from customization and use of color. Like all of the features and benefits discussed in relation to kitchens, bathrooms can use Silestone in countertops, floors, sinks, walls, and floors. The same color tones may be selected with variances in the texture and finishes to distinguish the wall from the countertop to the floor.
Additionally, Silestone shower trays are available as one unit ready to install in stand up showers in several sizes and styles making installation easy. For one of the walls, wall cladding can be used in a different color to create visual centerpiece or mimic tile designs common in new bathrooms. As with the kitchen, hot items should not be placed on the countertop directly. Avoid placing hot hair tools on the countertop for best results.
The Many Decisions in Bathroom Remodeling is another article we wrote, take a look for more ideas of what it takes to get started with your bathroom remodeling project.
High Traffic Areas
The non-porous structure of the Silestone is great for high use or traffic areas of the home, like a mudroom or kitchenette in the family or rec room. Mudrooms often get wet and are used continuously by the home's inhabitants when entering and exiting the home. The walls and floors can be made from Silestone surfaces. Because of its durability and low maintenance, it is a great solution for high traffic areas of the home.
Flooring and Walls
Wall cladding with Silestone is not limited to bathrooms and kitchens. Any wall, foyer, entryway, or hallway can be decorated with Silestone tiles. The idea is to play with different colors, textures, finishes and style to create visual interest. Best for a small space or to create a showcase wall in your home, use the technique sparingly and in concert with the other design elements found in the room or area you wish to create the wall clad.
Maintenance Tips are the Same
Silestone maintenance is the same no matter where the surface is located in the home or how it is used. Wipe clean with a cloth and non-abrasive cleaning agent often. Avoid placing hot items on it. Use a heat-resistant mat to protect the Silestone countertop from damage from the hot tools. Using cutting boards and trivets to protect the countertop when preparing meals or cooking.
Who Makes Quartz Countertops?
There are many manufacturers of Silestone. Three popular manufacturers are Silestone, Cambria, and Ceasarstone.
Silestone is one of the largest manufactures of Silestone in the world. Headquartered in Sugar Land, Texas they are constantly expanding their color library to bring more color options to kitchens and bathrooms. Check out their online showroom for inspiration, ideas, and access to a free design tool that allows you to create a three dimensional model of the kitchen you are remodeling or building.
Image Sources: