When it comes to choosing tile for your kitchen or bathroom, there is an endless amount of tile shapes, patterns, styles, and colors to choose from. When wondering where to start, it's no surprise that the process can be a little overwhelming. However, understanding the different types of tile shapes and patterns can help you determine what style you may or may not be looking for.
Below, a list of popular tile shapes and patterns can help you get a full grasp of the complete availability of tiles to you. Check out the following information, take a look at the images, and see which styles you like best!
BLUE SHOWER TILE
Everything in this bathroom's design, which has many nice accents and patterns, seems incredibly reviving. Hulburd Design did a fantastic job with this bathroom design. Modern and spotless. I adore the combination of gentle blue, gray, and white.
TRIANGLE VANITY TILE
Do you want a bathroom with a beach resort-style, fresh design? Fun beach-themed bathroom with tons of details. This warm bathroom design has everything looking so lovely and organic. Younique Designs created the most amazing bathroom design.
TRIANGLE
BATHROOM TILE
The walls and floor are tiled with beautiful triangle and circle patterns. The tiling also gives this white bathroom some calming green hues. Everything appears cozy and understated in this bathroom with a green motif designed by Fireclay Tile.
Octagon Bathroom Tile
An octagon bathroom tile is one of the most classic ways to decorate a bathroom floor. Often, the octagons are fitted with contrasting colors, such as black and white. This style is known as "octagon dot" style and can serve as a classy backsplash. This octagon and dot tile has been popular for quite a while and continues to be a trend when it comes to placing smaller tile pieces.
Octagon bathroom tiles are very versatile. They can be pieced together into a mosaic pattern that can cover the entirety of the floor in a simultaneous pattern and go great with multi-colored sinks and walls.
Triangle Tile
While it may seem like a broad category, triangle tile is often the go-to choice for those who want smaller, square-shaped tiles in their homes. By putting two triangle tiles together, one can create a square, with as many colors and designs available as you can think of. There are typically four different shapes of triangle tile: including traditional square-shaped, rectangular-shaped, and smaller versions of the two.
ELONGATED HEXAGON 2
Everything in this bright, well-lit laundry room looks fantastic! In this KW Designs bathroom design, laundry will be a very productive part of your day. This laundry area gets beautiful turquoise from the long hexagonal tile.
Diamond Tile & Diamond Tile Pattern
Diamond tile is a popular choice for mosaics. While most shapes of diamond tile are available at most hardware stores, you can also find specialty versions of diamond tile that will fit well with any kind of design. This is one of the most popular types of tile available as they can be easily stacked alongside each other to create as little or as big of a space as possible.
A diamond tile pattern is a popular and fairly common type of tile design that provides a geometric layout. By turning standard tiles at a 45-degree angle, one can achieve diamond tile patterns, which is often nice on the eyes when compared to a boring straight-tiled design. Diamond pattern tile is available in many shapes and colors and is often used as a kitchen backsplash or a bathroom floor.
Rhomboid Tile
Rhomboid tile generally consists of a square or diamond-shaped tile pieces put together in a mosaic pattern. They often come in one, two, or three colors together. Many rhomboid styles are made from marble and are packaged together as sheets of a mosaic pattern to be placed on the floor or as a nice backsplash on the wall. They are very popular shapes for the kitchen or the shower. These shapes prove that there is a lot of versatility in keeping things classy.
If you're looking for a rhomboid tile backsplash, this can add a significant geometric effect to your kitchen or bathroom. The rhomboid mosaic appears almost as if 3D blocks are emerging from the area, allowing the eyes to view something rich and full.
ARABESQUE 1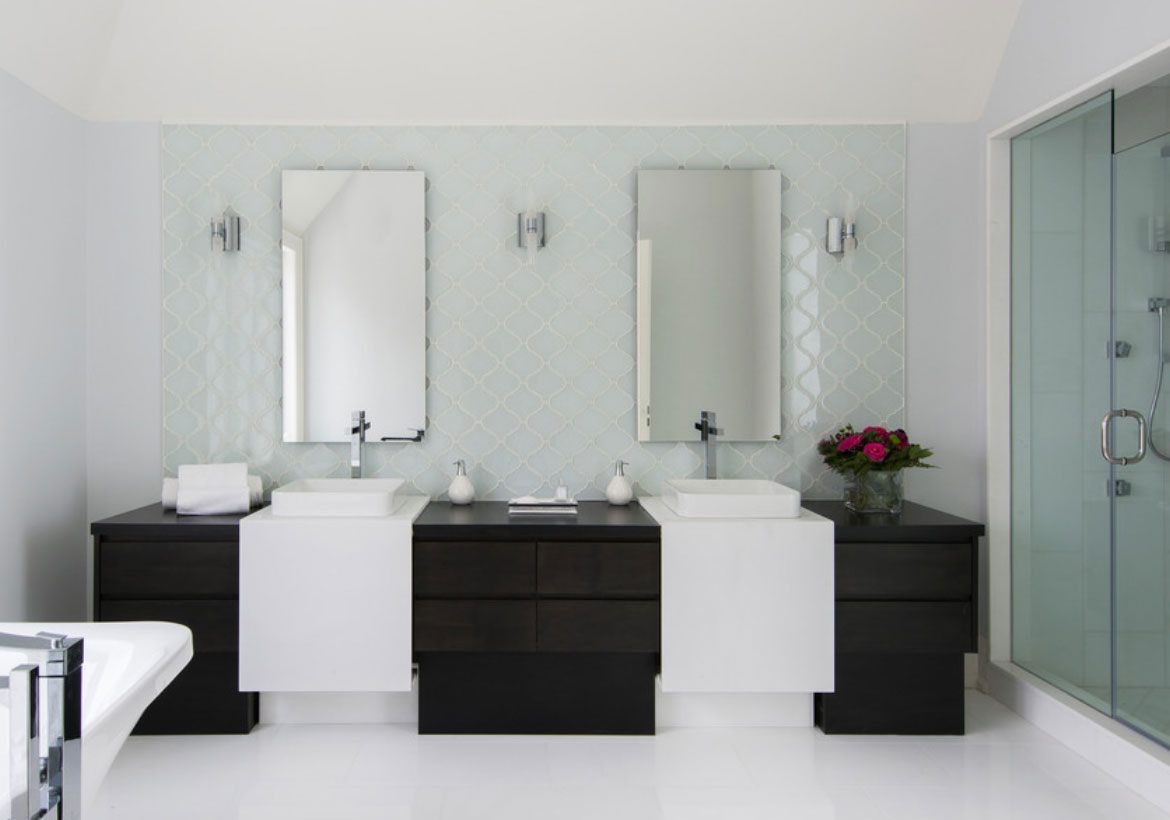 With a white and black color scheme, everything in this bathroom design appears very large and bright. The bathroom design by Jodie Rosen Design is amazing. The attractive light green arabesque tile softens the striking black and white vanity.
Hexagon Tile & Hexagon Tile Backsplash
Hexagon tiles come in many shapes and sizes. A popular feature includes matte hexagon tiles that are individually small in size, measuring about 2" each. They are pieced together to create a textured flooring or backsplash. It's another great option for mosaics that adds some diversity in shape and variety to an otherwise geometrically boring room. A hex tile bathroom is one that adds dimension and can also add a touch of color to the washroom.
Hexagon tile backsplashes are popular for kitchens, bathrooms, and even sitting room designs. You can create a variety of hexagon tile backsplash colors, with a variety of different materials available as well. Many backsplashes are made from marble, as it offers a natural variance in color and texture along the wall. Other materials are available as well that include ceramic and porcelain, which can be popular additions to any kind of backsplash. It's even easy to purchase it in mosaic sheets.
Large Hexagon Tile
A specialty type of hexagon tile, large hexagon tile can measure up to 12" in size. This is one of the most common types of tile options for a bathroom floor, combining a simplistic design with a more complex shape. Hexagon tiles can be mixed and matched to create a mosaic or even a kitchen backsplash. Also known as large hex tiles, they are often smooth and cool with leveled grout for a consistent texture.
The beauty of hex floor tile is that is a creative and often affordable solution to updating an old home to fit the look and style of a new home. It's unique enough to stand out, yet simple enough to coordinate well with existing colors, patterns, and designs.
OGEE DROP TILE
Even though the room isn't particularly large, do you want your kitchen design to exude brightness and cleanliness? Fireclay Tile did a great job with the creation of this colorful kitchen. This adorable kitchen has large powder blue ogee drop tiles.
MOROCCAN FISH SCALES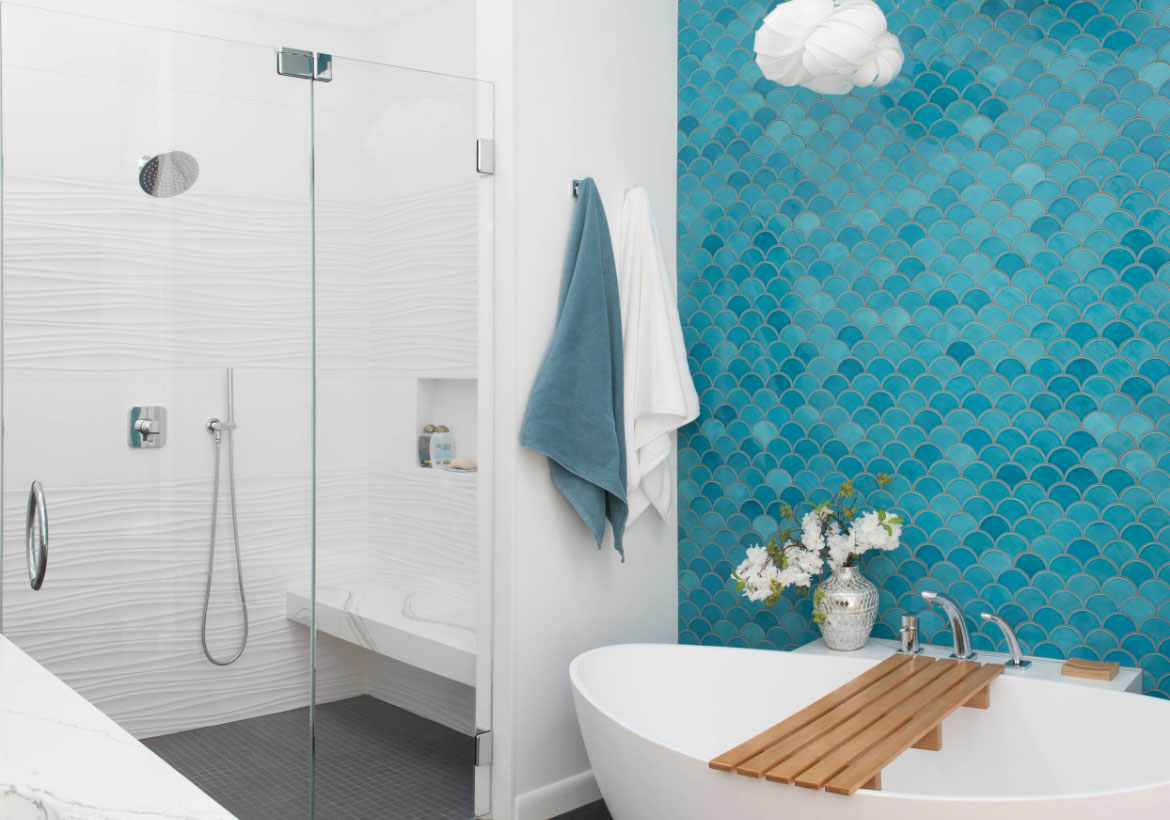 Do you desire a bathroom design with an aquatic feel? Everything in this bathroom design, which was captured by Born Imagery, looks fantastic. It simultaneously seems incredibly refreshing and cozy. Incredible turquoise hue provided by Mercury Mosaics!
Elongated Hex Tile
Elongated hex tile adds a stretched hexagon shape pieced together to create a mosaic or a backsplash. This is a great contemporary look that can add dimension and solidity to any room that needs a touch of something special. Elongated hex tile often fits the modern design themes and is sought after for contemporary kitchens and bathrooms. It's a great way to take the modern and common hexagon tile shape and transform it into a smaller, more vertically-stretched piece.
Arabesque Tile & Arabesque Tile Backsplash
Arabesque tile has grown significantly in popularity over the years, and it can add a great deal of artistry and dimension to any bathroom, kitchen, or dining area. The ornate, foliate, tendril-like patterns can be pieced together to form a repeating mosaic of colors and beauty. Anything that intertwines with itself can be considered an arabesque tile, and it is very popular for white or solid colored arabesque tiles to adorn the walls of a kitchen.
Backsplashes are certainly making a comeback, and what better way to enhance and emphasize the classiness of your room than with a solid or neutral-toned arabesque backsplash? Arabesque tile is extremely versatile, and can be played around with until you find something that you love most. With grooves and embossments that make the texture unique, there's a lot of room for fun while still keeping it traditional.
Arabesque Mosaic Tile
Many homeowners wonder if arabesque tile can work in a mosaic pattern. If you are working on an arabesque tile kitchen backsplash, or even some flooring, you can find mosaic sheets of arabesque polished tile in a variety of materials and colors. It is definitely possible, and has seen a rise in popularity over the past couple of years.
Beveled Arabesque Tile
Beveled arabesque takes an already unique edging and curves it upward, adding a 3D effect that many homeowners appreciate. This is a great way to elevate your backsplash or your tile wall and give it just that little pop of vibrancy. Gently beveled edges are the perfect way to add dimension to your tile design without going too overboard.
Lantern Tile
Similar to an ogee tile with hints of arabesque, the lantern tile mimics a very classical "lantern" shape. It can be beveled, similar to an arabesque tile, which gives it a uniqueness in shape and pattern. They are most commonly seen as lantern mosaic tiles, which are sold in sheets. Sometimes, they can come in contrasting colors or textures, adding even more dimension to a room. Lantern shaped tiles are making a comeback, and whether you want a lantern tile backsplash or a full kitchen while, it is definitely a worthwhile investment.
Ogee Tile or "Fish Scale" Tile
Often confused with an arabesque or Moroccan style, the ogee tile (or ogee drop) is a fun geometric shape that is also known as a "fish scale". You have likely seen this style before in backsplashes, bathrooms, and possibly even colorful restaurants. An ogee itself is an "S-like" curve shape, which has Gothic origins. Ogee tiles can be pieced together in a fish scale row or can be mismatched to face each other or away from each other, creating some very unique and visually stunning styles.
The Best Tile Shapes and Patterns for Your Floors and Kitchens
There are certainly a lot of different tile shapes and patterns to take into consideration when shopping for your next tile floor or backsplash. Choosing the best kind of tile depends on your personal preference, as well as the existing style and aesthetics of the room. For example, you can choose between small mosaic tiles or oversized tiles to make a statement. Do you want porcelain, ceramic, or marble? Do you enjoy textures in your tiles, or do you want it to be as smooth as butter?
The answers to all of these questions can help you narrow down your choices and decide on the best kind of kitchen tile for your bathroom or kitchen. Octagon dot tiles are very popular for bathroom floors, while arabesque and lantern-shaped tiles can make quite the conversational backsplash. Shop around at your local design center to consider the different style, shape, color, and material options you have at your disposal.
This is an image roundup post, curated to showcase and promote other reputable contracting companies' and their amazing work.  To have any of the images removed, please reach out to us and we would be happy to do so.