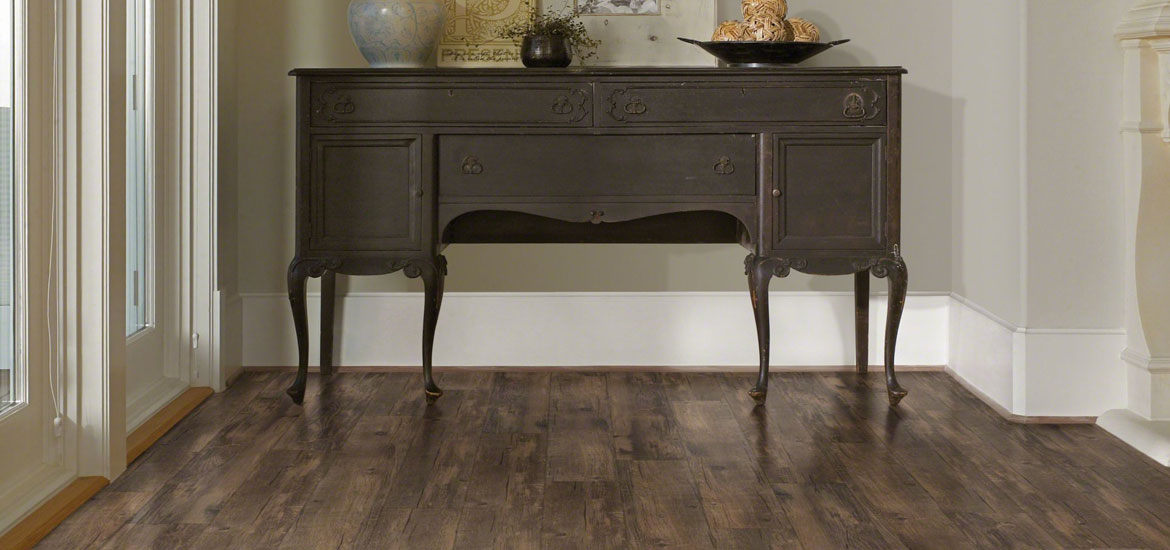 Image Sources: shawfloors.com & metroflorusa.com
It is extremely important that you choose the right flooring for your home. Whether you are in the process of constructing a new home or renovating your current one, take your time in choosing the ideal flooring. Take into consideration factors like the room where the flooring will be installed, the amount of traffic the floor is likely to receive and your budget.
One type of flooring that is becoming quite popular among homeowners (and even business owners) is luxury vinyl tile or LVT. LVT is a major improvement on traditional vinyl sheets, providing plenty of flooring advantages.
Thanks to improved technology and advanced manufacturing, luxury vinyl tiles provide increased durability, a wider variety of aesthetics, easier installation and a generally better feel. In this article, we dive deep into luxury vinyl tile, looking at what exactly it is made of and how it differs from traditional vinyl. We also discuss the many applications of LVT, its many benefits and the few drawbacks you should be aware of.
This comprehensive guide to LVT is for every homeowner torn among various flooring choices. By the end, you will be much closer to making a decision on what kind of flooring fits your needs.
What Is Luxury Vinyl Tile?
Luxury vinyl tile is a vinyl-based flooring material that is designed to mimic the look and feel of various materials such as wood, stone or ceramic. While it may seem unlikely to have luxury and vinyl in the same sentence, LVT is actually a high-end vinyl material, made better through technology. It's good enough that it is now used widely in luxury homes and condos.
LVT comes in several layers. The actual vinyl tile is the bottom layer (also called the backing) and it can consist of a hundred percent vinyl or a mixture of vinyl and limestone. The very top layer is a heavy film of aluminum oxide, which acts to prevent damage from UV rays and scratching. Below that is a clear film, which protects against more serious damage including rips and tears. For instance, when you are moving heavy furniture, this layer is crucial in preventing damage to the flooring.
The third layer, just before you get to the actual vinyl layer below, is responsible for creating the realistic effect of whatever material is desired be it wood, naturals tone, slate or ceramic tile. Note that different manufacturers can make slight variations to this structure and composition to create their own unique brand of LVT.
It is also important to note that 'luxury vinyl tile' is not a standard but simply an industry-accepted term to denote the above type of vinyl-based tile.
Vinyl Flooring Buying Guide
There isn't really much of a difference when it comes to the basic composition of luxury vinyl tiles. Some manufacturers may infuse another material in the bottom backing layer but most stick to either vinyl on its own or a mixture of vinyl and limestone.
The best way to categorize LVT is based on design. Different manufacturers will come up with their own unique designs. So you might find wood, ceramic, slate and natural stone looking LVT. This provides homeowners with a wide variety of design options to choose from.
A good idea is to do some research before buying. Check out what differences there are in composition and design among various brands.
Check out Metroflor, a company that specializes in LVT flooring.
Luxury Vinyl Tile Cost
Ordinary vinyl is one of the cheapest flooring materials available. You can get a square foot for as little as a dollar or even less for vinyl sheets. This is one reason why vinyl was so popular until it was overtaken by laminate flooring.
If you go to the store expecting luxury vinyl tile to have a comparable price point, you are going to be very disappointed. LVT is several times more expensive, reaching the price levels of other high-end materials such as ceramic. The cheapest you can find it is perhaps $3 per square foot. But do not be surprised if you find some sellers pricing it at $7 per square foot.
If you work with a contractor, chances are that the contractor can negotiate a better price for you, but you can still expect it to be quite high. Make sure you consider the price before settling on LVT as your flooring option of choice. Find out from your contractor or various sellers how much you are likely to pay for the entire flooring project. Compare that estimate figure with your budget and decide whether it is comfortably within your range.
Guide to Installing LVT
One of the biggest advantages of LVT lies in its installation (see the full list of benefits further below). Unlike some floorings which can take several days to install, LVT takes just a few hours. The installation is quick and relatively easy. But it is still a good idea to have a contractor do it for you, to ensure the perfect installation.
Most sellers provide different types of LVT depending on how they are to be installed. The installation method will depend on a number of factors including preference and type of subfloor. Please ask your contractor for advice before buying a specific type of LVT.
There are 2 main groups of LVT based on how they are to be installed. The first group is the glue-down LVT. These types of LVT require an adhesive to stick to the subfloor, meaning that you might have to wait a day or two for the glue to cure. The second group consists of floating luxury vinyl tiles and planks that do not require any adhesive and can be used immediately after installation.
Here is a look at the specific types of LVT based on whether they are adhesive or floating.
Self adhesive LVT: These are tiles with a pressure sensitive adhesive layer at the bottom. There is no need to use any extra glue for installation. To install them, just pull back the covering film and position the tile where you need it. To activate the adhesive layer, press down on the tile. One advantage of self-adhesive LVT is that they are equally easy to remove.
Glue-down LVT: These tiles require the use of special vinyl glue. This glue is applied on the floor before the tiles are installed. Once the tiles are pressed down onto the glued subfloor, several more hours are necessary to allow the glue to harden. A downside of glue-down LVT is that they are hard to remove, should it be necessary later on.
Interlocking LVT: These are a floating type of tiles. Instead of using an adhesive, individual tiles have grooves and tongues on their edges to allow easy interlocking. These luxury vinyl tiles can be installed in a few hours and can be used immediately. Removal is fairly easy.
Loose lay LVT: These types of LVT do not rely on adhesive or interlocking grooves. Instead, they have a special high friction bottom that strongly grips the subfloor. Installation is mess-free and removal is easy.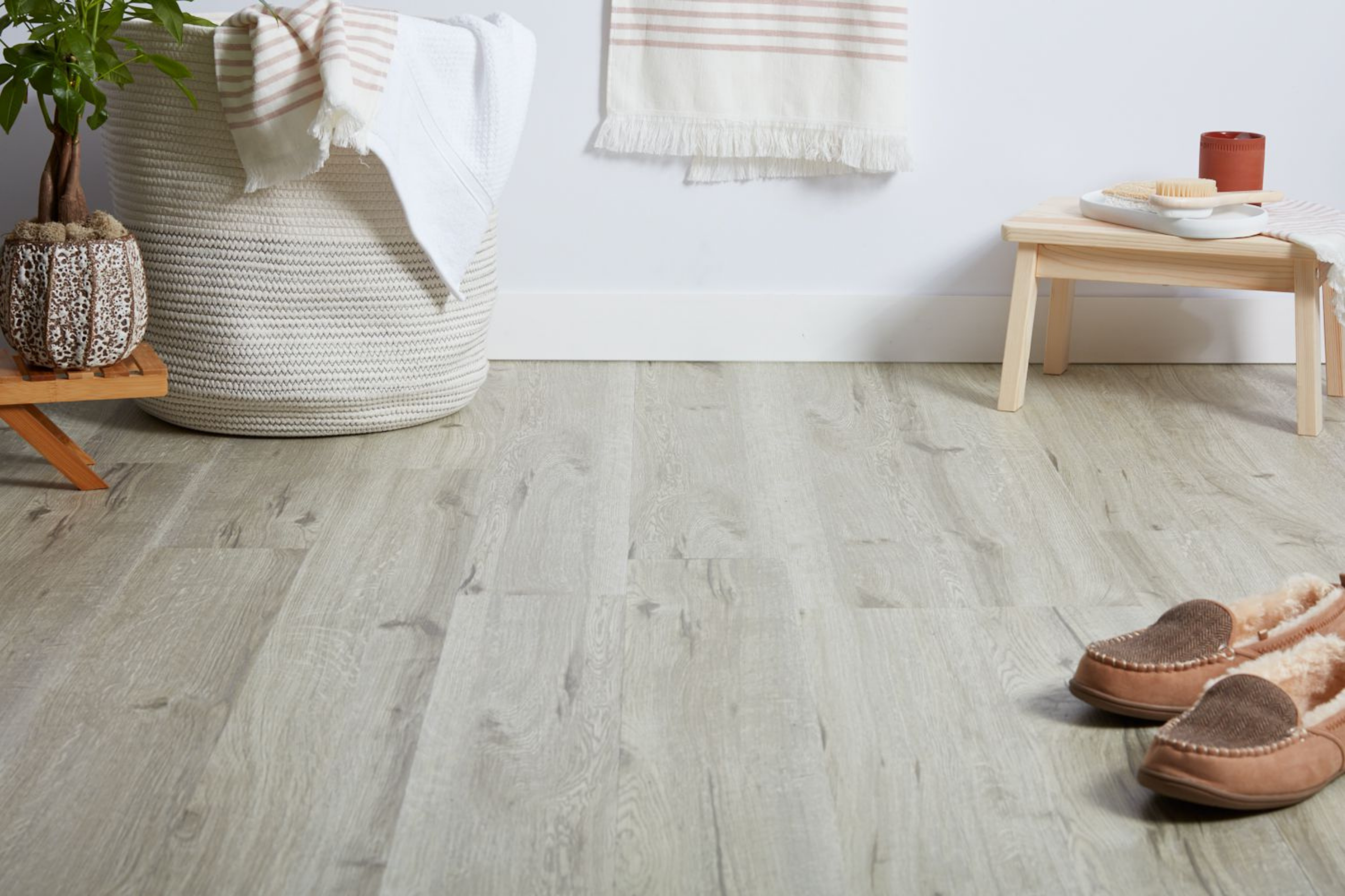 Luxury Vinyl Tile Flooring Installation Areas
The properties of LVT make it ideal for use in numerous environments. For example, the layers on top of the vinyl backing ensure that the tiles are able to withstand repeated footfalls. This makes LVT great for use in high-traffic areas. You can use LVT in common areas such as the living room and kitchen without worrying about any degradation. For businesses, LVT performs very well especially for areas where you are expecting plenty of foot traffic from workers or customers.
LVT is not affected by water, unlike wood, which swells and rots when exposed to moisture. You can therefore use LVT in the bathroom, patio and kitchen without worrying about water damage. The hard wearing and durability characteristics of LVT ensure that it can last long without degrading in quality.
Another application of LVT is in below grade areas such as the basement.
Thanks to the wide variety of designs available and its warm feel, luxury vinyl tiles are perfect for residential flooring. You can use it for almost any room in your home including the family room, dining area and bedrooms.
Luxury Vinyl Flooring Facts
One reason why LVT flooring has taken off so quickly is its many benefits. With only a few disadvantages to be concerned about (as we will see shortly) LVT is clearly a great flooring choice for many homeowners. Here are the benefits of using it in your home.
Durable: There is nothing worse than installing a floor only to have to rip it out just a year or two later because of extensive damage. LVT can last for years while still maintaining its vibrancy. It is a resilient material, allowing it to withstand years of use without showing any signs of ageing. So if you are looking for a floor that you will install and then forget about, this is it.
Resilient: As we have mentioned, one of the best characteristics of LVT is its hardwearing nature. It can be installed in numerous kinds of environments and still retain its integrity. We have already seen how it can be uses in high traffic places and areas with moisture without any damage. So even though you will spend a lot for it, opting for LVT is a worthy investment. You do not have to keep making expensive repairs or replacing it every now and then.
Quick installation: LVT is one of the easiest floors to install. This is especially so for the floating tiles – interlocking and loose lay LVT. Even those that require an adhesive are relatively easy to install, requiring only a few hours to complete a sizable room. Additionally, LVT flooring does not make a mess during installation.
Easy replacement: If there ever comes a time when you need to replace your LVT flooring, the work will be easy and quick. The only exception is glued-down tiles, which can present more difficulty in removing them. As for other types of LVT (self-adhesive, interlocking and loose lay), the removal process is quick and straightforward.
Versatility: There are so many LVT flooring style options to choose from. Whether you want a ceramic or natural stone look, they are available. You can also get LVT designed to closely resemble slate or natural wood. When you are shopping around for LVT, check what style varieties different manufacturers are offering and choose the one that best complements your home décor.
Concerns of LVT Flooring
The downsides of LVT flooring are few and will probably have little impact on your flooring experience. The benefits far outweigh any present concerns. Here are the few issues you might want to take note of.
Lack of ideal transition materials: A common problem experienced by many users is the lack of ideal transition materials. A transition material is the flooring piece that separates one floor type from another. It is also used to separate two floors of slightly different grades. While you could use a metal piece, it will not blend in well with the LVT flooring, creating an awkward, if not ugly, matchup. The next best alternative recommended by most users is wood that has been stained to blend in well with your LVT. Our recommendation is to consult your flooring contractor. Most likely, they will have some creative recommendations.
Unexpectedly pricey: For most homeowners, the high price of luxury vinyl tiles comes as a surprise. No one expects anything with the word vinyl in it to cost more than one or two dollars. LVT can get as high as $7 per square foot. But when you consider the huge improvement on ordinary vinyl, you can see where the extra dollars come from. Instead of seeing the high price tag, see it an investment. It will make your home warmer, last long and require little maintenance. Still, you should be prepared to spend especially if you are planning to floor a large room. If you are installing LVT in multiple rooms, the cost will be even higher.
Luxury Vinyl Tile Review Conclusion
Today's homeowners have a wide array of flooring options to choose from depending on their needs, preferences and budget. Luxury vinyl flooring is relatively new in the flooring market but is quickly becoming the go-to option for an increasing number of homeowners.
The above guide has hopefully given you an idea of what LVT is all about, its many benefits and whether it is the right choice for your beautiful home.
Check Out Our Other Great Articles: