Do not completely dismiss black for your living room until you have seen these 17 black living room decor ideas. These black living room ideas could possibly offer you the needed confidence boost to go for the leap, keep away from the white and gray paint tins on the shelf, and see black for what it actually is. Black is sultry, without being too much somber. It is less overwhelming and more empowering, and instead of flooding your scheme, it is capable of enhancing it.
ECLECTIC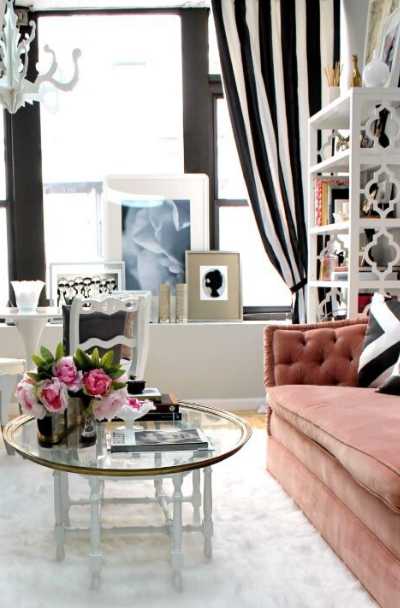 Black and white striped curtains make a fun pop to this space, complimenting the blush sofa.
SOPHISTICATED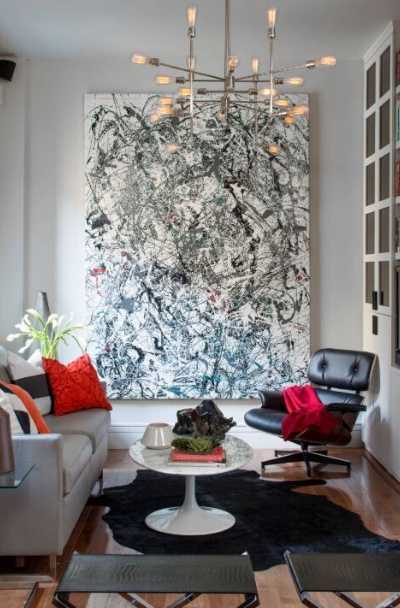 Large artwork is a great focal point for this space, emphasizing the ceiling height.
TRANSITIONAL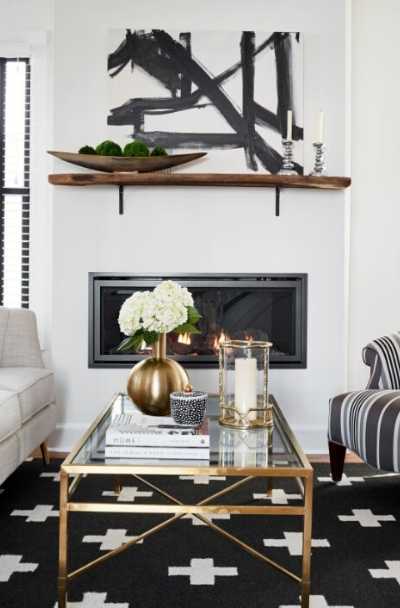 A patterned rug and chair ground the abstract artwork, making this space the perfect display of transitional.
ISLAND MODERN
Bring the island to your home with this tropical modern living room space.
VICTORIAN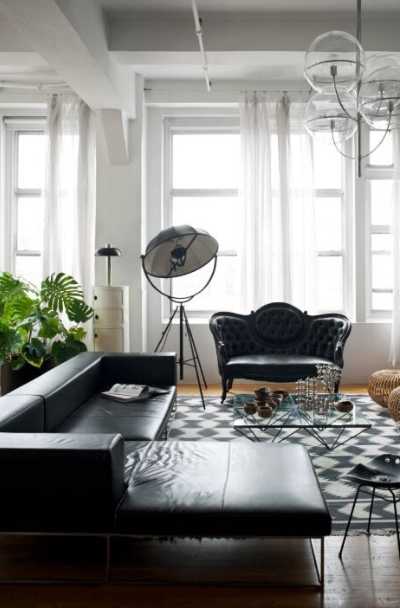 Mixed into this space is a vintage love seat that gives the blend of Victorian and modern.
SMALL BUT MIGHTY
Black frames on a white wall become the focus of this small but mighty living room.
GLAM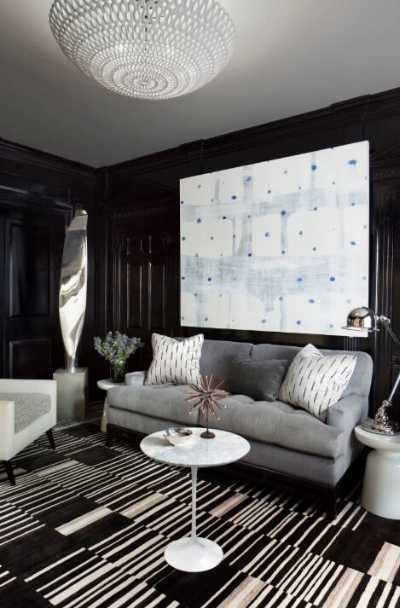 Transitional carpeted and multicolored floor living room idea in New York with black walls.
SOFA STORAGE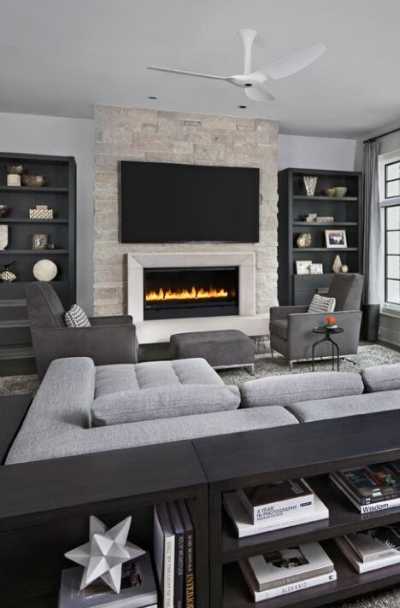 Add open bookshelves to your living room space to keep it airy and less formal.
WALL COLOR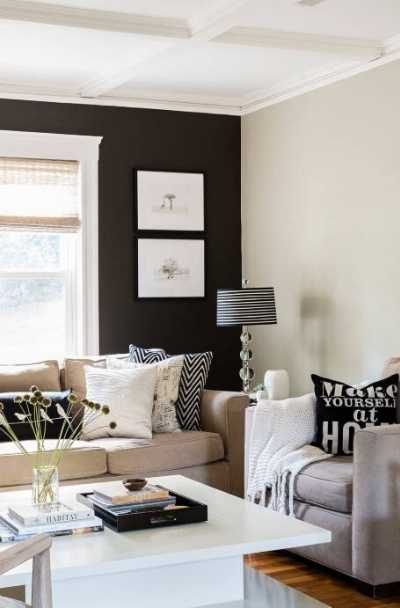 Create an accent wall to achieve the look you want while pairing fun pillows and light fixtures.
POP OF COLOR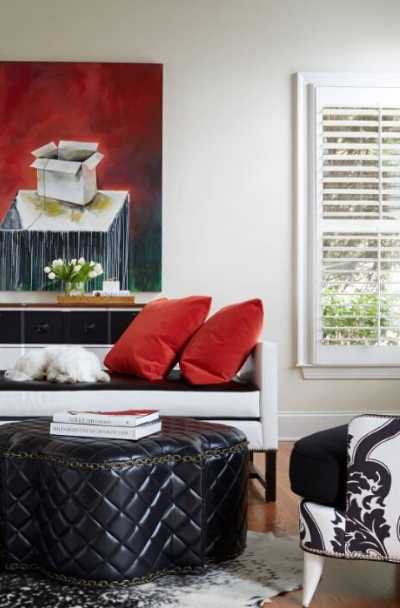 Accents of red from the artwork to the pillows tie this space together nicely.
How To Decorate A Black Living Room
Before you get a paintbrush or even begin pawing fabric samples, the initial action in designing with black is moving past the stigma of it being a debatable color. Darker shades tend to be much more daunting to work with (black particularly so), but dark is really a neutral color tone, and it is, surprisingly, simpler to handle compared to several pigmented tones, like navy or dark green color schemes. Similar to fashion where black is heralded as being the hue that anything goes with, the same holds true for your house. The color black is a color to trust, to fall again on, to find it is going to look great with every finish, every fabric, and each alternate color inside your living room. And it applies to every style of the interior also. Match it with metal accents and mirrored furniture to get a decidedly Art Deco vibe, or perhaps with plush fabrics and polished finishes in case you would want to bring out black's glamorous side. Matte black, contemporary sculptures, and artwork and leather upholstery will even lead you in the path associated with a modern living room. Conclusively, black is a color to embrace as a low maintenance choice for your living room's palette, and it is this particular mindset that is essential when decorating your living room—or perhaps any other room—with black.
Going All Black
The question now is—should you go all black? Or perhaps use black as an accent which cuts through lighter or maybe colored schemes? Allow the degree of natural light within the room to guide you right here. But if your sitting space does not possess a significant lighting and window, this could be, in contrast to popular thinking, the ideal foil for a black palette. Relying on color to make an area feel lighter is seldom successful; the colors feel shadowed and muddied instead. Observe nature's cue rather and utilize dark colors in dark areas as these give birth to most convincingly cozy and also luxurious nooks. Even in the case when your living room is flooded with light, perhaps there is an alcove spot that is recessed, calling for a black therapy.
ELEGANCE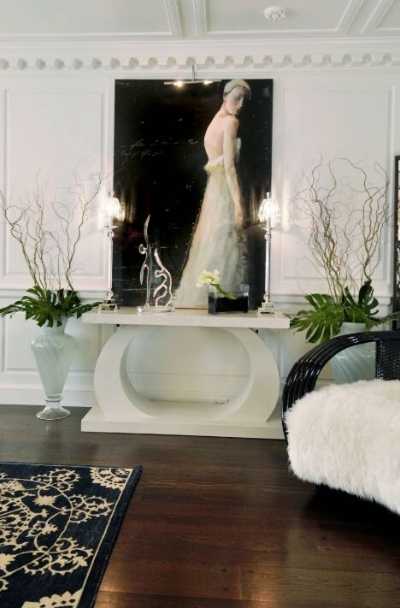 Oversized artwork gives this space the elegance it deserves.
TRADITIONAL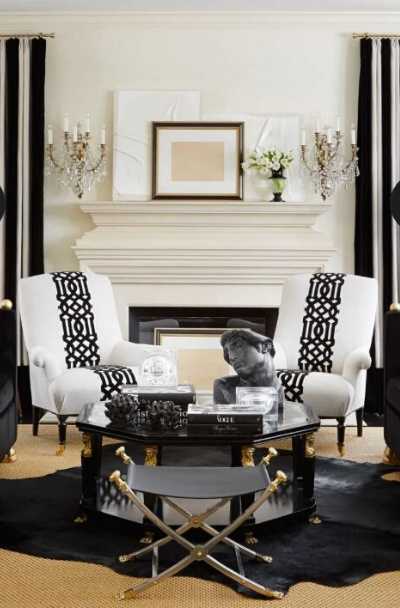 These black and white accent chairs give this living room a traditional formal feel.
FUNKY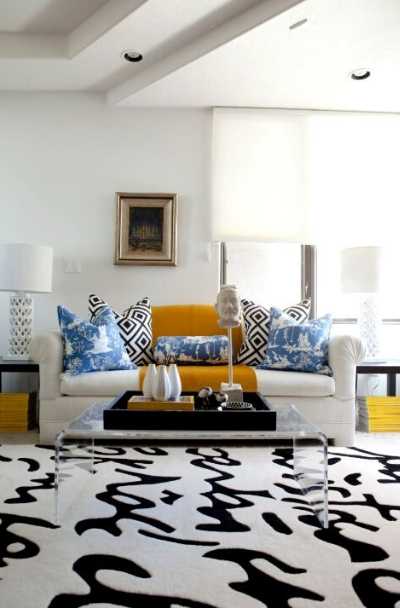 A mix of bright colors and neutral black and white add to the fun of this living room space.
CLASSIC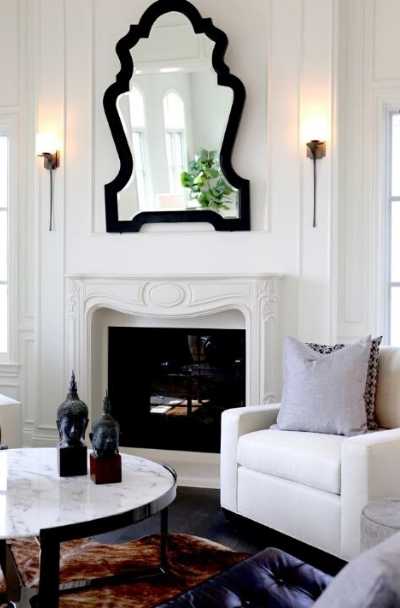 Large classic formal and enclosed dark wood floor living room design in Los Angeles.
Painting The Walls Of Your Black Living Room
In case you're looking to produce a statement in your living room, try including something bold, like black wall living room for a dramatic impact. This particular look is a hot trend and can definitely change up the appearance of your room. If your room gets sufficient light, it can truly create an excellent new look. Adding black to your space is able to produce an ambiance or maybe mood; it's classic and will blend perfectly with various other colors. You can even paint your entire space with black or simply an accent wall to have your interior truly stand out.
Your interior won't be gloomy in case you put contrast or even a few bold pops of color in the furnishings, decor, or accessories. A moody space may be comfortable and inviting. This looks could go with any design style, from contemporary to Scandinavian and everything in between. The walls may be done along with other components besides paint, like wood, wallpaper, or paneling. Painting your living room with black walls could be a bold design choice, and in case you're thinking about it, we have a set of images that will make it possible to encourage you.
A comparable attitude is applicable for using black to generate your living room feel bigger. Do not be tricked into thinking you want additional colors for breaking up the blackness and avoid your room from feeling small. A black colored couch against a black wall, for instance, means they melt in each other, and also, the accessible floor space seems bigger. Likewise, if painting with black, making the skirting boards and also coving in white will in fact make the ceiling level feel smaller as the white breaks up the black color. Instead, continue the black colored paintwork the entire way, and your ceiling will seem further away.
LOFT LOVE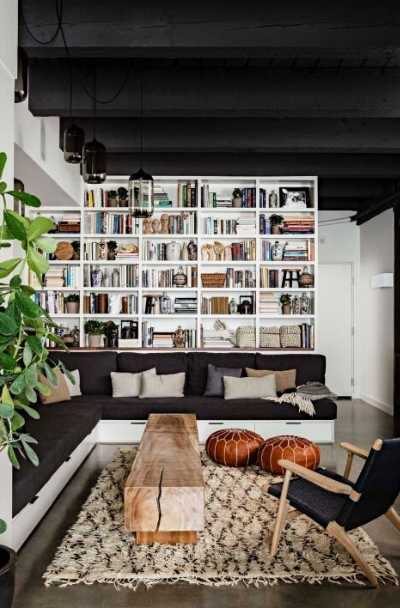 This space is open and has plenty of storage, room to entertain, and a warm, sophisticated palette.
CITY LIVING
Black double-height arch windows give this space great views of beautiful downtown life.
Design Ideas For A Black Living Room
Well, in case you have not noticed, the black living room set is getting the spotlight these days. If the notion associated with a black space causes you to think of gloomy and dreary basements or perhaps dark and dingy unused areas, you are most likely not alone. Though you are, most certainly, wrong. Decorate with black the proper way, and you can have black rooms filled with drama, confidence, elegance, and sophistication. And yes, it can undoubtedly be cozy, by the way.
If you are keen to create a statement or maybe you merely need to have a touch of drama to improve your room, we have gathered the very best living room design ideas for including this daring shade in your cute living room.
Contrast – Similar to how a black mascara can make your eye color pop, black floors and wall space also make additional colors into your area pop. To use black on your surfaces creates a solid and deep background from which bright colors are able to take center stage and make a real impact. A bright orange sofa produces a striking contrast and also brings warmth to the living room themes.
Black Floral Wallpaper – There is something very mystical about black floral wallpaper, particularly when combined with shiny metallics and jewel colors. A dark background elevates pale and soft flowers. This is an ideal option for a cozy and inviting living room to snuggle into at the end of each day.
Patterns – Black features grounding qualities, being comforting for the eye. When you like to ground your room and also add a sensation of depth without overwhelming your space with a block of dark color, add black color utilizing pattern. Whether it is patterned curtains, mats, and rugs, or maybe monochrome fireplace tiles, a hint of black could work great things for cementing your design scheme.
Go Industrial –Industrial style is a trend that is not going away soon. Whether it is black metal or maybe painted wood, bringing in black with warehouse-style furniture is a straightforward method to produce the look. Choose glass designs to enable light to pass through and warm up the appearance with soft brown leather.
Popular Color Schemes For Black Living Room
Black And Gray
Gray and black living areas represent a more modern color palette. Select a dark gray to stand alongside black, and you will notice the slight difference between the two, which seems confident and sharp. This is even more accurate whenever you get deep gray on the wall space and black for the furnishings, as they seem to be much more like silhouettes inside the space. Various other black and gray living room color ideas, however, can entail many paler grays, that have a softer, safer result. A gray, white, and black living room provides a third color to the blend, which complements each other and also portrays the connection the three colors share—how it's black and white, which combine to create grays of varying strength. If black still seems extremely daring for you, think about gray color schemes that can provide much more subtlety.
Black And White
Monochromatic living rooms are among the most striking and classic. They are two colors that go hand in hand, and what helps make them very impactful is they remain, quite literally, at opposite ends of the spectrum. It is the ultimate contrast. Similar to a gray scheme, you are able to turn this into a black, gray, and white living room in case you enjoy the idea of a blended palette. There is one crucial rule, though, which is going to prevent your scheme from becoming contrived or predictable. Go high on texture. It indicates that every use of white or black appears distinct from the next. White and black living room might include polished black colored granite flooring against dark veined white-colored marble furniture, paneled white walls, and also ceilings to produce slight shadow lines and references to dark, and also grain-rich ebony floors against deep pile velvet or maybe suede padded sofas, along with Berber rugs. It is classic meets stylish, defined.
Black And Red
A black and red living room is among the most confident of the black palettes. They are two colors that collectively, enjoy a sexy message, so lean towards red, which are far more burnished than brilliant. Burgundy reds, rusted reds, and also several hints of scarlet and crimson are definitely more tasteful compared to cherry red or maybe pillar box red.
Try to space out the two colors instead of getting reddish overplayed onto black for a stylish result. This is exactly where you will have to make many other colors to widen the palette, like dark gray or perhaps also tan leather. Hence, rather than a black couch with white cushions, pick a tan-colored couch with an assortment of cushion colors and maybe a white accent chair nearby and black accessories across the home.
Black And Silver
You may feel a black and silver living room will be a bolder palette, but it is actually far more understated. Stainless steel, chrome, and silver mirror the glow in a much better way than almost all metallics; therefore, your eye reads them as light-giving instead of as a dominating color. If you are using metal accessories and black living room furniture with slim profiles, the silver-tone will continue to be stunning. Various other black and silver living room setup ideas incorporate adding silvered grays on centerpiece rugs, glossy silver fabrics on upholstery or cushions—silk and velvet work particularly well as they capture silver's natural luminescence.
Black And Gold
After monochrome, you should try a black and gold living room since it would be effortless and most popular to combine. Attempt blending a mix of gold finishes, like polished gold lamp bases, mirrored gold bases on coffee & console tables, antiqued gold on sculptures or maybe the frames of pieces of art, as well as hints of a matte gold finish on things as tiny as light switches or ornamental items. From here, get on the golden hues through your fabric choices. The touch of gold in the weave of a rug or pillow can get the entire color palette together.
This is an image roundup post, curated to showcase and promote other reputable contracting companies' and their amazing work. To have any of the images removed, please reach out to us and we would be happy to do so.
Other Great Articles to Read: