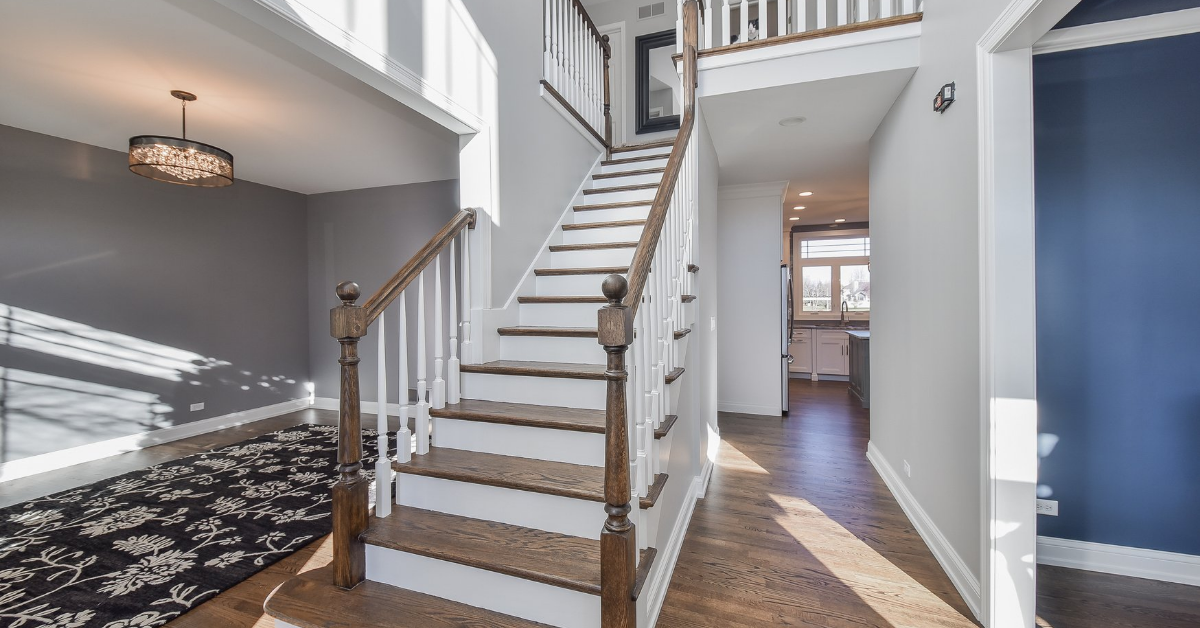 There is no shortage of stairway design ideas to make your stairway a charming part of your home. From grand staircases and warm traditional styles to contemporary and industrial.
The most important thing to remember is that stairs are not just conduits between different areas of the house. They also play an important role in setting the feel and look of your home. A well-designed stairway can transport a contemporary living room back to the Victorian era or create a warm welcome at the entryway.
So, as you focus on the functional parts, do not forget the décor and aesthetics. We have a few stairway design ideas to make your boring stairway come to life. Learn how to use railings, carpeting, lighting, and color to create a unique style.
The Floor
Taking up the largest surface areas, the floor of the stairs set the look of your stairway. There are various style options depending on your budget, the level of maintenance you are looking for and your décor preferences. Here are a few stairway ideas for the floor to get you started.
Carpeting – Carpeting gives the stairway and extra dose of warmth and coziness. It can also help in reducing noise when people are going up and down. If you have kids, carpeting acts as an extra safety feature in case they fall. Two main carpet ideas to choose from: full carpeting or stair runners.
Full Carpeting – covers every inch of the stairway floor. It comes in handy if the stair flooring is not too appealing. If your stairs have a bit of wear and you don't want to do a full remodel, full carpeting will cover the aging. On the downside, a full carpet is harder and more expensive to install. Talk about the costs with your contractor before you begin.
Carpet Runners – leave the edges of the stairs visible. Runners are ideal when you don't want to fully cover your beautiful stairway. Runners will add some warmth without hiding the flooring. Runners are easier and cheaper to install. If you are handy with home improvement projects you can even install the runner yourself. Most homeowners opt for boldly patterned runners to add detail and texture to an otherwise neutral space. Find a unique pattern that blends in with the surrounding décor but still draws the eyes towards the staircase. You can also opt for neutral non-patterned carpeting if you want a plain minimalist style. This is also where you can add some interest with texture.
WINE INSPIRED
Warm and welcoming–a great entrance into a wine-inspired basement by Sebring Design Build. This basement remodel has an incredible wine cellar–make sure to check it out!
Hardwood
There is a certain beauty in plain hardwood that many homeowners have come to appreciate. So, if you don't want even an inch of your staircase hidden from site, leave it as it is. One advantage of hardwood staircases is their ease of maintenance. You don't have to worry about staining or trapped smells.
Tile
This is not as common, but it has its own sizable following. The tiles are commonly attached to the riser not the tread. They can be faux tiles, which are easier to install, or actual tiles. Choose a nice vivid pattern that gives your stairs a bold look.
Painted Surfaces
If you don't want to cover your stairway but don't want to leave it plain either, try your hand at illusions. With some creativity and a pro's help, you can transform your plain stairway into anything you want. One popular trick is to create a runner illusion. The stairs are painted such that they look like they have a carpet runner on them. You can also go full artsy and create a movie or nature scene on the stairway. This can be especially handy for long staircases as the art provides a distraction from the long journey up.
Spindles/Balusters/Handrail
The spindles or balusters take up most of the space. These are the series of rods or columns extending from the top rail (another component) to the bottom rail (yet another component). The top rail is also called the handrail, an obvious reference to its role as the main hand support when going up or down the stairs.
Styles & Designs
In traditional and country designs, wooden spindles are common. The spindles can either be plain square, shaped into a descending spiral or have tapered ends. The advantage of wooden handrails is that they feel warm to the touch. Additionally, they wear well, getting smoother with use.
In industrial and contemporary decors, you are more likely to find metal – usually steel or iron – spindles. These come in a wide variety of styles from plain rods to intricate designs that combine different shapes and patterns. In modern homes, the metal rods are made very thin and usually run parallel to the handrail rather than up-down. This creates a minimalist barely-there look. For an even cleaner look, you can eschew spindles and use solid glass instead. But it will cost you a bundle.
The top and bottom rails provide an opportunity to complement the style of the balusters. A common strategy is to use metal spindles and wooden top and bottom rails. Most modern stairway ideas leave out the bottom rail to avoid a light-blocking stairway.
Other stairs handrail ideas include smooth aluminum (usually combined with solid glass railing), a rounded metal rail (combined with metal spindles) and all-glass designs where there is no distinct handrail.
Some stairway designs also add a unique style to the newels – the handrail supporting posts at the start and end of the stairway.
For instance, the newels may consist of thick distinctive wooden pillars with ornate patterns. They can also be simple metal rods that don't stand out much from the rest of the supporting posts along the length of the stairway.
Lighting
Like most other components of a stairway, the lighting has both aesthetic and functional roles. Without proper illumination, going up and down the stairs can be a safety hazard especially for children and the elderly.
The traditional overhead light is often not possible either because there is another staircase above or the ceiling is too high. If you are looking for a way to flood the entire staircase with light, install a fixture on the wall of the stairway landing. Make sure it is bright enough to extend up to the top or bottom of the stairs.
A more common strategy is using recessed lights. You can install recessed lights along the wall of the stairway. Stagger the lights in a way that lights up each tread properly. You can also have a continuous LED strip recessed along the wall to ensure each spot on the stairs is illuminated.
Another place to locate LED strips is under the trend. This is possible only in a certain stairway designs such as floating stair treads or where the tread extends slightly over the riser. The underside lighting is a great way to illuminate the stairway without casting harsh light into people's eyes when going up or down the stairs. It also adds an eye-catching style to the staircase.
If you are going for the wow factor, there are a few stairs lighting ideas to borrow from. A unique one is to use multicolored LED strips that light up in different hues up the stairway. But be careful with this one as it can create a gaudy nightclub feel.
If you have an accessible ceiling above the stairway, add a series of hanging lights, making sure they are low enough to provide enough lighting.
Making The Most Of Stairway Design Ideas
Staircases serve as the home's spine. They not only connect rooms and stories within a house, but they are frequently the first space a visitor encounters at the entryway. As a result, stairs must serve two functions: they must be both welcoming and useful.
With such an elevated place within the home, staircases demand just as much decorative thought and polish as the rest of the house. Staircases, for example, are perfect places for trendy wallpaper or a splash of unexpected color. Unique lighting, an artsy collection, and eye-catching runners are other excellent ways to bring life to a staircase. Finally, hand-forged iron or bespoke fretwork banisters can transform steps into sculptural works of art.
Staircases, although certainly providing a vital functional purpose, have the power to elevate an entire property. Stairs may be so much more than just a way of getting from point A to point B. We've highlighted distinctive stairs that prove it, from interlocking treads to stunning corkscrews. So, whether you're planning a redesign and need some stunning stair design ideas for your home, or you enjoy admiring architectural marvels, these steps will get you there.
Stairway Dimensions
When upgrading or building a home, critical measures such as standard stairway width, riser height, and tread depth are not left to chance. Staircase dimensions are regulated by common practice and building code, which is frequently influenced by commonly accepted norms. These guidelines are intended to make staircases as safe as possible. Thus, they should never be disregarded or ignored.
At the same time, because most measures are accompanied by minimums or maximums, staircase code measurements allow for considerable flexibility. The conventional stair width is a classic example. Stairs must be three feet wide or wider, according to staircase code. You can widen the steps as much as you want as long as the three-foot width criteria is met.
Bonus Tips
Some good stairway design ideas for small spaces include using thin metal spindles or combining glass with metal. This leaves the room still airy and bright.
Don't forget to make good use of the space below the staircase.
Make sure you follow local code on safety when deciding the stairway design. Your contractor can help you with this.
The stairway is not just about rails and spindles. If there is a wall along the staircase, it is a great place to add family photographs and art. They provide a nice distraction from the arduous journey up.
Don't forget to marry the staircase design with the décor of the space around it. As much as you need to make the stairway a unique piece of décor on its own, it also needs to blend in smoothly with the surrounding space. Use color, patterns, and materials to provide a nice blending and transition from the stairway to the room it leads into.
This is an image roundup post, curated to showcase and promote other reputable contracting companies' and their amazing work. To have any of the images removed, please reach out to us and we would be happy to do so.