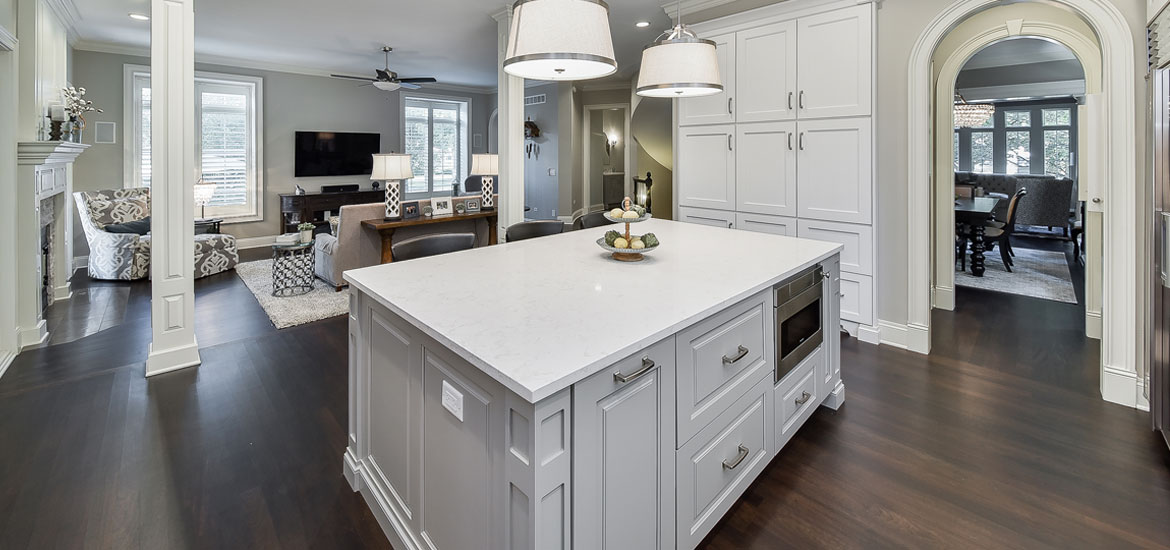 If you want to give your house or apartment a beautiful makeover, you should consider replacing the countertops with faux marble countertops.  Granite that looks like marble, as well as quartz countertops that look like Carrara marble, are viable options for your countertops. These durable materials are affordable and easy to clean. More and more people are investing in faux marble options to add beauty and character to their kitchens. It's a great way to imitate the natural and pristine look of marble without having to spend money on real quarried stone.



Countertops are a necessity in all kitchens, no matter how big or small. But just because they are a standard installation doesn't mean they have to be boring, drab, or unflattering to the rest of your kitchen. In fact, one of the most exciting parts of decorating a kitchen is deciding which patterns and veining options to apply to the countertops. One of the top material choices for homeowners across the globe is marble, but it isn't always easy to come by. This high-end material is often costly, absorbent, and difficult to maintain.
It's becoming more and more of a trend for homeowners to desire some character and creativity with their countertops. There are now a huge variety of veining and patterns to choose from, making each kitchen unique from the next. If you're considering replacement of your countertops with new decorative pieces, check out the best forms of faux marble countertops on the market today.
What Are Faux Marble Countertops?
You don't need to split hairs over the cost of gorgeous marble since there are plenty of other materials that can imitate the look just as well.
Faux marble countertops describe the type of painting used to give the material a marbled look. The most common materials used for faux marble countertops include granite and quartz, although many homeowners can have fun with a variety of other sturdy materials as well. Having countertops made of granite that looks like marble is a popular addition to kitchens, especially since there is an assortment of patterns and veining options to choose from.
Marble-look quartz countertops are just as popular. The painting process used on top of the quartz to imitate marble is what creates the faux marble look, and is desirable for homeowners all across the nation. Quartz is a sturdy and durable material that makes for an array of stunningly gorgeous countertop options.
Carrara Marble
Carrara marble is one of the most popular marble options due to its depth, uniqueness, and color variety. Marble is famous for its pure-white look, but in reality, there is a much larger color palette than that. Those who love marble but don't necessarily want a pure white countertop can invest in a quartz that looks like marble with a Carrara pattern. The off-white, gray, and even yellow-tinted hues contrast with beautiful gray veins to pay homage to the natural styles that are found deep within the earth.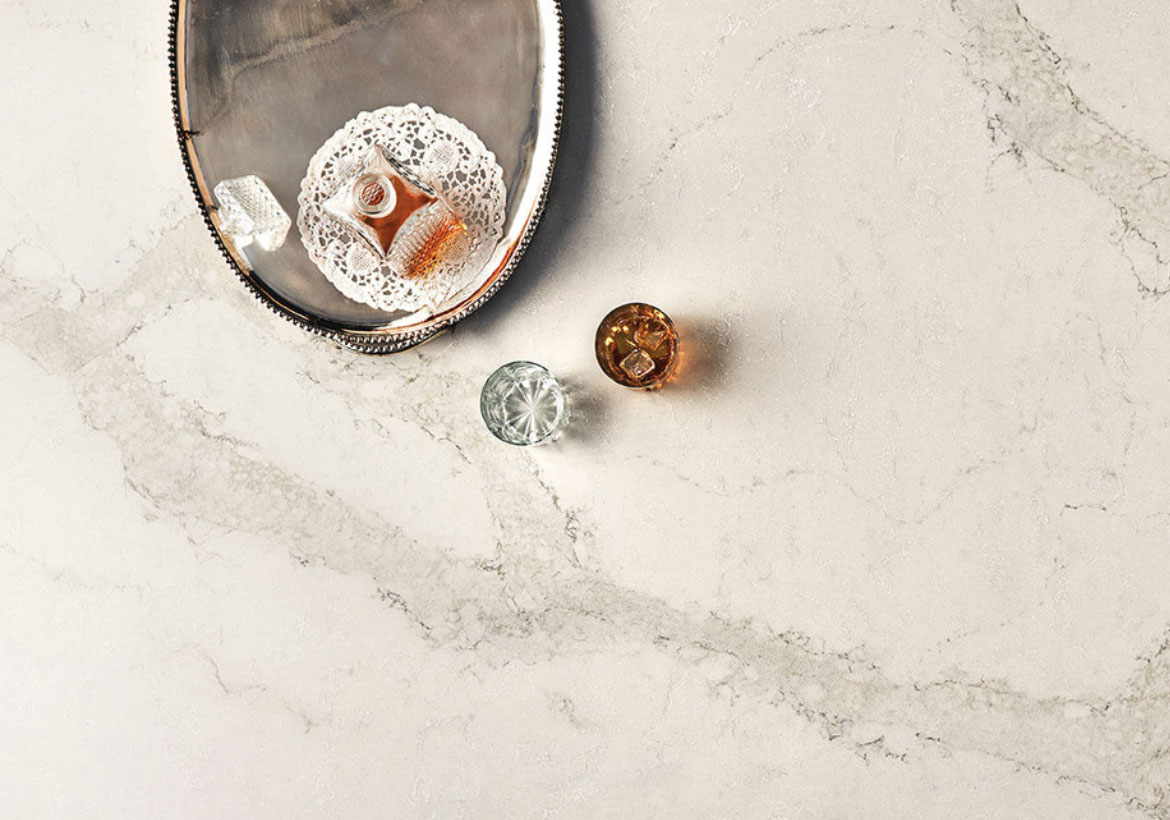 Quartz Countertops that Look Like Marble
Quartz is a reliable material that can easily be finished or painted to look like marble. If you're a fan of quartz, you'll enjoy the bountiful marble-look options available to you. Marble itself can be expensive and hard to maintain, but when it comes to reliable and easy kitchen countertops, quartz is king.
White Quartz Countertops that Look Like Marble
A white quartz countertop can be absolutely stunning. If you're in the market for something that looks like pure white marble, you can enjoy some real options. A popular choice, Calacatta Nuvo faux marble countertops are classy with white color, contrasted with little flecks of color here and there. The deep veining options recreate a marble look that's heavily sought after. White quartz countertops that look like marble are some of the most popular quartz countertop choices today.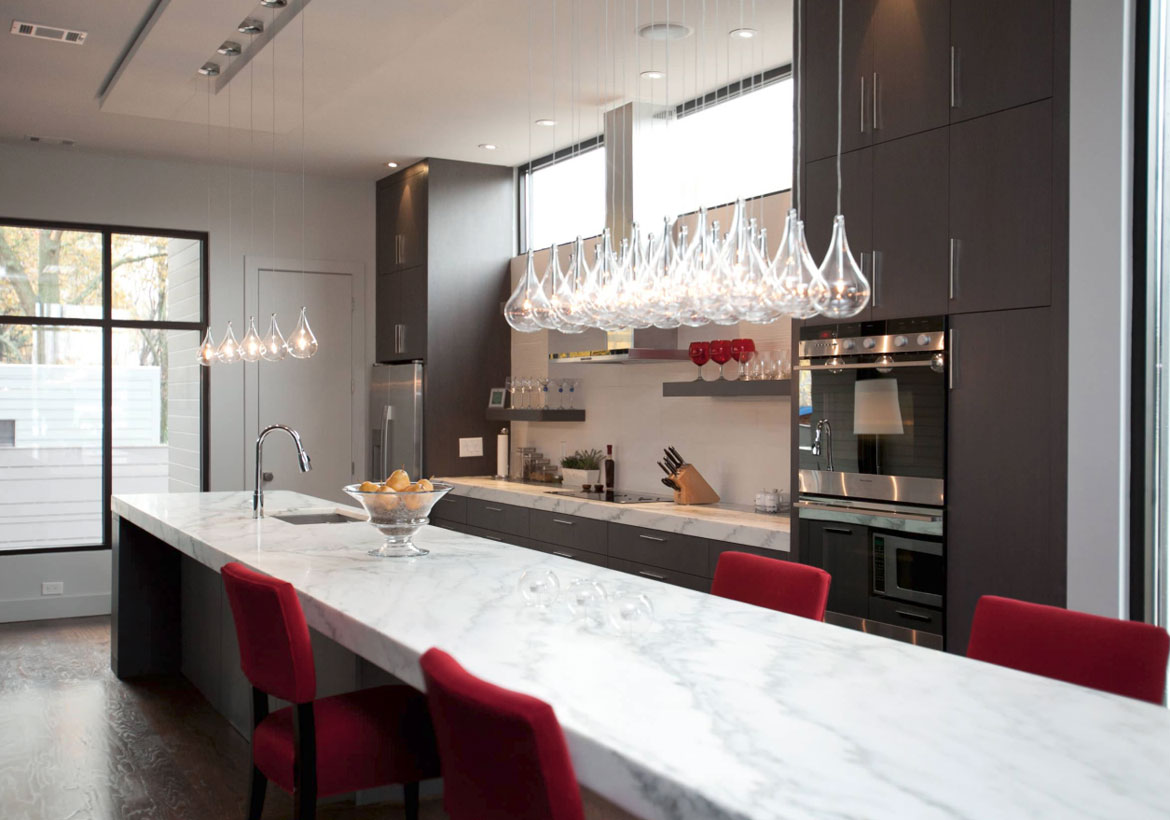 Calacatta Nuvo
Calacatta Nuvo has a dramatic and bold marbled look. This is a beautiful and pristine quartz countertop that adds shadowy veins and deep streaks against a milky gray or snowy white. It heavily resembles natural marble, and many guests and neighbors can be easily fooled by the realistic look of a job well done. However, you are in the advantage not only because of how good it looks but also because of how little it costs when compared to real marble. Plus, the maintenance requirements are much lower than real marble, so you don't have to worry about constant polishing, buffing, or cleaning spills.
Here are some more quartz countertops that look like marble: