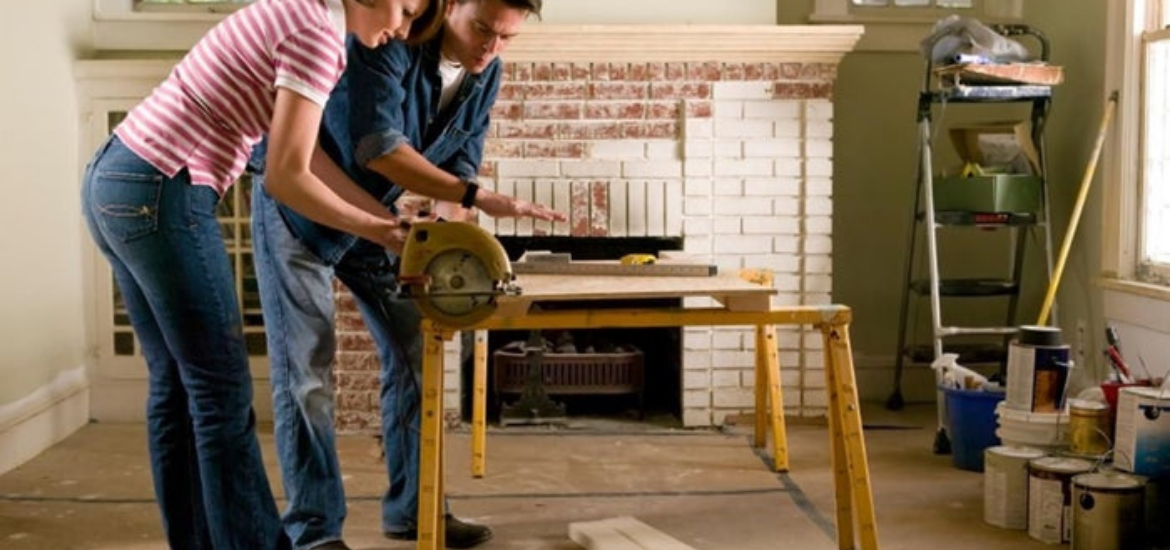 Featured Image: Entrepreneur
It takes more than watching a few home improvement shows on the TV to get through a home remodeling project without going crazy. Home renovations are an exciting part of owning a home in Nashville, but they can be very disruptive to your routine.
What you see on television is not an accurate representation of what living with a home remodeling project is genuinely like. Your project will throw your schedule and home into chaos, so it's essential to have a coping strategy in place before your demolition begins.
Whether your renovation is small or large, living in your home while it's under construction is challenging for the whole family. There will be parts of your home that have suddenly become off-limits, you will have a team of strangers in your home, and everything will seem like it's in a permanent state of disarray.
The most crucial factor of living through a home renovation is to have a solid plan of action in place. Setting a schedule with your contractor, checking with your homeowner's insurance regulations before your project starts, and learning to embrace the mess are all essential parts of preparing for your renovation. Let's look at a few tips for living in your house during a renovation project.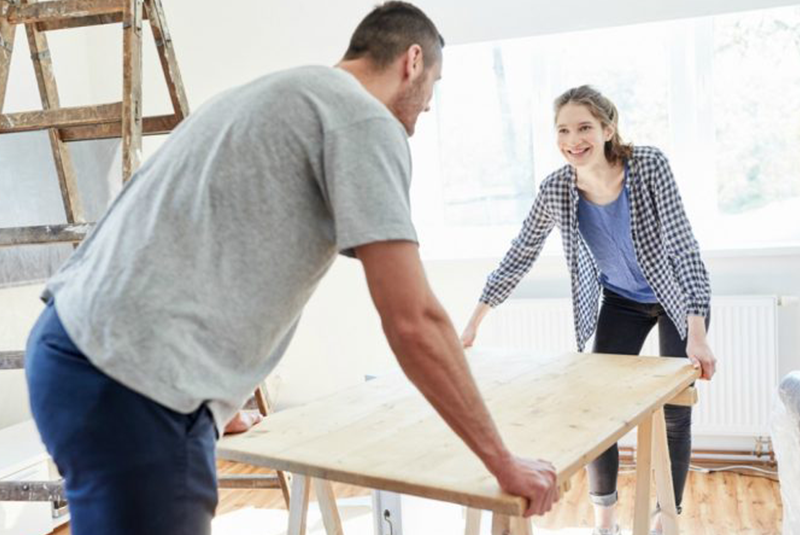 Setting a precise schedule will make your life easier.
Set A Schedule
If you want to plan your life around your renovation project, you need to set a precise schedule. Work closely with your contractor to establish a firm set of start and finish dates. You will also need to set up working hours and mandate what time your crew should start and finish each day. Setting up a formal work schedule will help you and your team stay on track with your goals and create a more manageable work timetable.
A home renovation is a massive project with many factors to consider. Your contractor may be working with several different vendors and craftspeople that need to be coordinated. You should have an established plan of action so that you know when to expect your project to begin. Trying to manage your family schedule with your renovation schedule will require coordination and understanding with your contracting team.
Emergency Budget
When you start tearing down walls and pulling up flooring, anything can happen. Once you have your project estimate, it is wise to set aside an additional emergency project budget to cover the cost of any emergencies. You could end up having to redo some of your wiring or replace a broken marble countertop that will eat into your project budget.
Going through a detailed budget with your contractor before the project starts can help you estimate your general budget. Renovation experts recommend putting aside a minimum of 15% above your established budget to cover any unexpected costs. No one wants to end up having unexpected bills interfere with the project.
Everything begins with having a trusted contractor.
Trust Your Contractor
Planning a successful home renovation begins with finding a trusted contractor. Although staying on budget is an important factor in any renovation project, choosing a contractor with the lowest prices isn't always the best idea. Low contracting prices may reflect a lack of experience, and you only want the best when it comes to working on your home.
Choosing a contractor requires research and trust. You can start your search by looking up local contractors online. Experienced and respected contractors will have a professional website outlining their services and highlighting past projects. Make a list of your top candidates, and then dig a bit deeper. Check all the customer reviews, look up their listings at the Better Business Bureau, and ask for a consultation with each before making your final decision.
A reputable contractor should be able to outline a clear plan for your renovation, including safety protocols for both their crew and your family. Always ask to see proof of insurance and certification before hiring a contractor. You can ask each candidate to outline their experience and show you a portfolio of their work. Seeing some past projects will help you determine if they are a good match for your project.
Schedule an in-person meeting with each of your contractor candidates before signing any service agreements. Trust your gut and choose a contractor you feel you can communicate with easily and build a trusting relationship.
Collect Essential Items
Once your remodeling project begins, you will be cut off from certain areas of your home. Before your crew starts working, make a list of all essential items that need to be moved so that you can conveniently access them. You should move things like your favorite coffee maker or your home office files to non-working parts of the house.
It's also a good idea to consider moving items that may be in the way of your workers. You need to temporarily move anything valuable like electronics or art from areas where they could be damaged and stored until your project is complete.
Separate a living area where you can stay during the renovation.
Designate Work And Living Areas
There is no need for your entire home to be thrown into chaos during a renovation. Talk to your contractor about how you will contain the working space. Set specific boundaries around where the crew members are permitted to enter the home, create a dedicated entry and exit used for the crew only, and try to limit the mess.
Your contractor should have a plan to help you contain the dust and debris from your renovation. Hanging plastic sheeting, separating workspaces from living spaces by closed or sealed doorways, and daily clean-up with HEPA filtered vacuums will help to separate your living space from the project area.
Keep It Clean
Even with a conscious effort, most of your home will become dusty and dirty during a renovation, especially if there is any demolition activity. If you have family members that are sensitive to poor air quality conditions, you may want to take extra precautions when it comes to cleaning.
Regular dusting and vacuuming can help keep the dust levels lower in the living spaces of your home during your renovation. Portable air filters with specialized HEPA filters can help pull dust and pollutants out of the air. Above all, do your best to separate the workspace from your living space by quartering off rooms with barriers like plastic sheeting.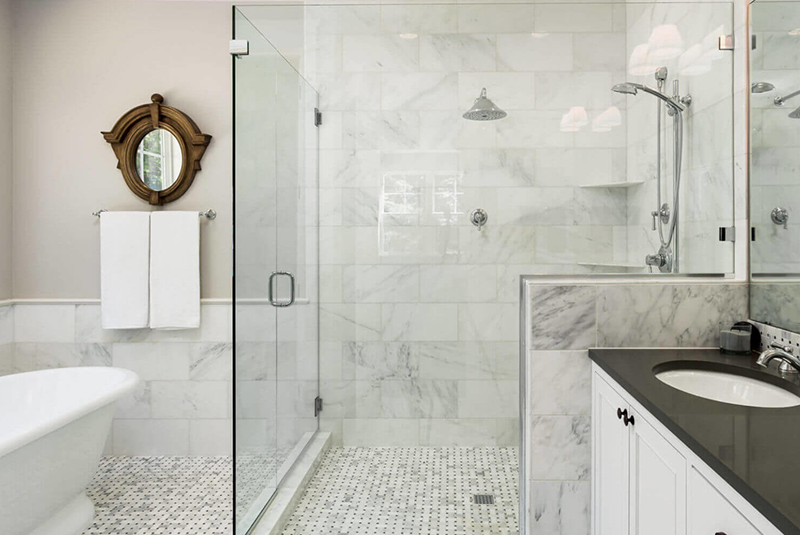 Having a secondary bathroom is not a bad idea.
Bathroom Schedule
If you are renovating your bathroom, you will need to rely on your secondary lavatory. Having only one bathroom accessible to your whole family could turn into a logistics nightmare in a hurry. If you are down to one bathroom during your renovation, it's a good idea to make a schedule for your family. Give each family member a designated time slot to have showers and conduct daily ablutions so there will be less overlap or bathroom congestion.
Bathroom renovations include plumbing work and turning off the main water to your home. Make sure that you discuss the work schedule with your contractor so you will be advised when you may not have access to water.
Kitchen Strategies
Having your kitchen renovated can impact your routine immensely. The kitchen is often the heart of the home, and being cut off from a crucial central location will take some adjustment. Regular cooking will likely be off-limits, so meal planning will need to be adjusted. Simple meals, take-out options, and dinners that can be cooked outdoors need to be prioritized.
It's possible to create a kitchen substitute area in your home with a bit of ingenuity. A hot plate, toaster oven, microwave, and mini-refrigerator can be added to another part of your home to help you create meals. You can always enjoy the opportunity to fire up your grill and enjoy barbequed meals with your family during your kitchen renovation.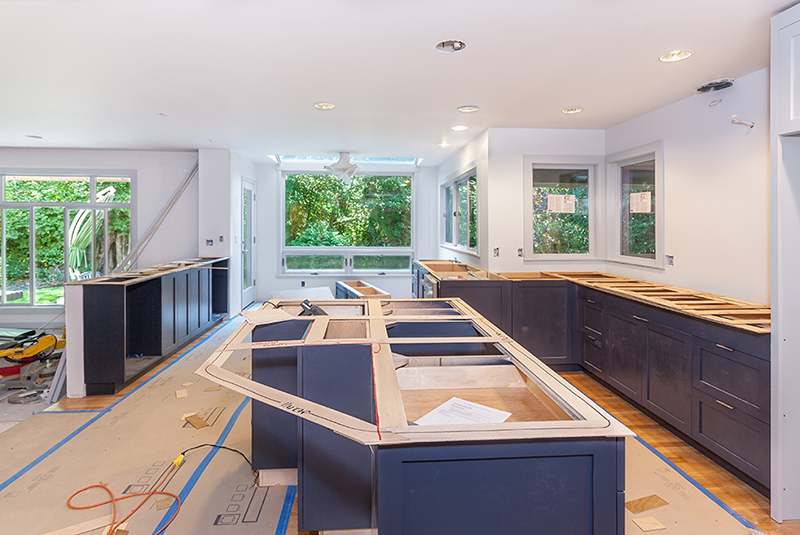 Embracing the mess will reduce your stress levels significantly.
Embrace The Mess
The one sure thing to know about your home renovation is that there will be a mess. Trying to control how dusty and dirty things will become will leave you feeling overwhelmed during your project. To reduce your stress levels and help you adjust to your renovation project, you need to embrace the mess.
Try to think of your construction mess as progress instead of a pain. Every step towards your finished project is positive. Adjusting your attitude will help you be less anxious about your renovation mess.
Create A Sanctuary
Pounding hammers and buzzing saws are bound to get on your nerves during your home renovation. Creating a space where you can get away from the activity and relax should be a priority. Choose a bedroom, a den, or basement area where you can get away from the noise and bustle of your project. Having space to get away from your renovation will help you reduce your stress and maintain your mental health.
Your project will not be running 24/7, so it's essential to take advantage of the downtime when you can. Enjoy a quiet evening with your family, escape to your sanctuary to delve into your favorite book, or pour yourself a relaxing bath when you have a break from your renovation.
Relax and let your contractor do his job.
Get Out Of The House
Although a home renovation project can be exciting, it can also get on your nerves. When you are working with the right contractor, there is no need to be hanging around watching the action every day. Spending some time out of the house can give you a break that you need. Plan a day trip away with the family to give you some much-needed time away from the action. You can also take a weekend and spend it away from the house to help refresh yourself for the week of work ahead.
It can be intrusive to have strangers in your home day after day, and maintaining your privacy can be a challenge when you are in the middle of a renovation. Taking a few hours or a few days away from the project will help you to cope with the daily disruption of your life.
Open Communication
For your renovation project to run smoothly, you need to have open communication with your contractor and work team. It's important to feel free to discuss all aspects of your project with your contractor. Any concerns, changes, or additions should be discussed openly to ensure that everyone is on the same page. Keeping up with your project's progress can help it run smoothly and finish on time.
From your first consultation to the finishing touches, you should be in constant communication with your team. Let them know what your expectations are and what you want to be advised on in regards to your project.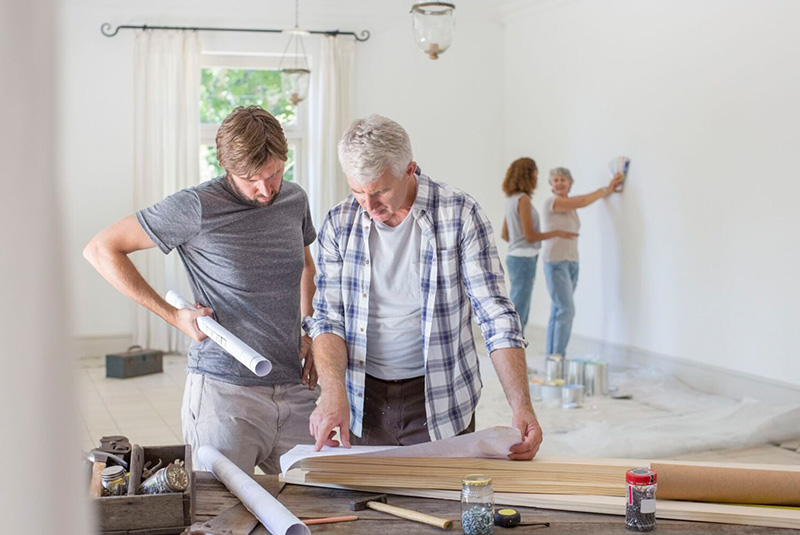 Make sure to have an open communication with your contractor.
Daily Meetings
Staying on top of the progress of your renovation project can help you feel more in control. Bringing contractors into your home can be intimidating and overwhelming. You don't have to be an expert on the details of your project, but gaining a general understanding of the daily schedule will help you stay in the loop.
Make a point to talk to your contractor or the project supervisor at least once a day. Find out what the plan is for that day and what parts of the project are still upcoming. This is the time to talk about specific scheduling, any conflicts or problems, and find out how things are going. Staying on top of the different phases of your project may help to alleviate some stress and anxiety about your renovation.
Open communication with your contractor can help to build a trusting relationship. As you work towards your project completion, you should be informed about any problems or issues that may interfere with your schedule. Staying in contact with your contractor will help maintain transparency and help you avoid any issues or surprises with your project.
Insurance Update
Before you remodel, you should review your homeowners insurance to ensure that you are covered for liability in case there are any injuries or damage during your renovation. For larger renovations that include demolition or adding square footage to your home, you should talk to your insurance broker about any necessary upgrades to your policy. Not all standard home insurance policies cover renovations or extended parts of your home. You want to protect the investment of your renovation by having the right coverage.
Planning a successful home renovation project will take time and attention to detail. Once you find a contractor you can trust, you need to get your home organized. Parts of your home will be suddenly thrown into disarray, and surviving the changes will take careful planning. Being thoughtful of separating your working and living spaces, creating a sanctuary where you can get away from the bustle, and maintaining open communication with your contractor can help you organize a successful renovation. Take the time to consider these tips to help you live through your home renovation project with minimal stress and disruption.
Other Great Articles to Read: