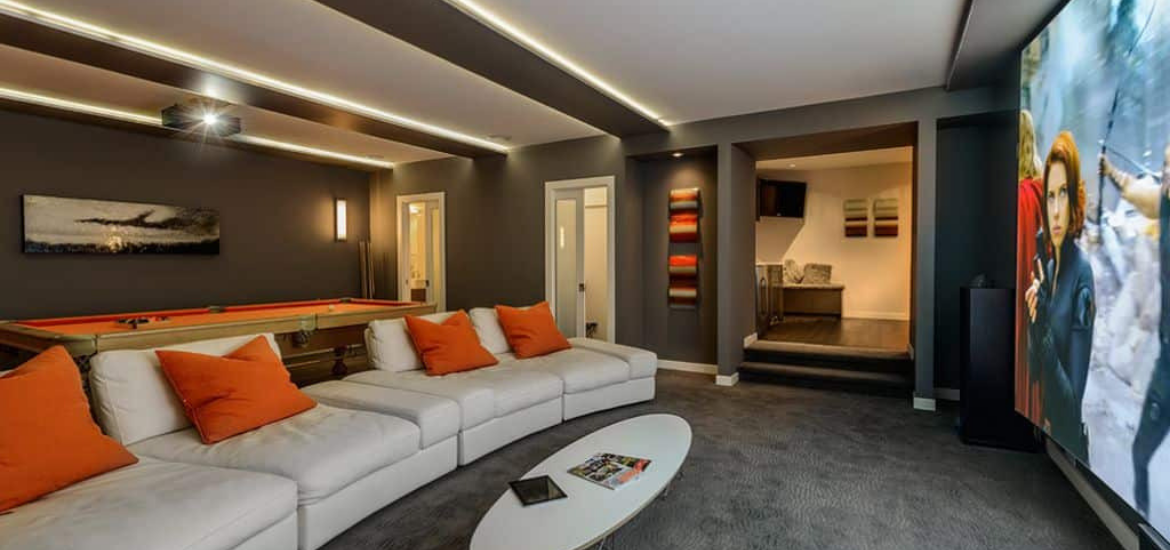 Having movie nights at the comfort of your home is a rewarding experience after a long day at work. If you are ready to commit or just looking at the possibility of a home theater, we have excellent home theater ideas for you.
Entertainment rooms and home theaters have turned out to be extremely popular recently. Thanks to both their happiness factor and the fact that they can build a home's resale value. In case you're thinking about installing or upgrading one, you'll need to research about home theater room ideas. This guide will help you guarantee the space you end up with will give countless entertainments hours for family members and guests.
TRANSITIONAL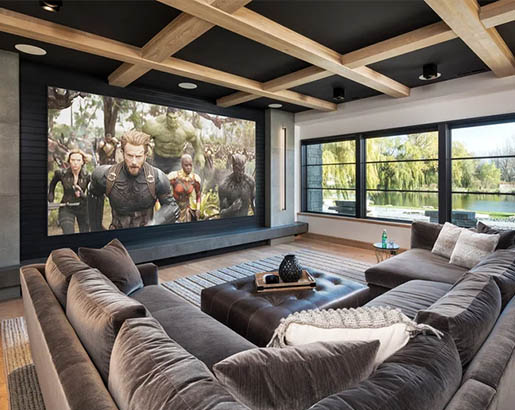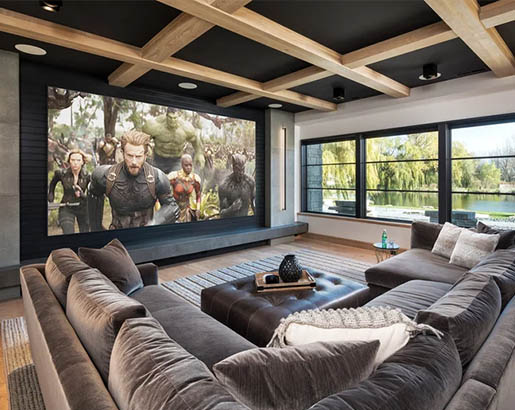 We love the natural lighting and the view on this room!
FAMILY ROOM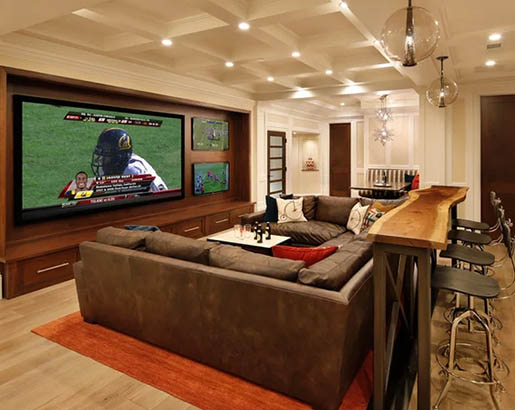 Turn your living room into an entertainment area where the whole family can hang out.
CUDDLE SEATS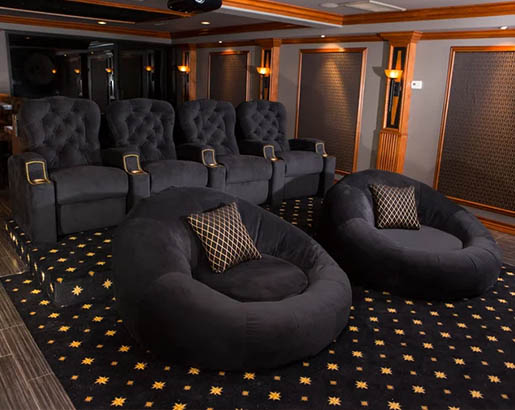 Next to a great sound and video quality, the seats must be extra comfy!
SLEEK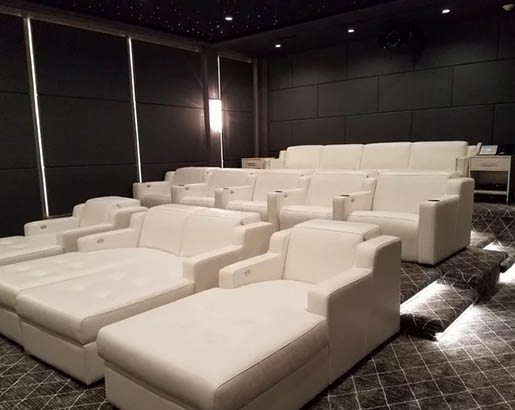 With extended leg area, you can comfortably relax and watch your favorite movie here.
CONTEMPORARY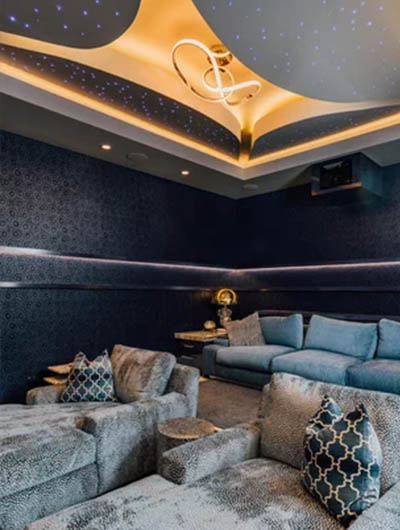 The texture, lines, and colors on this room complement each other beautifully.
GRAND ENTRANCE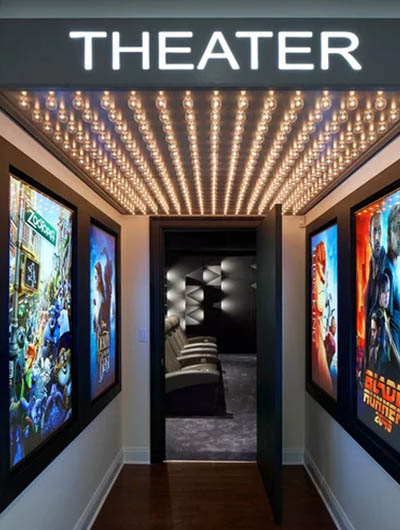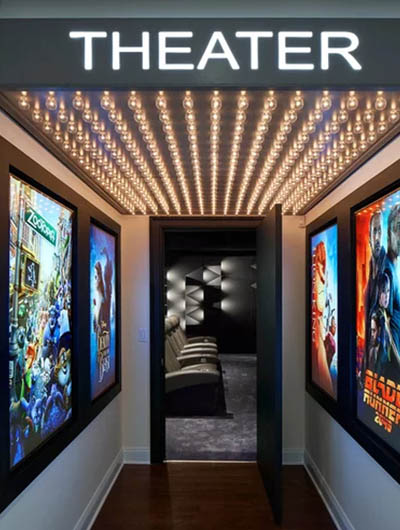 Want to have a real theater feel? Why not take it to another level and bring in the posters!
Choosing The Location For Your Home Theater
Before settling on home theater design ideas that are perfect for your home and family, you'll need to consider the location of this entertainment space. The two most significant factors for the home theater area are light and sound. You'll need a space where you'll have as much control as possible for these factors. This is the reason why you can frequently find home movie theater ideas in basements, living or family room, or in an extra bedroom upstairs. It has to be somewhere that is quiet, self-contained, and won't interfere with the general business of the home when you use it. Although it is not a must to have your home theater room ideas on these specific locations, other areas in your home will need more customization to guarantee proper lighting and sound control.
A basement home theater is an excellent idea because it is isolated and dark. This will simplify the control of sound performance and lighting. Basement home theater ideas are also fun to execute since you have all the freedom to go against whatever theme you have with the rest of your home. We have provided samples of basement home theater ideas below for your reference.
4K PROJECTOR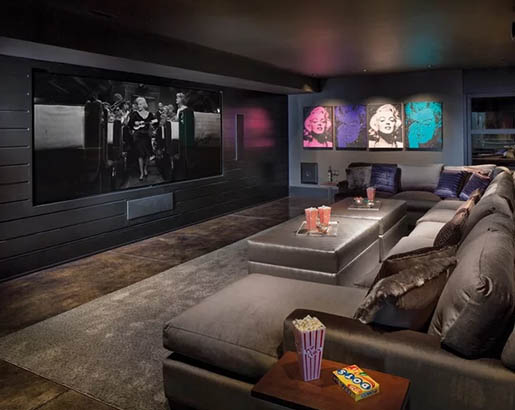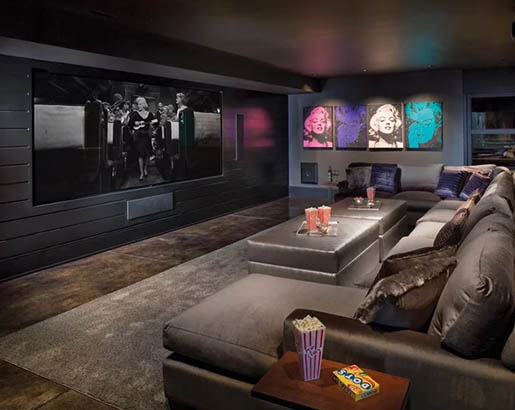 With Sony's 4K Projector, this system has incredible looks and sound.
UPSCALE MODERN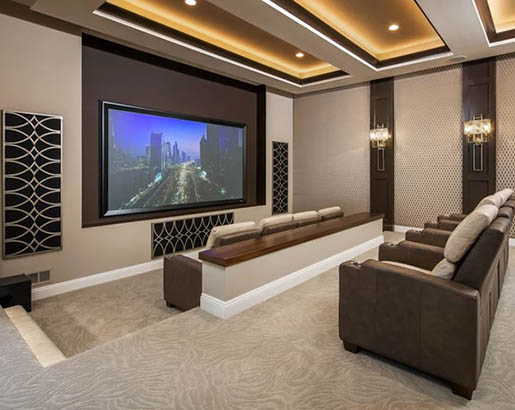 This home theater comes with custom speaker grills that beautifully hides the audio devices.
RECESSED TV AREA
If you want to keep it simple and classic, you can go for this look!
GALAXY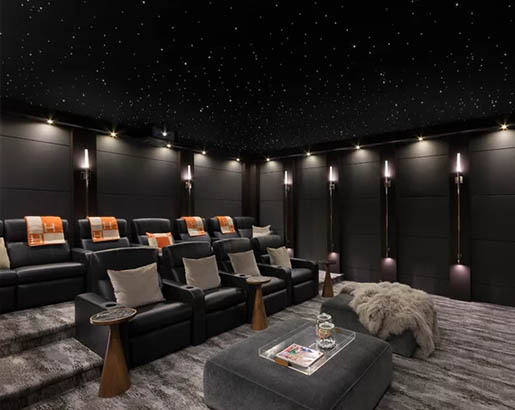 This home theater studio is perfect for Star Wars fans!
Top Mistakes When Executing Home Theater Room Ideas
You spent a ton of cash and time setting up your small home theater ideas, yet something doesn't appear to be correct. Did you commit any errors? Look at our rundown of common mistakes most of us commit when attempting to put together home movie theater ideas.
On top of our list is buying the wrong TV size. Probably the biggest reasons why TVs are returned is that it is either too large to fit in an assigned space or it is unreasonably small for the room size.
To decide the best TV screen size, you need to ensure first that you consider the space the TV is to be set in. Measure both the available width and height. Additionally, measure the seating distance from the screen that you plan to install. Yes, you should also consider home theater seating ideas in choosing the right TV size.
The second common mistake is that the room has windows or lighting issues. Room lighting definitely affects the TV and video projector viewing experience.
Most TVs do well in a semi-lit room, but darker is always better, particularly for video projectors. Never place your TV on a wall across windows. If you