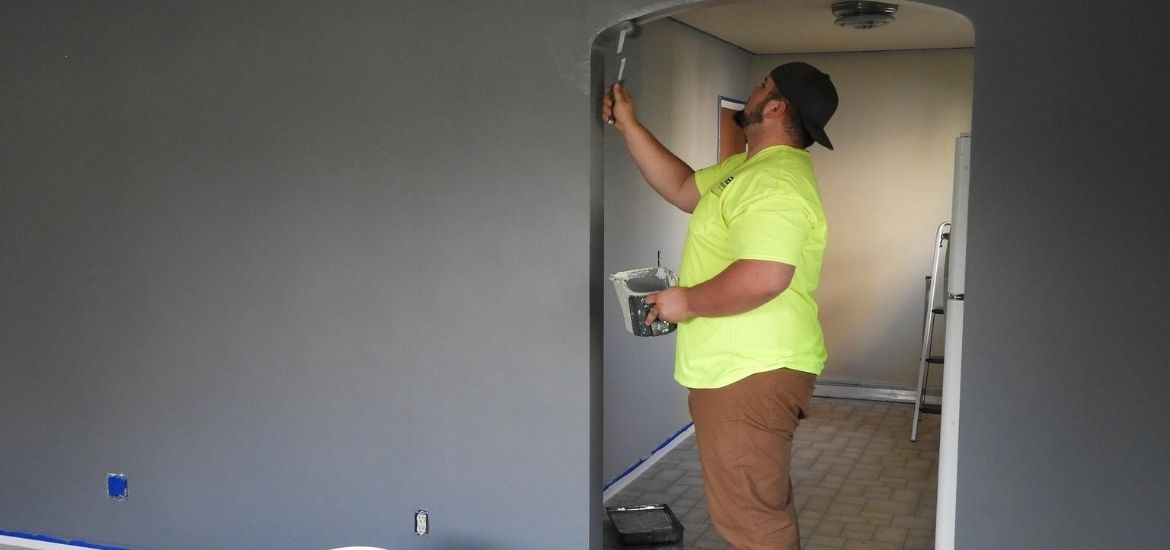 Painting a room, in general, is one of the easiest tasks you can do at home. It's tiring, but it's not as complicated as replacing an electrical outlet or building a deck. But one of the things that you dread most when painting a room is when you have to paint edges. It doesn't matter how careful you are when cutting in — streaks of paint always end up on the opposite side, ruining your baseboard and crown molding.
You can always use some painter's tape, but those things are so expensive and cannot be reused. Masking your ceiling and baseboards can also take up much of your time.
The good news is you don't have to spend a couple of hours or more masking trims and ceilings when you have a handy little tool called a paint edger. This tool allows you to apply paint directly across the edge without worrying that you might ruin your casing trim, crown molding, or baseboard. Some paint edgers look like conventional paint rollers, while others look like pads with modified handles. They are, however, a little more expensive than your ordinary paintbrushes and paint rollers.
The best paint edger for you depends on your specific needs and the scale of your painting projects. If you seek precision and professional-grade results, options like the Wagner Smart Edge Paint Roller or the Accubrush MX Paint Edger are excellent choices. However, for simpler tasks and occasional use, budget-friendly options like the Shur-Line 2006559 or the HomeRight Quick Painter C800771 can still deliver effective results. Choose the paint edger that aligns with your requirements and prepare to achieve flawless paint lines with ease.
In this article, we're going to talk about some of the best paint edgers you can purchase online. We've also come up with a simplified buying guide, so let's get started.
There are two types of paint edgers: the pad-style or spreader-type paint edger and the roller-style paint edger.
Roller-style paint edgers work just like ordinary paint rollers, except that they come with a thin plastic or metal guard beside the roller head. This guard prevents the paint from smearing over to the opposite side. Some of the roller-style paint edgers come with a plastic tube where the paint is conveniently stored so you don't have to dab repeatedly on the paint tray while you work.
Spreader-type or pad-style paint edgers are simpler and easier to use than roller-style paint edgers. These paint edgers look a lot like ordinary cleaning sponges, but they come with handles for easy paint application. To apply paint onto an edge, simply dab the pad-style edger to a tray of paint and apply it directly across the surface.
Some spreader paint edgers, such as this Shur-Line Premium Paint Edger, have a shorter handle. They are precise and easy to control, but they are not the best tools to use if you're planning to paint the highest part of the wall.
If you want something you can use without climbing a ladder, then choose a spreader-type paint edger with a longer handle. You can reach the highest part of the wall simply by attaching it to an extension pole.
Other spreader-type paint edgers also have a plastic tube handle. Similar to some roller-style paint edgers, paint is stored inside the hollow plastic tube, so you don't have to keep the paint tray within reach always.
Paint Edger Buyers' Guide
When used properly, guide wheels on spreader paint edgers can be a great way to make sure that the paint stays on the right surface and not leave streaks of paint on the opposite side. The Mr. LongArm Trim Smart Paint Edger, for example, features vertical and horizontal guide wheels that make paint application easier and faster, as well as ensures that the paint stays in place. This Accubrush MX Paint Edger also has a set of guide wheels, but its design is a little more complicated than most.
Roller-style paint edgers come with plastic and metal guards at one side of the roller head. This guard prevents the paint from streaking into your trim, window sill, crown molding, and baseboard.
Paint edgers with metal guards produce cleaner, sharper lines as they are thinner than plastic ones. You can still get nice and clean lines with plastic guards, but the edges may not be as sharp.
An edge painting tool with a unique design might be fun, but sometimes, it's better to go for something basic. Unique paint edgers are often more expensive, and it can be difficult to find replacement parts when they eventually break down.
How to use a paint edger?
Using a paint edger is similar to using a paintbrush or roller in that they all create a smooth coat of paint if used correctly, but it's easier to make mistakes with an edger, resulting in smeared or blotchy results. Here are the fundamentals of utilizing a paint edger correctly:
Fill a tray or plate halfway with paint. You don't need much paint; a large pool of paint will result in poor outcomes.
Dip the edger pad only lightly into the paint. Be careful not to have paint on the edger's wheels; inexperienced painters commit this most common mistake. Paint on the wheels will track on your wall, creating smears of paint where you don't want them.
To remove extra paint, wipe the edger pad against the edge of your paint tray.
Place the edger on the wall so that the front of the edger is against the trim, corner, or other objects you don't want to be painted, then roll the edger down the wall carefully and smoothly. Repeat once or twice more until the paint is completely covered.
As needed, reload the paint edger, taking care not to get paint on the wheels or overload the edger.
How to clean a paint edger?
If you intend to use your paint edger for future painting tasks, you must clean it after each usage.
Begin by washing the edger pad and holder under running water.
To discharge paint, squeeze and work the pad. Rinse once more.
If there is still paint on the pad, add a couple of drops of liquid dishwashing soap, work up suds by pushing and kneading the pad with your fingers, and then thoroughly rinse.
With your fingers or a sponge, remove the paint from the edger's holding. Thoroughly rinse.
Allow the paint edger pad and holder to dry completely before storing or reusing them.
How long can a paint edger be used?
The cheapest paint edgers are disposable; use them once and then throw them away. On the other hand, paint edgers with replacement pads can endure through several paint jobs if well cleaned between uses. It should be noted that if the pad becomes ragged, loaded with dry paint, or worn; it must be replaced.
So what is the best paint edger on the list? The Shur-Line 2006559 Edger Plus Premium Paint Edger is a favorite because it is easy-to-use and does what it is expected to do, but the Wagner 0530000B SMART Edge Paint Roller simply trumps it. Here are some of the things that makes this paint edger tool different from the rest.
It looks like a regular paint roller at first, but what makes it different is the high-capacity plastic tube used to store the paint you're going to use. The tube is made of transparent plastic that allows you to see if you're running low on paint and when it's time to reload. With this feature, you don't have to go back again and again to the paint tray to reload. Just fill the plastic tube with your chosen paint and you're good to go.
The roller head is compact, and its size allows you to use it in tight spaces and even use it as a corner paint roller. It is covered with a thick and durable roller nap.
You've tried cutting in using an angled sash brush and painter's tape, but the result was less than satisfactory. One helpful feature of this edge painting tool is its plastic Twist and Trim Tool. This shield protects your casing trim, crown molding, and more from streaks of paint during edge painting.
Overall, this Wagner 0530000B SMART Edge Paint Roller is an impressive tool that will shorten the time you spend painting and make your task easier.
Other Great Articles to Read:
To view our Amazon Associates Disclaimer, please click here.