Orange is the most popular color of fall, and it is undoubtedly available almost everywhere during the first festive season. An orange front door is not just about embracing the colors of fall, and it is not a look that you would have to change once the season has passed. This color has found its way to the hearts of many people, in and out of season. Today, we're looking at houses with orange front door ideas, and we'll walk you through different suggestions and tips to successfully use this color in your exterior.
WEST COAST
This mid-century modern home by Kenihan Development boasts a vibrant tangerine orange front door with a minimalist design and silver hardware, exuding retro chic.
COURTYARD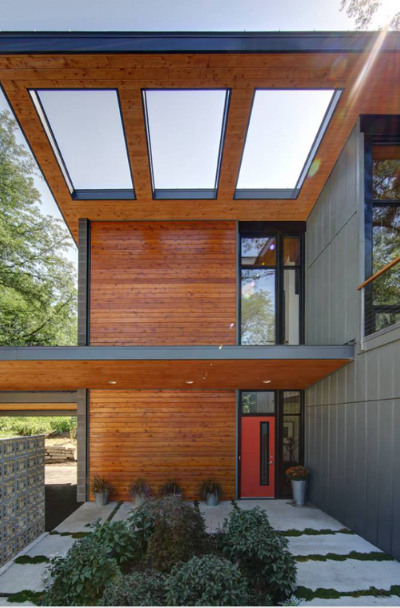 This Mediterranean-inspired home by Bruns Architecture features a terracotta orange front door with intricate ironwork and bronze hardware, capturing the essence of Old World charm.
MIDCENTURY
This contemporary home by Rick & Cindy Black Architects showcases a bold orange front door with a geometric pattern and black hardware, making a striking statement against the neutral exterior.
CUSTOM PAINT
A bright orange door with a woodgrain texture and stainless steel hardware adds a modern touch to this minimalist home by SV Design, creating a focal point on the clean lines of the facade.
Why Orange Front Door Is Preferred By Many
Orange and gray is a popular color mixture for an entryway, and it is increasingly taking over houses across the world. This combination blends the stylish appeal of gray with the energetic effervescence of orange at its greatest. If you ever start to get tired of gray, you can try out a different colored door to completely change the entryway's appearance! There are plenty of front door paint colors pictures where you can get ideas. Do you want to make a far more classic entry with orangey zest? Then an orange and white entryway is the way to go. Having orange paint for your front door lets your home stand out. It is not only posh; contemporary residences and villas can reap this color's benefits. A light-filled and bright white corridor leading to an orange apartment door presents an equally exciting and impressive visual. The whiter the backdrop is, the more will be the effect on your dynamic orange front door!
Orange paint for the front door is a look that works great with various styles. Exposed concrete walls and an orange front door is an excellent mixture of contrasting images for the contemporary industrial home. As the best paint for the front door, you cannot go wrong with orange. Today, orange is the new red when thinking about a bright color to make a happy entrance. It is, however, a fresh modern hue that pairs exceptionally well with mid-century properties. Regardless of the weather, this shade is sure to add a spring touch to the entry. A substantial block of orange looks new and contemporary against a cladded outside.
Pair it with painted gray and natural wood finishes for a modern-day mid-century aesthetic. Orange and gold are a classically attractive vintage pairing. Transform any ordinary orange door into an enticing entrance with gold door accessories. Break up a block of orange color and add some space-age appeal to a door with a band of silver metal trim. Adopt a 'kick plate,' a metallic strip usually utilized at the base of doors in busy thoroughfares typically found in many DIY shops. Just because your door color is a zinger, that does not imply you need to stop there. Include an exciting and tactile doorknob to create an artistic first impression.
LIGHT WOOD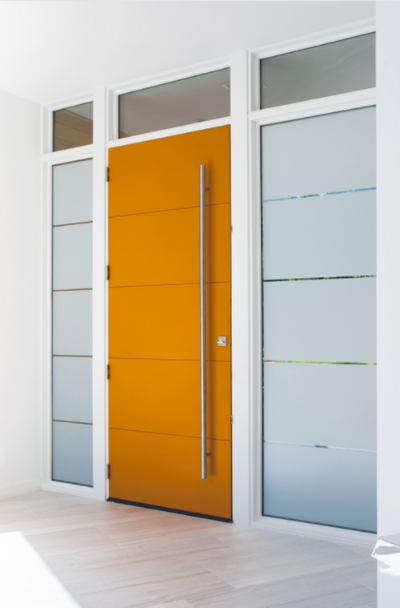 A bold orange-red door with a textured surface and black hardware creates a striking entrance to this contemporary home by Bauhaus Custom Homes, making a statement against the neutral exterior.
Orange Is The New Red
From melon, pumpkin, and squash to apricot and carrot, no, we are not talking about vegetables and fruits; these are just several of the many orange paint colors you can choose for your front door. In case you are searching for a color that sticks out on a simple and straightforward looking exterior, try a bright orange shade. Not only does this particular color bring warmth to a contemporary house, but additionally, it blends nicely with any outdoor area. To make an elegant entryway, think about adding a vibrating zest of orange. An orange door with matching front door shades can make your home stand out against a white background. For example, a modern house can be coupled with an orange front door and decorative features, like a wreath making it appear welcoming. A smart orange door can match any exterior, whether on a mid-century home or a contemporary apartment. You cannot go wrong with this exciting color.
If your neighbor's door is painted red, opt for an orange door to pair up the two colors. When choosing an orange shade for your entry, keep in mind that those with red undertones work best alongside reds. A bright orange door is not only stunning alongside red. It can also be a trendy mixture on a gray exterior, and it is increasingly getting popular across suburban homes. A combination of a fashionable and wonderful gray backdrop with a bold orange front door can produce a visually appealing focal point. If you wish to tone down the orange, put in a decorative wreath to modify the door's appearance. A soothing and soft orange front door can look even more appealing when paired with a rustic home's pink exterior. Under direct sunlight, this front door appears lighter and emits warmth thanks to the deep shade of pink as a backdrop. Experiment with these warm tones by incorporating dramatic features such as metal hardware.
Orange is a conversation starter. It is a color that polarizes but encourages us to come together and be at your home's heart. You may instantly think of brilliant, gaudy shades, but orange paint is versatile. Its darker terra cotta and peach tones have broad appeal and can add something different to a room without being overwhelming. Orange can radiate energy and warmth and is very stimulating and thought provoking. Orange is available in numerous shades and tones. Burnt orange paint looks great in formal areas, and lighter orange shades of apricot or peach work beautifully in bedrooms and living rooms. Yellow and red make orange when they are combined. However, this is just the beginning of finding out how to make orange paint and its various shades. We will be checking out numerous variations and possibilities on top of blending these two shades that make orange together. Cadmium yellow and cadmium red are the two colors that make orange a great robust color when combined.
PERSIMMON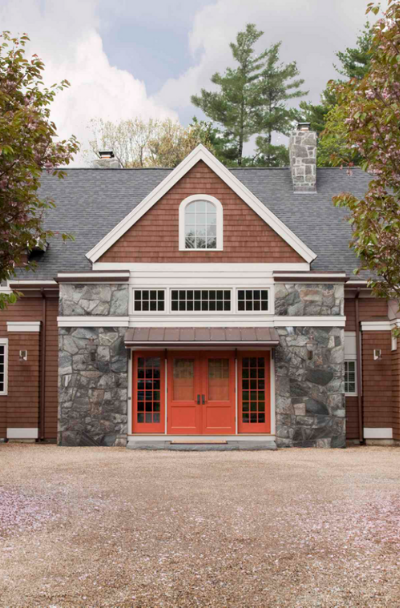 This mid-century modern home by SV Design boasts a vibrant tangerine orange front door with a minimalist design and silver hardware, exuding retro charm.
CORAL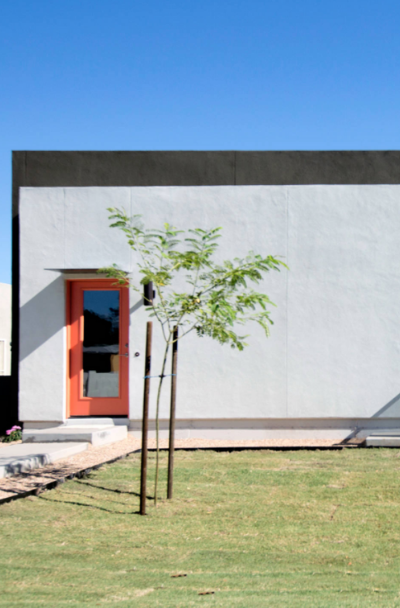 A vibrant pumpkin orange door with glass panels and black hardware creates a welcoming entrance to this cottage-style home by The Ranch Mine, adding a playful touch to the exterior.
FIBERGLASS
This contemporary home by Sarah Greenman features a bold orange front door with a geometric pattern and black hardware, adding a vibrant and modern touch to the exterior.
What Colors Go Well With Orange Front Door?
In contrast, yellow ochre combined with cadmium red creates a more muted orange. A cadmium lemon and cadmium red, when combined, can produce a brighter orange that is much more saturated than the muted orange with yellow ochre. Let's look at blending a few red types and cadmium yellow to find out the orange color shades, red and yellow make. Alizarin crimson with cadmium yellow is a lovely robust orange, but not as bright and warm as the two oranges that resulted from being combined with cadmium yellow and cadmium red. Alizarin crimson is a much cooler red shade than cadmium red; thus, it is only standard that an orange combined with alizarin crimson is cooler in temperature.
Then we have an incredibly muted orange mixed from burnt sienna and cadmium yellow. Burnt sienna is an earth tone color, so whenever a yellow is mixed with it, it will be a muted orange. Nearly every time you mix an orange color, you will need to soften it even just a bit. What color does orange and blue make? To mute a color, you have to blend it with its complementary color. Blue and orange make a lovely neutral muted orange color because they are complementary colors. When you combine cobalt blue with cadmium orange, you get a warmer, muted orange color. But when you mix ultramarine blue with cadmium orange, you can produce a cooler muted orange.
When you think about what colors go well with orange, you might overlook white as a fantastic sidekick, but orange and white is a strategically restrained-yet-energized pairing. It has been mentioned that when it involves the color wheel and color pairings, color like their neighbors, and love their opposites. Orange and red, being color wheel neighbors, definitely exemplify this. They are both bold and energetic; however, their subtle variation in warmth lets the shades be distinctive in their impact. Maintaining the warmth of the orange paint alive and well is essential in interior design. Why would you select a bold color like orange if you do not want its warm energy? One way to tone down the vibrancy of orange is to pair a deeper orange tone with a few muted versions of the color wheel's neighboring color. As the color of creativity and joy, orange can't help but make a beautiful pairing with gray. Instead of canceling one another, the colors paired together to create a brilliant, down-to-earth space that fosters achievable creativity. Being complementary colors, blue and orange, will pair beautifully in almost any home. Whether the two colors are paired alone or simply two parts of a patchwork palette, they will forever be a grounding combination.
How To Get The Perfect Finish
When painting your front door, hundreds of popular front door colors are selected, but there is only one real option for the finish. It has to be semi gloss. The same goes for the exterior trim. Semi gloss paint will give you a smoother surface than lower-sheen finishes and has a shining level, providing a visual contrast. If you are concerned that this will make your front door overly shiny, we guarantee that it will not. In reality, this particular finish is not only what you will want visually, but it is the proper finish to protect your home in the long run from the elements. It is your house; therefore, you indeed can choose any color you want for your home. So long as you like it, then it is the proper color. But if you want to ensure that your door blends nicely with your home's exterior or if you're planning to market your house, you will find several front door shades that are better than others.
Orange can be pretty comfortable and put in a welcoming vibe to your place. If you've got a high-quality wood door that has seen better days or is covered in layers of old paint, you might want to consider stripping and refinishing your door. This may be an incredibly gorgeous update to a historic house but will require some significant work to bring it back to its natural beauty. Front door shades must improve your doors' appeal and complement the other window treatments in the space. The front door shades or blinds you pick may depend on the amount of light you want to let in the room. If you're going to allow a few natural lights in, choose a light air filtering shade. If you prefer to block the light, choose a honeycomb shade.
Your door will probably have a handle that may get in the way of using the window treatment. The answer to this is to buy shallow blinds that fit comfortably between the decorative handles and door. Cellular shades and aluminum blinds can be used as window treatments for front doors. They are often cheap and take up little room when raised. They are available in numerous different colors and widths, enabling you to locate the one to complement your home. When your window treatment is lowered, it can swing when the door is closed or opened. To prevent this, utilize hold down brackets to hold the bottom part of the blind or shade in place. These can be added to most shades and blinds at checkout. Numerous home windows present different challenges, as they are available in many sizes and shapes.
This is an image roundup post, curated to showcase and promote other reputable contracting companies' and their amazing work. To have any of the images removed, please reach out to us and we would be happy to do so.
Other Great Articles to Read: