If there's one style that celebrates humility, affordability, and practicality, it is undoubtedly the industrial style. Years ago, what started as an efficient work environment soon morphed into a distinct style that has made its way slowly from functional loft-style houses to contemporary penthouses and expansive villas. And there are a couple of places in the home that revel in unassuming ease and the beauty of the industrial style, like the kitchen area. This is a style that is all about raw, textural beauty at its best. Today, we are looking at industrial rustic kitchen ideas and how it can transform a dull looking kitchen into a stylish and elegant one.
This modern kitchen design offers a lively vibe because it is so streamlined. The lighting is quite modern and perfectly fits Andrew Heiser's kitchen. The brick backsplash stood out brilliantly against the black ceiling and walls.
BACHELOR PAD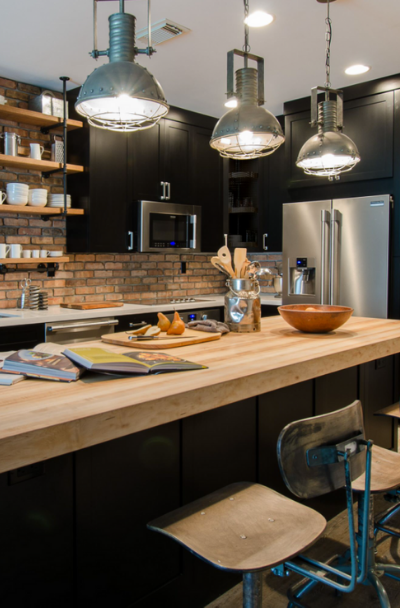 Everything appears to be sleek and black in this retro-inspired kitchen design. This kitchen design by Nina Williams Interiors will make you feel happy. The vintage metal pendant lighting enhances the old-fashioned appearance of this kitchen.
EUROPEAN
Everything in this kitchen's European-inspired design looks fantastic. This kitchen design by Emily Cathcart Designs features a white and gray color scheme that looks quite elegant. This industrial kitchen appears spacious and light with a white and gray color scheme.
EXPOSED DUCTING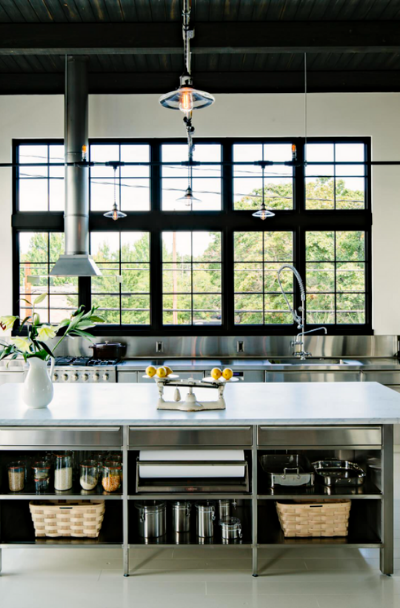 Everything appears so energizing in this open kitchen layout, which includes a large window with a natural outdoors outlook. In this Emerick Architects kitchen design, you may enjoy taking in the scenery. White walls and stainless hardware always convey sophistication.
APARTMENT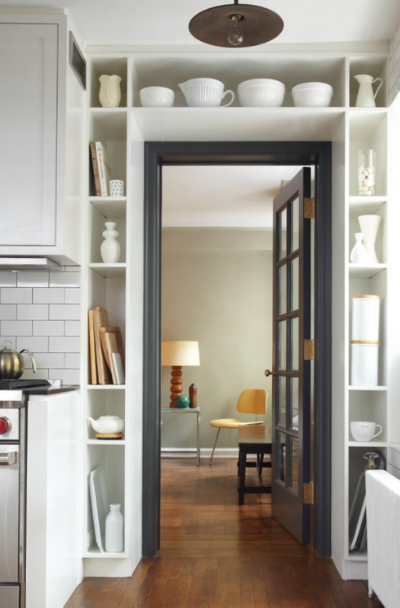 This kitchen layout is excellent, especially for apartments. With this kitchen design by Lauren Rubin Architecture, everything is so streamlined and understated. With the appropriate furnishings, this industrial kitchen is stylishly designed.
SINGLE WALL
The patterns in this kitchen's single-wall layout are both artistic and lovely. Everything in this WoodCo kitchen design is adorable. An industrial kitchen with low ceilings and vintage furnishings gives a nostalgic vibe.
Top Considerations For An Industrial Kitchen
Think about tiles, brick, and concrete walls while planning for the industrial kitchen. Subway tile is the go-to trend for modern and industrial style, but it can get very pricey. For a cheaper alternative, you can purchase peel-and-stick subway tile or a faux brick wallpaper that will wholly transform your kitchen without any significant renovations. Brick walls are another staple of the industrial style. It's also a favorite among homeowners and currently leads the pack. However, do not forget the value of exposed steel surfaces and the right flooring, elevating the kitchen to a whole new level. From wooden floors with chevron and herringbone patterns to dark, painted flooring that provides the industrial kitchen a truly 'vintage' appearance, the choices are limitless. Toss in a gorgeous subway tiled backsplash and open cabinet kitchen, and you've got yourself a captivating industry kitchen.
Have you ever looked at a truly unique industrial style kitchen and wondered how the homeowner developed such a distinctive yet mesmerizing space? It is no doubt that picking the right accessories and decor that fit in with the design goes quite a distance in getting the job done. But beyond the obvious, it is all about giving your kitchen area a unique character that mirrors your taste, instead of going down the generic path. The most effortless way to incorporate industrial flair into your home is by swapping out your regular LED bulbs with Edison style light bulbs. This style of light bulbs features a vintage filament that can transform any standard lighting fixture. Incorporate some salvaged items, a smart kitchen island, DIY pendants and chairs, custom shelves and cabinets to usher this aura exclusivity. For some homeowners, embracing the industrial kitchen style is all about finding a balance between modern refinement and edgy overtones that the style gives off. This curated fusion between the styles works incredibly beautiful. You can also tone down or up the level of raw, industrial beauty you want in the kitchen by removing or adding a couple of decoration pieces once in a while. Grey is a fantastic color option for the chic industrial kitchen as it combines the steely grit of the industrial design with contemporary sophistication.
The industrial kitchen is often defined by incorporating highly professional appliances, frequently featuring built-in refrigerators and dishwashers. It is common to find several appliances nestled together, like two dishwashers or several under-counter fridges scattered around the area. Right here, we have gathered some incredible ideas to encourage you with your industrial kitchen design journey. First off, we've got raw simplicity. Industrial kitchens are known for their "naked," unrefined, unfinished, and unpainted walls. Thus, if you have some brickwork or concrete walls to expose, be sure to leave them bare to attain a quick industrial aesthetic. Next is to embrace the existing architectural features. Always reveal the existing architectural elements, such as the metal pipes, exposed beams, electrical systems, air conditioning ducts, and so on. These are elevated to being a style feature in industrial kitchen design, instead of being seen as an eyesore being disguised. Maximize your open space. Ideally, your industrial kitchen will have a high ceiling and plenty of wide-open space, providing an airy feeling. You can still maximize the space with smart storage systems and the utilization of smooth steel work surfaces. Combining stainless steel with rustic wood open cabinet kitchen is an excellent way to juxtapose textures while creating a light, airy atmosphere.
NEW YORK
This is such a nice kitchen layout that appears both bright and energizing. This kitchen design by TOLA architecture is so contemporary and organic. The unique copper countertop and brown floor go well together in this rustic industrial kitchen.
Materials That Make For An Industrial Kitchen Island
If you have some copper pipes, don't hide them, instead put them on display! Copper pipes are a favored way to add character and warmth to an industrial kitchen area. You can also adapt them to make them work in your kitchen. A material that screams "industrial" is concrete. Its color, finish, and texture are incredibly suitable for the bold, utilitarian look. Utilize it to serve as a focal point in your industrial kitchen, regardless if it is on the walls, kitchen island, or counter. Lastly, combine various materials. A vital characteristic of the industrial kitchen area is the eclectic combination of multiple materials to create a range of colors and textures. The industrial kitchen may boast a mix of woods, marble metals, concrete, and stainless steel, all stimulating visual interest and allowing a high degree of personalization.
If your kitchen is industrial or if you'd like to include an industrial touch to the room, an industrial kitchen island is just what you need. We all know that concrete is a genuinely industrial material, and a sculptural concrete kitchen island will make a stylish statement and bring a more contemporary vibe into the area. Your kitchen island can be full of concrete with sculptural shapes and lines with an extremely durable concrete countertop. These industrial kitchen islands usually don't provide some storage, but you may have a breakfast space or even utilize it as a dining table. Metal and wood are a perfect combination for an industrial kitchen island. Such a piece will provide a vintage feel to the room, and if you need it, go for some pipes and a wooden counter; this will be a win-win combo. Another idea is to go for a terse look, some blackened metal, and wooden tops, including the countertop. Include a breakfast space or dining into the island to increase the functionality of the item. Getting a wooden kitchen island is an alternative though I strongly recommend using stuff and crates or artificially add inscriptions and age on the island, making it industrial.
VILLAGE HUT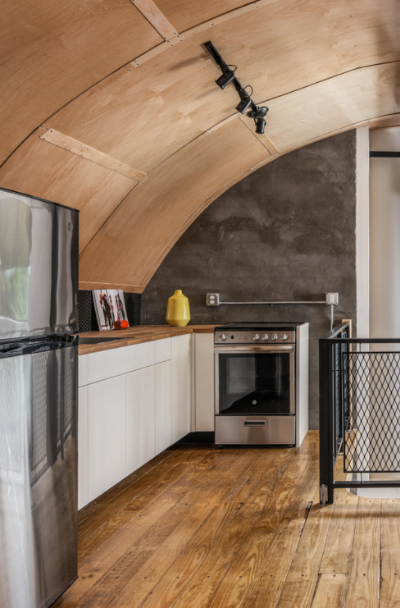 This Gill Design Co. kitchen design has such a warm, clean aesthetic. The curved ceiling has a very distinctive and natural-looking appearance. A gorgeous huge wood shade pendant light is hanging above a raised kitchen.
CONTAINER
Dark hues are typically used in sophisticated interior design, but this room is particularly distinctive because it uses basic, cheerful colors instead. This excellent kitchen by Barber Builders has a gray-and-white color scheme. With all its components, this white kitchen looks rustic and modern.
REMODELED
Like this one, you may have a contemporary kitchen design with a black-and-white color scheme. Focal Point Hardware's kitchen design has a modern and cozy aesthetic. A black and white item in a beautiful industrial kitchen.
2 ISLANDS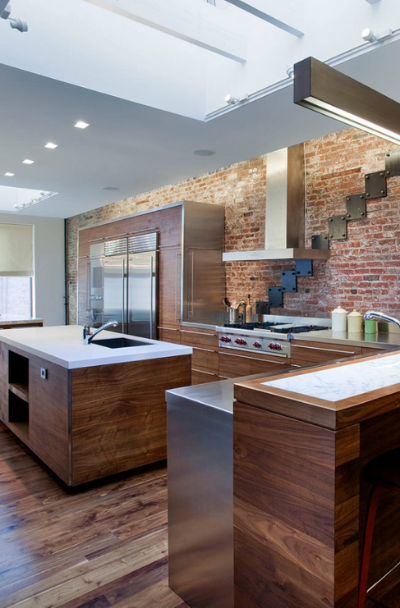 This open kitchen is the perfect blend of modern and traditional design elements for a home with this layout. The kitchen by studio PPARK is stunning. The room is transformed into a sleek industrial kitchen using raw brick and linear suspension lighting.
Kitchen Cabinet Decorating Ideas
Open kitchen cabinets are a brand new trend in kitchens that wish to feel at ease and casual yet modern at the same time. Open kitchen cabinets remove the doors off and expose shelves and supplies within the industrial cabinet. They may employ stand-alone shelves mounted onto your kitchen walls where upper cabinetry is usually installed. An open cabinet kitchen can serve plenty of purposes, functionally and design-wise. Functionally speaking, an open cabinet kitchen offers easier access to storage and helps make your precious collections of home goodies more visible. Plate slats and wine cubbies can be put into an open cabinet kitchen to store these often used kitchen items more quickly. Many homeowners prefer open kitchen cabinets from a design standpoint because, with these cabinets, they can incorporate unique and extra materials into their kitchens. One example typical in a rustic kitchen is using refurbished wood beams as upper cabinet shelves, providing your kitchen a distinctive, cozy, casual look.
High-gloss wood, concrete, or synthetic wood alternatives are some other materials that can be used to create open kitchen cabinets in a contemporary style kitchen. The material diversity that can be used to generate open kitchen cabinets is among the significant advantages of this particular look. Another benefit is the ability you have to personalize your actual storage space. China collectors can pick open cabinet kitchen to display prized teapots, tureens, or dishes diligently. A drawback to consider with an open cabinet kitchen is their definitive openness. If you're a homeowner that tends to have a cluttered kitchen or mismatched glassware set, you might not want your inner shelf contents to remain on display. No matter the type of custom kitchen cabinets you're creating, be it industrial or vintage kitchen cabinets, if you're hoping for an open and airy look that gives off a casual yet modern vibe, consider open kitchen cabinets an option. They're a cost-effective way to showcase your style while developing a purposeful dream kitchen.
The following are some kitchen cabinets decorating ideas that you can take inspiration from. If you have a gap somewhere between your kitchen cabinets and the ceiling, you have probably spent time hating your architect. But that is good news; you will find a lot of ways to make this space completely functional, or at the very least, look adorable. The top of your industrial cabinet will not become the eyesore of your home anymore. Don't have closet space? No problem. Place your rattan bags and wicker into your kitchen! Add brick, or brick wallpaper, above your cabinet for a great industrial style. It will help balance a modern and sleek kitchen. Sneak additional storage in by installing cabinets around the ceiling and snaking the cupboards across the kitchen and over the sink. Paint the area above your cabinets a color that pops against the backsplash, ceiling, and cabinetry's color for optimum impact. Keep your cookbooks off the living room; instead, place them above your kitchen cabinets. Just make sure you have a step ladder available.
Rustic Kitchen Designs & Styles
Rough-hewn surfaces, century-old details, and faded finishes stack up to create rustic kitchen designs that allow families to host modern gatherings amid patinas of the past efficiently. Shiny surfaces, sculptural accents, and lighter wood finishes update traditional rustic kitchen designs. Choose plank floors and wood ceilings that were limed or whitewashed to brighten the view. Knotty pine boards bring rustic cabin appeal to old and new kitchens. Utilize pine boards to create a fetching and inexpensive backsplash for shelves. Stain and seal the panels to protect them from water and grease splatters. Make a pleasing harmony between painted finishes and wood to ensure your kitchen serves as an inviting hub for gathering family and friends.
Stylish finishes, calming colors, and vintage styles encourage lingering in this relaxing kitchen design. Brick walls, exposed ceiling beams, and hardwood floors are rustic elements that bring warmth and complement green glazed finishes and natural wood cabinetry. Today's kitchens are essential to daily life and special-occasion entertaining, frequently performing double duty as family rooms, offices, and media centers, as well.
Furniture-like cabinetry and farmhouse tables are popular conventions, and an eclectic blend of finishes helps develop a comfortable, lived-in look. Sexy, sleek, and sophisticated, the modern kitchen is designed to keep the clutter minimum. High-tech materials and glossy surfaces are central to the contemporary kitchen, and exotic woods add a luxury touch with no fabric or frills. Whether the area is tiny or enormous, cottage kitchens are supposed to feel comfortable. With their unperfect finishes and homespun hints, cottage-style kitchens are always one-of-a-kind and serve as the perfect backdrop for offbeat collectibles and art. Whether you reside at the beach or wish that you did, you can rely on unique shades of pink, green, gray, and sand to make a vacation-time mood. Flooring and fabrics designed to stand up to wet bathing suits make coastal-style kitchens easy to maintain. Window treatments that allow maximum natural light will have everyone in a "let's go to the beach" mode.
This is an image roundup post, curated to showcase and promote other reputable contracting companies' and their amazing work. To have any of the images removed, please reach out to us and we would be happy to do so.
Other Great Articles to Read: