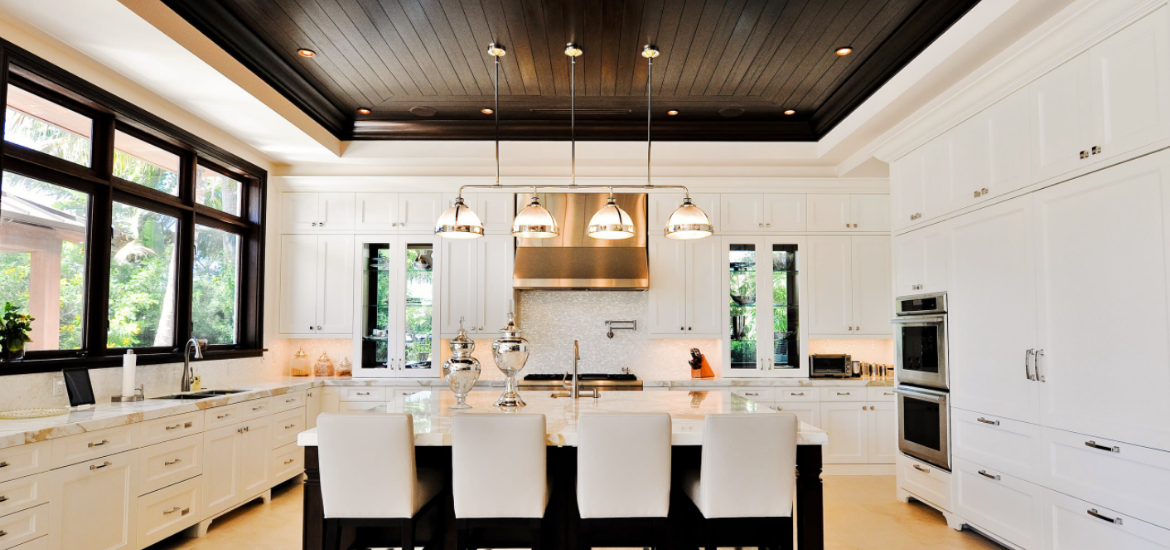 One of the best interior design ideas is using black trim as a contrast. This one thing can alter your home decor look entirely. Using black as a good contrast in otherwise neutral areas is a great tool to produce clean lines and a sharp, timeless look, regardless of your decor or home style. Best of all, it is not a total makeover. It's much like adding frosting to a cake. If you're up for a timely update, check out these black interior trim ideas.
GLAMOROUS
In this contemporary living room by Jessica Helgerson Design, the black interior trim frames the large windows, creating a sleek and modern look, while the minimalist furniture and neutral color palette enhance the clean and sophisticated aesthetic.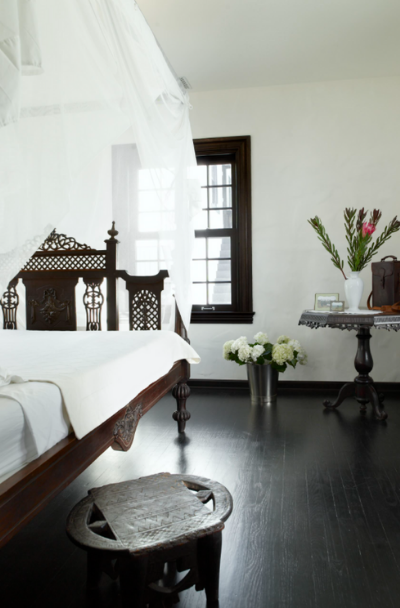 The black-trimmed French doors in this bedroom by CÚRE & PENABAD bring a sense of drama and elegance, contrasting beautifully with the light-colored walls and bedding, creating a striking focal point in the room.
LIVING ROOM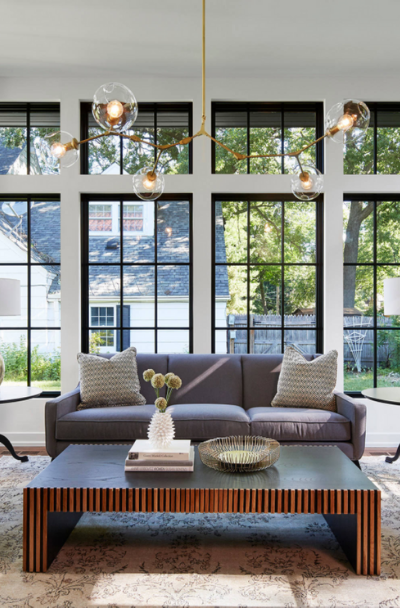 The black window frames in this living room by Martha O'Hara Interiors create a stylish and chic atmosphere, while the natural light streaming in adds a sense of brightness and openness, perfect for a productive work environment.
FORGED IRON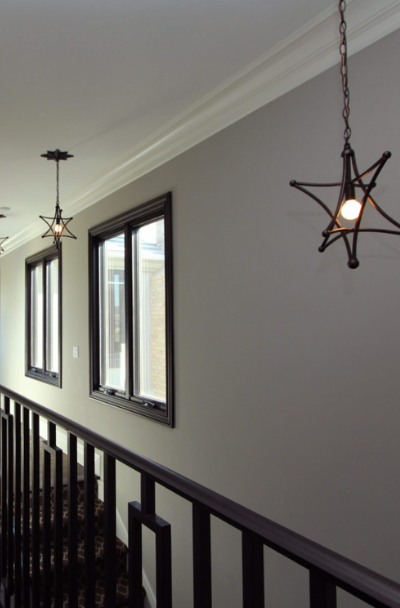 This cozy hallway by Robeson Design features black-trimmed windows that bring a classic and timeless look, while the comfortable armchair and built-in bookshelves create a serene and inviting space for relaxation.
HOME OFFICE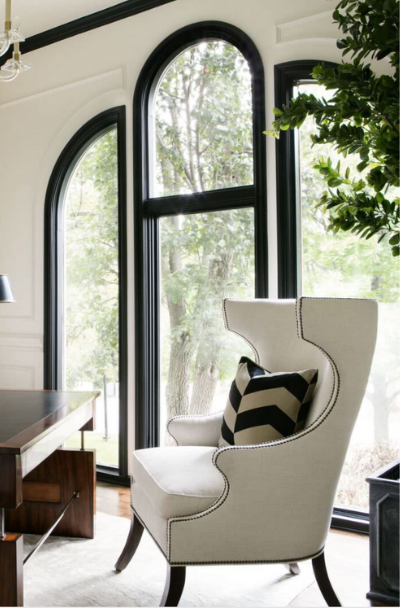 In this modern home office by McCroskey Interiors, the black-trimmed enclosure and vanity mirror add a sleek and contemporary touch, while the white subway tile and marble countertop provide a clean and luxurious backdrop.
CONTEMPORARY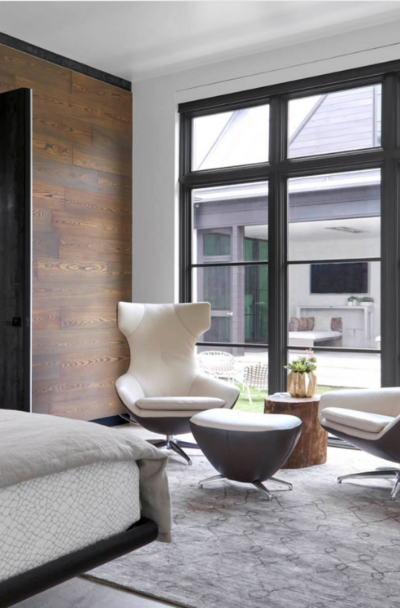 This contemporary bedroom by Coats Homes showcases black-trimmed windows that accentuate the stunning views, while the white cabinetry and rustic wood accents create a cozy and inviting space with a touch of modernity.
INDUSTRIAL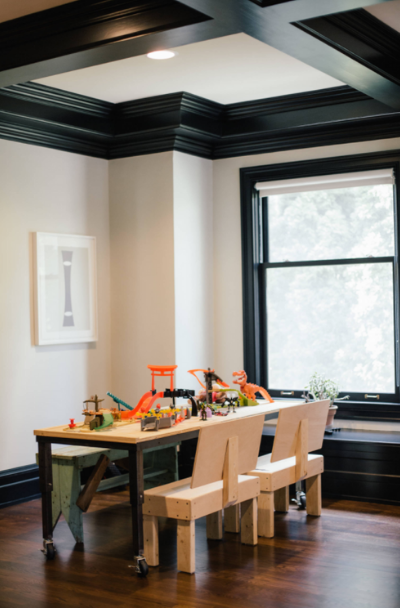 The black-trimmed sliding doors in this playhouse by McIntosh Poris Associates lead to a private outdoor patio, allowing for seamless indoor-outdoor living, while the neutral color palette and natural materials create a serene and tranquil retreat.
Why Opt For Black Trim
A strong exterior black front door can look incredibly sophisticated and matches most home colors. It instantly updates the outside of your property and provides you with added curb appeal. A room with dark wallpaper on all four walls or a room with all matching black furniture is too heavy to look at each day. Finding a balance and a look you're happy to live with for a couple of years may take a little research. Think of using trim as a ribbon. You need to contrast various other features or colors of the room, but not too much that the area feels weighed down. When it comes to trim, black is the brand new white. Instead of following the predictable light accents and molding that all of us know and love, style enthusiasts choose something more dramatic, a black trim! Are you wondering about this particular design trend? Whether you seek to introduce a dash of black trim or looking for painting ideas that involve plenty of blacks, keep on reading.
Sometimes, a little goes quite a distance, mainly if you are uncertain about the black trim trend or a fan of the "less is more" approach. To try out a dash of black trim, begin with black furniture that boasts strong outlines, such as bookshelves and coffee tables. The outcome is undeniably chic and something other than overpowering. Complement your black door frame with black trim windows, which is ideal for fresh, crisp rooms, especially in areas that evoke a sense of cleanliness, such as bathrooms, laundry rooms, and kitchens. Speaking of black trim in the kitchen, this famous design choice gains impact if you integrate black into some other room features, like bar stools and kitchen islands. Are you ready to go all-in? Expand black trim to cover areas like wooden paneling and built-in bookcases. Extend the look to ceiling beams, and accentuate the black trim with other dark features, like pendant lighting. You can also use black trim to the exterior of a house. There are plenty of ways one can use black trim in a white house design. A white house with black trim creates a classic combination. The black trim can serve as an accent that can boost the appealing exterior look.
Black trim has turned into a trend just recently. Having a black trim house was once seen as distasteful, but lately, we have valued the contrast this bold choice brings. Having dark trim light walls can provide some contrast that adds a sense of depth and sleek power to a room. If you choose a black trim in an area that is entirely focused on expansive windows and light colors, and you wish to ensure that it stays that way, it might pull the attention away from your light accents and provide the room a darker feel you may not have meant. When you attempt to choose a unique, deep, or mystical appearance, light trim will not help you with that, but dark trim will. White is the safety fallback, but it will not provide a special or unique touch to your house if it does not match your personality. When you're unsure of what look you are going for or what trim color you want, talk to a specialist who can help you decide, so you wind up with the best room.
TRENDY
This minimalist kitchen by SteedForm features black-trimmed windows that bring a sense of contrast and depth to the space, while the simplicity of the design and the neutral color scheme create a peaceful and calming atmosphere.
MASTER BEDROOM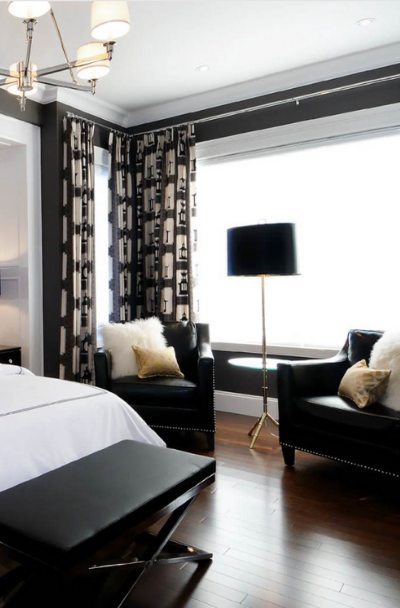 The black-trimmed skylights in this bedroom by Atmosphere Interior Design Inc. allow natural light to flood the space, highlighting the modern furniture and accentuating the high ceilings, creating an airy and spacious feel.
U-SHAPE
In this contemporary kitchen by Breeze Giannasio Interiors, the black-trimmed cabinetry and windows create a sleek and modern look, while the white countertops and stainless steel appliances provide a clean and minimalist aesthetic.
ISLAND LIVING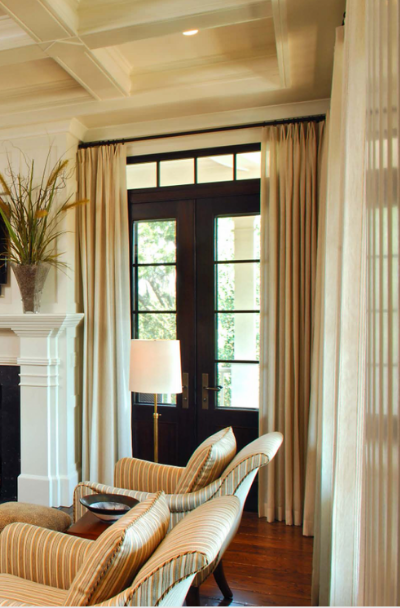 This elegant family room by Phillip Smith General Contractor, LLC showcases black-trimmed mirrors and vanity lights, adding a touch of sophistication and glamour, while the marble tile and freestanding bathtub create a luxurious and spa-like retreat.
How About A Black Window Interior?
Black window interior has recently gained popularity and becomes a common trend in many modern homes. Black window interior provides an up-to-date contemporary appearance but additionally complements everyday traditional and domestic interiors. Consider bold and gorgeous black windows to turn your view right into a work of art. Contrasting dark trim light walls can help anchor a room and contribute to a sophisticated, polished space by adding intensity and creating a focused visual impact. Remove the need for expensive window treatments with black trim windows, which are meant to be shown off and accent the home decor. Additionally, they are flexible enough to accommodate several home styles, like the famous farmhouse and modern styles, while creating a stronger connection with the exterior by blending interior spaces and exterior.
Black trim windows favor the contemporary to the transitional side of design. The formal look of a home is gradually evolving into a more sophisticated yet comfortable layout. Black trim windows are introducing an architectural element for this evolution. The latest updates are trending toward areas with neutral tones and clean lines. Anything white or black will surely never go out of style. With that said, black trim windows certainly read better in a traditional home setting or a retro renovation. Not every room can manage black window trim. If it is not done right, it can certainly look out of place. The more people see it used incorrectly; the quicker clients will dismiss the idea.
Door trim ideas are a fast, easy, and pragmatic approach to adding some dramatic appeal. A home's doorstep establishes a crucial first impression. The procedures by how we choose to complement it can have a significant impact between an extraordinarily inviting and incredibly dismal greeting. Custom door manufacturers have used trim work to decorate public structures and homes for many years. Indeed, trim work also furnishes your living area with a finished look. Additionally, you can use exterior front door trim ideas to create an aesthetic declaration or an artistic expression. Below are a few door trim ideas to think about when seeking to add more style to your doors.
LAKESIDE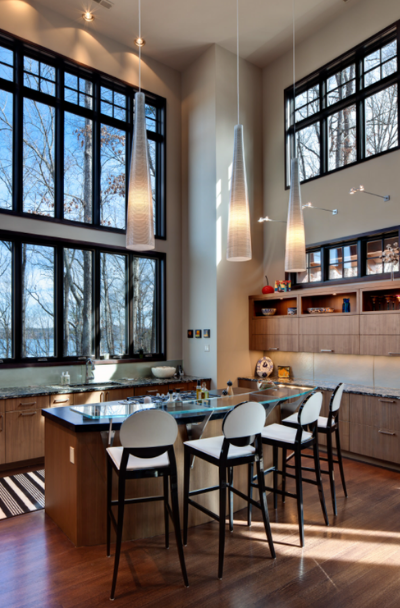 The black-trimmed sliding doors in this kitchen by Johnston Design Group create a sleek and professional look, while the organized shelves and minimalist desk design provide a functional and inspiring workspace.
LOFT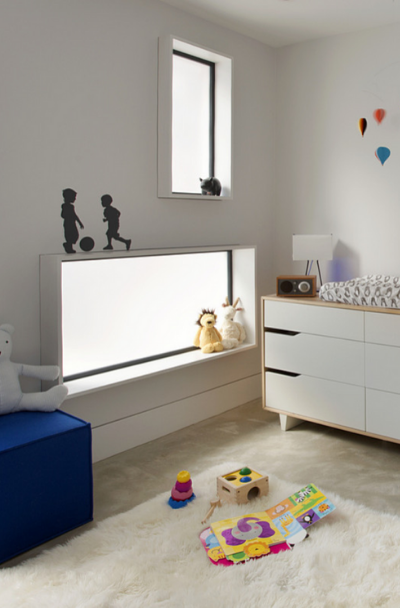 In this minimalist playroom by ZeroEnergy Design, the black-trimmed windows bring a sense of drama and contrast against the colorful textiles and natural elements, creating a vibrant and eclectic atmosphere.
DIABLO BLACK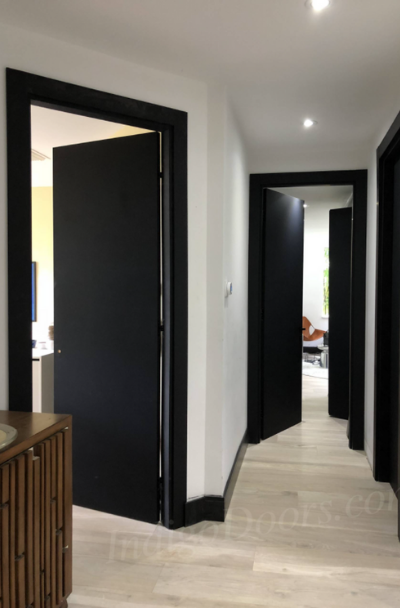 This modern hallway by Indigo Doors features black-trimmed windows that frame the outdoor views, bringing nature inside and creating a seamless connection between the indoor and outdoor spaces, while the sleek white cabinetry and quartz countertops provide a clean and contemporary look.
COUNTRY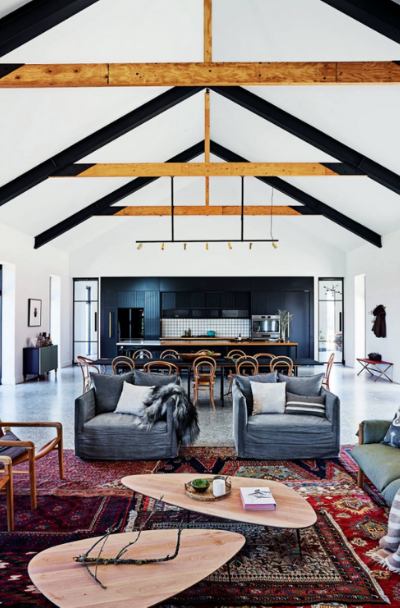 In this modern space by Green Apple Interiors & Design, the black-trimmed glass cabinets bring a sleek and sophisticated look, allowing the display of dishware and adding a visual interest to the space, while the white countertops and stainless steel appliances create a contemporary and clean aesthetic.
FARMHOUSE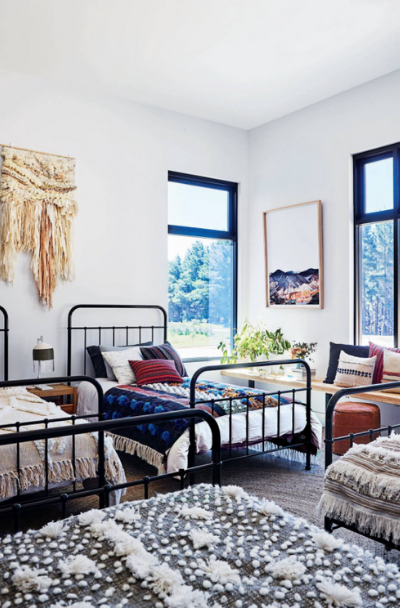 The black-trimmed French doors in this bedroom by Green Apple Interiors & Design exude elegance and refinement, providing a striking focal point, while the warm wooden dining table and chairs create a cozy and inviting atmosphere for gatherings and meals.
Exploring Different Black Trim Designs
Try the classic rosette, plinth, fluted casing combination. The fluted casing, rosette, and plinth block add an instant class to a house. This door trim is overbearing and inappropriate in homes with a cleaner, more contemporary style. This door trim combination is effortless to set up. The downside of this combination is that these trim parts, although abundant, are still often quite pricey. Another door trim idea is clean colonial. This is another traditional door trim idea that goes back to the days of Colonial America. Unlike the previous arrangement, this is a conventional smooth design that can fit in modern-styled houses. This Colonial-style door trim is broad and flat with small embellishment and is mitered at the corners. You can finish the bottoms of the edge casings with plinth blocks or even run them straight into baseboards. The last one is Craftsman. Craftsman trim is characterized by low embellishment, strong lines, and natural wood. It also uses a broader casing at the top than along the sides.
Wall trim is created to hide other imperfections, gaps, and joints on surfaces, but most people add trim for their rooms since it is a bold design statement. Natural wood, MDF, or poly trim can be utilized on walls. Wood is more sound and long-lasting than MDF or plastic. If you want the stained wood or natural clear-coat look, then natural wood (such as hemlock) is the only way to go. When you intend to paint the trim, you can utilize plastic or MDF. MDF is the least expensive trim material you can purchase. Plastic is more costly, but it's more durable than MDF, which may break easily. The following are some wall styles and wall trim ideas that you can incorporate into your home.
The chair rail is a horizontal piece of trim, usually three feet above the floor, that initially served to protect the walls from chairs. Today, it is used more as a decorative element. Crown molding can be found at the intersection of walls and ceilings, usually installed at a 45-degree angle, with hollow space behind it. It can be found mostly in the dining rooms, living rooms, and other public rooms. Baseboards are the most common type of trim present in houses, and they vary from the very narrow type right up to six-inch-wide baseboards found in numerous older homes. They dress up a room and serve as defining line at the bottom of the wall. However, baseboards also hide gaps between the bottom of the flooring and the walls. Picture rail is a chair rail that is much higher on the wall. Less common than some other kinds of trim, picture rail usually served to hold the hooks for hanging photographs with wire.
TRANSITIONAL
This eclectic room by Adeas Interior Design LLC features black-trimmed windows that bring a sense of contrast and depth to the space, while the mix of vibrant patterns and textures in the furniture and decor pieces add a playful and artistic touch.
SUNROOM
In this minimalist living room by Alexander Design Group, Inc., the black-trimmed mirror and light fixtures create a sleek and modern look, while the white subway tile and floating vanity contribute to a clean and minimalist aesthetic, resulting in a serene and relaxing environment.
Baseboard Trim Ideas
How frequently have you thought about baseboard design? Chances are not that frequent. But if you are remodeling your house, little details such as baseboards and other trim create a cohesive, thoughtful design that will help make you happy you invested in the project to start with. Below are some baseboard trim ideas to consider. The first one is modern and minimal flat baseboards. Flat baseboards play against traditional expectations of curving, rounded baseboards and instead feature an entirely flat surface. This works well in houses that lean toward modern but without going completely minimalist. Flat baseboards add a sense of richness and maturity to the walls without being fussy. The next one is some tastefully tailored rectangular baseboards. This baseboard trim uses clean-lines silhouettes without any rounded edges and a little more complexity than the flat style. Rectangular baseboards with thin groove details or stepped baseboards are much less austere than entirely flat baseboards. However, they have an extremely contemporary sensibility that works very well in transitional and modern spaces.
Then we have eye-catching built-up baseboards. While it is possible to find deep baseboards, it is also possible to create a similar effect by creatively combining thinner strips. You can also consider some gleaming metal baseboards. This is a unique but cool concept. Other metal and stainless steel sheeting can make a functional baseboard while adding some shine to your house.
This type of installation generally has to be designed before or during construction and installed by an expert. But the result comes off sophisticated and luxurious while staying understated. Bold and artistic painted-out baseboards are not for those that are opposed to a rich color. But if you enjoy a bold hue on your walls, take the color all the way down to the floor instead of breaking it up with a neutral or white baseboard. This creates an artistic effect that will not be tamed. Lastly, this final idea is almost not there at all, short baseboards. They are very slim that they nearly seem to be vanishing. They bring a unique kind of beauty, especially when mixed with such simple materials and muted colors.
Other Great Articles to Read: