Stamped concrete, frequently called textured or imprinted concrete, replicates stones, such as flagstone, slate, tile, brick, and wood. The wide selection of pattern and color options make it popular for beautifying patios, swimming pool decks, driveways, and more. It is also an affordable paving option that needs less maintenance than other materials. Due to its superior durability and weather resistance, colored and stamped concrete is the perfect choice to bring the luxury look of stone, wood, or brick to patios, driveways, pool decks, courtyards, and walkways. Explore these stamped concrete patio design ideas and see for yourself!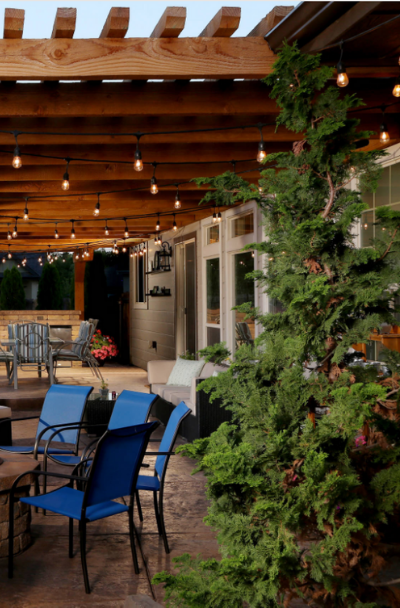 Do you wish to have a pleasant dining and unwinding setting? This wooden patio with a gas fire pit underneath is both functional and attractive. Yardscapes Northwest has created a stunningly convenient and fully realized rustic patio.
DECK + FIREPIT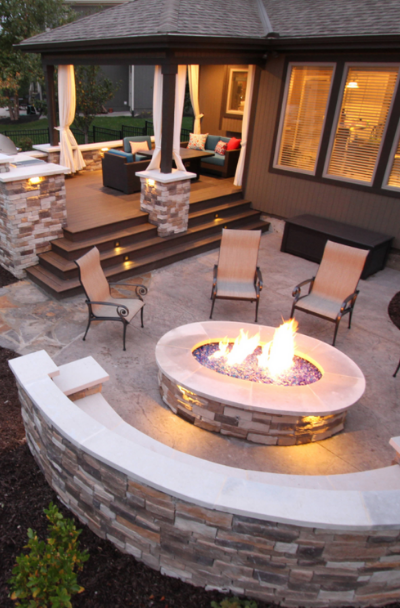 Everyone will agree that this location is quite tranquil and ideal for a holiday with friends and family. A lovely patio made of stamped concrete in several colors that looks welcoming and adorable. This design by Artistic Concrete Surfaces is excellent.
TRENDY
Do you and your family like to spend some time in a tranquil setting? This stamped concrete patio is ideal for a big family get-together since it has a fire pit with a circular configuration. This modern layout was created by Riedel Precision Landscaping, Inc.
70'S LOOK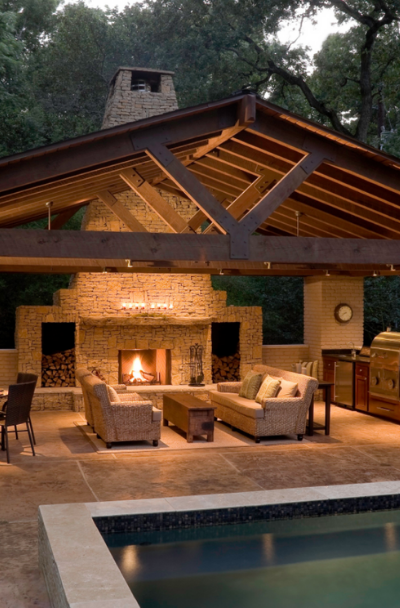 This is the ideal setting, with its charmingly homey rustic charm. A contemporary patio that is both covered and equipped with a lovely fireplace and a small kitchen. This rustic yet inviting layout was created by Exterior Worlds Landscaping & Design.
CLASSIC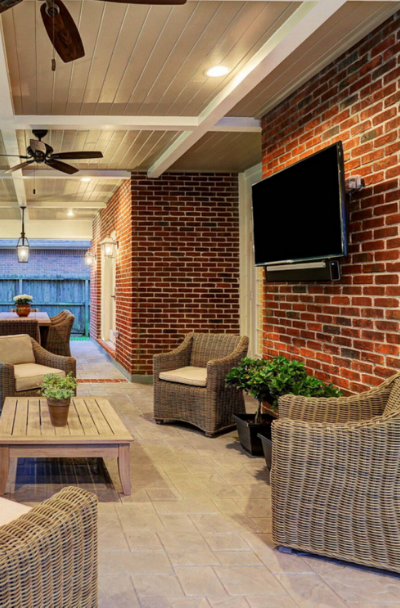 I'd love a very comfy and homey patio that looks like this one. A classic patio like this one may be transformed into a warm and inviting outdoor room. Texas Custom Patios did an amazing job with this traditional patio.
Why Invest In A Stamped Concrete Patio
Stamped concrete is the new standard for patios. This material's versatility is unmatched; by balancing color ratios and mixing and matching the dozens of stamped concrete patterns available, your imagination is the only limit. A stamped concrete patio also starts with a poured slab, however, with the extra step of texturing with concrete stamps. A stamped concrete slab is a lot more challenging than a traditional broom-finished slab. Therefore, it is ideal to entrust the job to a contractor. Timing is of the essence here. Based on the slab's dimensions, it might take a team effort to maximize this particular step. Fine detailing, touch-ups, and joint installation (to restrict cracks) guarantees a seamless look and durability. From pouring to sealing, a stamped concrete patio can take a few weeks to complete.
From a visual perspective, stamped concrete is challenging to beat regarding design and style choices that are practically limitless. Many people take inspiration from their home's architectural style or surrounding landscape and select patterns and colors that blend well with the existing tile, stone, and textured concrete elements. For example, if your house features a brick exterior, think about echoing that theme with a basic brick-patterned border, or select a pattern and color pattern that ties in together with your surrounding landscape. The most famous kinds of stamped concrete are natural stone patterns, including slate, fieldstone, and flagstone. Brick, cobblestone, and wood stamped concrete patterns follow directly behind.
Additionally, there are seamless concrete stamps that offer texture but without joint patterns. Patterns can also be pressed into the concrete in complex projects with fountains and steps. The most preferred colors for a concrete stamp are grays and earth tones. However, brick patterns are usually colored in russet or red hues. Colors can be layered, mixed, or antiqued with tints or stains, creating an endless list of options. Multiple colors can be utilized within the same task for realistic stone coloration, ornamental borders, or a contrasting color design. How much does stamped concrete cost? A stamped concrete cost may vary depending on the expenses for labor and materials and the intricacy of the project, but the old saying, "you get what you pay for," truly holds. With stamped concrete, you will get a surface that will last longer and involves less upkeep than other materials, which can add up to considerable cost savings over its lifetime. You will also add aesthetic value and curb appeal to the house, making it possible to maximize your investment return. Basic stamped designs with one pattern and color range from $8 to $12 per square foot, mid-range projects with contrasting patterns or borders can range from $12 to $18 per square foot, and high-end custom projects cost $18 or more per square foot.
TIMELESS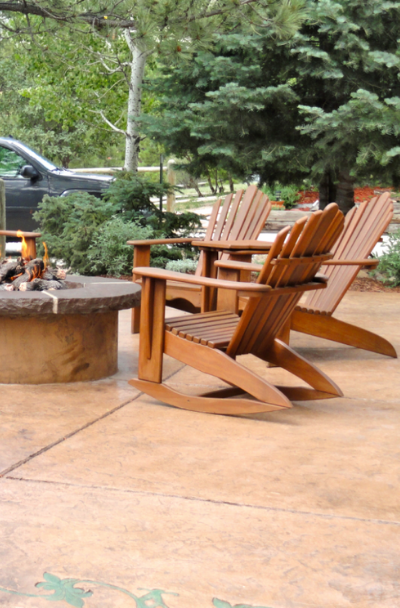 Do you want a patio design for your home that is both classic and modern? Gather around the fire pit on this traditionally stamped concrete patio during the cooler months. ABC Landscaping Inc. hit it out of the park with this practical patio layout.
FARMHOUSE
Trying to find some inspiration for a conventional yet rustic farmhouse patio layout? The sanded concrete floors and rock walls are an ideal complement—stunning patio design by Garrison Hullinger Interior Design Inc.
LUXURY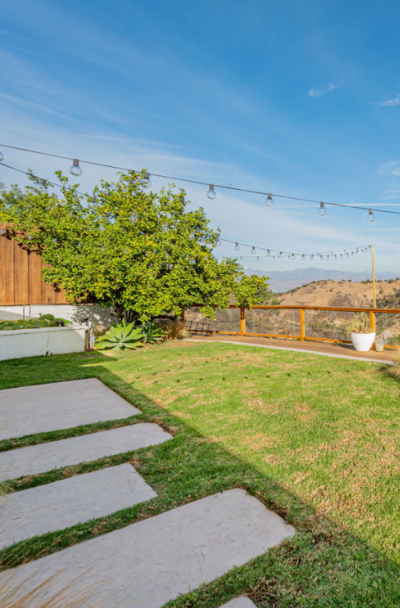 Everyone will agree that this is such a luxurious patio design that it looks like it is from an elegant resort. A transitional backyard stamped concrete patio with an amazing overlooking view—such a good expensive-looking patio design by Elite Home Staging and Design.
How To Stamp Concrete Patio
You will find many steps about how to stamp concrete. Unlike when applying a stain or decorative coating to hardened concrete, the workers must complete the entire concrete stamping process before the fresh concrete sets. Contractors must be experienced, structured, and adequately prepared to do the job effectively.
The first step is to apply a color hardener. Once the concrete gets to the right stage of plasticity (usually when there is no bleed water on the surface), spread the color hardener by tossing it onto the surface from the waist or a bit lower to decrease the material drifting into the air. Once the first shake of color hardener has been applied, give it five to ten minutes to absorb water from the concrete, and float it into the surface. After bull-floating the first application of the color hardener, do the same steps, and apply the second coating to ensure complete coverage. Then use a release agent. Liquid or powdered release agent serves two essential purposes. They import subtle color contrast while serving as a bond breaker to prevent the concrete stamps from adhering to the concrete surface and disturbing the imprint texture. The most effective way to utilize a powdered release is by using a dry Tampico brush approximately eight inches wide. Dip the brush into the release agent's pail and fluff it to load the bristles and coat them equally. Next, take the brush near the handle, keeping it under belt level, and use your wrist to flick the release agent onto the surface in a soft, uniform layer.
To utilize a liquid release agent, use a pump-type sprayer to apply the release agent in a uniform coating onto the concrete's surface right before you stamp. If you're planning to utilize a tinted liquid release agent, add the tint one day or two beforehand, if possible. This can let the pigment particles completely dissolve. Then, test to see if the concrete is ready. Before you begin stamping, check to see if the concrete has reached the right stage of plasticity. If you start stamping very late, not only will concrete stamping require more work, you will also produce little or no texture with the stamps, especially as you get to the end of the task. Press your finger into the concrete surface at several spots on the slab. And if you leave a clean imprint, about 3/16 to ¼ inch deep, then you can begin stamping. An alternative test is to place a stamp on the concrete and step on it. It must hold your weight and not slide around or sink very heavily into the surface.
BACKYARD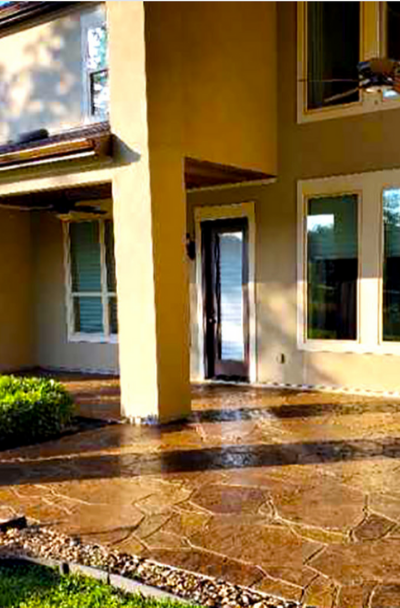 Want a patio layout for your backyard that is both timelessly elegant and practical? Pattern Pro Concrete has created a lovely patio for a rear yard. Brown-colored flagstone stampings on a concrete patio are just beautiful.
TRANSITIONAL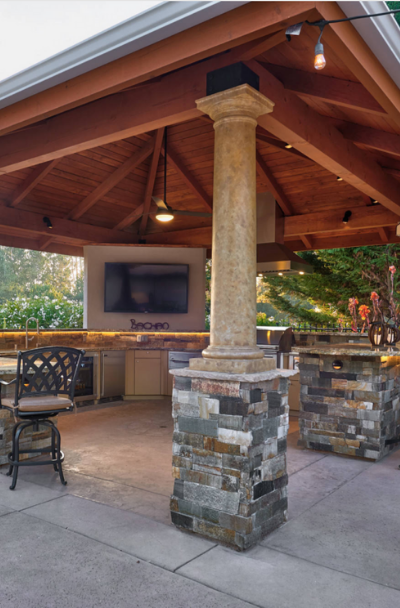 This patio's aesthetic bridges the traditional and modern, making it ideal for social gatherings. This patio kitchen is made of stamped concrete and features a magnificent pavilion that provides a clear view of the outdoors. Precision Point Construction really outdid itself with this beautiful and serene patio.
ESTATE
Everyone will concur that this patio design is so cheerful and energizing and simultaneously appears basic and natural. The concrete flooring part with the racks gives a patio area more personality. Elite Home Staging and Design did a fantastic job with the patio design.
SUMMIT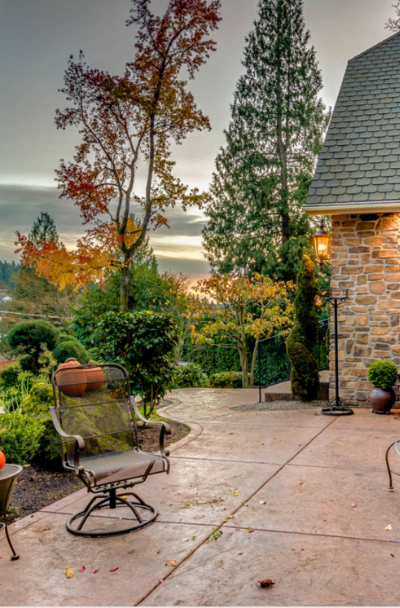 Are you looking for a patio design that will put you at ease? You must admit that Stoneridge Custom Development's patio design seems like the ideal location for a vacation and refreshment. An open patio made of stamped concrete that possesses vintage outdoor decor.
RANCHO
This patio, designed in the rancho style, is the epitome of comfort and beauty. You've got an outside lounge set up! An orange outdoor cushion is a finishing touch to any garden design. Those stunning interiors are a Tony Cappoli Interiors creation.
Tips In Stamping Concrete
Pretexture along the slab's perimeter edges about six to twelve inches inward with a flex mat or textured skin. This is crucial because when you're working with a non-flexible stamp, the tool will overlap the edge of the form, and you won't be able to depress it into the concrete thoroughly. With pre texturing, you'll get the texture you need and the full color from the release. After the edges are pre textured, the crew can begin stamping the rest of the slab with the concrete stamps. In general, you need to stamp in the same sequence you placed and completed the concrete. If you started placing the concrete at the slab's top left-hand corner and ended on the bottom right corner, this would be the ideal sequence to use for finishing and tamping operations.
The stamping crew must complete the first row before going on the second one. Usually, someone will place the starter tools and stand on them while getting stamps in the first row and leapfrogging them into another row. While this particular individual is moving and advancing the tools, somebody else can perform the stamping. Based on the stamp pattern, a third person might be required to detail the grout joints. As stamps are positioned, have somebody stand by with a hand roller to touch-up joints where needed. Do detailing work as necessary. Even if you've pre textured the edges and used a flex mat against walls, you'll often find it necessary to do a little detailing with a hand chisel, roller, or texture skin. This is done to remove displaced cement paste that arises through the joints between stamps, to fix any blurred pattern lines, and to fix grout joints where the stamp was not tamped down with enough pressure. With most stamp patterns, you will get better success if you detail on the same day.
Then remove the residual release agent and apply the curing compound. If you have used a colored release powder to the concrete, you can't apply a curing mixture until you wash off the residual release agent, at least one day and in some cases two to three days later, based on the weather conditions. Once the surface is cleaned and dried, you can spray on a liquid membrane-forming curing mixture or a cure and seal to preserve moisture in the concrete. If you're using a tinted or clear liquid release, you can apply the curing membrane to the slab the same day. Cutting the contraction joints at the appropriate spacing and depth in the slab shortly after placement provides stress relief at planned areas and prevents uncontrolled random cracking. One can form joints in the concrete as it starts to set using a groover, or one can wait to cut the joint until after the concrete set utilizing a saw equipped with a diamond or abrasive blade. In general, a sawed joint is much less apparent than grooving. After that, you can now seal the concrete. After the slab has cured sufficiently, you need to use a finish coat of sealer. Most manufacturers suggest applying the sealer a few weeks later, after a gentle surface cleaning. See to it that you do not apply the sealer too heavily, which could trap moisture within the slab. The best methods for using a sealer are combining rolling and spraying, particularly once the stamped concrete pattern has deep grout lines. Going back over the concrete surface with a roller where needed helps to distribute the sealer uniformly.
COUNTRY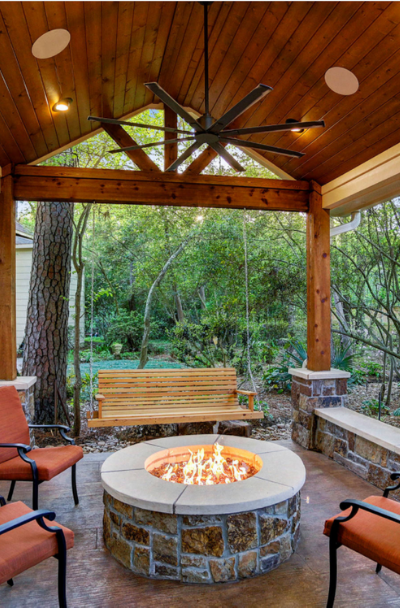 Do you desire a natural and calming patio design that is both traditional and calming simultaneously? A quaint area for friends and family to assemble on a stamped concrete patio in the manner of the mountains. Texas Custom Patios created such a rustic patio layout.
Stamped Concrete Driveway
A stamped concrete driveway offers many decorative options not possible with other paving materials. Utilizing concrete stamps combined with coloring agents, you can create cost-effective, realistic replicas of popular materials like brick, cobblestone, flagstone, and natural slate. Whether it has contrasting borders, looks like cobblestone, or has a broom finish, it will instantly boost your house's curb appeal. And this improved attractiveness will immediately help the resale value. There is no reason not to have a stamped concrete driveway if you're going to use concrete. If you've been confident that a stamped concrete driveway will be the way to go, you might be curious about what sort of style choices are out there. You can see here ideas that you can use to get your imagination running as you design your new driveway. Use a single tile or cobblestone stamp to make a uniform look across your whole driveway for a simple, classic look. Create contrast by stamping borders around the edges of your driveway. Next, use finishes and paints to let it pop. Incorporate several complementary stamped designs, alternating between borders, squares, and bands. Your imagination is the only limit regarding what you want your stamped concrete driveway to look like. With an endless amount of design choices, finishes, textures, and paint colors, you can build a look that suits your property regardless of the style.
This is an image roundup post, curated to showcase and promote other reputable contracting companies' and their amazing work. To have any of the images removed, please reach out to us and we would be happy to do so.
Other Great Articles to Read: