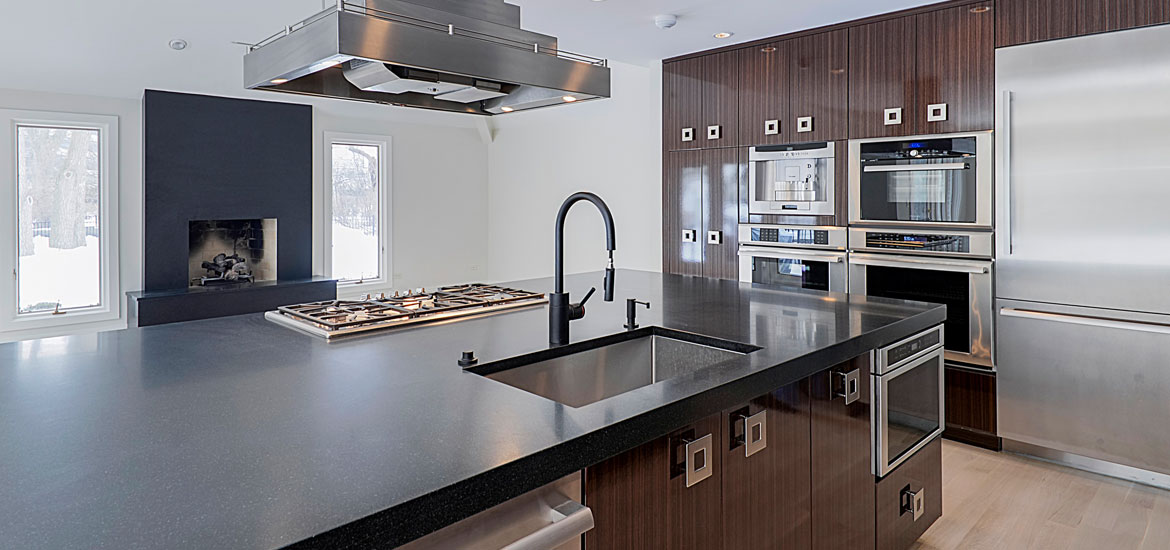 Whether you are updating your kitchen's look or building a new home, one of the most important décor aspects to consider is the color of the kitchen cabinets. Because they cover a sizable area of your kitchen, cabinets have great influence over how your kitchen looks and feels. While material and cabinet door style are all important issues to think about, the color is often what pops out when one enters the kitchen.
One of the most popular modern décor trends is dark kitchen cabinets. While going for dark colors may seem to go against the accepted perception that a kitchen should have bright and warm colors, you might be surprised at how well it works for most kitchens.
If you are interested in trying out a new look for your kitchen, the dark side beckons. To get you started on some creative ideas, we have put together a roundup of pictures of kitchens with dark cabinets. But before we get to the kitchen ideas dark cabinets, a few tips on how to choose the best dark cabinets for your kitchen and how to mix and match for the best look.
COPPER TOP
Dark cherry cabinets with a walnut finish create a cozy and inviting kitchen. Beautiful copper range hood Warmth and color are added by the slate floors. This kitchen design by Peter Salerno Inc. has everything looking so sleek and contemporary.
MODERN BROWN
The bright hardwood flooring and steel help the deep, black cabinetry stand out. What a clean setting! You can work efficiently in the kitchen in this automated, modern kitchen design by Exquisite Kitchen Design.
SOPHISTICATED CHICAGO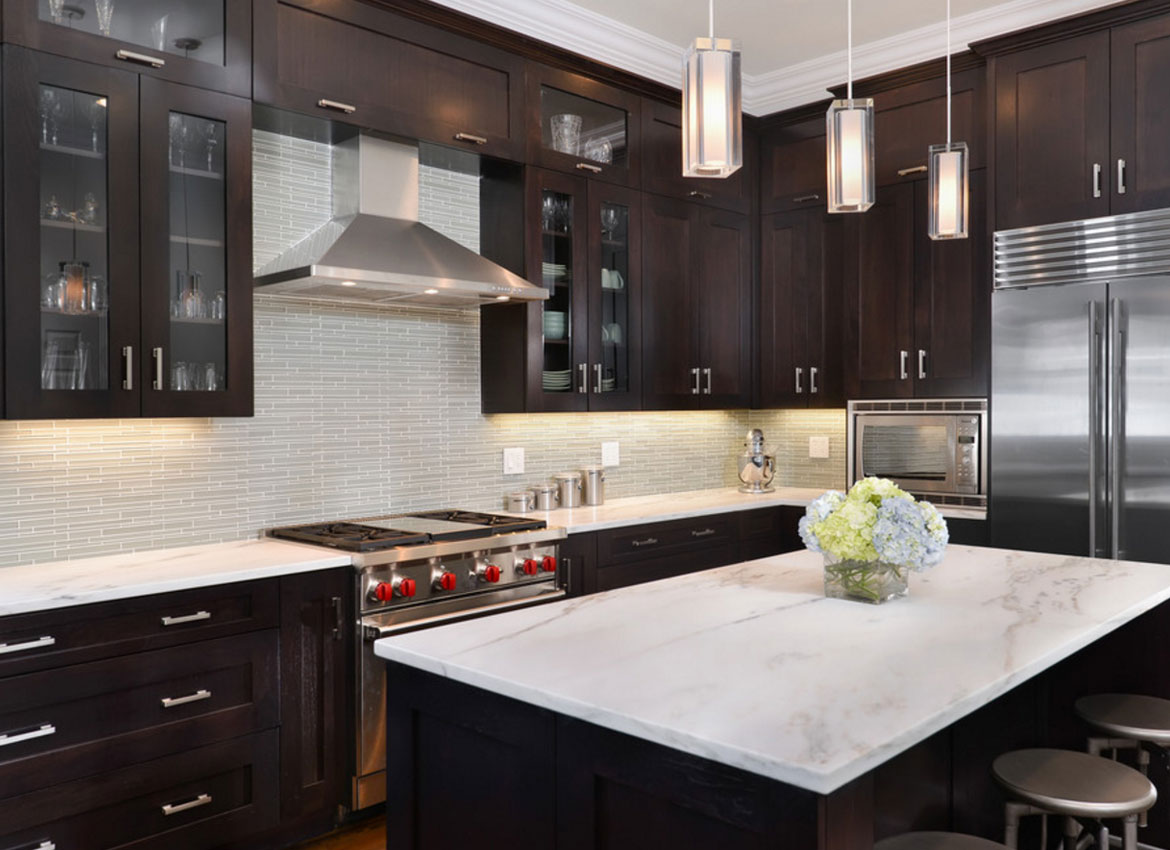 Many dark brown cabinets in this kitchen design give everything an air of sophistication and organization. Elizabeth Taich Design did a fantastic job with this kitchen design. Beautiful kitchen in Bucktown. Those pendants are gorgeous!
FAMILY GATHERING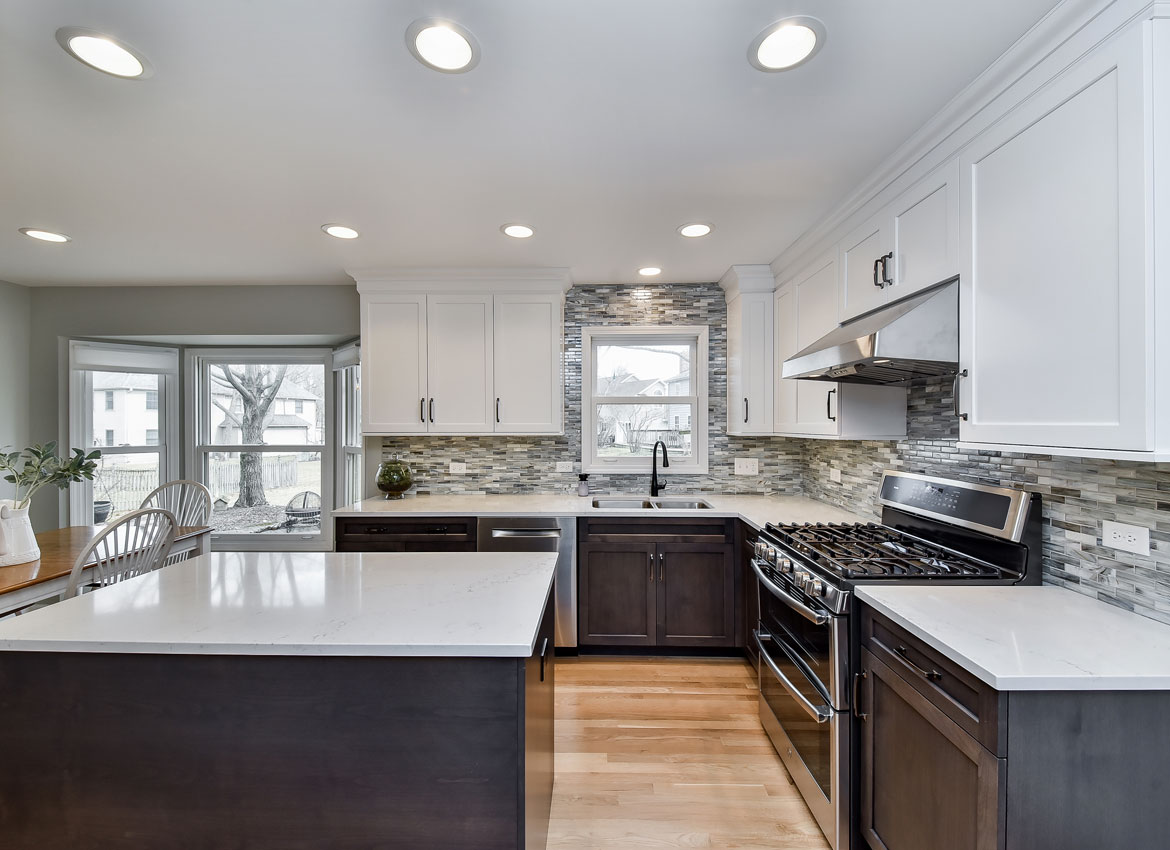 Fantastic open kitchen, ideal for families. You don't need a particularly pricey and large room for your dining and kitchen area. For family gatherings, Sebring Design Build's kitchen design works well. The dark cabinets provide such a clean appearance.
CLEAN & SLEEK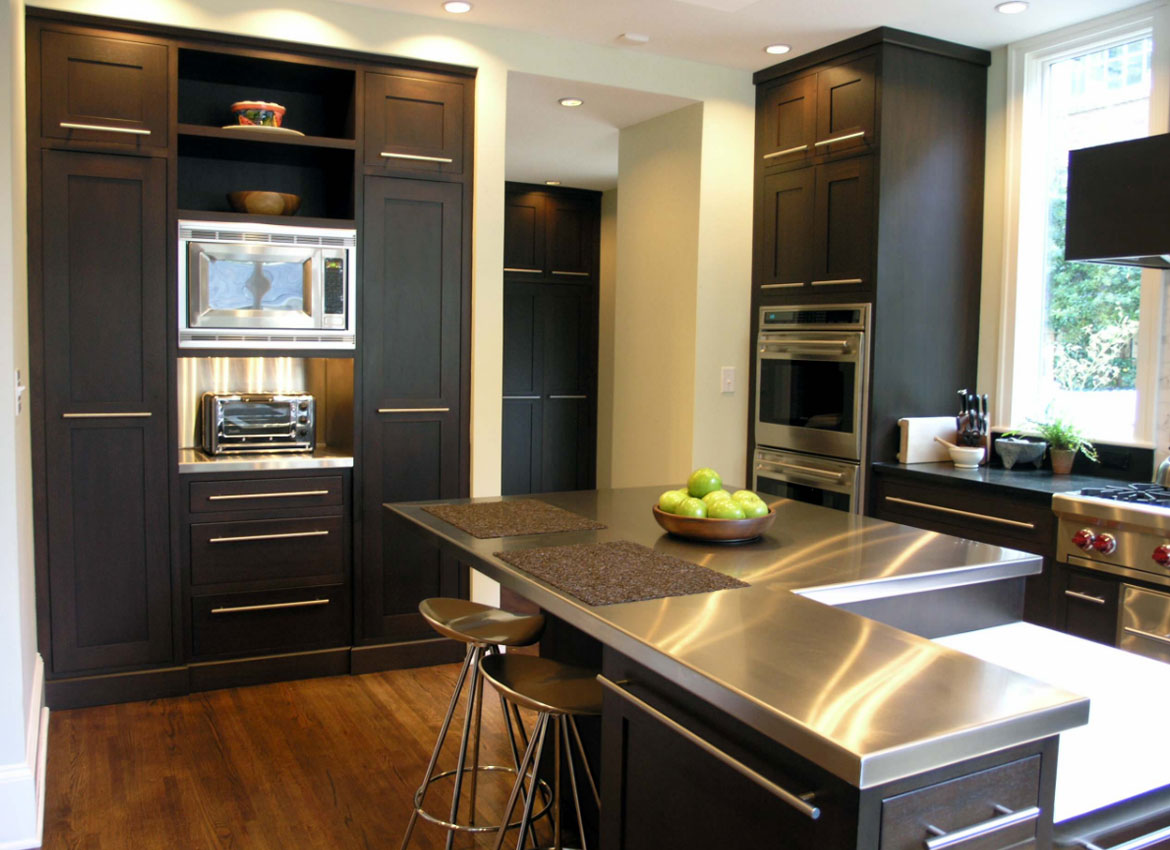 You'll agree that this kitchen has a compact footprint but looks much larger than it is. This design by DCI Home Resource is excellent. This kitchen is quite modern and tidy. It's good to see stainless steel counters once in a while.
GREY & WHITE
The dark gray is a great change from the typical dark brown tones, with the white island refreshing. The white Arabesque tiling is gorgeous. Everything in this Revision LLC kitchen design seems so refined and timeless.
SPICY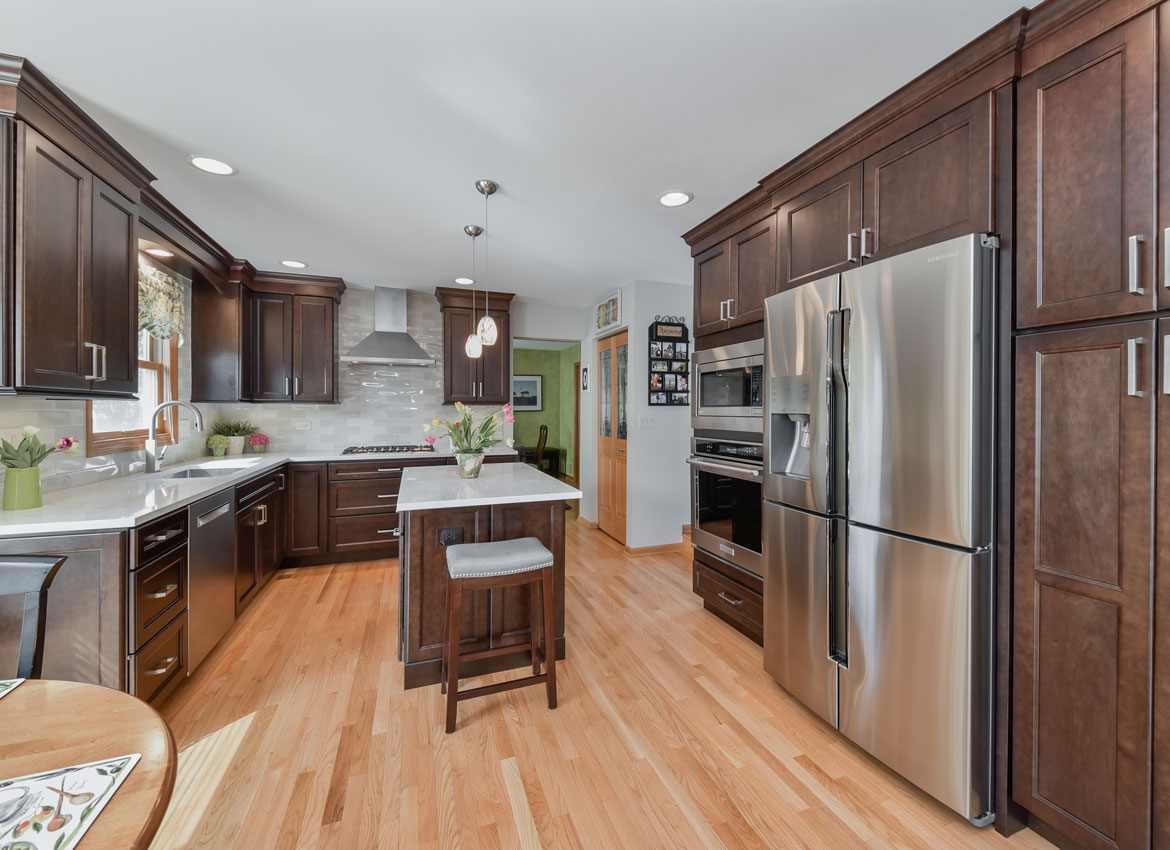 Everything appears to be enormous and warm in this large, hospitable kitchen design. The kitchen seems so roomy that you can perform numerous culinary tasks. This transitional kitchen has a warm, spicy color scheme. The kitchen design by Sebring Design Build is amazing.
SAN FRAN TREAT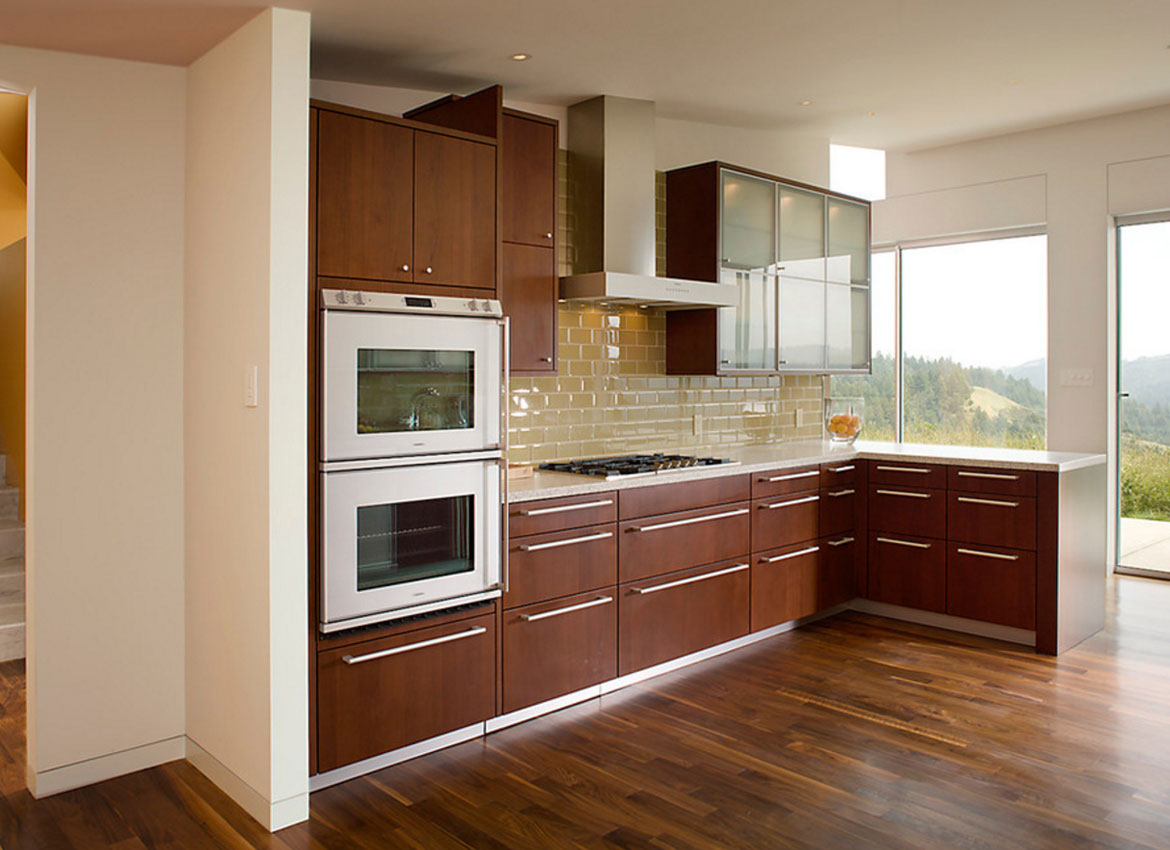 Cabinetry made of striking colored walnut in this modern San Francisco kitchen. That view is breathtaking! This functional kitchen design with a modern vibe appears tidy and convenient. The method by Kerr Construction, Inc. is excellent.
Why Go Dark?
Dark cabinets will introduce a certain richness and depth that lighter colors just cannot achieve. The color invites you to linger, be calm, and ponder. While it may not trigger the exuberant feeling you get in a white-cabinet kitchen, it brings about a calm excitement.
The calmness and depth of dark colors work perfectly for luxury-themed kitchens. However, it is important to note that dark kitchen themes require considerably more expertise and care to pull off. If you are not sure of your mix and matching abilities, you are better off seeking advice from an interior decorating expert. When matched with the right colors and textures, dark cabinets create a stunning luxe look no one can help but fall in love with.
CONTEMPORARY & BRIGHT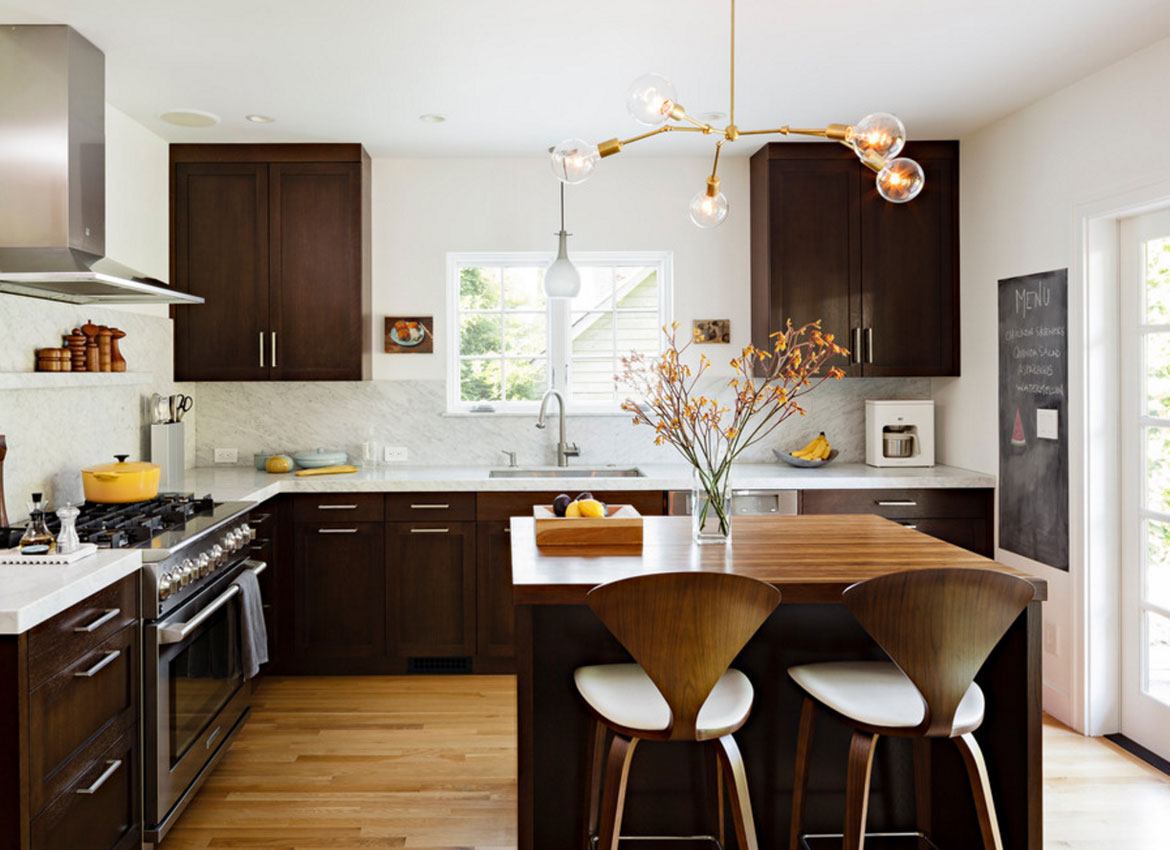 The layout lets in a ton of light despite the dark cabinets—nice modern features, like the seating and light fixture. Everything appears modern and bright in this kitchen design by Risa Boyer Architecture.
RICH ISLAND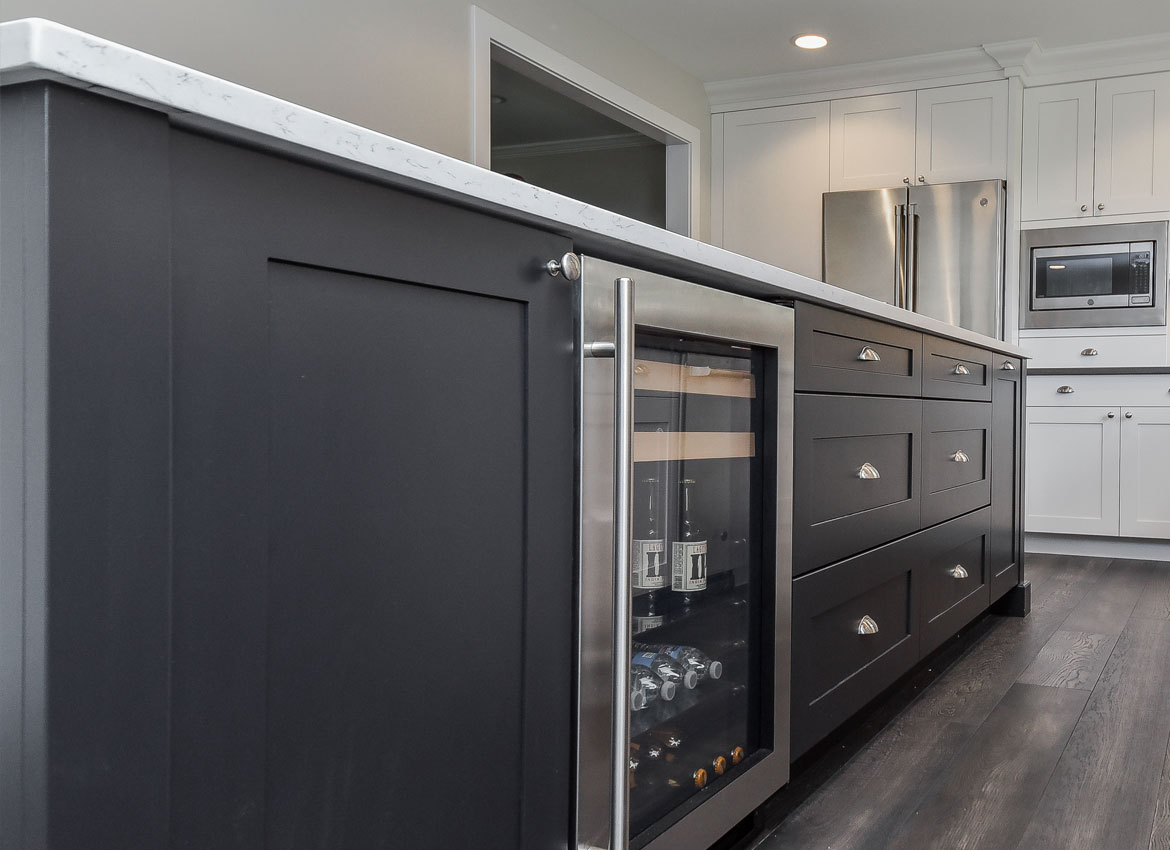 Everything appears so expensive and sleek in this kitchen's design, which features black cabinets and pricey appliances. This area is ideal for baking, cooking, and entertaining because everything looks good. The kitchen design by Sebring Design Build is amazing.
Choosing the Right Color
You already know you want dark kitchen cabinets. But what shade should it be brown? Most cabinet sellers will feature dozens, if not hundreds, of dark shades ranging from tan to ash grey to pitch black.
The first step is to find out what dark varieties your preferred cabinet vendor has. Chances are that they have dark extremes of each color. Decide what dark shade will work best for your kitchen. When most people think about dark kitchen cabinets, they automatically see the color black or grey. But you can get dark versions of any color, apart from white of course. You can choose to go with black, dark red, dark green, dark brown and so on.
If you are going for a super luxurious look, black and grey will work best. If you are looking for something to match brown flooring, dark brown or red cabinets might fit in perfectly. If you want a unique look, try unusual colors such as dark green. If you want a bit of the excitement of bright colors combined with the calm of dark shades, try dark yellow (the color of olives).
The most important thing is figuring out what will work well with other aspects of your kitchen and the final look you are aiming for. This is because, while all dark shades will have a similar calming and in-depth character, each dark shade also has its own unique impact on the look and feel of the kitchen. Mahogany colored cabinets (a dark shade of red) will feel quite different from Sangria cabinets (a deep shade of purple).
Compare, compare, and keep comparing until you find something that is perfect for your kitchen.
SHAKER SLEEK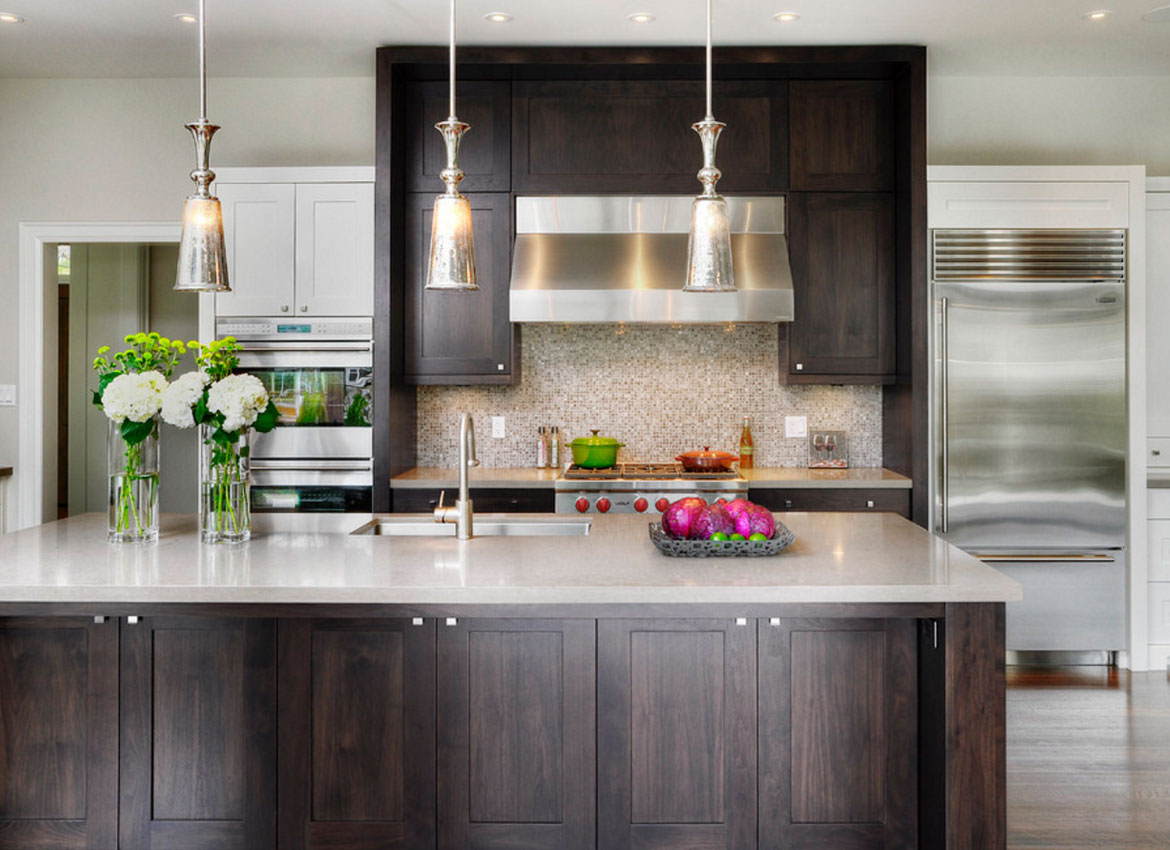 Need a kitchen to remodel that successfully blends a modern aesthetic with a cozy, rustic feel? Braam's Custom Cabinets is responsible for this contemporary kitchen. Isn't the woodgrain on these luxurious shaker cabinets lovely and reassuring?
STAINLESS
You must admit that the combination of black, white, and stainless theme colors makes for an excellent kitchen design. The kitchen design by Braam's Custom Cabinets is superior. These luxurious shaker cabinets have a nice, soothing texture.
DARK & CLEAN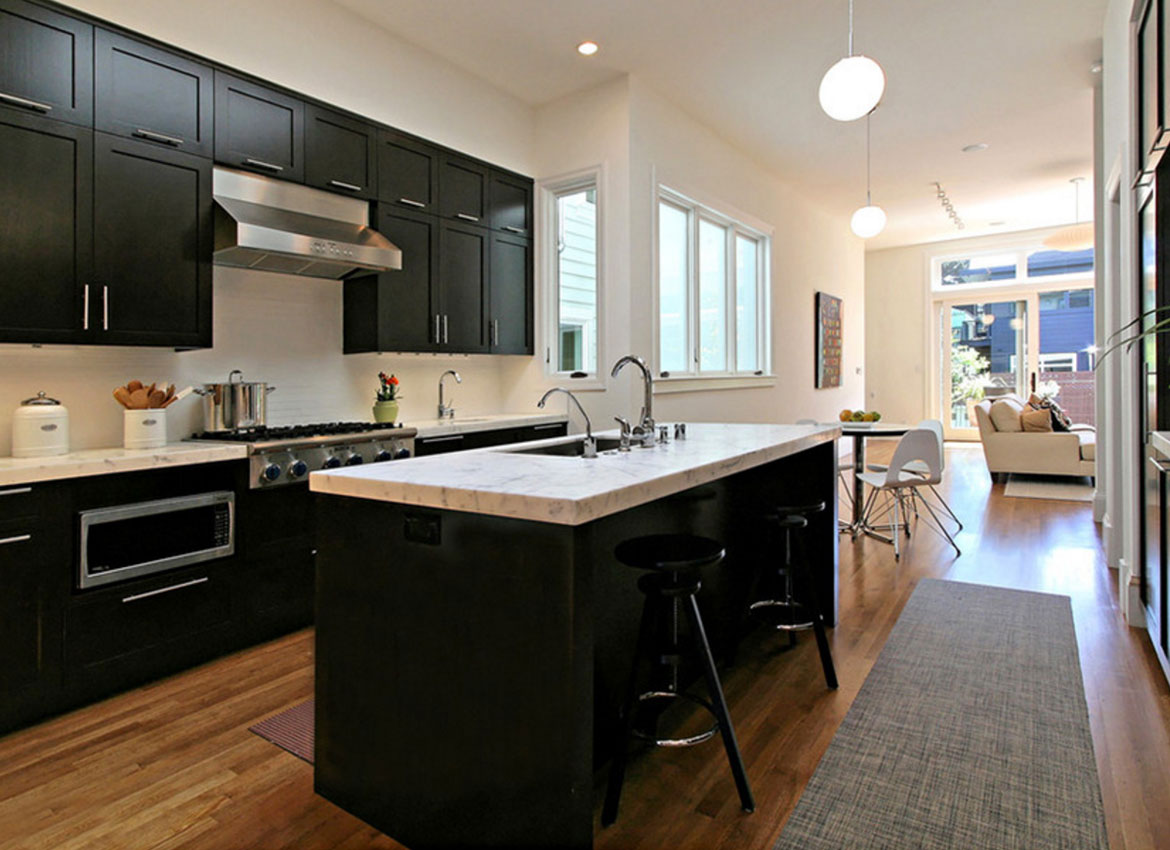 This kitchen has an open concept and is situated next to the living room. Everything is quite well-organized in this Dijeau Poage Construction kitchen design. A clean, crisp, and dark kitchen. I love the additional height of these black cabinets; they have a ton of extra storage.
ESPRESS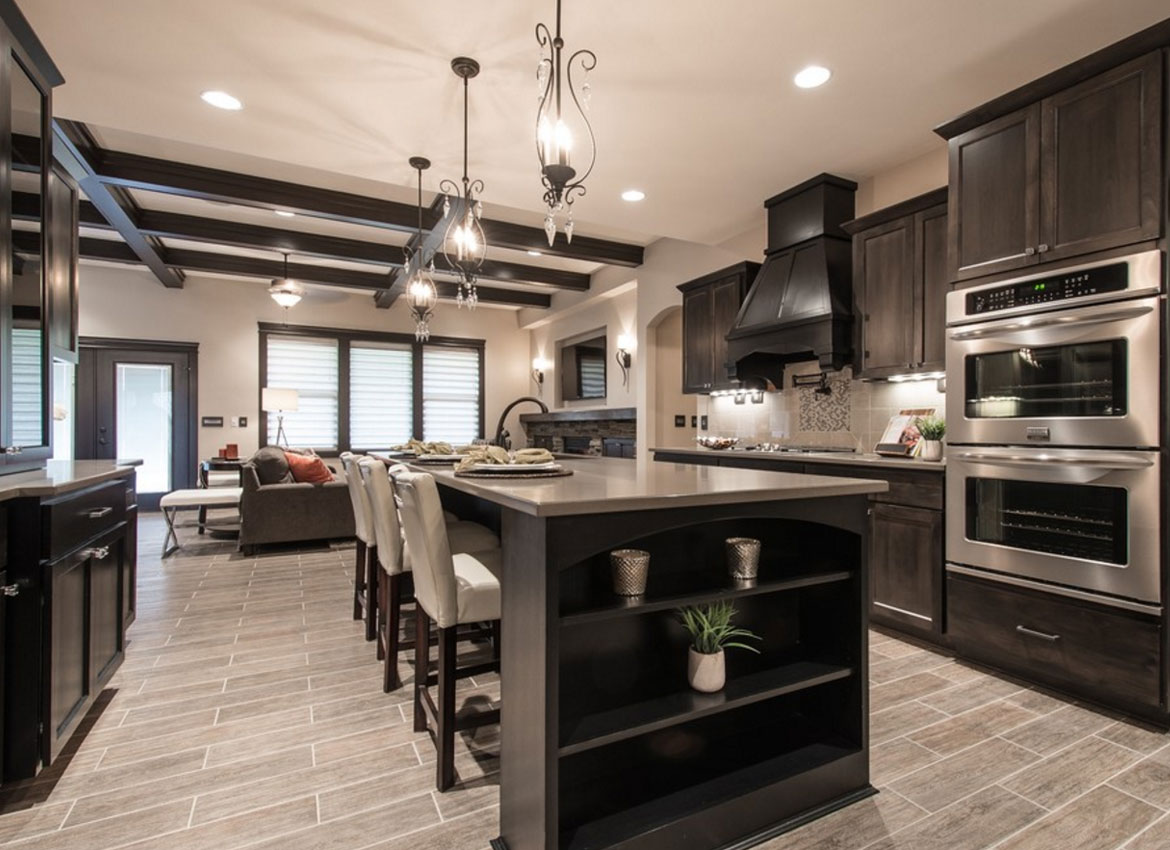 Everything appears so expressive in this sleek, black kitchen design. The enormous kitchen looks fantastic! What a fantastic kitchen layout by Titan Homes LLC. The black cabinetry goes well with the color and design of the floor tile.
Mixing and Matching
The most crucial part of choosing dark kitchen cabinets is knowing how to mix and match them with other colors and textures. This is what will determine how good the kitchen looks in the end. Here are a few mix and match tips you will find helpful as you consider installing dark kitchen cabinets.
Balance the dark shades with lighter colors. Unless you want a Gothic kitchen, too much dark can be depressing. Balance out the dark shade you have chosen with some lighter hues. One common combination, especially for luxury themed kitchens, is black and white. Most dark shades also go well with white. You can also include aspects of other lighter colors such as a yellow backsplash, brown flooring or a red accent wall.
Make sure there is plenty of natural light coming in. If you are not careful, dark shades can create the perception of a much smaller room and can be depressing. To counter this, check that you have a lot of natural light coming in. At night, have enough lighting to keep the place looking bright and airy.
Match with other dark elements. While dark cabinets will pop out beautifully against a light colored wall, they also look great when matched with dark flooring or other dark colored elements in the kitchen. This will prevent the cabinets from looking like the sad loner in the room. You can match them with dark flooring, a dark accent wall or a dark countertop.
As we mentioned, mixing and matching dark shades with other elements is a bit trickier than if you had light colored cabinets to work with. If you are not comfortable with your capabilities, get some help from an expert.
Here are some ideas for dark kitchen cabinets you can use in your renovation process. Find the style that best suits your kitchen and either borrow it or tweak it to perfection.
CHROME ACCENTS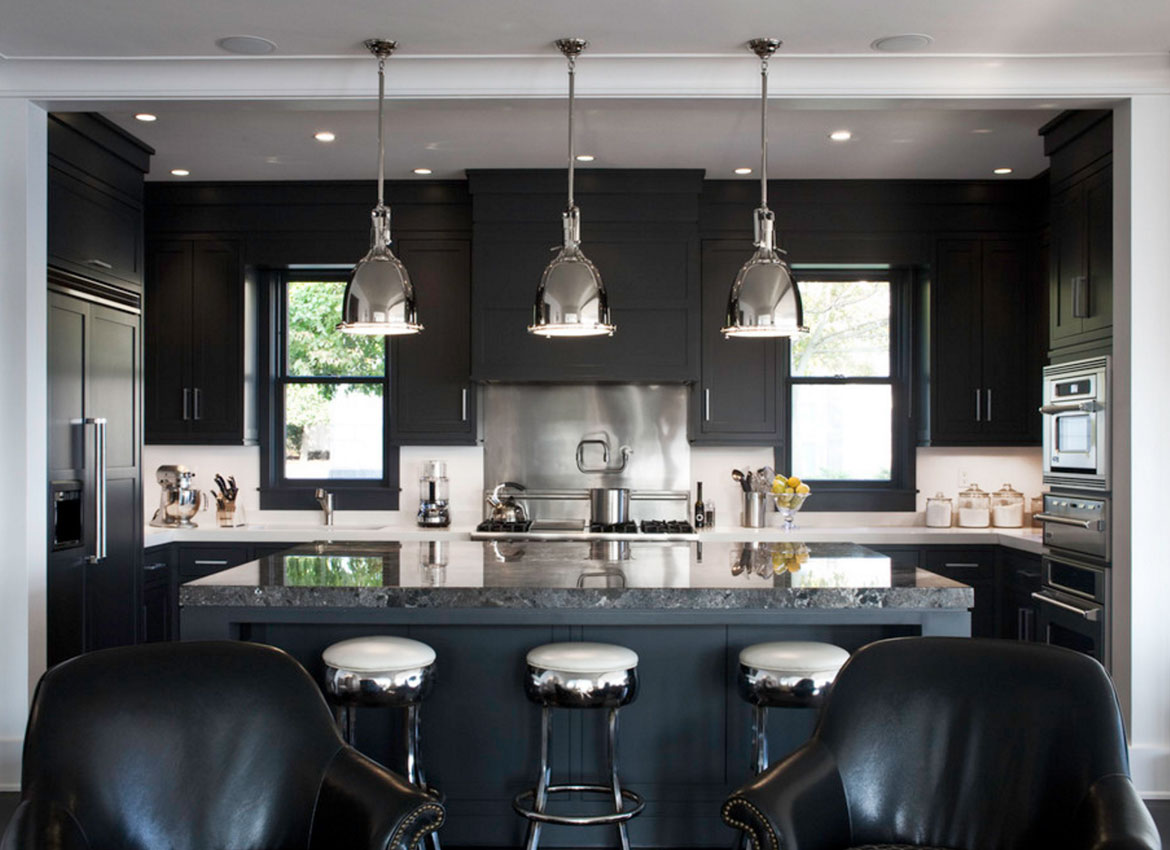 These cabinets' deep black/gray hue is gorgeous. The abundance of chrome is positive—great pendant lighting! Beautiful countertops made of marble and Caesarstone. In this Lda Architecture & Interiors kitchen design, everything appears to be so dark and organic.
Your Dream Kitchen
Do you always dream of a dark-themed kitchen, but do not know where to start? Well, now you have some ideas to work with. Dark kitchen cabinets can create the theme you want for the kitchen. Of course, it all depends on how well you match them up to other elements in the room. We have provided tips for mix and matching above.
With so many styles and shades of dark kitchen cabinets to choose from, it can be confusing knowing what to go for. If you need any help buying or installing dark kitchen cabinets, feel free to reach out for helpful tips from us.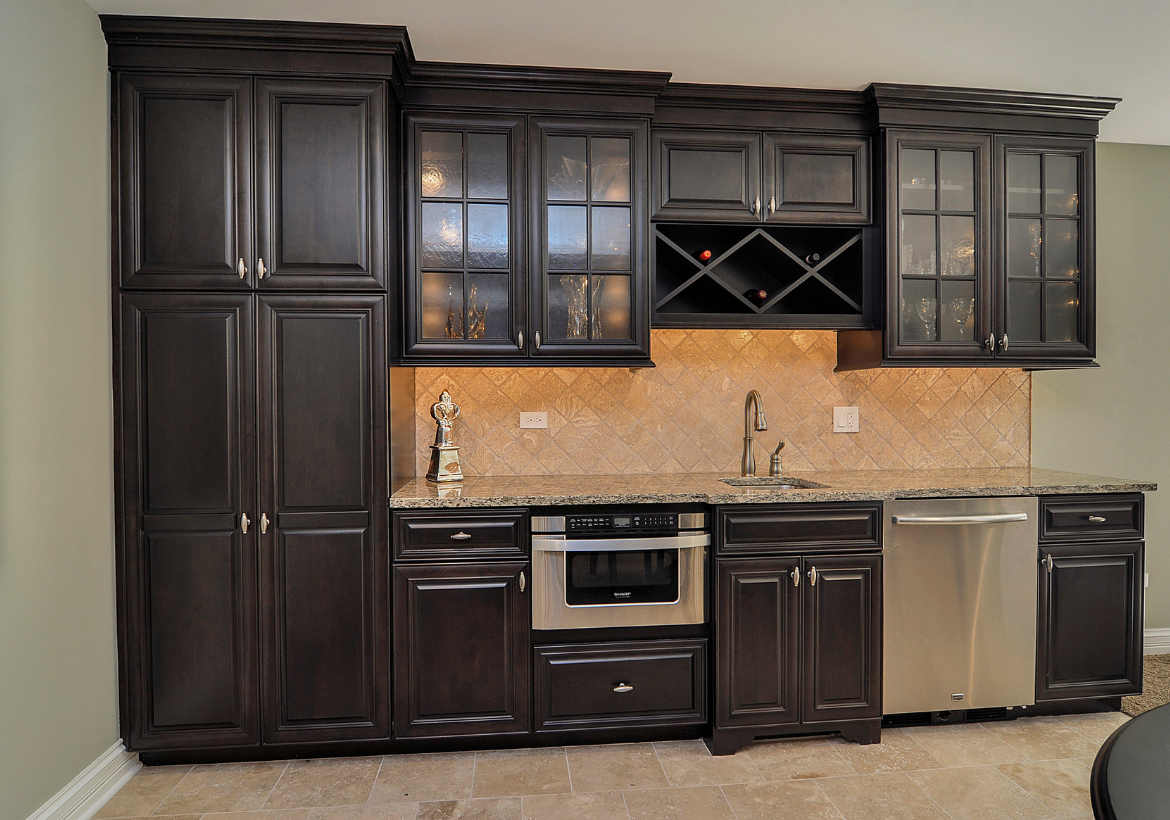 Reasons To Go For Dark Kitchen Cabinets
1) Scratches, dings, and stains are readily concealed.
If your kitchen is a busy hub in your house, black cabinetry may be the best option. Dark colors will disguise daily wear and tear better than white cabinets for households with children and pets and those who cook and entertain frequently.
2) A wide range of design options.
Lighter-colored cabinets are frequently used to open up space and create a lovely yet subtle kitchen. Dark cabinets, on the other hand, serve as a natural focal point. Create design interest by combining light and dark cabinetry, and incorporate color with lighting, flooring, and accessories to give the kitchen a distinct look.
3) A sense of luxury.
Dark cabinets lend depth, richness, and a sense of luxury to the finishes of a kitchen. Dark cabinets, as opposed to white cabinets, can provide a more personal environment and formal elegance in the kitchen.
4) Contrasting styles.
Cabinets in dark colors are bold. They may turn a boring, traditional kitchen into a colorful and inviting environment where your friends and family will happily meet. The room becomes more dynamic and playful when you use high-contrast colors, such as a two-tone design with white upper cabinets and dark base cabinets. Homeowners can incorporate more vibrant colors into their decor and accent pieces.
5) Comfortable and welcoming.
Dark shaker kitchen cabinets with a black and dark grey finish may create a friendly and cozy kitchen ambiance.
6) It's ideal for large kitchens.
In a large kitchen, light-colored cabinets can feel dull and institutional. Dark cabinets will warm up the space and allow you to incorporate various decor and accent items for an eclectic aesthetic. Lighting, flooring, and art with contrasting colors will add bursts of color to complement the dark cabinets.
7) Numerous color options.
Dark cabinets are available in various wood finishes, including black, grey, blue, purple, green, red, and dark brown. In terms of dark paint and stain hues, the sky is the limit.
This is an image roundup post, curated to showcase and promote other reputable contracting companies' and their amazing work.  To have any of the images removed, please reach out to us and we would be happy to do so.