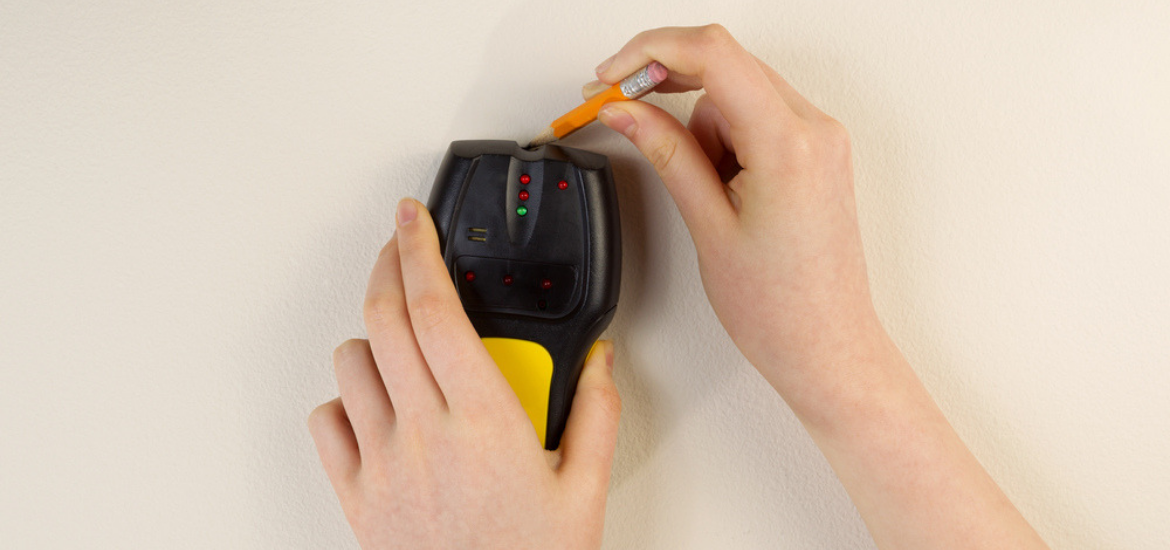 The best stud finder helps you locate the studs underneath your wall. Have you ever witnessed a costly appliance, a piece of art, or a shelf stacked with collector plates come falling off the floor? At that point, you already know how being able to find studs underneath a wall can save you a lot. But in order to find a stud, you first need to find the best stud finder.
Whether you are looking for a wall stud finder or an electronic stud finder, we have laid out a variety of options, along with their pros and cons, for your reference and convenience. Looking for the best stud finder should be an easy task once you read our review and buying guideline.
Our post intends to help furnish you with the fundamental advantages of a stud finder and what features to search for when you are looking for one. Furthermore, we will give you reviews of various stud finders so you can compare how different models perform.
How To Use A Stud Finder
There's no point of having the best stud finder when you don't know how to use a stud finder. How does a stud finder work, and why is it a must-have tool for homeowners and professionals? Read on to know how to use a stud finder.
If you are wondering how does a stud finder work, you need to turn it on and explore its features. Before turning it on, make sure that you have inserted batteries in it. Place the stud finder toward the wall that you're checking for studs, then turn the device on. Ensure that the stud finder is calibrated according to the manufacturer's instructions.
Next, gradually move the device horizontally along the wall. You will know that you have found a stud when its indicator illuminates. Move the finder forward and backward to find the external edges of the stud. You'll need to know precisely how wide each stud is so you can work within those parameters.
Mark the beginning and end point of each stud with a pencil. Continue moving horizontally along the wall until you've found all of the studs in the area.
Finally, check if there are real studs inside the wall by measuring the distance between each mark. Studs are usually set 16 to 24 inches apart. If you have an off measurement, there's a chance it could be pipes or some other wall obstruction.
What To Look For In The Best Stud Finder
There are certain things to consider when searching for the best stud finder:
There are two kinds of sensors: electronic and magnetic. The magnetic ones are typically less expensive than electronic models. They utilize rare earth magnets, so you don't need to use or look for batteries to power it. Meanwhile, electronic sensors assess the depth of your walls for thickness changes. They include additional features like finding stud edges or built-in LCD screens. They even give more scanning modes and can also distinguish AC wires.
The size of the sensor is another significant thing to consider. A bigger sensor will have many advantages. For example, it will cover a more extensive area over a shorter period, so you won't need to move the stud finder too much. Some advanced models include more high-tech features – they can find more studs at the same time. A huge scanning area can offer multiple scanning zones that function independently.
While not always a general rule, a broader model can go deeper. If it's larger, it can presumably contain a more powerful sensor.
The best stud finder ought to be anything but difficult to hold firmly and comfortably. You will need smooth movements, or the calibration can come up short and provide you false readings. Thus, the model needs to be ergonomic and straightforward to utilize.
Some stud finders are shrouded in non-slip surfaces for added efficiency.
The display in electronic stud finders should give a lot of information to your activity. But this is a matter of individual preferences. More often than not, you should see a representation of the stud, measurements, and maybe the battery level. Anything else is simply extra.
And The Best Stud Finder Is…
If you are a traditional handyman, a DIYer, or a housewife who loves all things simple, we can't recommend the CH Hanson 03040 Magnetic Stud Finder enough! The CH Hanson magnetic stud finder is one of the most compact, affordable, and efficient stud finders available on the market. If you need to install an appliance to a wall that is less than 1 ½ inches wide, then this product is for you.
Unlike electronic models, the CH Hanson 03040 Magnetic Stud Finder does not need to be calibrated or run with batteries. At less than eight dollars, this product is a gift for DIYers and hobbyists. In addition, it also comes with a hands-free functionality for ease of marking and use. It is compact, simple to use, and will stick with you for a very long time.
However, if you need an electronic stud finder with higher features such as detecting wood and metal studs, copper or steel pipes, and electric wires, we recommend the Vivreal Stud Finder Wall Scanner.
Other Great Articles to Read:
To view our Amazon Associates Disclaimer, please click here.