Let's say you just got into woodworking as a hobby. You want to splurge on power tools, but let's face it, your budget is tight and you're not even sure if you're going to have time every weekend for your new hobby so buying a very expensive tool is out of the question.
The question that's been bugging you right now is which power tool should you buy if you want something versatile but still within your budget. Something that's all-in-one.
The answer? The jigsaw.
Now, some woodworkers might howl at the prospect of the jigsaw upending the circular saw or the table saw as the king of woodworking power tools, but hear me out. What power tool combines the precision of a scroll saw and the power and sheer cutting power of a circular, table, or band saw? Not only is it versatile, but it also does not take too much space in your garage or workshop. You can even take it anywhere thanks to its compact design.
If you're looking for the best jigsaws but you're overwhelmed with all the choices (there's just so many good jigsaws right now!), then don't fret.
I'm here to breakdown everything about this crucial woodworking tool, from its history to the features you should look for when buying one. I will also going to find the best jigsaws online so you can weigh your options.
A Brief History Of The Jigsaw
The first jigsaw was the brainchild of Swiss inventor and engineer, Albert Kaufman. He was one of the engineers working for Scintilla AG, a Swiss power tools manufacturer, when he came up with the first jigsaw tool. He figured that if he replaced the needle of his wife's sewing machine with a blade, he'd get a mechanical saw that is infinitely more efficient than regular hand saws.
Scintilla AG launched the first jigsaw based on Kaufman's design in 1947. It was christened "Lesto jigsaw," and it was a hit among woodworkers. Less than a decade later, Scintilla AG was acquired by Bosch and the handheld jigsaw tool became one of the brand's staple for decades to come.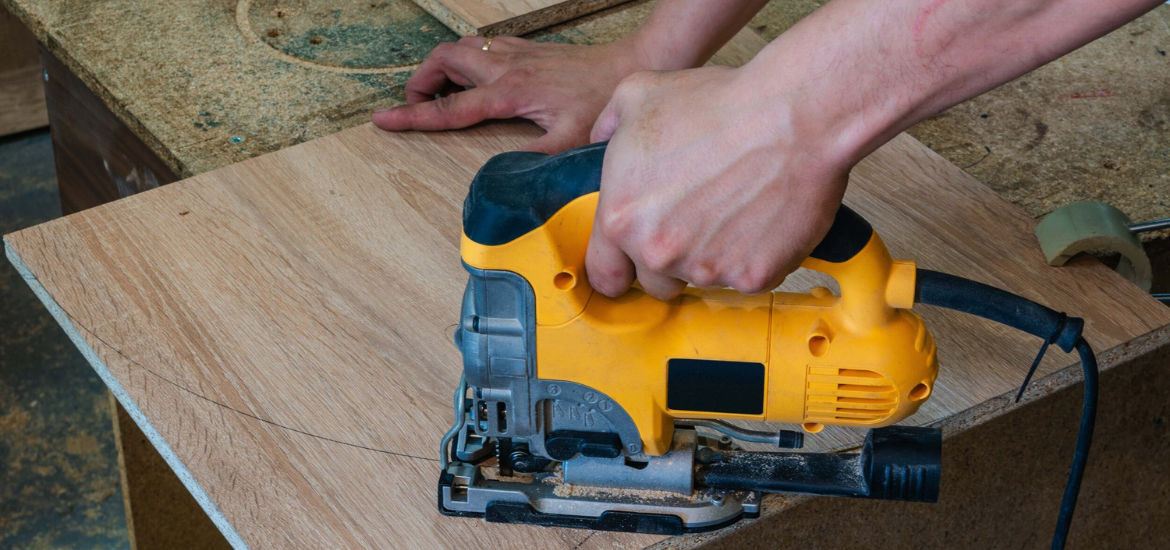 How Does A Jigsaw Work?
Jigsaws, also known as saber saws, are handheld tools powered by electricity. Some come with a cord that you need to plug into an outlet, while cordless jigsaws are powered by batteries. The saw cuts wood and other materials using a narrow piece of metal blade. The cuts are made in a rapid reciprocating motion that is similar to what you see on a sewing machine.
Jigsaws are compact and relatively lightweight machines that you can maneuver to create an orbital action or make clean straight cuts. It doesn't take up much space, and you can even use a cordless model in a remote job site or one that does not yet have electricity.
The jigsaw motor is encased inside a durable metal housing and connected to a set of eccentric gears. The gears are connected to a shaft that is linked to the blade. The motor's rotary motion is converted into a rapid reciprocating or up-and-down motion of the saw blade. Here's a cool video on how the motor, gears, and shaft of a jigsaw work together to create the reciprocating motion.
The motor is connected to a power cord if it is the corded type. Cordless types, on the other hand, are powered by batteries that are mounted to the part where the power cord should be.
The user guides the jigsaw with the handle. Some jigsaws have a barrel handle, while others have a D-shaped top handle. (Note that all of jigsaws we've reviewed here have a D-shaped top handle.)
The handle contains the lock-on button. Jigsaws have variable speed settings, so the lock button allows you to "lock" the tool at a certain speed. This reduces fatigue especially if you're cutting a particularly long or thick workpiece.
The on-off trigger is usually located underneath the handle. This is not just a simple on-off button as it also controls the jigsaw's cutting speed. The tighter you press the trigger, the faster the reciprocating motion of the blade.
The handle is covered in textured rubber to ensure that the jigsaw won't slip from your hand while you're operating it.
Located at the side of the jigsaw housing is the orbital action or pendulum dial. It allows the user to control the up-and-down motion, as well as the forward and backward movement, of the jigsaw.
Set it to 0 if you want straight cuts on wood or plasterboard. If you want to cut softer curves on aluminum and some hardwood, then you can set the dial to 1. You can set the dial on 2 and 3 for more aggressive and efficient cuts.
The variable speed dial is usually located on top of the handle, but there are some models where the dial is located near the trigger. You can adjust the cutting speed of the saw depending on the material you're working on. For example, you can set the speed from 1 to 4 if you're cutting stainless steel, aluminum, or plastic. Set it between 3 to 6 if you're cutting high-density wood.
The part of the jigsaw that holds the blade in position is the blade clamp. Some jigsaws require an Allen wrench to mount the blade. Other models, on the other hand, have a more convenient and time-saving keyless/tool-less design.
The blade is supported by a blade roller guide during operation. This consists of two rollers that support and stabilize the blade as it cuts through the material. The roller guide also ensures that you can use the blade for longer as the rollers prevent them from bending and breaking.
The metal base of the jigsaw is called the shoe. It is the part of the saw that comes into contact with the material (aside from the blade, of course). Its purpose is to make sure that the blade is set firmly at the specified angle during operation. It is also called a footplate.
The majority of jigsaws have adjustable footplates/shoe that allow you to make bevel cuts. Some models allow the shoe to be adjusted to an angle with a lever, while others required an Allen wrench or screwdriver to adjust the footplate.
Check out our blog for more articles and reviews that are packed with useful information for DIYers and professionals alike.
It might seem innocuous for some, but wood dust is one of the most harmful things in the worksite. It can irritate the eyes, nose, and throat, as well as cause respiratory problems, dermatitis, and even cancer.
You can protect yourself by wearing a dust mask while you work. More importantly, get a jigsaw with a dust exhaust port. The port is connected to a vacuum nozzle which sucks all the dust and debris produced by the jigsaw.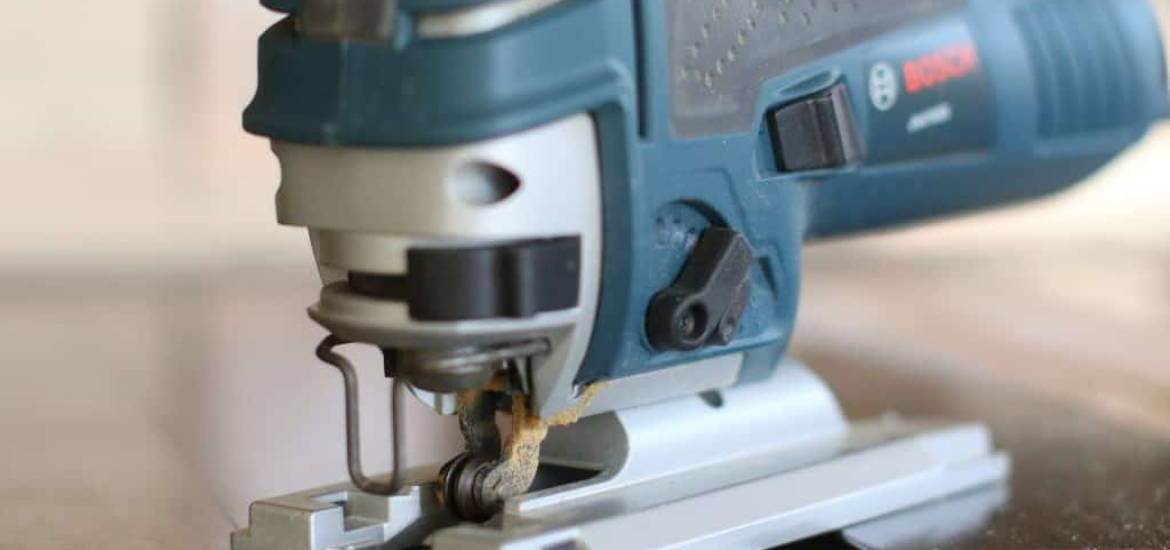 Types Of Jigsaw Blades
The blade is probably the most important part of the jigsaw apart from its motor. Jigsaw blades are classified into two types: T-shank blades and U-shank blades.
T-Shank Blades
The most commonly used jigsaw blades are T-shank blades. These types of blades are characterized by a tang at the top of the shank. They have surged in popularity over the years as they are compatible with the majority of jigsaw models.
They are also easier to install compared to universal or U-shank blades. Just push the jigsaw's blade changing button or flip its lever, pop the blade in, release the button or lever, and it's ready.
U-Shank Blades
U-shank blades have a cutout at the top which resembles the letter "U." Although they are also known as "universal" shank blades, the truth is they are not as universal as they used to be thanks to the popularity of T-shank blades. Older jigsaw models typically require U-shank blades more than newer models.
Many U-shank blades need to be mounted on the blade clamp using a hex key or Allen wrench. This process is slower and can be inconvenient for some users, so double-check the unit before buying it if you're after efficiency and convenience.
Blade Material:
1. High-speed steel blade – this type of blade is ideal for cutting plastic, wood, and metal. High-speed steel blade is prized for its durability and heat-resistance.
2. High-carbon steel blade – this is ideal for general use. It is durable yet flexible. It is also one of the most affordable blades on the market.
3. Bi-metal blade – if you're cutting hardwood or metal, then use bi-metal blades. As the name suggests, they are made of two kinds of steel so they are created for durability.
4. Tungsten carbide blade – this is ideal for cutting steel, ceramics, and fiberglass. Tungsten carbide blades are prized for their durability and heat resistance.
Jigsaw Buying Guide
Choose a jigsaw that suits your needs
If you're an occasional user and you're going to use the corded or cordless jigsaw saw to cut plywood or any thin material, then a 500W entry-level jigsaw will suffice. A cutting depth of up to 2 inches should be enough for wood and around 1/2 inch for metal.
If you're going to use it regularly or you're a professional who works on ceramics, metal or thicker pieces of wood, then it's best to invest in a heavy-duty 700W jigsaw. Check the blade and make sure it has a cutting depth of at least 3 inches.
But when choosing a jigsaw blade, make sure that the total blade length is an inch longer than your workpiece. Check out this article for a more in-depth guide on choosing the right jigsaw blade.
Cordless or corded?
Before choosing a jigsaw, you have to choose whether you want a corded model or a cordless one. Corded models are perfect for professionals. You can work with it for several hours without worrying that the battery might run out of juice in the middle of a project.
Cordless jigsaws, on the other hand, are ideal for DIYers and occasional users. Since your workshop is probably your garage and it is not going to be used for hours on end, you don't have to worry about draining the battery and looking for an outlet to charge it.
Bells and whistles
Some jigsaws now come with a laser guide and an LED light. In my opinion, a built-in LED light is handy, but you can do without it. A good old carpenter pencil will do to mark your cuts. But if you have to work in a job site with poor lighting and the model doesn't have a built-in LED light, then don your trusty headlamp instead.
What about the laser guide? While it is another cool addition, I don't think that the laser guide has been helpful at all. You're still better off using that carpenter pencil.
Get a jigsaw with a dust exhaust port
It might seem innocuous for some, but wood dust is one of the most harmful things in the worksite. It can irritate the eyes, nose, and throat, as well as cause respiratory problems, dermatitis, and even cancer.
You can protect yourself by wearing a dust mask while you work. More importantly, get a jigsaw with a dust exhaust port. The port is connected to a vacuum nozzle which sucks all the dust and debris produced by the jigsaw.
All of the jigsaw tools we've reviewed here are great products that offer reliable performance and superb features. But, of course, there is always a jigsaw that stands out and deserves the number one spot, and that is the DEWALT DCS331B Jigsaw.
So, what makes this particular jigsaw tool stand out from the competition?
First is its cordless design. Because it is not limited by a cord, you can use it in your garage or anywhere inside or outside your home. It is powered by a reliable 20V battery that lasts a long time.
Cutting is more efficient thanks to its orbital action. Creating bevel cuts is also a breeze thanks to its keyless shoe bevel.
This cordless jigsaw is more expensive than most of the power tools in our list. But if you don't care about the cost and you really want to invest in something long-term, then this is the ideal jigsaw for you.
I hope you've learned a lot from our review of the best-selling jigsaw tools so you can now shop with confidence whether online or at your favorite hardware store.
Other Great Articles to Read:
To view our Amazon Associates Disclaimer, please click here.