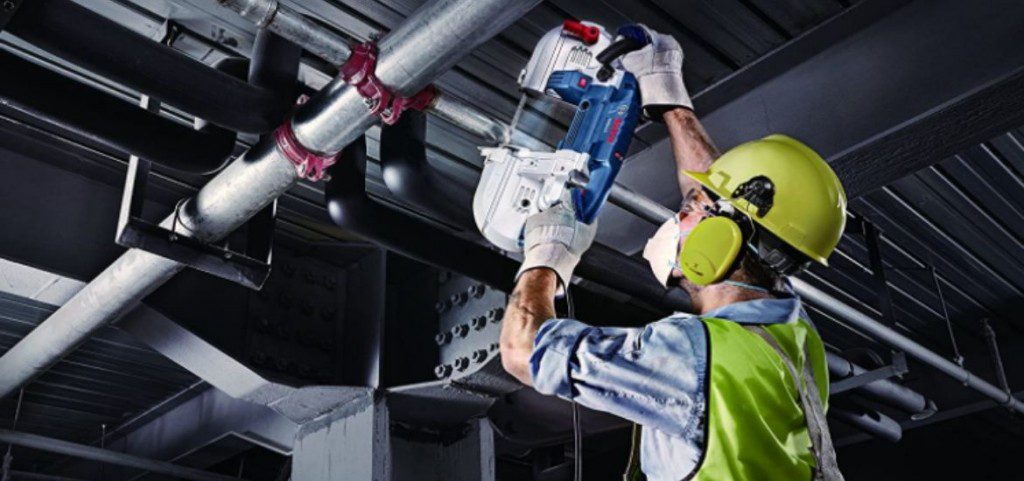 It's nice to have a full-size or even a benchtop bandsaw at home or at work. You can use either tool to rip stock, make circular cuts, and cut curves on wood, acrylic, and other materials. But there are some things these stationary bandsaws cannot do, such as cutting I-beams, rebars, and pipes in hard- to-reach areas. This task is something portable bandsaws can easily do.  Other things that portable bandsaws can do include resawing timber, as well as producing tenons, bevels, and scarf joints.
If you're in the market for a portable bandsaw but you're not sure about the right features to look for, then check out our handheld bandsaw shopping guide below. We have also reviewed some of the best portable bandsaws you can buy online to help you get started. Let's begin.
Portable Bandsaw Buying Guide
Motor
The first and most important aspect that you need to consider when buying a portable bandsaw is its motor. When choosing a portable bandsaw, checking its motor's amps should be your top priority. In general, the higher the amps, the better its performance as the motor dissipates heat faster, thus extending its lifespan.
Another factor you need to consider is if the bandsaw contains a carbon brush or if it has a brushless motor. A brushed motor features a carbon brush that transmits electrical current from its stator to its rotor. Older bandsaws and other power tools typically have brushed motors, making them more affordable. The only downside with brushed motors is that they eventually wear out and need to be replaced now and then.
On the other end of the spectrum are brushless motors. Brushless motors contain an electronic circuit board instead of a carbon brush. This makes them more powerful and efficient than bandsaws with brushed motors. The bad news? They are pricier than their brushed counterparts.
Corded vs Cordless Bandsaw
Portable bandsaws fall into two different categories when it comes to the power source: corded and cordless. Corded portable bandsaws are plugged directly into a wall outlet. Because these tools have a consistent power source, they are ideal for DIYers who work mainly at home. Being tethered to an outlet, however, can seriously limit the tool's portability.
Cordless bandsaws, which are battery-powered, are more portable. Want to cut that steel beam or that protruding rebar? Then a cordless portable bandsaw is your best bet. 
Weight
Check the portable bandsaws' weight before buying one. You might be planning to use it to cut steel beams or rebars located high up in the wall, so the tool might bog you down if you don't have enough arm strength or if it's too heavy. The Ryobi P590 ONE+ Cordless Portable Band Saw, for example, only weighs 9.3 lbs. Contrast this with the DEWALT DCS374P2 20V MAX Portable Band Saw Kit that weighs a pretty hefty 25 lbs.
Cutting Capacity
Another important aspect to consider when choosing the right portable bandsaw is its cutting capacity. The bandsaw's cutting capacity simply refers to the distance between the blade and the throat. If you're planning to cut thicker workpieces, then it's best to get a tool with a deeper cutting capacity.
From sliding miter saws to scroll saws, the Sebring Design Build website has it all. Check out other tool reviews and home design ideas on our blog for more.
Conclusion:
Our choice for the best portable bandsaw is the BOSCH GCB10-5 Deep-Cut Band Saw. Here are some of the features that make this particular saw stand out.
The Bosch portable bandsaw features a powerful and long-lasting 10-amp motor that dissipates heat faster. It can take on even the thickest pieces of wood or some of the hardest structural steel. The resulting cuts are smooth and burr-free, and it doesn't produce sparks as much as the other bandsaws, resulting in a safer workplace.
It has a maximum cutting capacity of 4 3/4″, and the speed can be adjusted depending on the material you're working on. Plus, it features an LED bulb, ensuring more precise cuts even in poorly lit jobsites. 
This is a relatively lightweight bandsaw at 14.5 lbs., but make sure that you have enough upper body strength if you're planning to hoist it above your head. The Bosch bandsaw is one of the priciest ones in the market, but its impressive and reliable performance ensures that it is a great choice despite its quite hefty price tag.
Other Great Articles to Read:
To view our Amazon Associates Disclaimer, please click here.