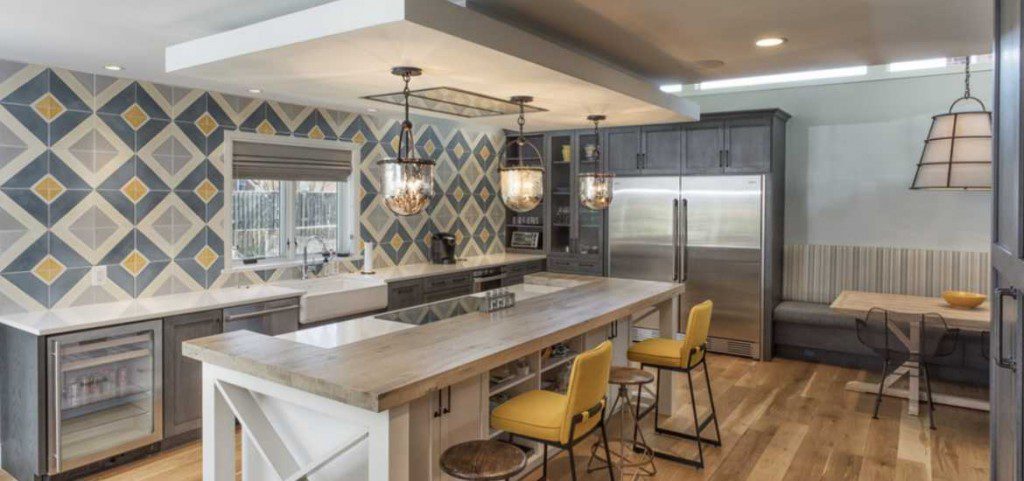 Have you ever considered using yellow tile colors for your kitchen and bath? This refreshing shade will emulate the ever warm sun and give your kitchen and bath a fresh and invigorating feel to it. Worrying that it might create a negative contrast to your existing furniture and appliances might weigh your decisions down but this change will not ruin your interior as long as you are able to execute it properly.
To remove your doubts about this interior project, you need to check your existing fixtures in the kitchen or bathroom to minimize color or design clashes. This will be an important step to take because this will back up your decision. Refurbishing your bathroom and kitchen with yellow ceramic tile colors can amp up the ambiance and make your kitchen less drab. It helps you create a livelier mix of vibrancy and warmth that people will always envision for their interiors to have. Choosing the color for your tiles are crucial yet easy when you already have your preferences in mind. Doubting your decisions regarding tile colors for your project is really normal, so if you really want to be 100% sure, here are some tips that will make things easier for you.
CONTEMPORARY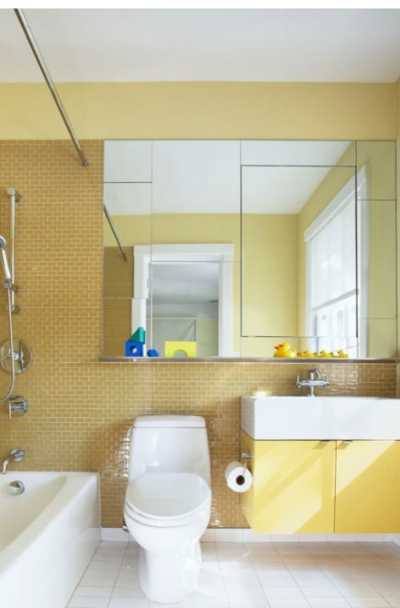 The small brick pattern of mosaics that runs behind the toilet and yellow floating vanity is very charming.
SIMPLE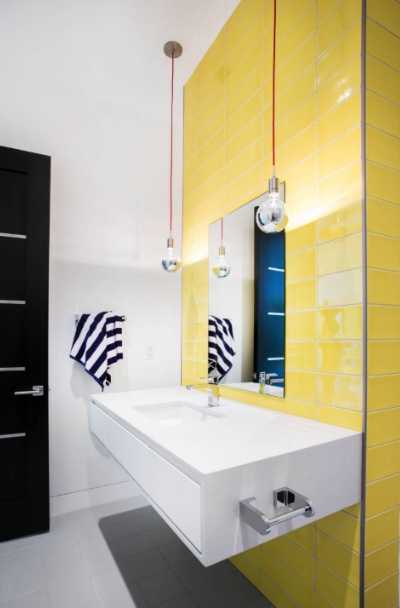 The simple lines created with the floating vanity, stacked yellow tiles and red lines for the lights.
ATTIC BATH
This bath has honeycomb tiles on the floor. The brick pattern tile looks great showing off the tub.
MUSTARD YELLOW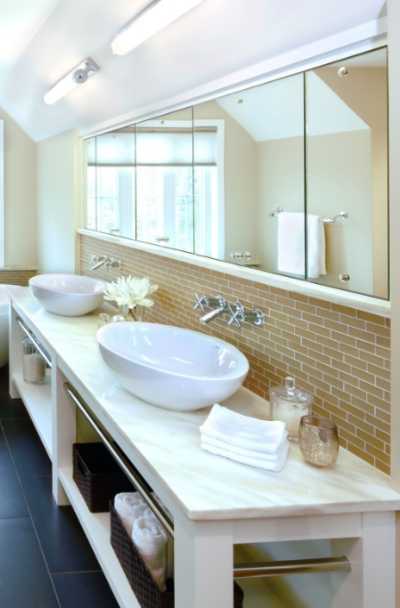 The mustard yellow mosaic tile definitely pulls your eye to the faucets and vessel sinks.
YELLOW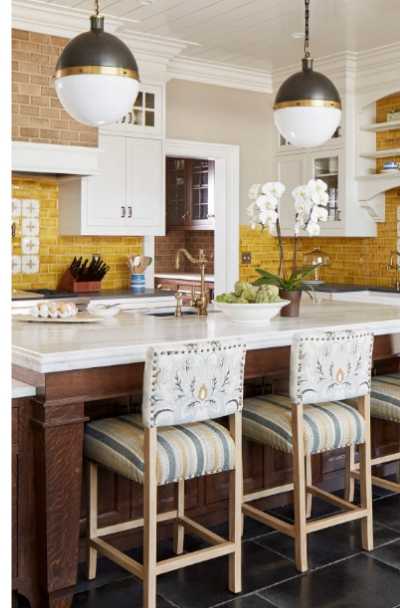 The yellow backsplash unites all the elements; the lights, island, and countertops together.
DIAGONALLY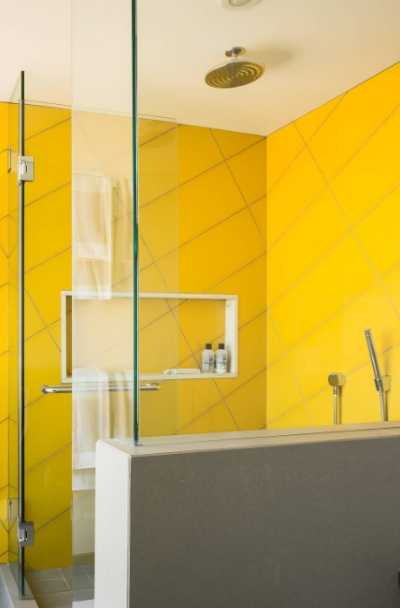 The 12×24 yellow tiles are run diagonally to make the ceiling appear taller and the room wider.
BRIGHT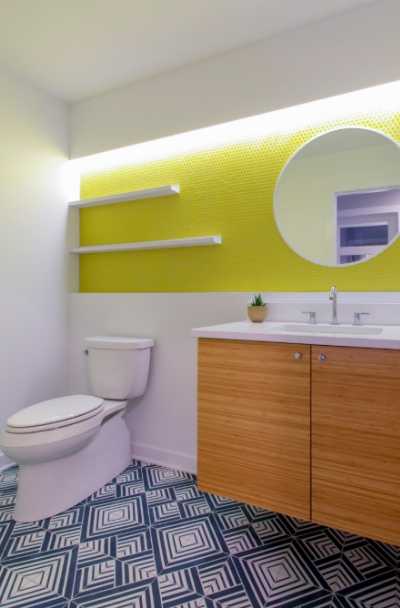 The bright yellow matches the blue cement tile on the floor along with the flat panel vanity.
MULTI-COLORED
The yellow backsplash and wall tiles really show off the dark wood cabinets and the light wood floors.
VERTICAL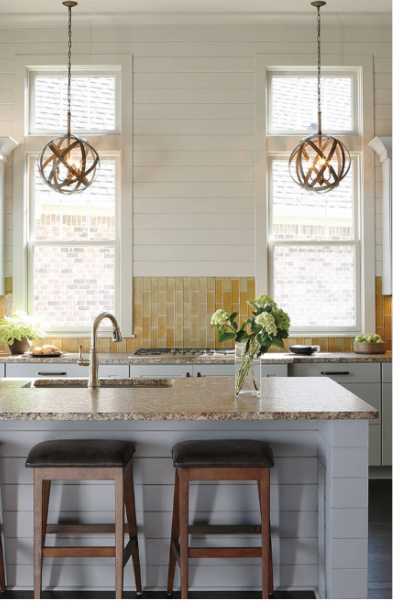 These neat looking subway way tile backsplash that ran vertical matches with the shiplap above it.
BEIGE
The beige tile completes this farmhouse look. the wood remnant countertop is a nice feature.
Tips to Help You Choose the Right Tile Color
The trend in colors constantly changes and as a homeowner it is not your responsibility to keep up with it. What you need to do is to create timeless room interiors that can easily outlive these trends. That is why it is very crucial to have the right tile colors for the essential rooms of the house, i.e. kitchen and bathroom. Your floor and wall tile color are one of the most important factors that need to be considered when you are matching them with all the fixtures, pieces of furniture, and appliances that you need to install. Make sure that you are able to pick a color that has the potential to match any type of interior setting that you have in mind. Using a tile color that can complement a wide array of themes or color schemes will be very beneficial for you in the long run. To get the most out of the tiles that you plan to use for your enhancement project, here are some tips that you can use when picking.
What is the room's purpose?
Answering this question will lead you to a certain color group. There are come tile colors that will work in the kitchen but will not work in your bedroom. Using yellow subway tile colors might work for your backsplash but it will sometimes be awkward to use this in other walls of the house. It is very important to look at the room's purpose to know the tile material that will perfectly fit your room and this also limits your color options. Knowing the main function of the room will also be beneficial when looking for fixtures and furniture.
Scrutinize the effects of the color schemes
Most designers will tell you that a small room needs brighter wall paints and floor tiles to make it appear more spacious while dark colors will do the opposite effect. Using this as a guiding principle when choosing a color scheme for your tiles will help you zoom in your choices into a particular "group". Choosing an interior plan for a yellow tile bathroom will be easier if you already have an idea regarding the overall effect of your choice. Aside from cream-based colors, and toned down yellows, other natural tile colors will also help you obtain that much needed timeless interior for your house. A lot of people who are planning on flipping a property usually go for natural hues because they are most likely to enhance the value of the house. It gives the buyer an opportunity to get their desired furniture and decor without worrying about the walls and floors.