The shabby chic bedroom interior is basically a transformed elegant look of that traditional country room design we used to see in those classic romantic films. This interior is often infused with a French inspiration that compliments the basic design properties of the country interior. Incorporating mostly pastel colors and "old-looking" furnishings will make your shabby chic room remodel get enchanting results. This design inspiration will always be ideal for your daughter's room or even with the master bedroom. 
Most people consider this interior as a variation of vintage bedroom ideas because most designers make use of prevalently white or pale paint colors for the walls. These colors associated with harmony and serenity often extends to the shabby chic bedding selection that you can actually choose from. Completing the perfect shabby chic look for your room is not as hard as you might think. Delicate color tones of creams, mint, old rose, and the fresh vibe of whites will be some of your to go to color palettes for this project.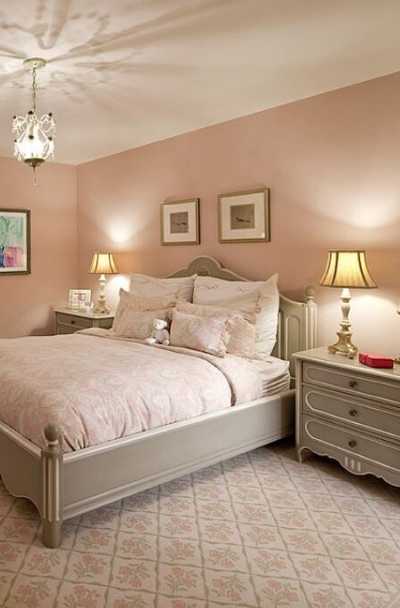 The cozy interior is very suitable for your girl's bedroom, adding romantic looking cute rug pink accents, grey furniture, and light pink walls.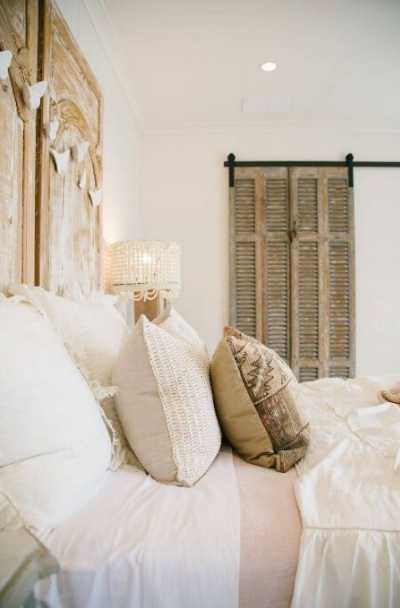 The beautiful antique louvered doors used as sliding doors separating the space creates the more elegant setting of this bedroom interior.
SLATWALL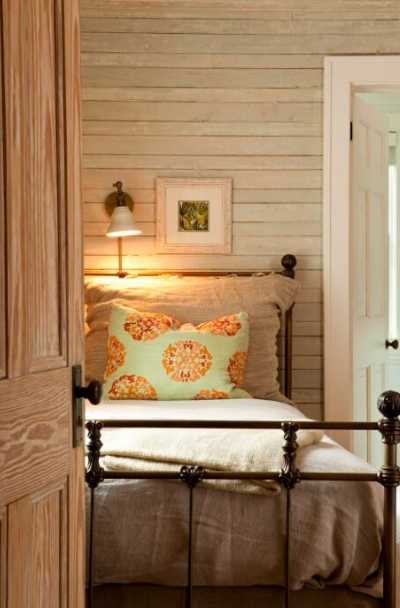 The original slatwall painted with light tones creates a popping contrast to the iron bed frame. That installed wall light is charming too.
AIRY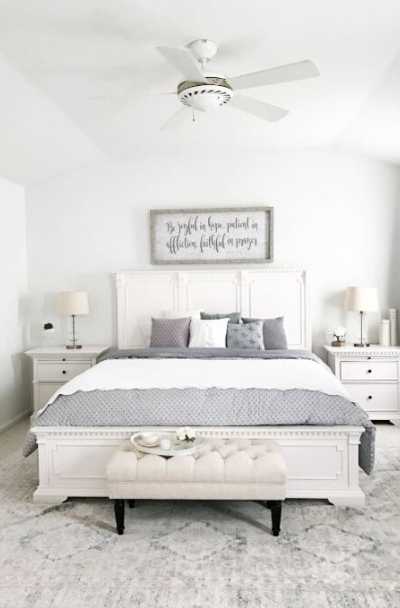 If your bed doesn't look as gorgeous as this Angelina king panel bed, you can try this shabby decor to allow great space-saving in your room.
PALE BLUE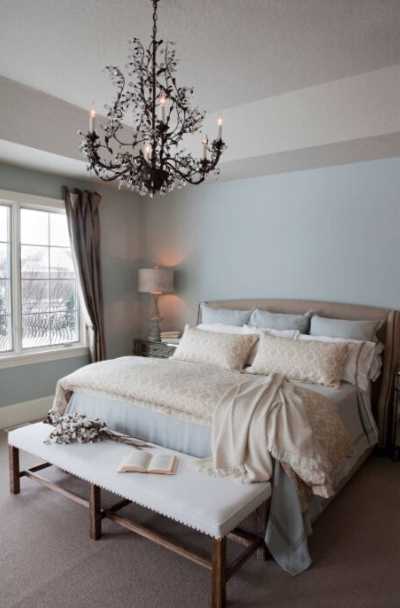 How about we paint your walls with pastel blue, install a wrought iron chandelier? Your cozy bed and fabric foot bench would sure look warm.
ROMANTIC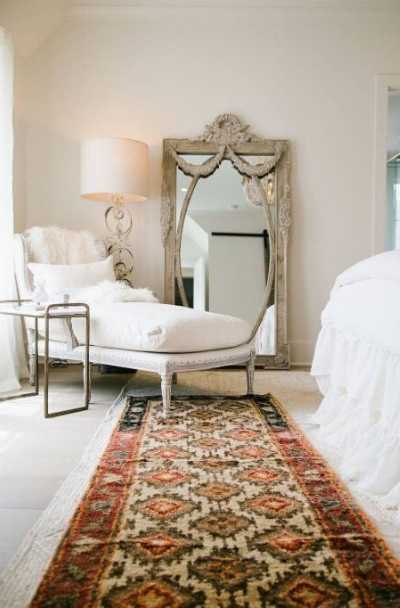 Fill the room with a romantic air, get a chaise lounge, a large antique leaning mirror and traditional runner, and that perfect reading nook.
MURAL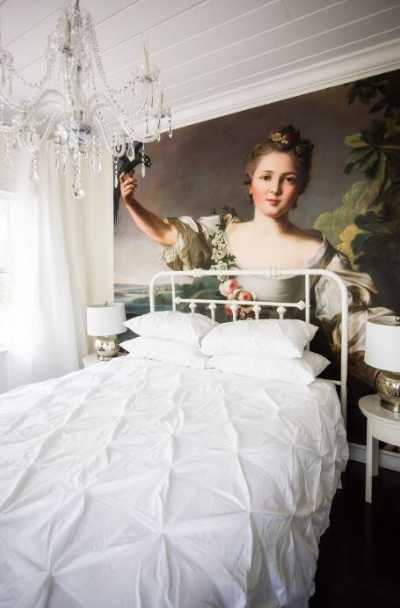 Turning a room with a white paneled ceiling, white furniture, and matching chandelier make a wall mural POP. A great decor focal point!
ARCHES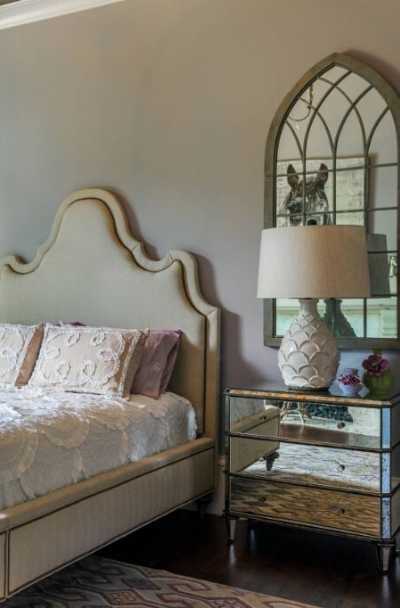 Elegance at its finest, the mirrored nightstands with mirrored arch wall decor surely makes this space feel larger. Even the bed is magnificent!
PILLOWS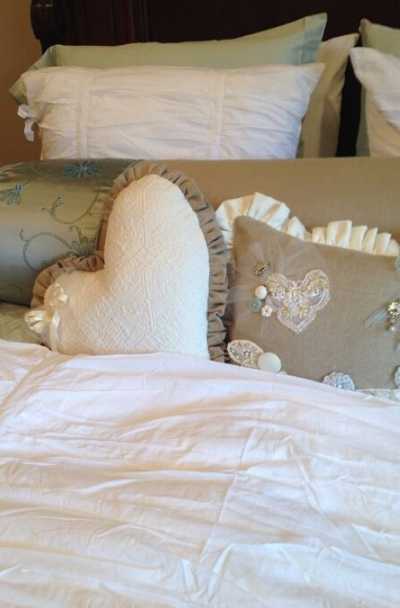 Using the same color tone on your pillows of different shapes will add more cohesiveness to your bedroom interior. Try it out and see the results.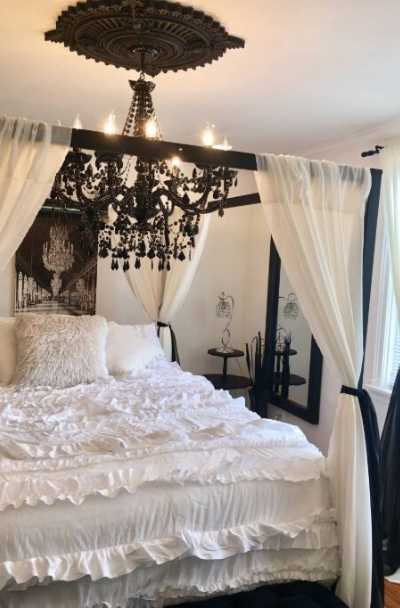 Remix created an airy feel for this master bedroom with all the draping the canopy style bed in lush fabric. Classic great interior enhanced.
Creating the Shabby Chic Interior
Shabby chic decorating is a great way to enhance the coziness and homey feel of any room. While you are contemplating whether to go for it or not, you can browse through the photos that we have in this article to see possible design inspirations that you can actually work with for your own bedroom. Although your own space needs to have your personality, here are some of the basic design properties for the shabby chic decor.
Light and Neutral Wall and Flooring
The furniture and accessories that we will be putting into your bedroom are full of character and personality. In order for us to bring out their best characteristics, a neutral background will be the best way to frame your chosen furniture setup. Aside from the walls, you might also need to choose natural materials for your flooring. Light-colored floor tiles and even natural wood flooring can help enhance that great vintage bed you need to place in your bedroom.