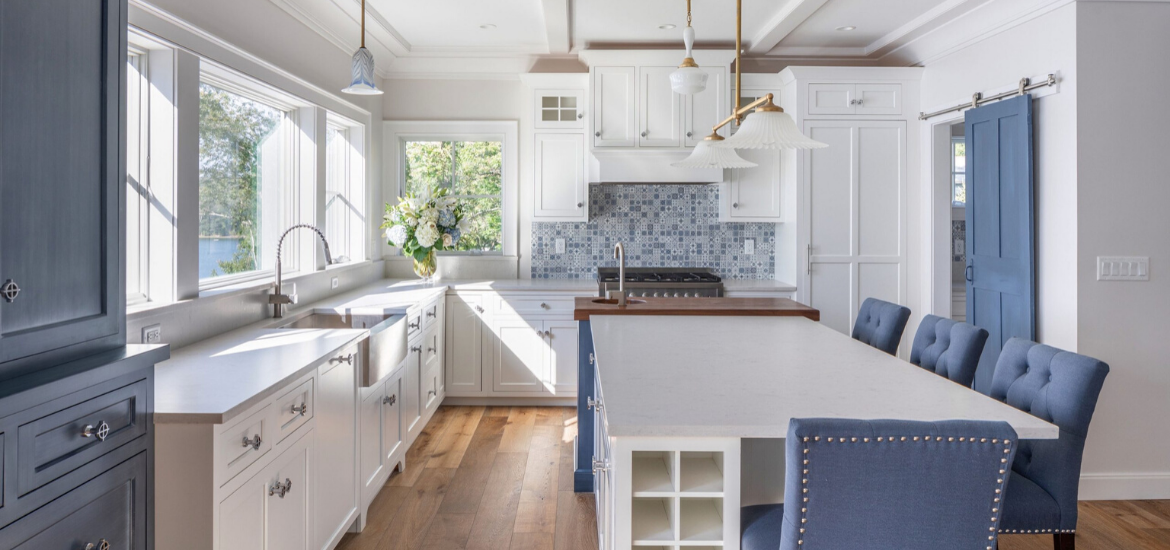 Nautical and beach themed kitchens are popular with coastal homes, but the look can be achieved no matter where you live. The first rooms in the house to be decorated with nautical decor are typically the bedrooms and bathrooms. Now, it's time to expand that comforting beach theme to the rest of the house – particularly the kitchen.
You don't need to live in a warm climate to enjoy coastal kitchen decor. Whether you are planning on a whole remodeling project or you just want to make a few tweaks by adding some accents, there are plenty of ways to have a beach themed kitchen.
We've listed our favorites here; check them out and get inspired for your next beach kitchen idea! But first, let's review the elements of a classic beach kitchen.
What is Nautical Coastal Style?
This style is originally inspired by the likings of the French Riviera with a touch of elegance. Some of the natural elements of this style include:
Crisp, white colors
Bold stripes of blue, black, or neutral colors
The use of shells, corals, and coastal art for decoration and accents
Natural wood colors and the use of wood as a key design feature
Overall, you want your kitchen to reflect the fun, peaceful, and easygoing nature of life on the beach. With a few key decoration and style changes, you will feel like your home is situated right on the beach, whether or not that is actually true. Make use of wide stripes, soft-feeling furnishings, and light colors to maintain a breezy, relaxing look.
This reflects life on the beach; easy, breezy, and casual – but without losing its sophistication. Check out some of these unique and creative nautical kitchen decor ideas to inspire your own kitchen, helping you to bring the beach cottage of your dreams to life.
WATERFRONT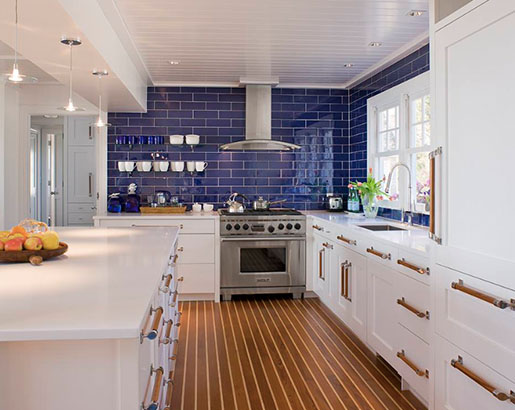 The blue glass tiles from Waterworks are stunning.
BEACH HAVEN
A quaint breakfast nook in this beach-style kitchen.
NAUTICAL ACCENTS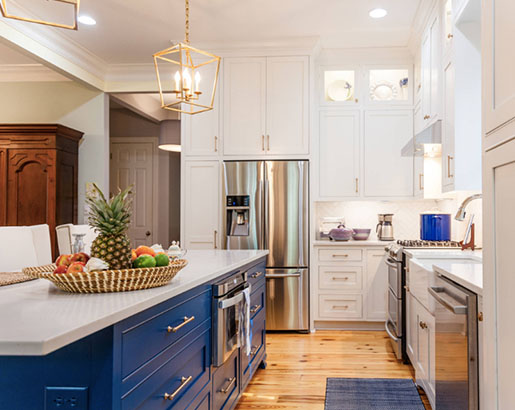 Stylish pendants and brass pulls add interesting features to this classic kitchen.
COASTAL CHIC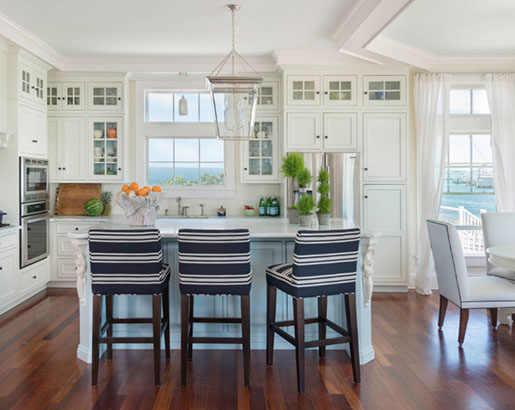 The dining chairs are from Miles Talbot in Sea Salt Sunbrella with a Sunbrella Canvas Navy Trim.
COLONIAL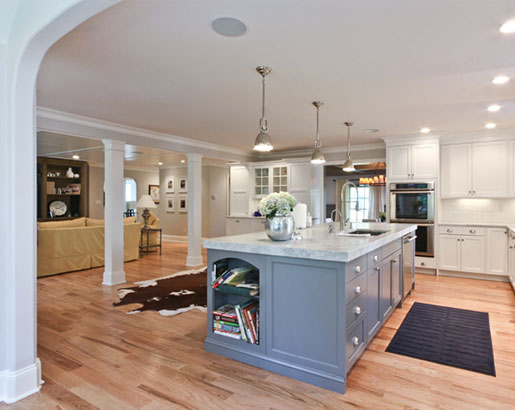 This renovated kitchen brings light and freshness to the heart of the home.
CLEAN & FRESH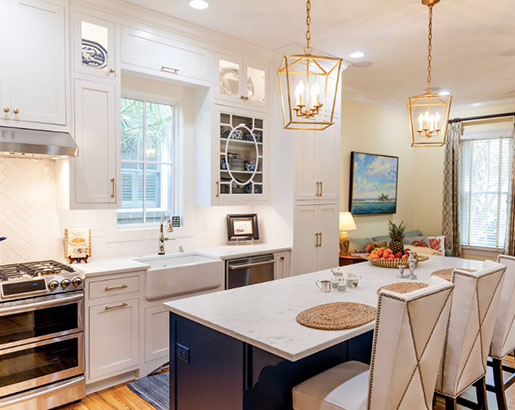 A coastal South Carolina Kitchen with all of the classic elements!
Repaint Your Furniture
It is possible to have a nautical kitchen on a low budget. One brilliant way to start pulling your design elements together is to repaint your existing kitchen furniture. Strong, bold blues, such as sky blue or navy blue, can really make a powerful statement. Coastal kitchen decor is often composed of shades of blue, reflecting the blueness of the ocean that unifies the design. Plus, painted furniture is a great backdrop for the rest of the kitchen, and can set the scene for other decoration ideas you may have in mind.
Set Your Focal Points With Accent Colors
Adding accents in unexpected places can be part of the fun of designing a beach themed kitchen. Again, think about blue as a strong accent. Use it strategically to bring out parts of your kitchen that can make a strong statement. Just make sure that your aqua kitchen decor doesn't go overboard (nautical pun intended).
Some ideas for blue highlights in the kitchen include:
Backsplash behind your sink or stove
The base of your kitchen island or cabinets
Blue bar stools against your white counter
A blue striped rug near your dining table
The nautical theme relies heavily on the use of accents. While blue is the dominant color in this field, you can also make a great statement with gray, charcoal, or even black. Again, just make sure that you aren't adding too much; they are called accents for a reason.
CONTEMPORARY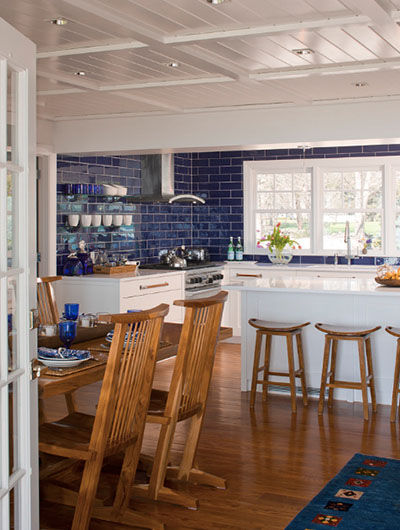 This renovated 1980's waterfront kitchen is gorgeous.
LAKEFRONT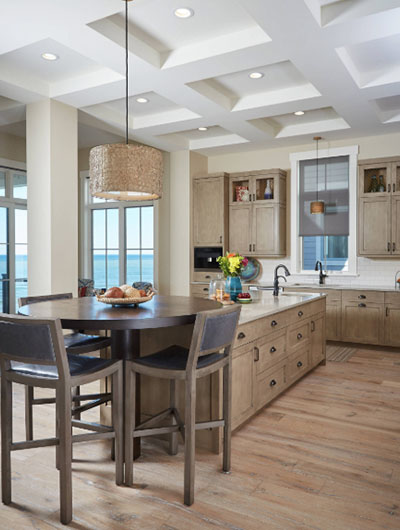 The lakefront kitchen features natural wood cabinetry.