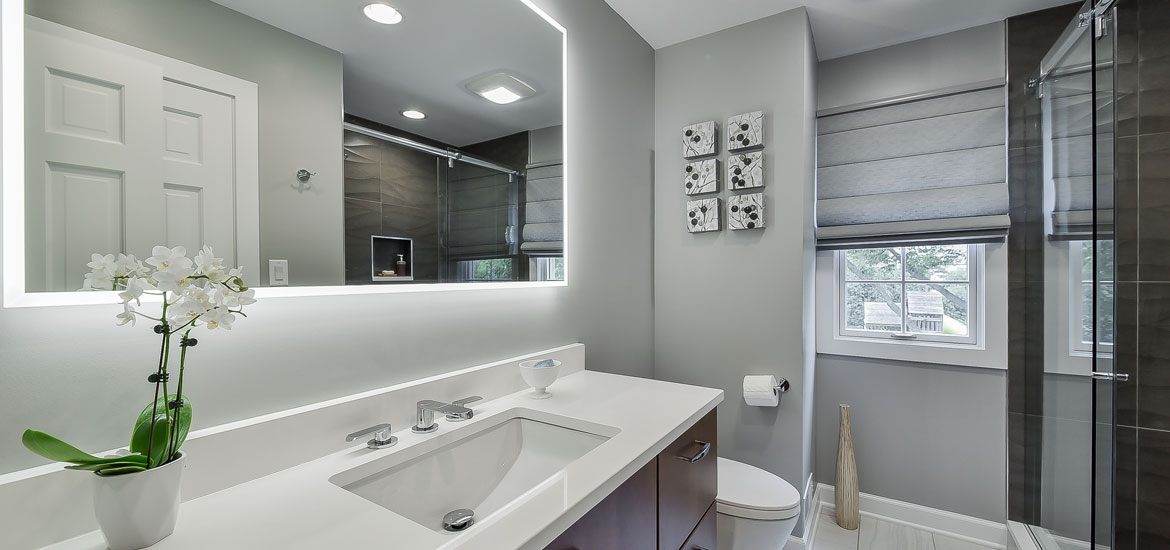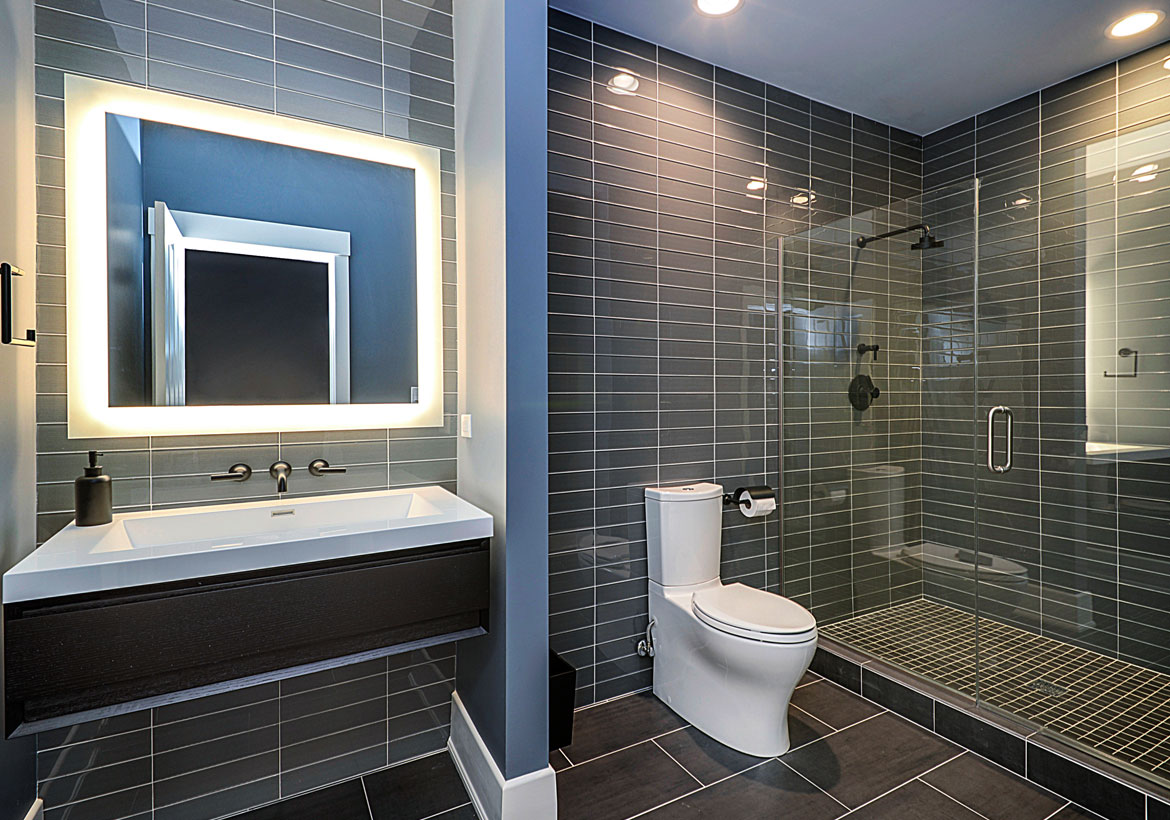 PENTHOUSE BATH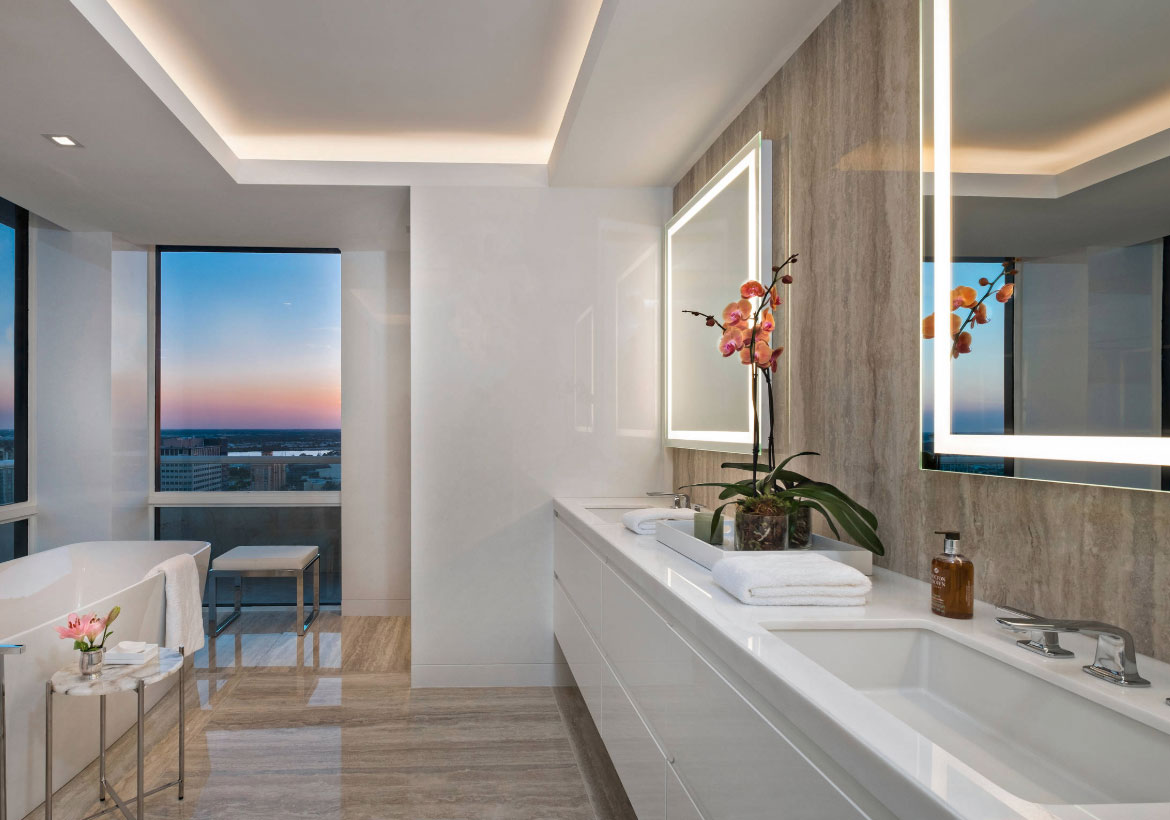 This West Palm Beach penthouse bathroom boasts both LED mirrors and cool ceiling lighting.
JAPANESE INSPIRED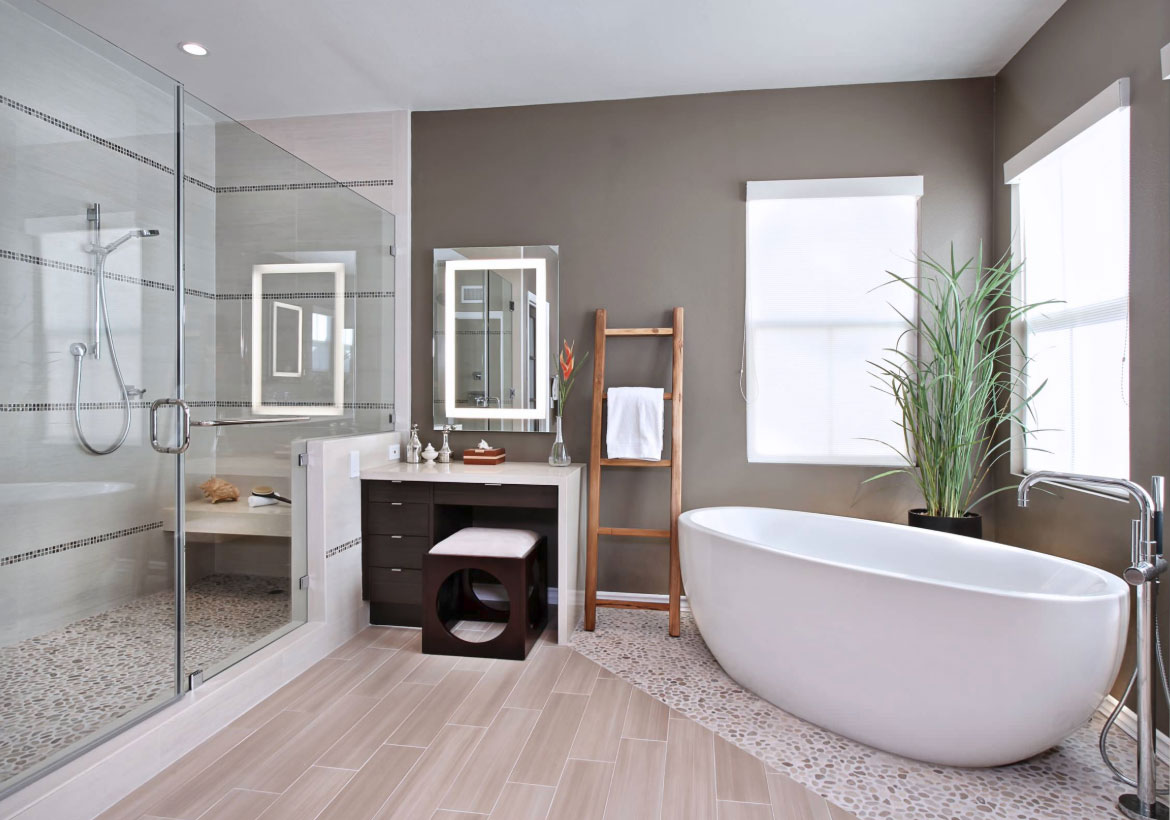 This beautiful bathroom was inspired by the Japanese "roten-buro"–outdoor bath and features an LED lighted bathroom mirror with defogger and dimmer. 
NY CONTEMPORARY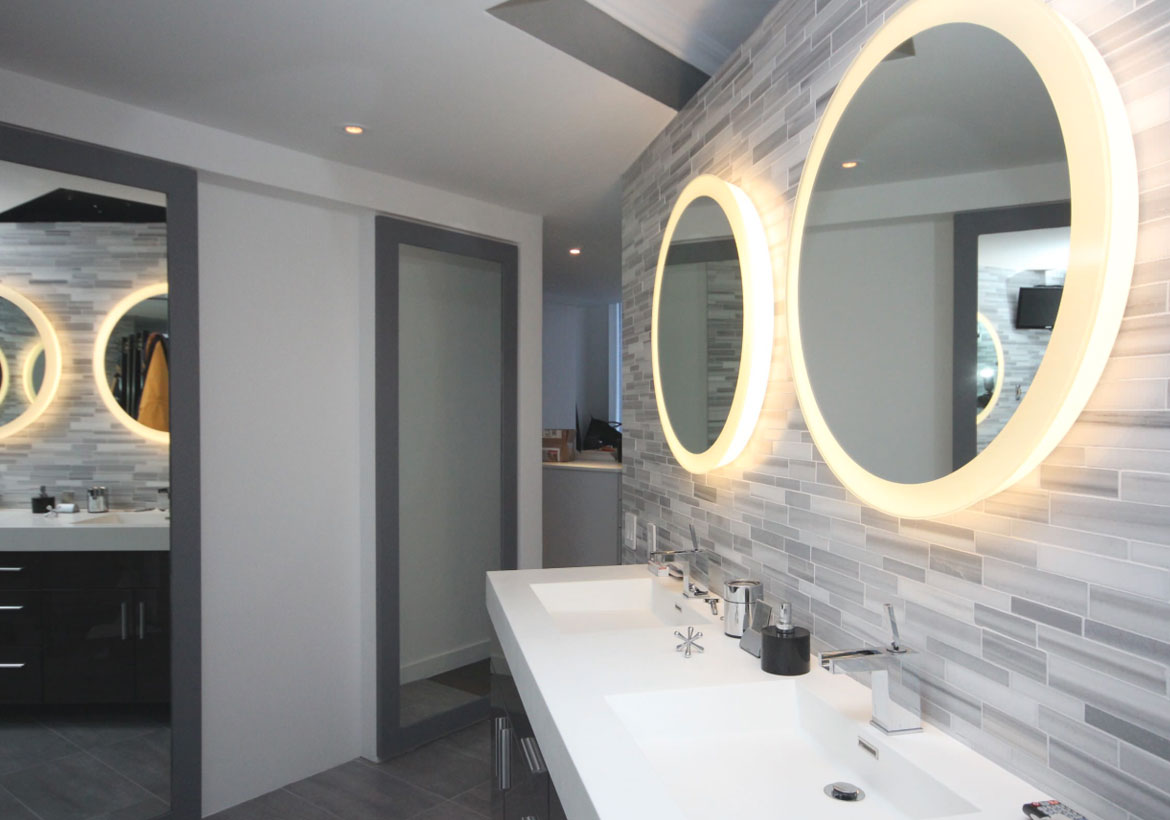 FRESH & BRIGHT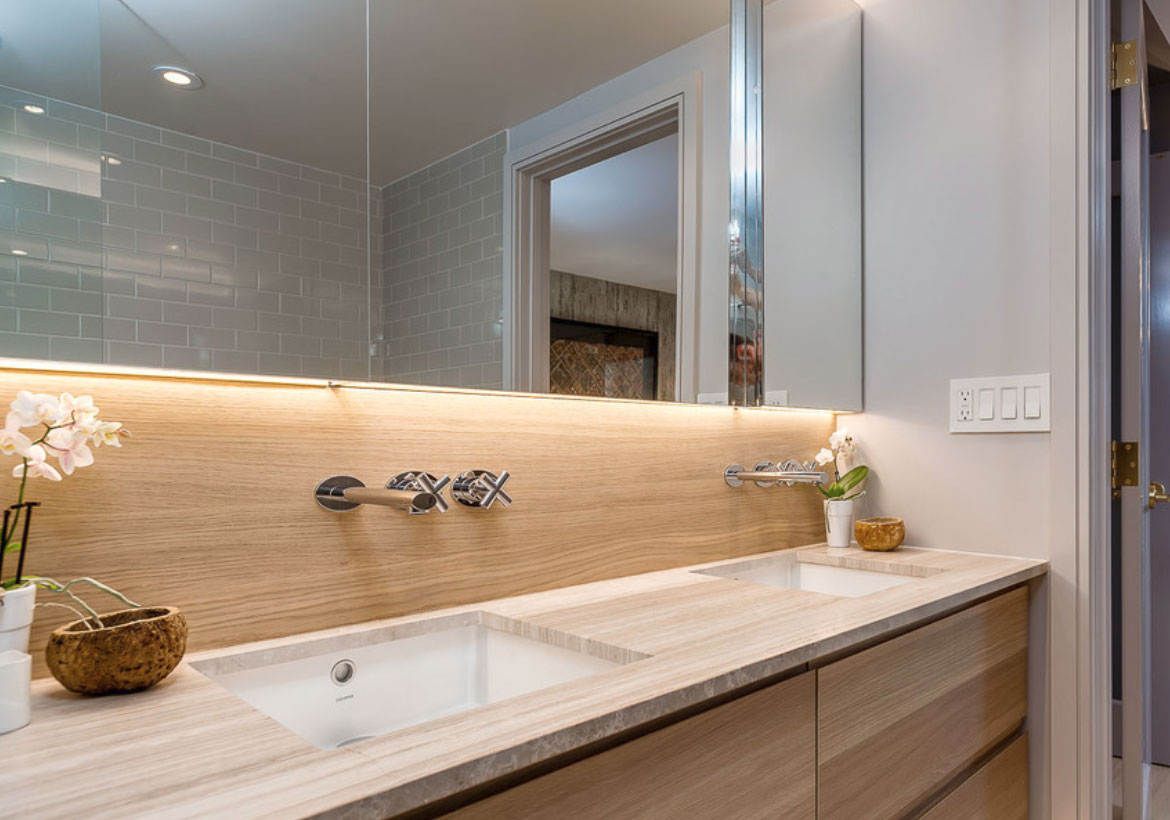 The mirror lighting, white oak veneer cabinets, and Bianco Piove marble give this bathroom such a fresh feel.
SOHO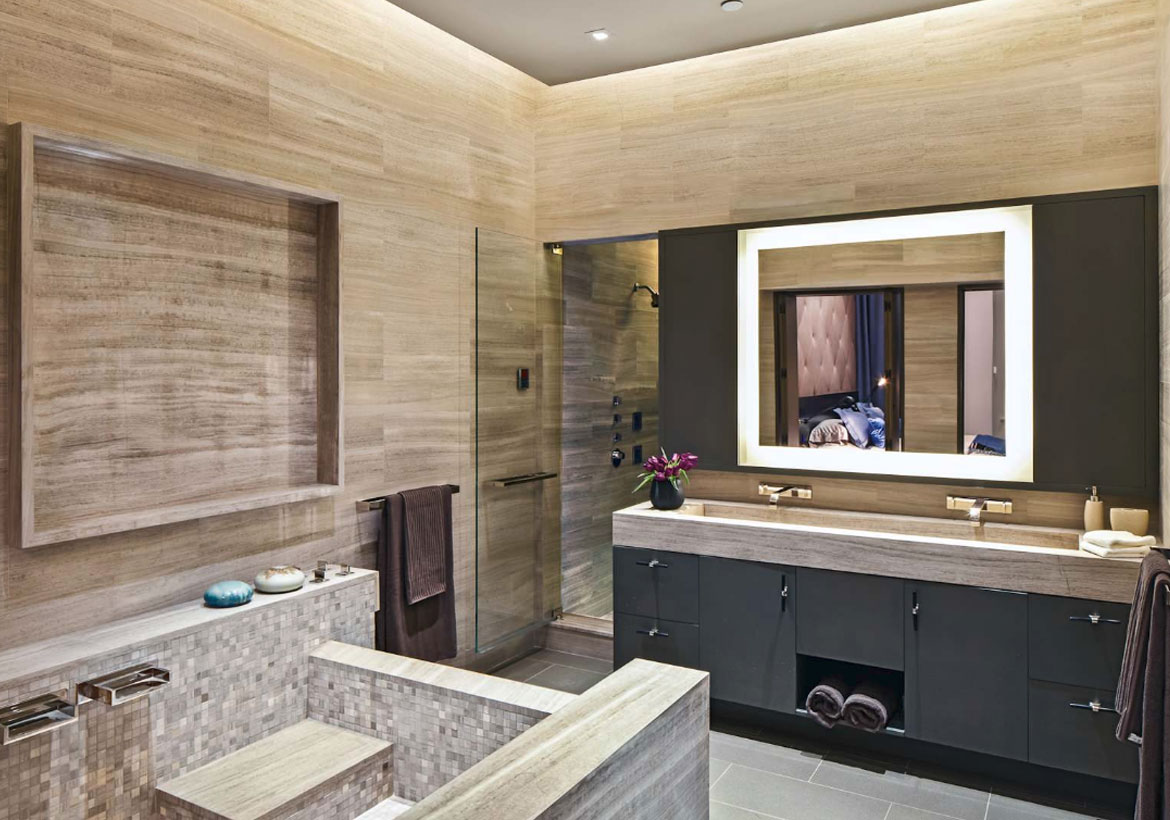 This Soho loft boasts one incredible bathroom!
SPA BATH
Gorgeous spa bath.  Plus this mirror includes a tv!
CONDO COOL
Cool & sleek contemporary condo bathroom.
LED NIGHT LIGHTS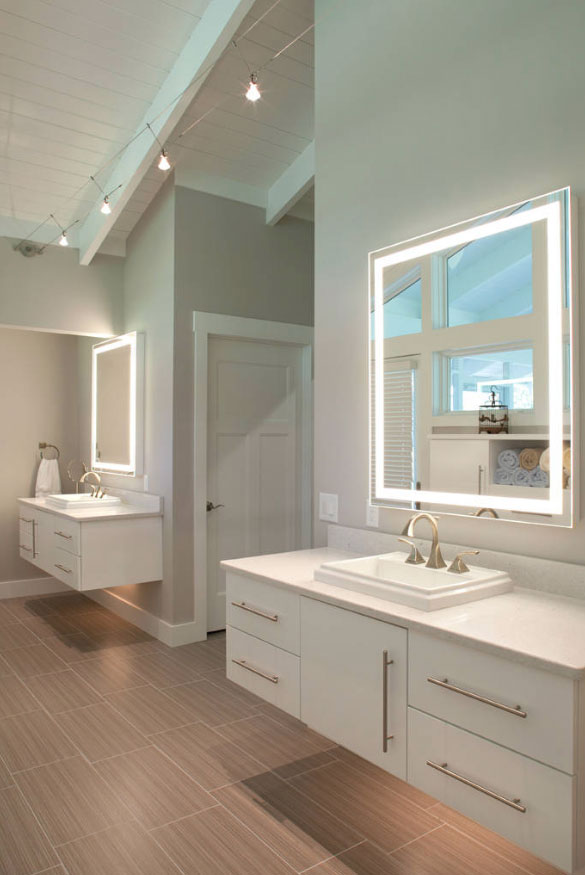 Besides the LED mirrors, this builder was able to use LED tape on the bottom of the custom cabinets that allow the homeowner to light in the evening as night lights. 
MADRID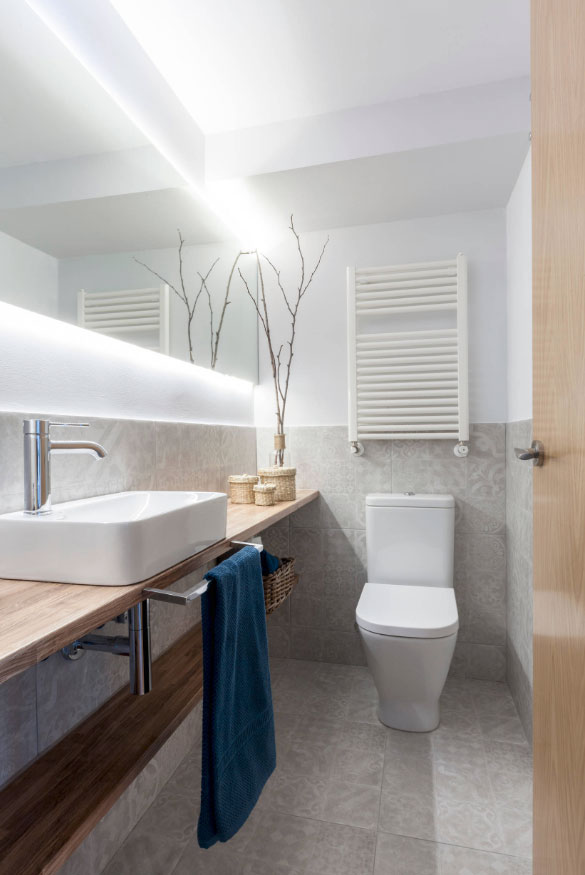 This sleek contemporary bathroom with the glowing mirror is located in Madrid!
BAMBOO
Custom cabinets made from bamboo and LED mirrors are just a few stunning features in this contemporary master bathroom.
IVORY ONYX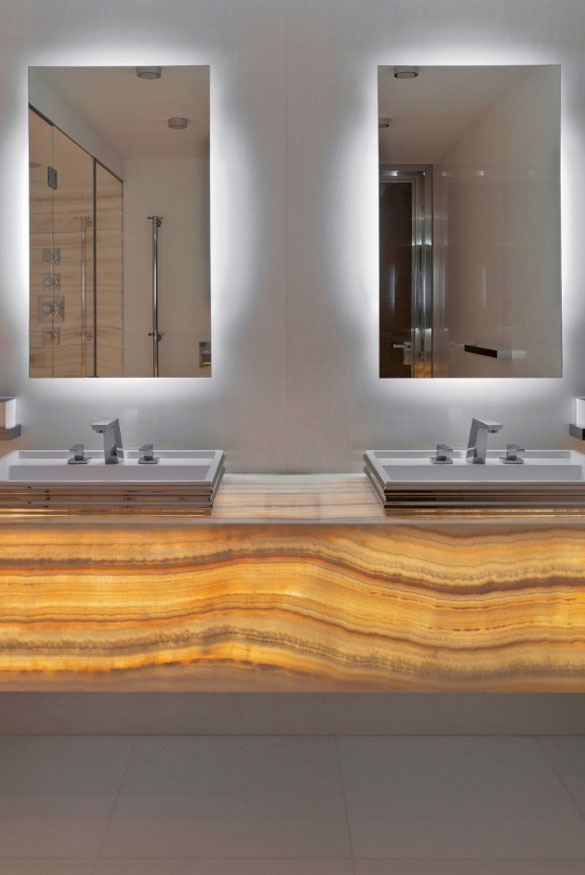 Wow!  Custom-made ivory onyx counter and custom-made LED lighted mirrors. 
HIGH-RISE STYLE
The awesome large mirror, counter, and sink are all custom in this high-rise apartment bathroom.
THE VIEW
What about that view?  Also, love the large round sinks.
BEACH STYLE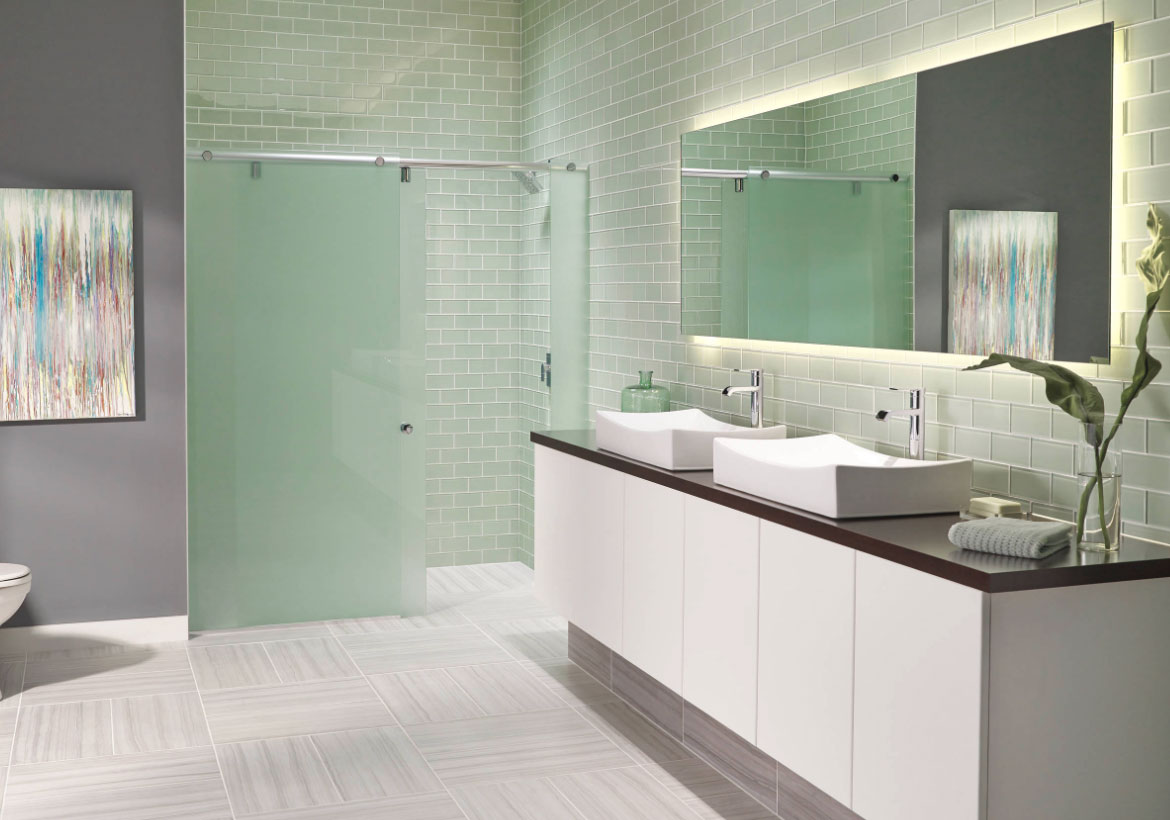 Soft, subtle beach style bath.
DOUBLE DUTY
Incredible double shower plus double LED mirrors and double sinks in this master bathroom.
AUSTRALIAN CUSTOM
Love the direction of the white tile behind the LED mirror.
COOL CUSTOM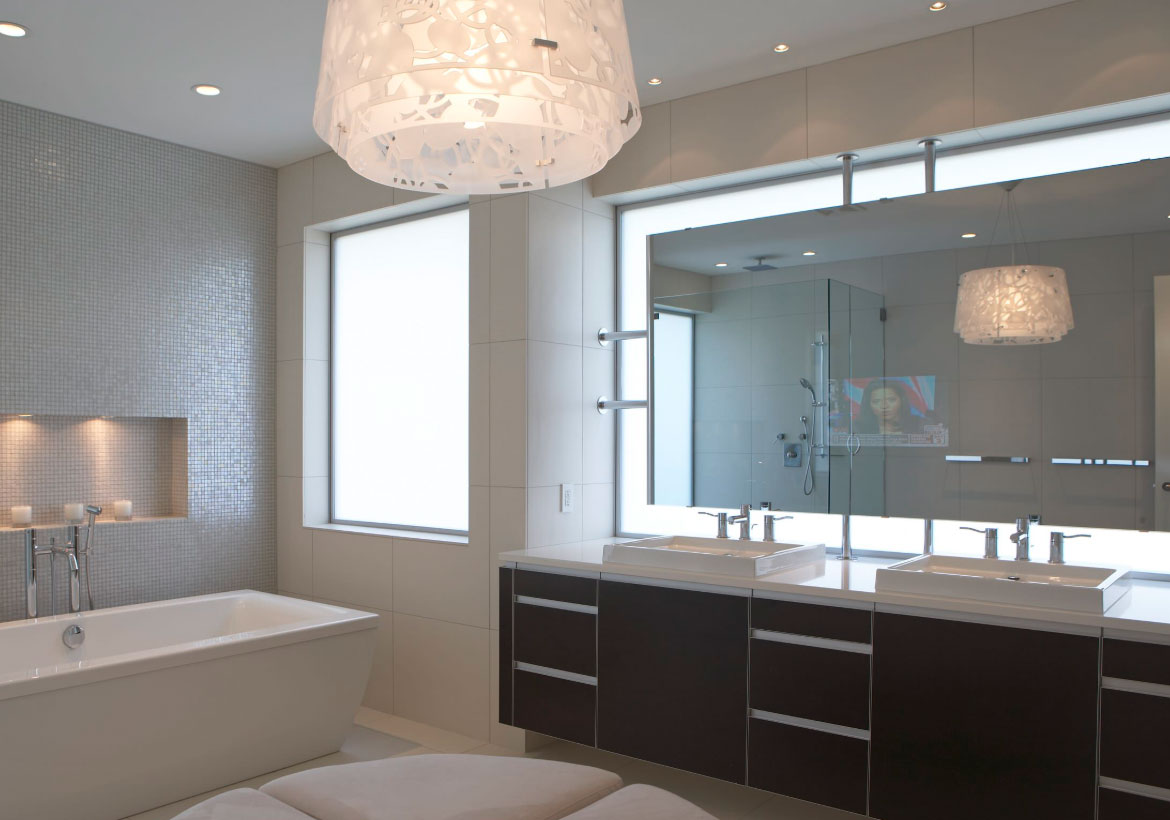 Can't fully tell — but this custom made mirror may be in front of a window, however, thought this was still worth sharing.  A similar effect could be achieved with LED lighting.   Note the TV behind it!  So cool.
BATHTUB BLISS
This large elegant & contemporary bathroom features a wonderfully backlit mirror & really cool bathtub.
POWDER ROOM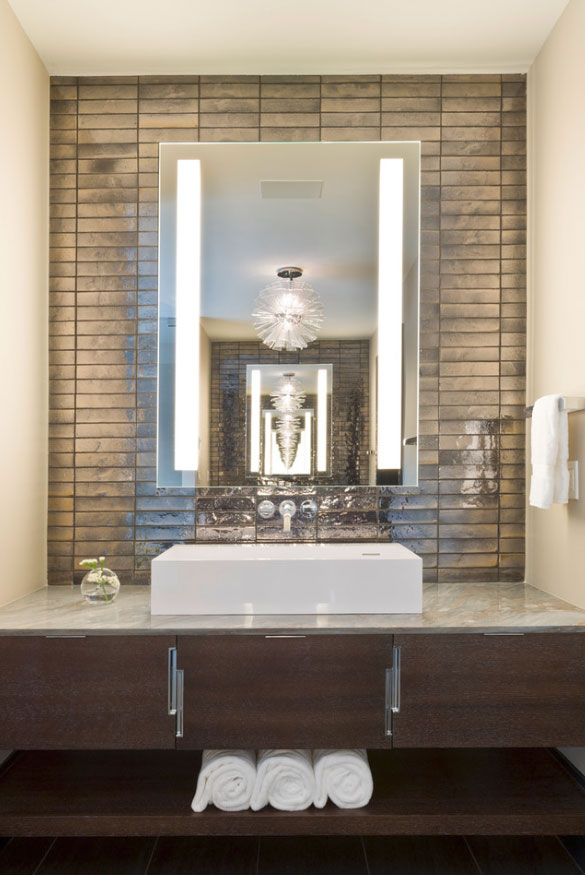 TONS of detail in this contemporary powder room!
TRADITIONAL LED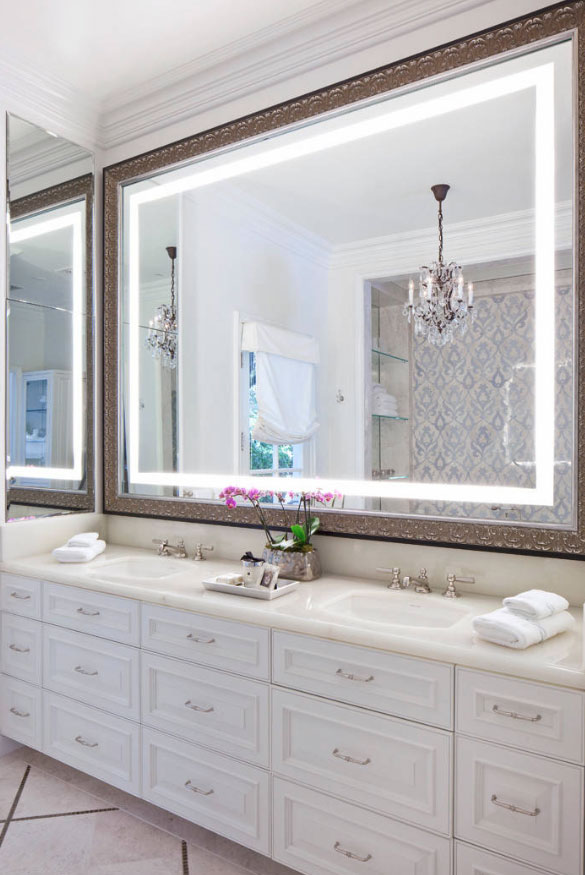 Beautiful & classy LED bathroom mirror.
SQUARE LED
This rich bathroom features a 42″ square custom frameless mirror with 3″ wide LED frosted glass frame purchased from Majestic Mirror in Miami.
LONDON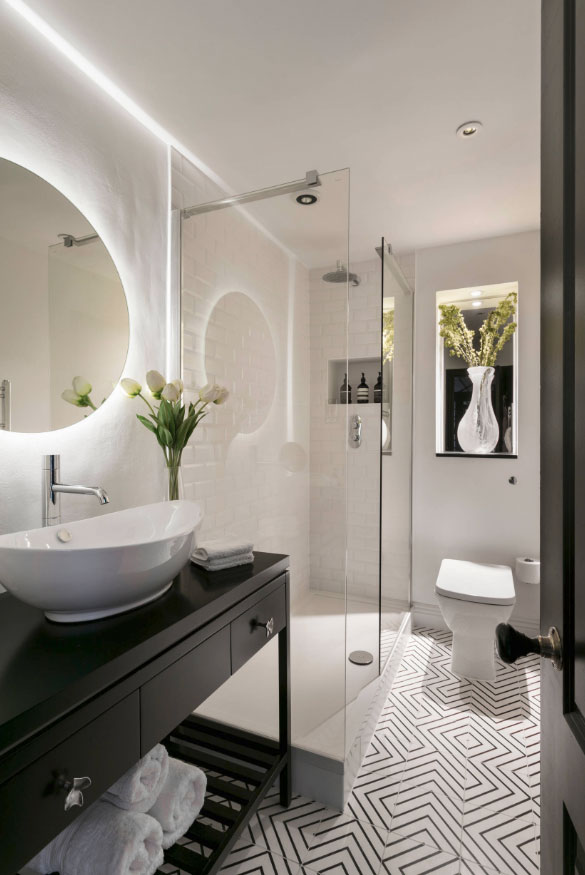 ILLUMINATED STONE
Love the stone feature wall behind the lighted mirror.
PURPLE PASSION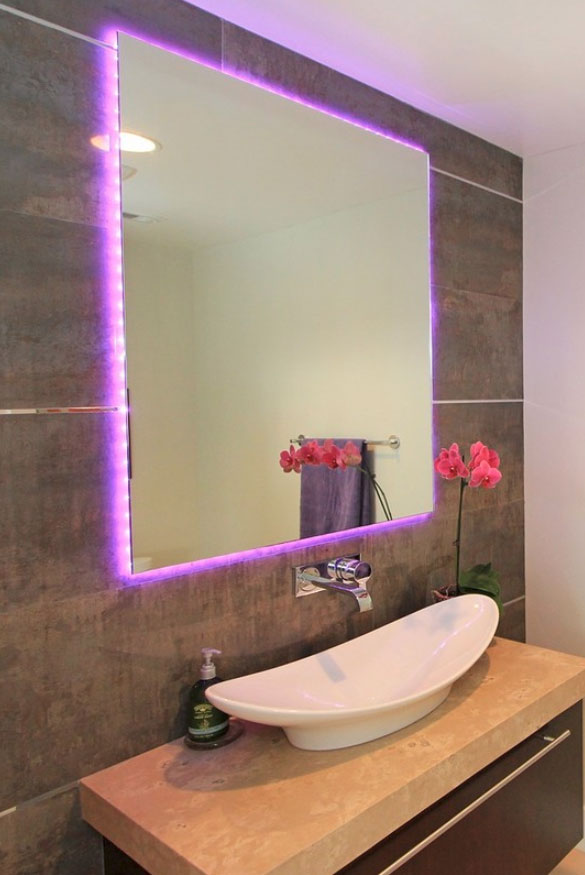 A unique purple glow from this LED mirror. 
MEGA MODERN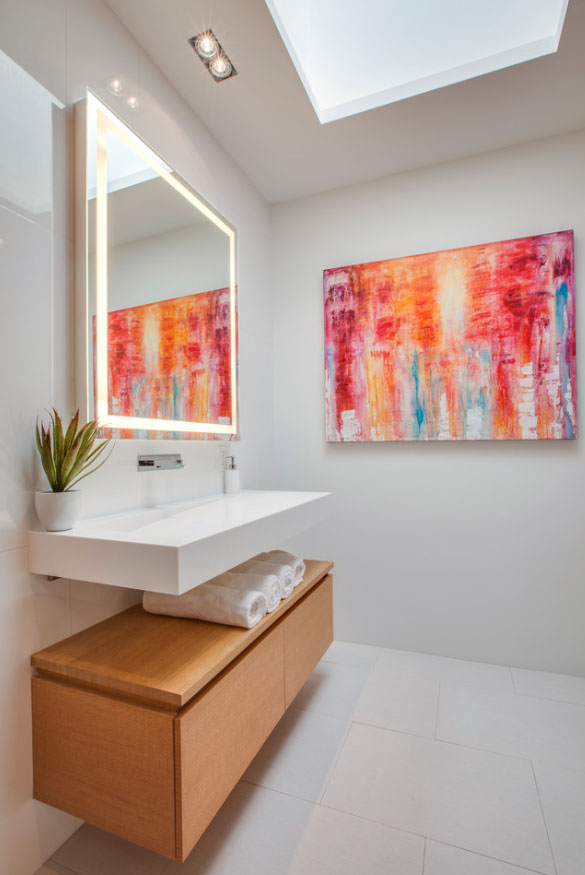 AQUA BLAST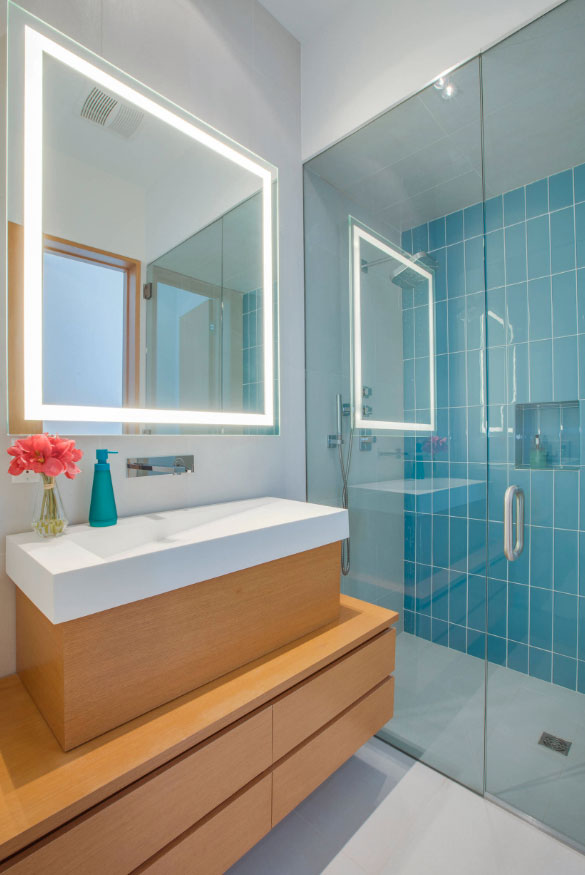 Another exceptional modern bath with a fresh pop of aqua color.
MODERN GLOW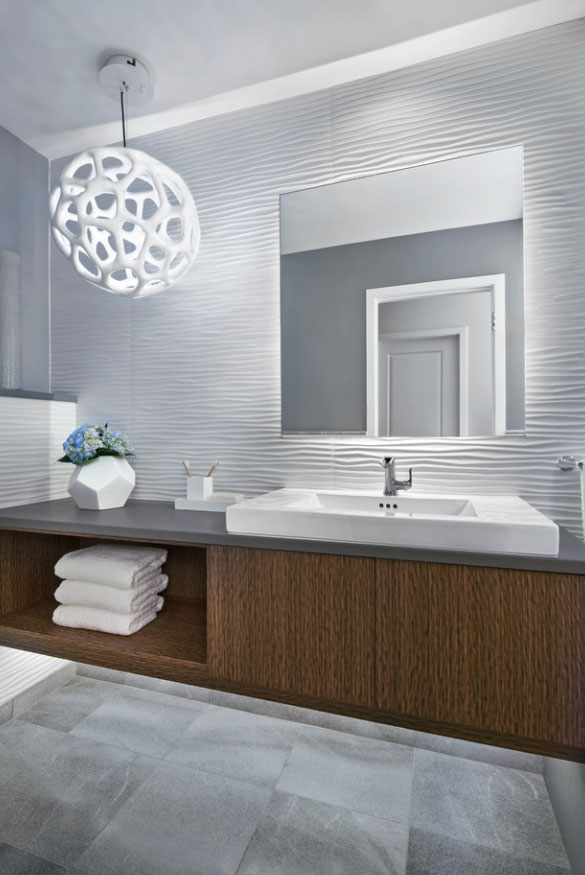 Cool accent lighting behind this mirror.  
QUARZO BLUE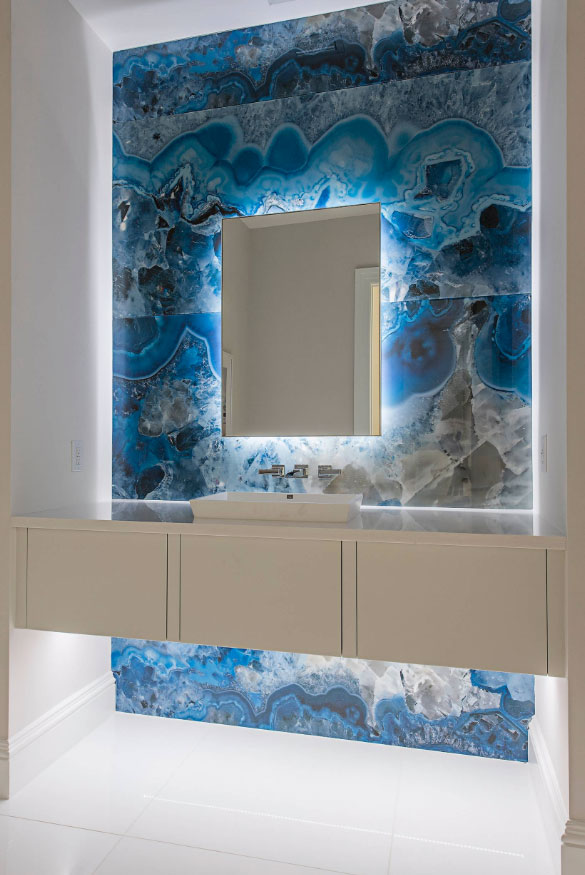 The wall tile is Quarzo Blue Mirrage Panel from Sorhegui Tile.
SUNBURST
This cool lighted mirror mimics "sun".  
RUSTIC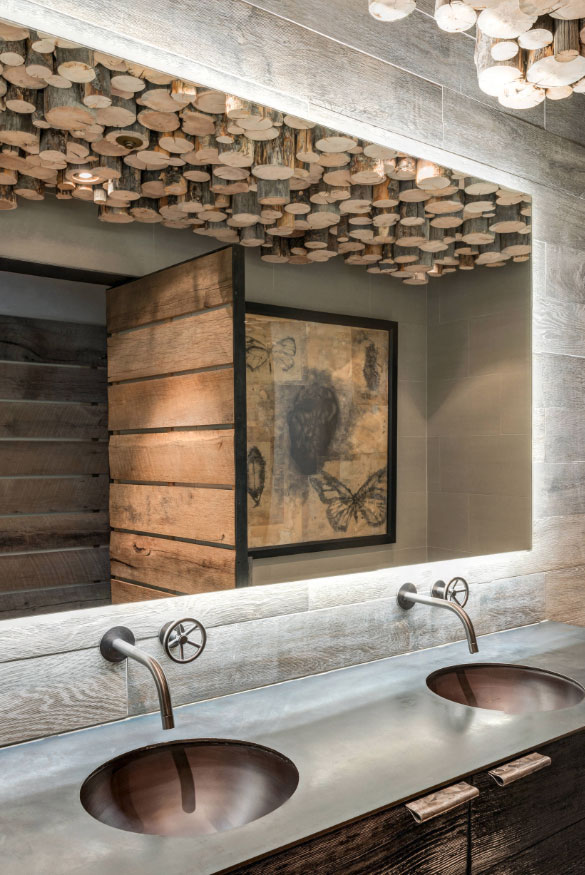 The ceiling in this rustic bathroom is unbelievable!
ROUND RUSTIC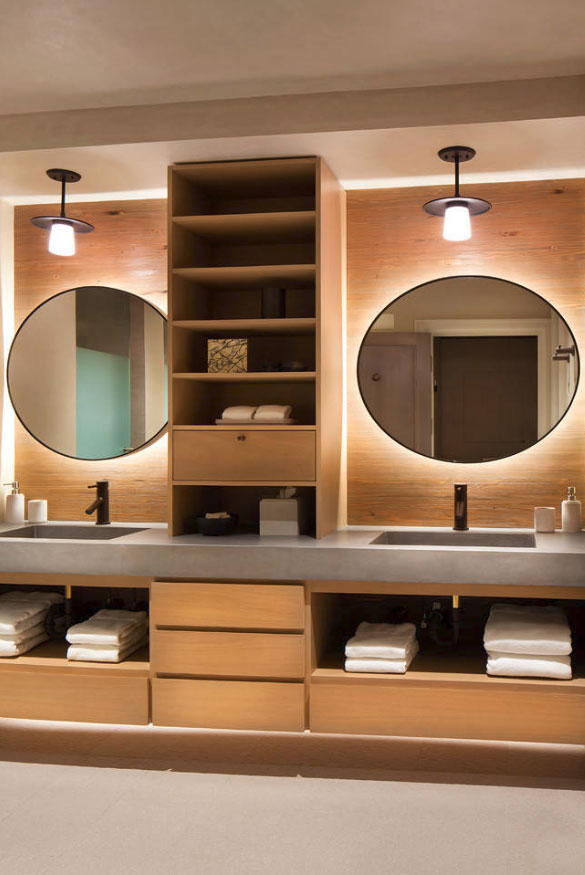 This designer had the mirrors retrofitted with the backlighting–built out from the wall using wood blocking and then LED strip lighting was run behind. 
PHOENIX POWDER
The architect of this project says that this look is usually achieved by having a 2×4 frame behind the mirror that pushes it out to create a reveal for the light.  Mirror mastic and simple channel clips are also used.
MOODY MODERN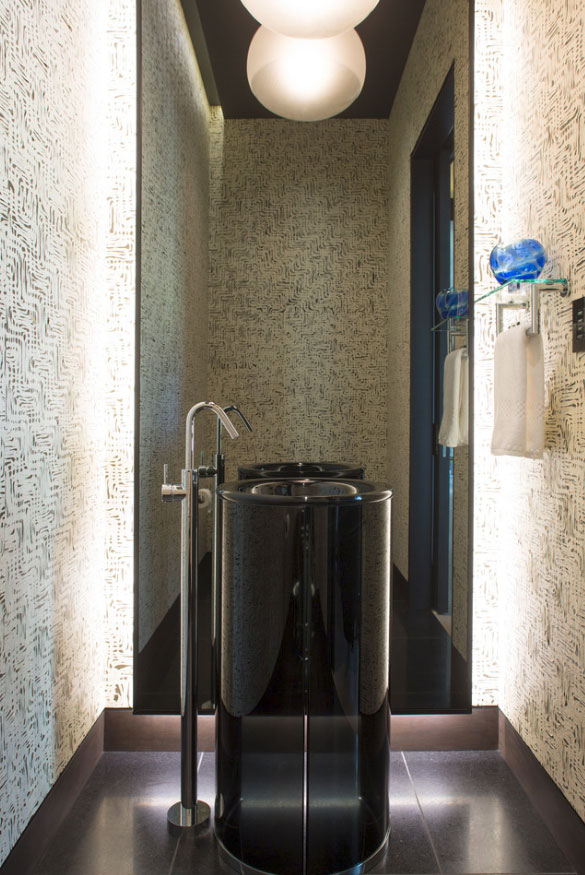 This designer created this cool "moody modern" powder room.  The mirror is backlit from floor to ceiling.
The LED light feature isn't just for bathrooms.  Here a few examples of LED mirrors in other areas of the home.
LED DINING
The lighting behind the mirror in this dining area must look amazing at night!
LED HANGOUT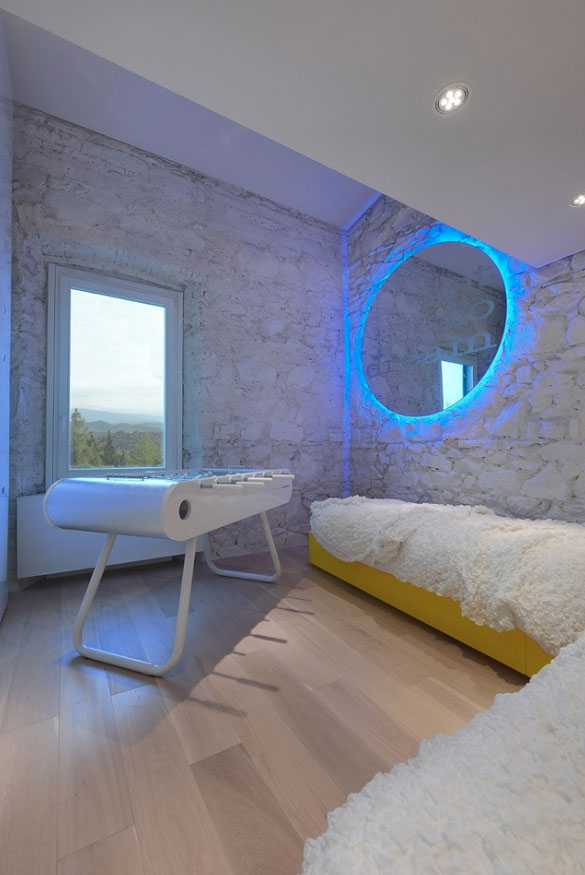 Interesting and unique hangout.   The blue glow behind the mirror adds a captivating focal point. 
LED BAR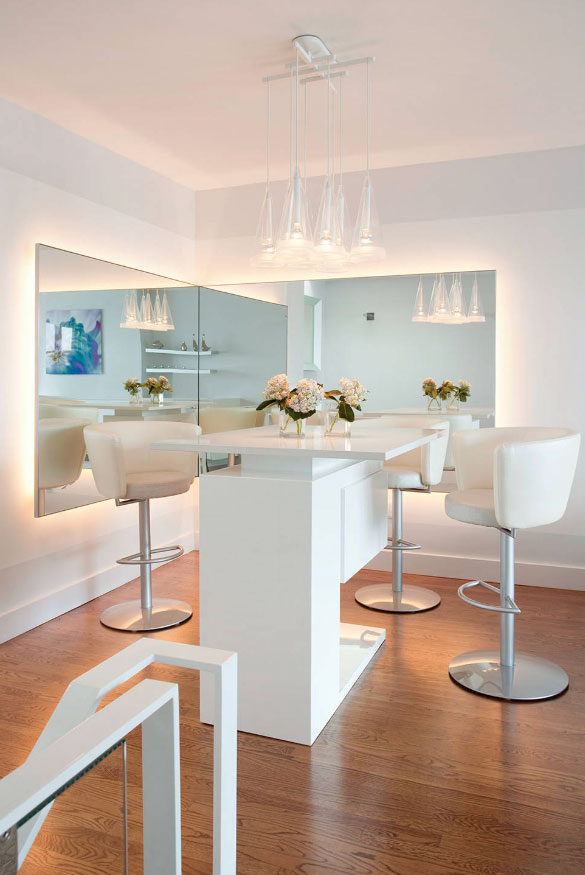 Fun contemporary bar area with a cool glow.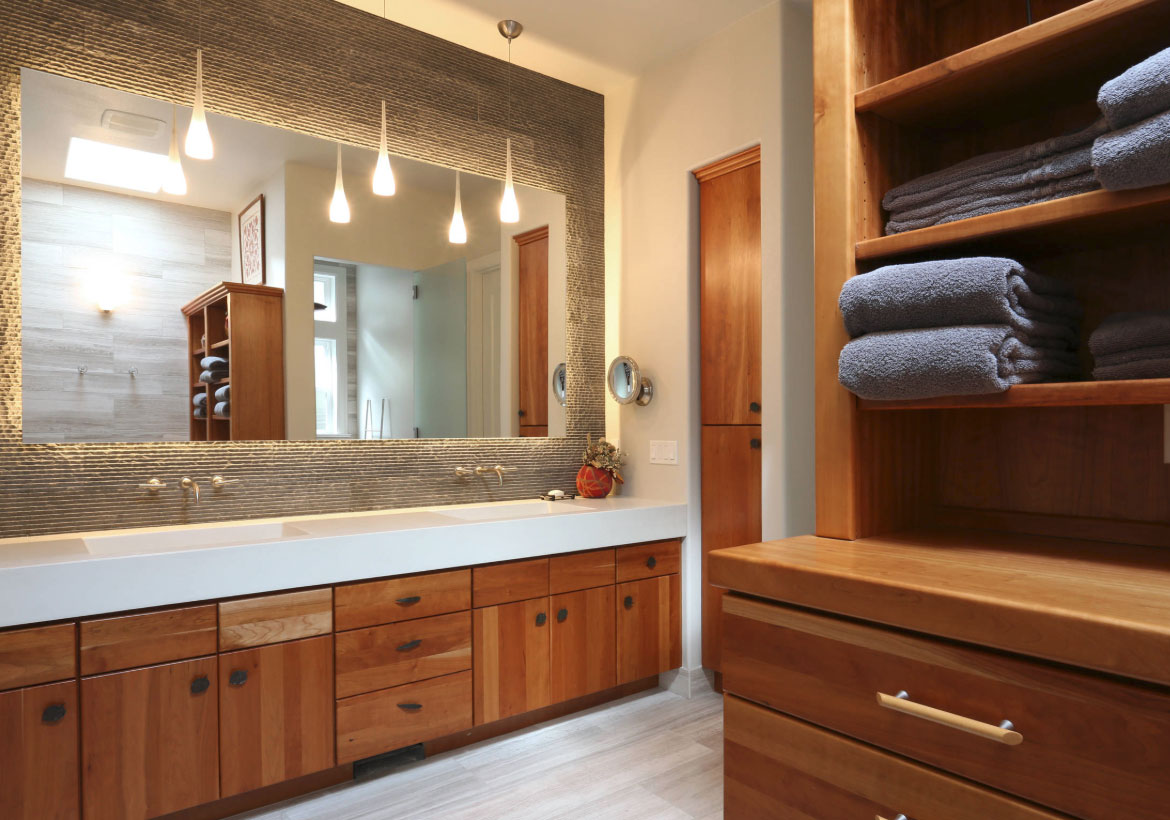 Wall Mirrors
A wall mirror with LED lights is a popular and easy addition to your bathroom. Incorporating a mirror LED light into your bathroom can open you up to a variety of opportunities that will allow you to make the most of your space. A LED-lighted wall mirror can be mounted or propped up, and it typically includes a backlit area so that you can get the most efficient use of lighting.
Wall mirrors are a good choice when considering different mirror sizes for your large or limited space. The biggest advantage to this kind of mirror is that you will be saving tons of money on your monthly electric bills. By switching from incandescent to LED lighting, you are investing in an energy-saving solution that not only makes your lights last longer than traditional bulbs but also reach further while spending less energy.
Infinity Mirrors
Have you ever heard of an infinity pool? Well, an infinity mirror takes that same concept to add a touch of modernity and creativity to your elegant bathroom. If you are currently remodeling, and looking for a new and vibrant aesthetic, this might be the right kind of LED mirror for you.
Infinity mirrors come in a huge variety of shapes and sizes, allowing you to truly think out of the box with this one. Usually, this mirror is lit by LEDs on the back, which gives a glowing effect. It makes the mirror seem like it itself is the source of light, which can give a much more reflective view when you are trying to concentrate on something in the mirror.
Backlit LED Mirror
As mentioned earlier, there are many different ways that you can incorporate LED lighting into your mirror to give you the type of lighting functionality that you are looking for. But a special mention needs to be given to backlighting, as this is often the most popular and practical choice for a variety of different needs.
Backlit mirrors are illuminated freely, without the need for attached cords or wires. Not only does a backlit mirror allow you to more easily see, but it also brings to light some of the smaller details on your face that you may not have noticed under normal, more traditional light sources.
Most backlit mirrors come with a way to swipe your hand or use a single touch to turn them on and off. It adds even more functionality to your bathroom, allowing you to get ready with both of your hands without having to worry about turning the light on and off manually. Not only is this a great idea for residential bathrooms, but for company washrooms as well.
Heated Defogger or Demister Mirrors
A heated demister mirror (defogger) is a specialty mirror that is built with a thin heat pad on the back of it. This heating pad is used to eliminate moisture and steam from building up on it. You're no stranger to the effect hot water has on mirrors, making it nearly impossible to see into the glass after a hot shower. However, demister mirrors help you get rid of that wait time, allowing you to use your mirror right away.
Now, you can find both a demister mirror and an LED mirror combined into one. Not only does it offer heat to get rid of any leftover moisture, but it also comes with a reasonable amount of LED options so you can customize your backlighting solutions. It's good to consider a mirror that comes with a variety of different features and options to help you best enhance your bathroom experience in a way that works best for you.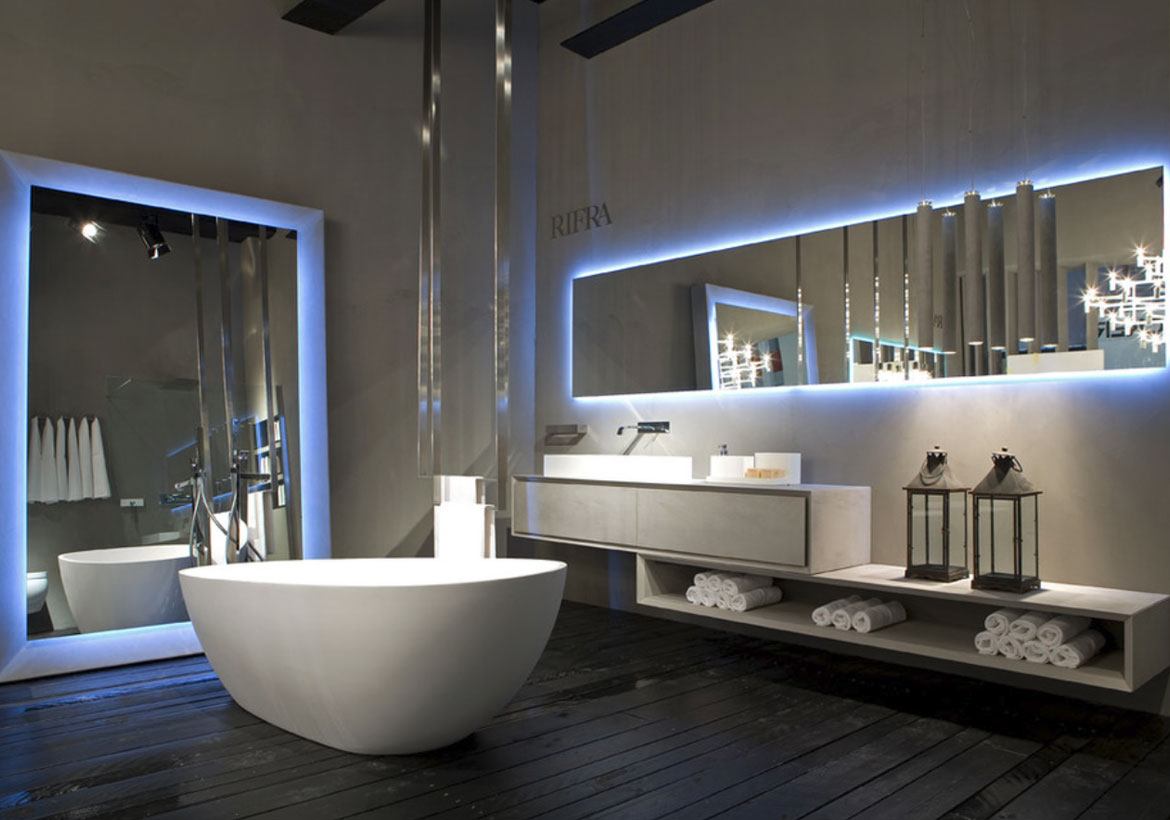 Check Out Your LED Mirror Options Today!
Before you nail down a purchase, consider what exactly you are looking for. Having a mirror with elegant lighting is a great way to help you see better and enhance the reflective surface of the glass so you can truly look at every angle. But beyond that, you should be considering what kind of lighting you want.
Overhead lighting is great for being able to see a wide scope of the room. Side lighting helps you see in one area or the other. Backlighting illuminates the entirety of your face, which is reflected in the glass of the mirror for a vibrant look at your skin and hair. Choosing the kind of lighting you prefer all depends on how you need to see, and what you think would best enhance the lighting situation in the bathroom.
Plus, there are many types of mirrors to consider. Infinity? Standing? Wall-mounted? You know your bathroom and your needs, and that can help you decide on a modern LED mirror that works for you.
This is an image roundup post, curated to showcase and promote other reputable contracting companies' and their amazing work. To have any of the images removed, please reach out to us and we would be happy to do so.