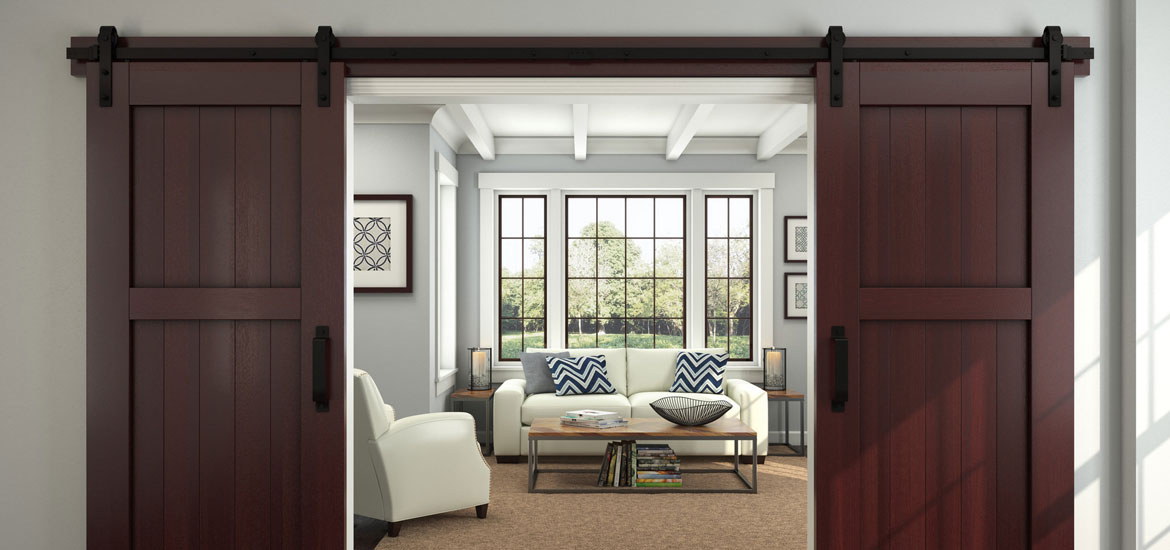 Barn doors are not just for barns anymore. From the countryside barns, these wide sliding doors have entered the house to become popular interior décor pieces. From cozy bedrooms to rustic home offices and perfect room dividers, barn-style doors are all the rage for homeowners.
Why Sliding Barn Doors?
Barn doors come with both functional and aesthetic benefits. Functionally, they are big space savers. The traditional swinging door typically needs 9 feet or more of space to function properly. While this may not be an issue for large houses, more space-starved homes will find it more than a little problematic. They need all the space they can get for furniture, appliances and movement. Nine feet is a lot of space to leave to the door. French doors, as beautiful as they are, are even bigger space gobblers.
In a small space where every single inch counts, sliding barn doors come in handy. A well installed sliding barn door offers great space economy for whatever room you use it in. Of course, you need to have enough adjacent wall space for the barn door to slide over when it is opened. But this is often preferable to similarly space-saving pocket doors that require much more work to install or remove.
A small disadvantage with sliding barn doors is that they may not close as quietly as traditional doors. But a good contractor should be able to install it in such a way that noise is reduced to a minimum.
Looking for Barn Doors with Glass? Check this Article Out: 23 Sliding Barn Doors with Glass
Other Sliding Barn Door Advantages
Another advantage of sliding barn doors is their support system. Sliding barn doors use a track for movement. The entire weight of the door is therefore distributed along the length of the track. This allows for the installation of heavier-than-usual doors without affecting stability of ease of movement. For places that need more security but are limited in space, a heavy sliding barn door would work just fine.
There is also, of course, the aesthetics side of the sliding barn door craze. Some sliding barn doors have this rustic outdoorsy feel that creates a stunning contrast when indoors. This contrast is especially enhanced if the door is styled in a worn, rustic design that makes it seem like it was taken right from the barn outside and installed inside.
The result is a surprisingly warm feeling ideal for any home renovation project. You can use it in your garage, bedroom, home office and bathroom. For a more modern look, you can give the barn door a polished look matching the walls. There are several sliding barn door bathroom and bedroom images below to give you some inspiration.
EXTERIOR BARN DOOR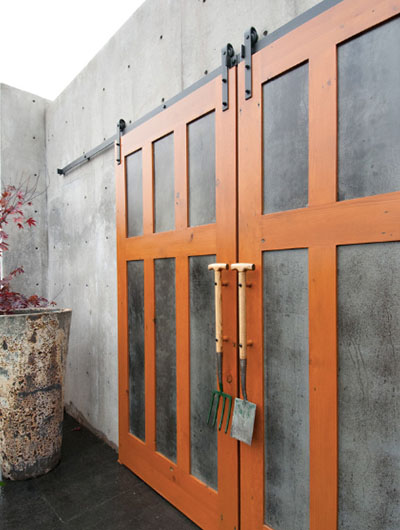 Sliding barn doors to enter a lovely garden space.
BRIGHT RED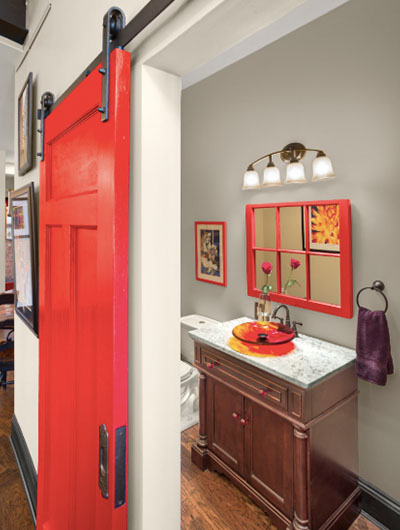 The red sliding barn door is repurposed from a boarding house.
TRANSITIONAL DINING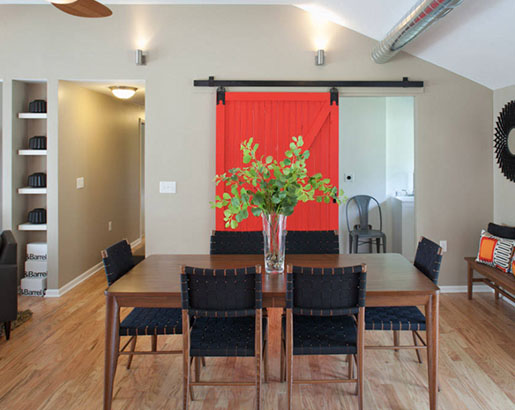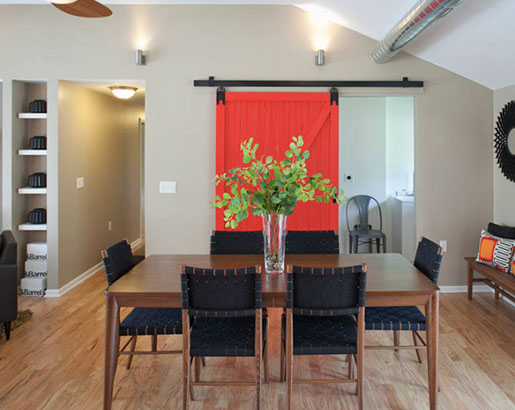 Red barn door with a full view of the dining table.