Keep in mind that your niche may require bullnose tile, especially when utilizing ceramic tile that doesn't have color through the clay body. This may be tricky with porcelain but is seldom a problem with stone.
Indicate all sides and back of your niche. If the niche is mosaic resting in bigger field tiles, it regularly works best for all five walls (back, sides, top, and bottom) to be mosaic. In case the tile is glass, it permits you to cover up the cut edge behind the field tile which is frequently less demanding to work with.
Make sure your contractor waterproofs the niche with an item like Red Guard and guarantees there's appropriate drainage into the shower area. This can be especially vital with mosaic tiles. A spill from a niche will cause considerable damage over time.
Here are some of shower wall niche ideas we have curated for you to get some inspiration! Go through these shower niche ideas and tell us your favorite. We're more than happy to help you with your next project.
In fact, you can take a look at our free guide, Remodeling 101, for the latest and greatest remodeling ideas and tips for first-timers. The more information you have, the easier it will be for you to accomplish the bathroom remodel of your dreams.  All the best!
DARK STONE MARBLE
This horizontal shower niche is perfect for the marble stone effect of the wall. Marble wall is an elegant addition to any shower room. It is exquisite, timeless, and really classy.
NATURAL LIMESTONE
Standard limestone accent wall tile and satin nickel installations offer tranquillity and warmth to the shower.
MEDITERRANEAN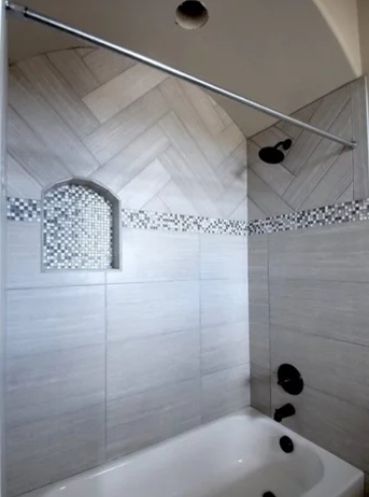 The curve of the top of that shower niche is simply stunning! Combined with mosaic tiles, it's amazing how a small shower niche can be the highlight of your bathroom.
CARRARA MARBLE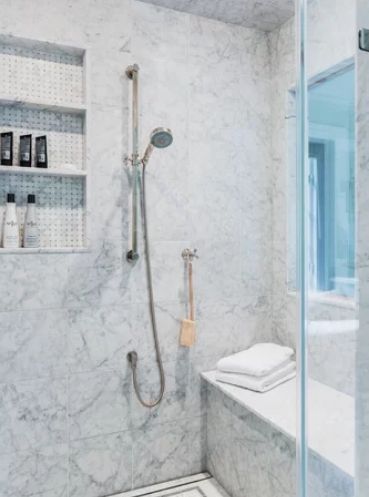 Looking to be more creative? How about a three-tier shower niche? This effectively organizes your bath essentials and very pleasant to look at too!
STACKED TILES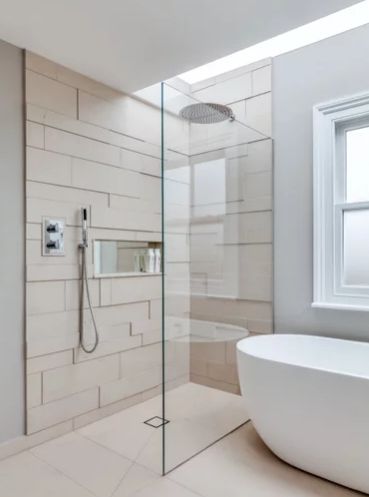 How lovely are these stacked tiles effect? Also, the placement of the shower niche is perfect for those who need a quick shower fix.
ITALIAN PORCELAIN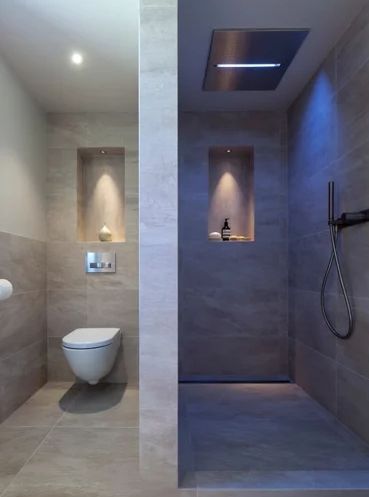 We are obsessed with illumated shower niches! The dim ceiling light highlights the shower niche even more.
CHECKERED
These two mosaic shower niches on a plain white wall are a standout in the shower area.
SHADES OF GRAY
Three-tier shower niche with three-tone tiles are thrice the fun! We can't get over with this one.
MOSAIC TILE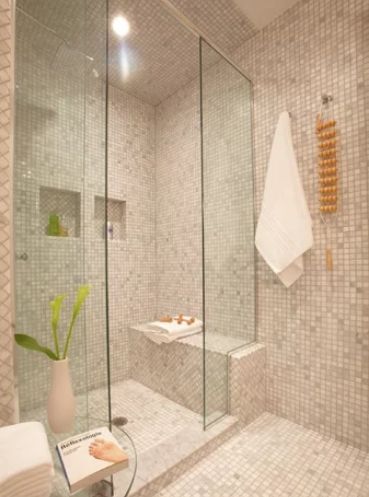 This is simply stunning. There is something about mosaic tiles that make them irresistable. Their handiwork and details give them an edge over bigger tiles.
LARGE SPACE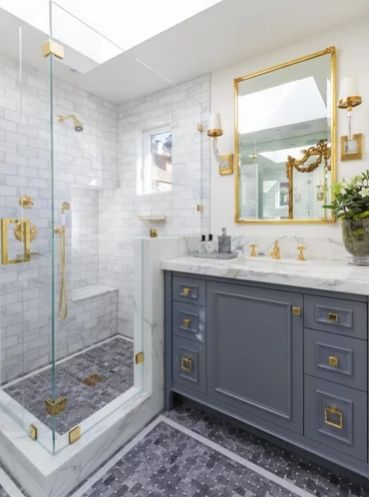 If you have a space to spare (or a lot to put), a larger shower niche may be a good idea.
If you're planning out all of the exciting details for your new bathroom remodel, you'll definitely want to consider the shower niche.
But what exactly is a shower niche?
Known as convenient cubbies in your shower wall, the shower niche is the thing that will save you the frustration of knocking your shampoo bottles off the edge of the tub every time you take a shower. Not only is it one of the biggest bathroom design trends on the market right now, but it is also something fairly affordable and small that can add a nice touch to all of your new bathroom changes.
A shower niche (which is sometimes called a bathtub niche) is a little bit of extra storage inside of your shower wall where you can keep your hygiene products and items that would otherwise spill over the edge of your tub. Not only does it save you from having to rescue bottles from falling to the bathroom floor, but it also keeps your bathroom looking neat and tidy.
Beautiful Shower Niches in Finished Bathrooms
Below, you can take a look at the finished product. Note how shower niches can come in a number of shapes, styles, and measurements to fit your exact needs. Whether you have a long shower wall to accommodate, or you just want to carve out a small space for a couple of essential items, there are plenty of options available to you.
PENNY ROUND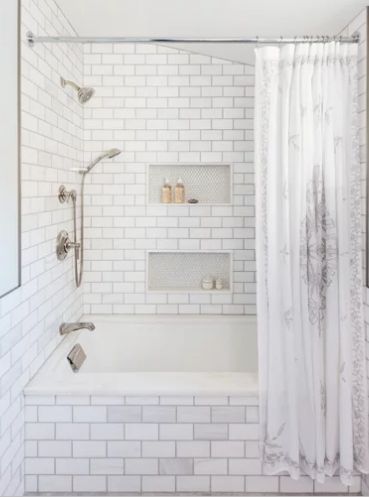 Don't you love shower niches? The contrast it gives your wall tiles breaks the monotony and make your shower room stand out even more!
BLUE MOSAIC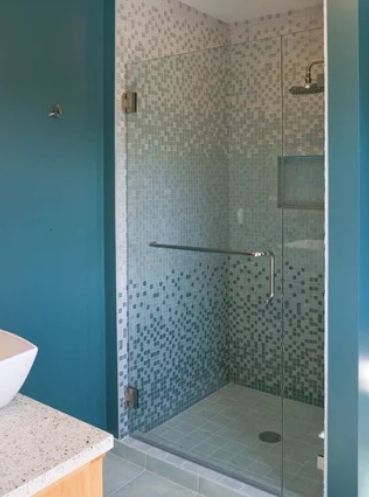 Who else is loving this modern beach vibe shower room? The shower niche is also conveniently placed under the shower. Win-win!
NATURAL STONE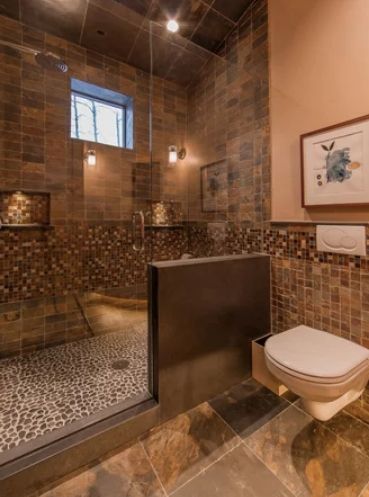 We are in great awe of these brick tiles! Modern, yet rustic. We love every inch of this shower room.
CONCRETE FINISH
Concrete finishes are boring, you say? Wait until you see this stunning shower room by Melissa Winn. That shower niche may look rugged, but it is also chic and classy.
Why are Shower Niches So Popular?
Surprisingly, shower niches aren't as popular or well-known as you may think, especially with them being one of the hottest trends of the bathroom remodeling world. But the reason they aren't installed even more frequently than they are is that most homeowners don't think about those little inconveniences when planning for a bathroom redesign.
In other words, how often do you think to yourself, "I wish I had a place to put my shampoo bottles and soaps so I don't have to litter them around the edges of the tub"? You really only think about it when you are actively showering. Otherwise, it's out of sight, out of mind.
Let this guide serve as an important reminder to include those little conveniences as part of your remodeling plans.
And probably the biggest boost to the popularity of shower niches is this:
They are very affordable. Some contractors and design experts can help you carve out a shower niche without costing you an extra penny on your initial budget. Talk about a win-win situation!
WOOD & MARBLE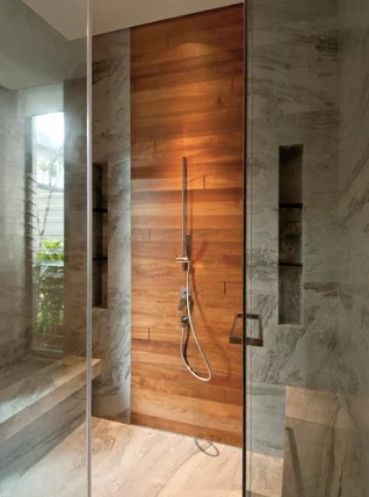 This space saver shower niche is perfect if you want to have symmetric shower niches in your bathroom.
DOUBLE NICHE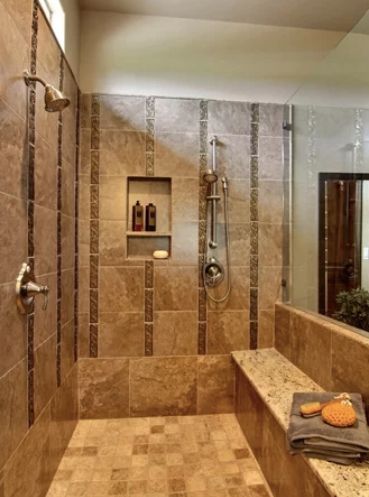 Two separate shelves for your soap and your shampoo? Why not! The natural light coming through this bathroom is also a winner.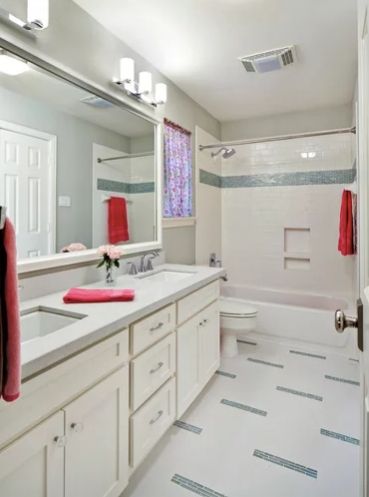 This shower niche looks clean and neat. If you don't want to play with textures and designs, you can opt for plain shower niches. Simple, but very nice looking!
METAL EFFECT
We love the elements on this bathroom. Its industrial design and the colors make it a stand out.
Is the Shower Niche Right for You? Here Are Five Ways to Find Out
Shower niches come in different styles and types, so you have a wide variety of designs to choose from. Typically, all shower niches can be categorized as either tiled shower niches or finished shower niches. The kind you like most depends on you, as both provide the same function and level of design.
Below are examples of a few different variations of tiled and finished shower niches to give you a better idea of the diversity of use in this space.
1. Preformed Niche
The preformed shower niche is a type of tiled shower niche that is identifiable because of the way it is installed, as well as the type of materials used. It may be obvious to state this, but preformed shower niches are built using waterproof materials. They are easy to install, but they only come in a few different sizes, so this may not be the best option for a customized look.
2. Custom Niche
A custom tiled niche can be made in any shape and size depending on what you're looking for with your new bathroom remodel. Your trusted contractor will have to make a custom box that's framed to the shape and size of your preferred niche.
Keep in mind that going this route requires an understanding of where your wall studs are. You will have to secure this new niche box to the wall and coat it with waterproof materials. This option may be slightly more expensive than a preformed niche.
3. Retrofit Niche
Much like the preformed tiled shower niche, the retrofit niche is a finished shower niche that already comes fabricated and ready to go. All you need to do is install it into the gap that you or your contractor have created in the wall of your shower. A strong adhesive secures the premade frame to the cubby.
4.  Membrane Bond
This may not be the most attractive name, but this type of finished shower niche is really popular for those who want an affordable and easy-to-install niche. It is called a membrane bonded niche because it comes with some external space to apply the waterproof adhesive.
5. Recessed Niche
Technically, all shower niches are recessed, but you can order a prefabricated niche in either tiled or finished styles that comes with a recessed shelf. Popular prefabricated niches are typically made of plastic or galvanized steel, adding durability and resistance to an already top-tier piece of custom work.
Here are a few more examples of beautiful custom and tiled shower niches that add depth to the overall design of the bathroom.
CONTEMPORARY SHOWER
Here's modern master bathroom with floating bench and illuminated shower niche. Illuminated shower niches never disappoints! An additional work is very well worth it.
POMPEII SCARPELETTO
The gray tiles with semi-concrete finish seal the deal. This simple yet functional shower niche is perfect for those who have limited space.
Get Inspired By These Shower Niche Designs
Shower niches come in different styles, shapes, and designs depending on what suits the needs of your bathroom the most. Here are a few common designs and styles that you can easily find through your contractor or hardware store:
Custom Shower Window Niche. This idea includes a custom finished niche that goes all the way through the wall to create a window. Finish the look with custom glass and you'll have a nice recessed shelf to store your bath items.
Tiled Farmhouse Window. You can purchase a prefabricated shower niche that includes a window setting with a frame that can be installed on your shower wall. This works for both tiled and custom shower types.
Custom-Built. Instead of going with anything prefabricated, you can opt for a total custom look. Work with contractors to get size specifications. You can also pick your own materials.
Tile insert. You can get pre-assembled tile niches along with custom niches, which may be advantageous to you if you don't want to pay for a custom build. They are easy to install, but they are a bit fragile, so you should be careful when handling them.
The most important thing to consider when building a shower niche is to never compromise the structural integrity of the wall. When making your measurements and planning to cut out some space in your bathroom wall, make sure that you are not cutting into a load-bearing wall. It's best to consult with a professional to make sure that your plans for a shower niche are sound.
Top 6 Bathroom Shower Niche Ideas
Shower niches are a need in today's bathrooms as they offer a discrete, steady, and dependable storage solution for cleansers and shampoo bottles. Hence, say goodbye to utilizing the floor or the corner of the tub for this reason. Shower niches take care of this issue and also improve your bathroom design, making a beautiful focal point within the shower area. Furthermore, to assist you in choosing between the possible shower niche tile ideas, we bring you a selection of shower wall niche ideas that will make the most of your bathroom space. One look at these alternatives, and you'll be prepared to begin your next renovating project.
1. Utilizing The Same Tile From Wall To Built-in Shower Shelf
Shower niches don't have to be all about creating a statement. If you're seeking out for a modern and minimalist styling in your washroom, you must utilize the same tile all through to make a calm and consistent transition from the recessed shower niche to the wall. Colors like gray and brown are genuinely in for shower zones, as well as stone or wood finish.
2. Enhancing the Shower Shelves With Mosaic Tiles
Niches are also incredible for playing with designs, presenting textures and blending colors, thanks to the use of mosaic tiles. You can combine a classy metal mosaic with typical finish tiles, accomplishing an exceptional result.
3. Spreading The Shower Wall Rack All Over The Wall
You can make the shower niche as huge as you would like and even utilize the entire wall to expand the capacity space. It is an appealing alternative for both small and huge showers, so there's no excuse to incorporate this component into your washroom in your next project. Besides, it also includes a sense of profundity that will make your shower look bigger.
4. Illuminating The Ceramic Shower Niche
If you would like to create the shower niches more of a highlight, put a thin light at the top or the bottom of the niche and make a satisfying lighting effect inside the room. It'll make a focal point that includes status and command attention.
5. Putting The Shower Niches Geometrically
Geometry not only plays a critical part when beautifying a house, but it also is a game-changer when it comes to the shower zone. Setting the shower niches on both sides of the wall gives a sense of balance and harmony, which is ideal for relaxing during shower time. It is up to you to decide whether this shower niche idea is more practical or not.
6. Simple and Clean Design that Blends with the Wall
You don't have to get really fancy when it comes to building a new shower niche. If you're a fan of the contemporary, minimalist look, you can get a niche that hides in plain sight. A small nook in the wall, or a dark cubby that blends with the darkness of the shower design, can be your secret space to store your items. You can position it so you can't see it from the outside, so only those in the shower can see and access it. There's nothing wrong with discretion!
Size of a Shower Niche
When installing a shower niche in an existing wall, 12 inches width by 24 inches height may be a great size. It permits the niche to fit between studs, which are regularly 16 inches apart. With a glass rack at 12 inches, this makes 2 feet of rack space.
Depth of a Shower Niche
The standard depth of a shower niche is 3.5 inches, the width of a wood stud. In a tall rise building, the steel studs maybe 2.5 inches deep and you should consider this. This size is often sufficient for most bottles.
Niches ought to not be against exterior walls if possible in cold climates. The niche space will replace important insulation. If you must utilize an outer wall, be sure to put in polyurethane insulation or the tile may ice up on cold winter days.
The Problem with Large Niches
Niches can be bigger in new walls where your contractor can alter the width of studs and make sure any plumbing or electrical channels are not within the way. Broader niches are troublesome in pre-existing walls but still possible. Make sure that each time you cut a stud, there will potentially be cosmetic damage to the wall it supports, so anticipate a small fixing and painting in other rooms.
Keep the tile measurements in mind when specifying a niche. It's absolutely best for tile to be symmetric. The tile line can end right on the niche for a spotless look. One thing to dodge is a little tile on one or both sides of a niche. One arrangement is to outline the niche.
This is an image roundup post, curated to showcase and promote other reputable contracting companies' and their amazing work.  To have any of the images removed, please reach out to us and we would be happy to do so.