The fireplace mantel is where we show off what is best about our home. There are so many fireplace mantel ideas out there to choose from.  No doubt, it's a popular spot for family photos and quintessential annual school pictures. Yet it also highlights our personal taste, acting as the anchor for a cherished piece of artwork, one-of-a-kind decor from a favorite vacation spot, or a stately mirror that reflects all that is good in your home. Fireplace mantel decor reflects our style and substance all at once.
Here are a few mantel decorating ideas to get you started. Who knows? You may even get some mantel ideas to replace that old one, too.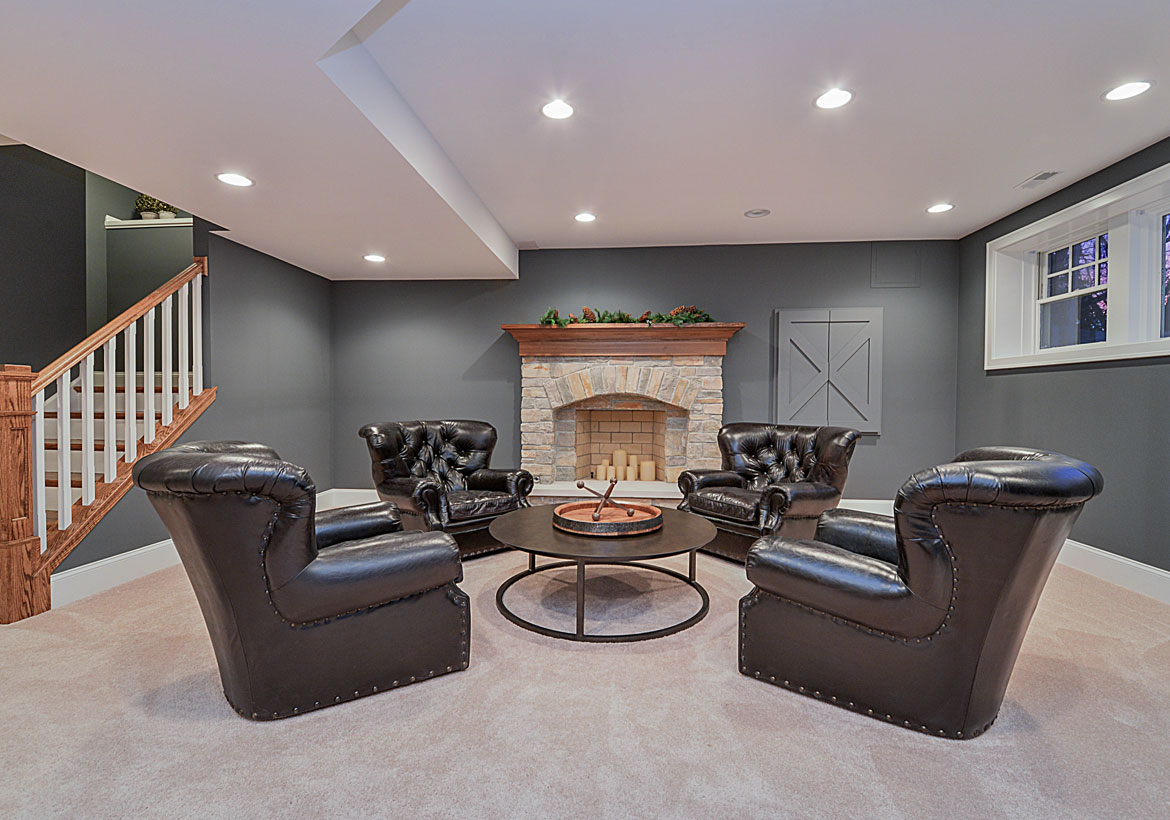 Fireplace Mantel Decorations
That being said, mantel decorations do not have to be complicated. Want to know how to decorate a fireplace mantel? Keep fireplace mantel decor simple, balanced, and coordinated. It's that easy. Typically, a decorated fireplace mantel will include an anchor, such as a mirror, a clock, or a piece of art. Visually similar accents, such as vases or candles, rest on the ends of the mantel while smaller sculptural pieces or foliage may be used in the center as filler. The same mantel ideas can apply when decorating for the holidays as well. Simply swap out year-round pieces with seasonally appropriate decor.
Related: 50 Interesting Mirror Ideas to Consider for Your Home
This mantel is the essence of keeping it simple. Balancing on the white, milled legs, this mantel provides just enough contrast to the white wainscoting and white tile hearth and maintains the delicate, yet casual style of the room. In decorating the mantel, balance is key. Two simple vases of yellow flowers add a natural pop of color in this neutral room.
Against the cool gray walls and tile surround, the wood of this traditional fireplace mantel surround warms up the space and balances this eclectic room. The gold mirror pops against the gray while the candelabra and vases add some visual interest in varying color and shapes. Notice that while the decor is not symmetrical in shape, it is symmetrical in size and coordinating in color, maintaining overall balance.
This gorgeous contemporary fireplace mantel is a statement all itself and doesn't need additional decor. The artwork is a simple and colorful complement. This fireplace mantel is a little reminiscent of a picture frame. It nicely ties into the other woodwork and the other wonderful feature; the unique round light fixture.
This cast stone mantel epitomizes elegance. Timeless and understated, its stately presence coordinates with any decor. White flowers billow over the top of mantel, creating soft lines and an organic feel, next to the artwork, sculptures and vases.
This exquisitely detailed Victorian fireplace gets a modern update with a coat of black paint. Its color stands out against the sleek neutral white while also blending in with the modern aesthetic of the room. A statuesque mirror is the only accent needed for this bold mantel.
This beautiful barn wood beam adds substantial character to this towering fireplace. Each dent and scratch are unique to this beam-turned-mantel, making this hearth truly special. Like a mirror, the dark clock is a simple, classic way to decorate a fireplace. In this case the mantel is such as stand out that basic glass hurricanes of cream candles add enough to the mantel. In this case, less is more.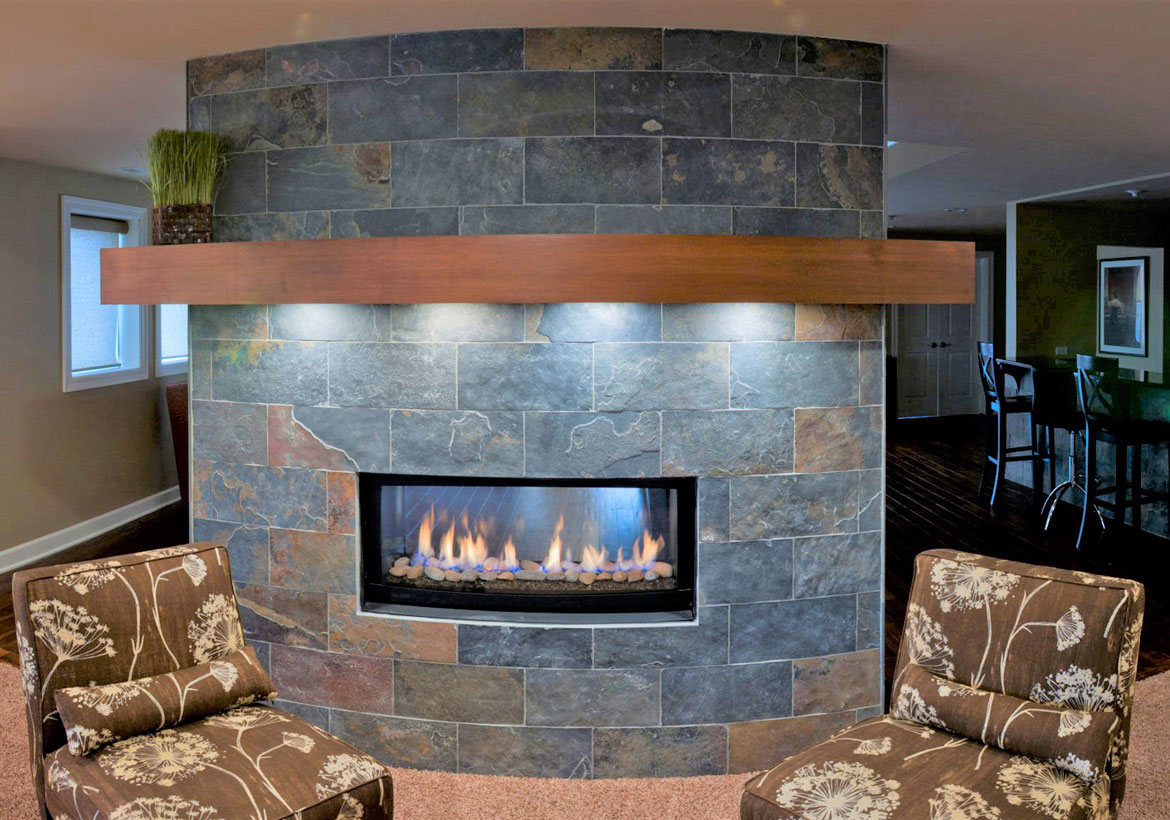 Fireplace Mantel Ideas
When considering mantel ideas, you should keep in mind the scale of your mantel and its design. Is your mantel a typical, builder-grade oak mantel, a simple white fireplace mantel, or a stately cast stone centerpiece? Each one of these mantels does not need to be decorated the same way. The more elaborate the mantel, the fewer accents it needs. The simpler the mantel, the more substantial the accents can be.
Here the weathered wood mantel has a more traditional presence as it rests atop two substantial corbels. Its highlighted with color-coordinated, framed artwork and two wood sculptures on either side, creating layers warm colors on this southern patio.
Your Favorite Room By Cathy Zaeske
This hand-chosen custom live edge mantel from stunning Bubinga plank with it's featured variegated wood tones was conceived, designed and built onsite by this designer's favorite carpenter. It so deserves this closeup–with its sleek buttery color–it is another mantel that could easily stand alone. However, this designer added the custom-made floating picture frame overhead to feature her favorite tree canvas art more in scale with the fireplace and wall. The two chrome lamps and dish are smart bonus decor.
Subtly gothic in its style, this cast stone mantel is the architectural highlight of this traditional living room. Its faux columns, gothic arch and soaring height command attention of anyone who walks in the room. The mantel is the decor, flanked only by two iron candelabras.
There is already so much intricate detail in this space, that this fireplace mantel can easily stand alone "as is" without much decor. That aside, these homeowners have the easy task of being able to add simple elements such as foliage, candles, or a sculpture if the season or spirit moves them.
Reclaimed wood stands out against the warm white of the fireplace, acting as a dramatic base for the colorful artwork. Bright flowers provide a natural accent to the modern painting and coordinate with the centerpieces on the table as well.
Dark, rich, warm and masculine. A little "man-cave" inspired? Looks like this mantel features some of his favorite things. A great basement area to kick back and relax in the evenings and/or weekends.
Warm & Cozy Mantel Ideas
Whether it's with a piece of reclaimed wood, a white fireplace mantel surround or an entirely new cast stone mantel, there are as many mantel ideas as there is mantel decorating ideas.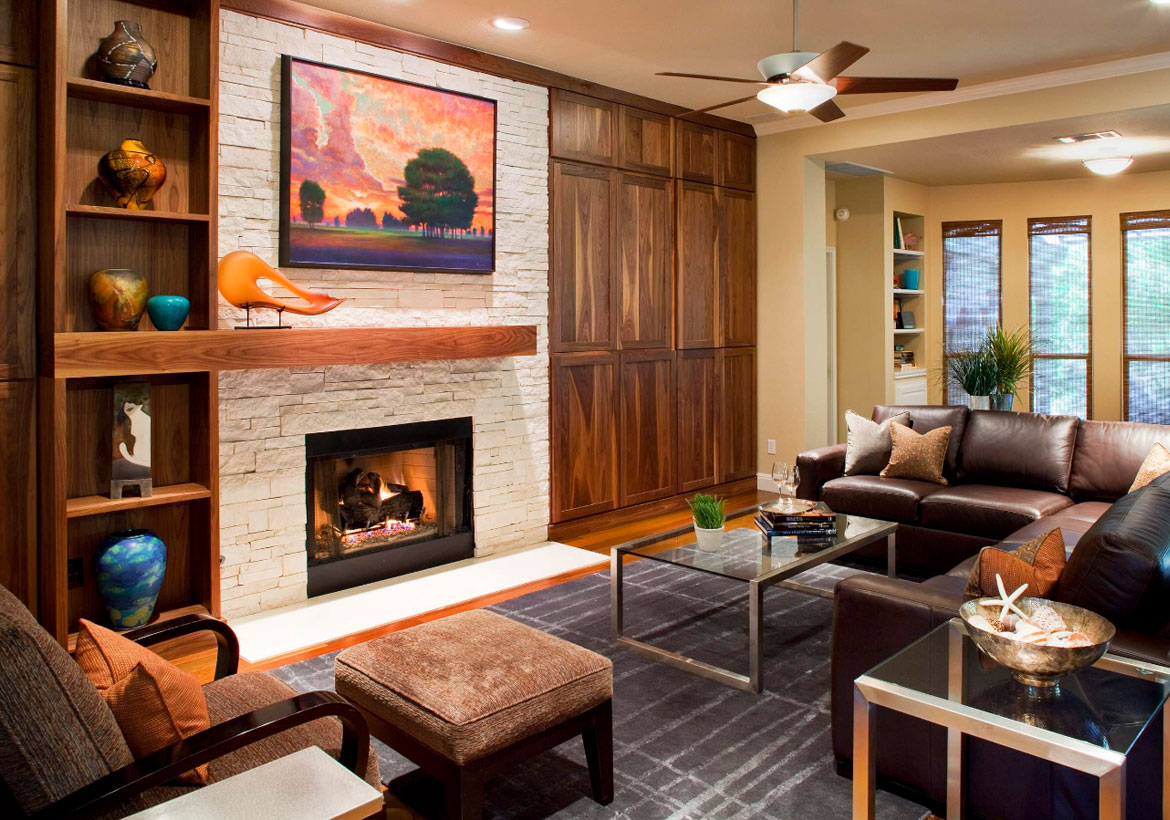 This offset mantel almost acts as a piece of sculpture, jetting out from the bookcase, creating a unique visual connection between the fireplace and the display case. It's simple and stunning all at once. The tangerine sculpture not only decorates the mantel, but serves as a visual connection the display shelves and the mantel.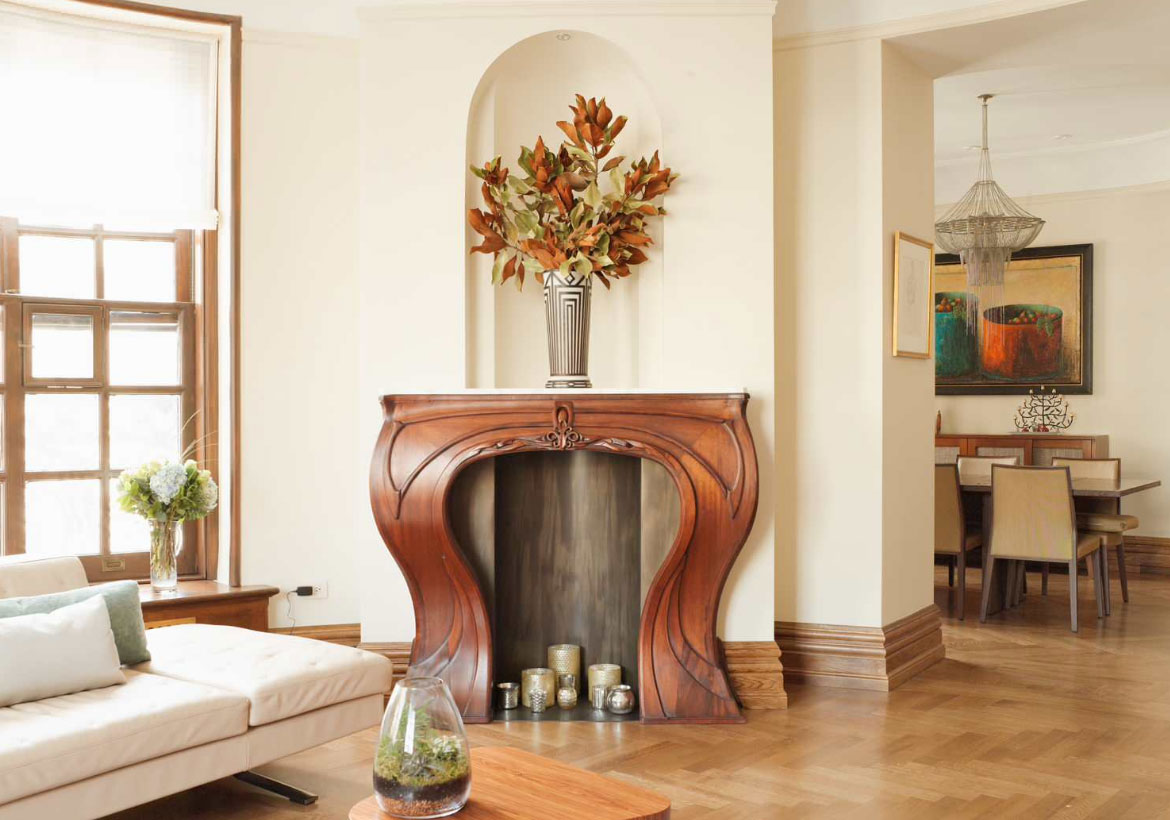 This one of a kind mantel is the sculptural centerpiece of the room. Delicate details juxtapose against the unexpected curve in the legs of the mantel to create a traditional mantel with a twist. Accented with neutral walls, simple foliage and a collection of candles, it doesn't need much to dress it up. Though simple, the sizable scale of the foliage balances the weight of the mantel. Its warm colors also coordinate with the rich wood of the mantel.
A reflection of the rectangular shapes that surround it, the tile, the fireplace and the wall cut-out, this modern mantel, seamlessly blends with the room, while its asymmetry makes it stand out. Again, less is more with this mantel. In this case, the homeowner chose to highlight the mantel itself by keeping it clear of any decor. The mantel itself is the decor.
Seth Benn Photography (the gudhouse company)
Simple and traditional, this mantel emphasizes the masonry work that it surrounds. Likewise, its seasonal decor is basic but elegant. Simply draping lighted greenery across the mantel and creating a symmetrical assortment of candles and small trees provides a festive feature for the holidays, while the mirror creates a traditional anchor.
A simple, stone surround highlights the fireplace, but serves as an understated accent to the soaring stacked stone wall and stunning scenery visible through the expansive wall of windows. The green and brown vases coordinate with the natural beauty just outside and create a contemporary asymmetry complementary to the room's modern aesthetic.
This warm wood, wrap-around mantel draws your eye from the impressive stone fireplace up to the stunning wood ceiling. Simple artwork draws your eye above the fireplace while two simple accents add interest. This is fireplace mantel decorating at its simplest.
Hoping you will be relaxing by your warm & cozy fireplace soon!
Other Great Articles to Read: