BASEMENT REMODELING IN OAK BROOK IL
CHICAGOLAND | WESTERN SUBURBS | DUPAGE COUNTY | KANE COUNTY | WILL COUNTY
OAK BROOK BASEMENT FINISHING & REMODELING
One of the best and most beneficial home improvement projects you can undertake is a basement renovation. The biggest benefit is obvious space and lots of it. Most  Oak Brook basements have an open layout without many walls to shrink space and inhibit movement. In most cases, a full basement will have a similar (or almost similar) layout as the main floor of the house. This is prime real estate that is often underused. Remodeling the basement can add a lot of valuable and livable space to the house. For homeowners planning to sell, this can even add some value to the sale price.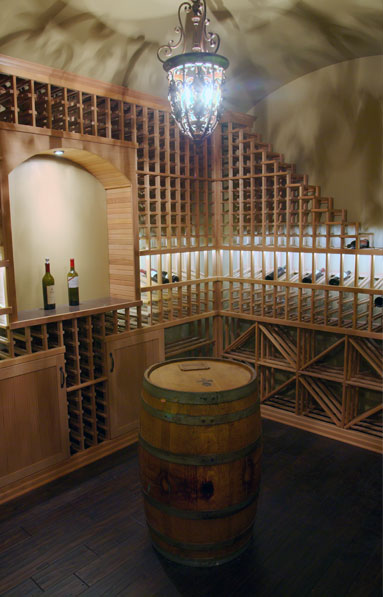 If you want to fully enjoy the benefits of a remodeled basement, it is extremely important to plan well. One of the very first actions homeowners should take is an analysis of the current condition of their Oak Brook basement. An expert can help you check for issues such as moisture issues. The aim is to make sure that the basement is in good condition. If there is a problem detected, you might need to resolve it first before proceeding with the renovation.
Another important early step of the renovation process is determining what you are going to do with the basement. The basement can be used to add much needed living space to the house. For instance, an extra bedroom in the basement can come in really handy when you have guests over or if your family is expanding.
You can also turn the basement into a nicely organized storage room.  You may decide to install storage cabinets for things like seasonal clothes, extra linens and home supplies. This frees up plenty of space upstairs and keep it neat.
What is your greatest need? If you cannot find a quiet space to work, consider turning it into a home office. If you cannot find a place to let your creativity flow, you can design a craft room. If the kids do not have anywhere to play with their toys, the basement is the perfect playroom.
There are also plenty of other fun and creative basement remodeling ideas for our friends in Oak Brook. Here are just a few:
Turn it into a personal art/memorabilia gallery.
Use it as a personal music or photo studio.
Turn it into a spa and steam room.
Create a wine cellar.
Turn it into a bar with a connected gaming area.
Be as creative as you want; Sebring will make your dream a reality. With over 400 basement renovations under our belt, we definitely have the background to help design your dream Oak Brook basement.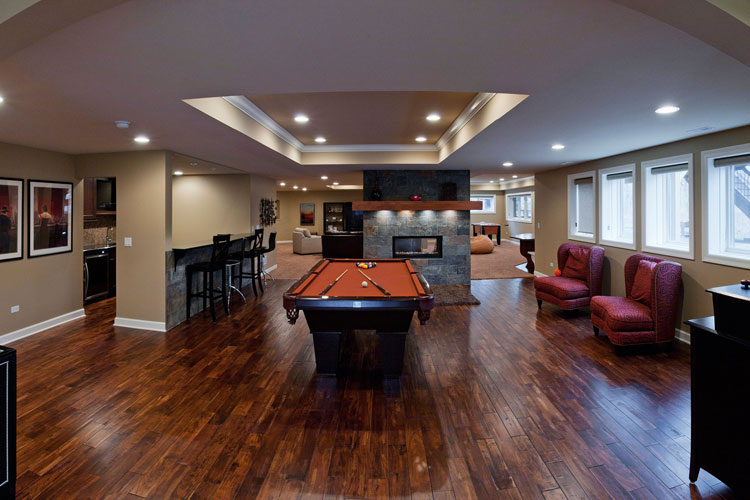 Contact Us
We look forward to your call. Contact us and we will schedule a free no-obligation consultation to discuss your ideas and plan your dream basement. You are assured of the highest level of integrity, honesty and professionalism. Our track record is well known in Oak Brook and surrounding areas. Our customers love us for the splendid results we always deliver in every basement renovation project we take on.
BUDGETING YOUR OAK BROOK BASEMENT
OAK BROOK BASEMENT REMODELING PROJECTS
Kevin & Julia's Basement Remodel Pictures
Bryan Sebring
2019-07-08T09:06:18-05:00
SCHEDULE YOUR CONSULTATION
WHAT OUR CLIENTS IN OAK BROOK SAY ABOUT SEBRING
" Sebring Services finished the basement at our home and remodeled an investment property for us. In both cases the Sebring team was organized and professional from start to finish. Communication throughout both projects was very good. The tradesmen were helpful and courteous when I visited the work site. I would use Sebring Services for future projects and I would recommend them to friends and family. "
" Overall, we are very happy with our decision to use Sebring Services. The project exceeded our expectations as was completed on-time and within budget. The quality and craftsmanship was excellent and each worker in our home was courteous and professional. . . "
" First I want to say, growing up with a family of contractors and working as a project manager myself, I have never worked with such professional, accountable, friendly and organized contractors as I have with Sebring Services. Bryan came in and was honest and frank about what our options were. We made multiple changes to the original plan and he didn't even flinch. He made the process of planning enjoyable and extremely stress free. Once his team was onsite our project manager. . . "
" Sebring Services recently finished a full basement remodel for us, including a finished play area, home theater, gym, storage, and a full bath. They were easy to work with, and professional from start to finish. We started out not including the bathroom and decided on Day 2 of the project to add it in. They shuffled things around and made it happen. We were faced with a tight deadline due to family coming in, and even with the bathroom being added into the project, Sebring pushed hard to make sure everything was done in time for our company, without compromising high quality work. Everything turned out great, and we use it every day!

As an aside, as a stay at home Mom, I never worried about all of the people who were coming in and out of the house. All of Sebring's workers were polite and respectful, and did a good job cleaning up after themselves. . .

. . . I wholeheartedly recommend Sebring for any remodeling project you may have. We will definitely use them again in the future if we decide to undertake any other major renovations! "
FREE REMODELING 101 E-BOOK