Lisle Kitchen, Bathroom and Basement Remodeling
Chicago Suburbs | Dupage County
Lisle Remodeling and Lisle Renovations
No two home renovation projects are the same. No one understands that better than we do–we have been helping Lisle homeowners renovate their homes for more than a decade now. So when you call us with a request for a lisle home remodeling project, we understand that we are taking on a whole new challenge. We apply a customized process to your project, working with you to make sure the project is a success.
Lisle Home Remodeling Project Pictures
Naperville IL Master Bath Remodel Project Photos
Bryan Sebring
2023-09-25T13:34:25-05:00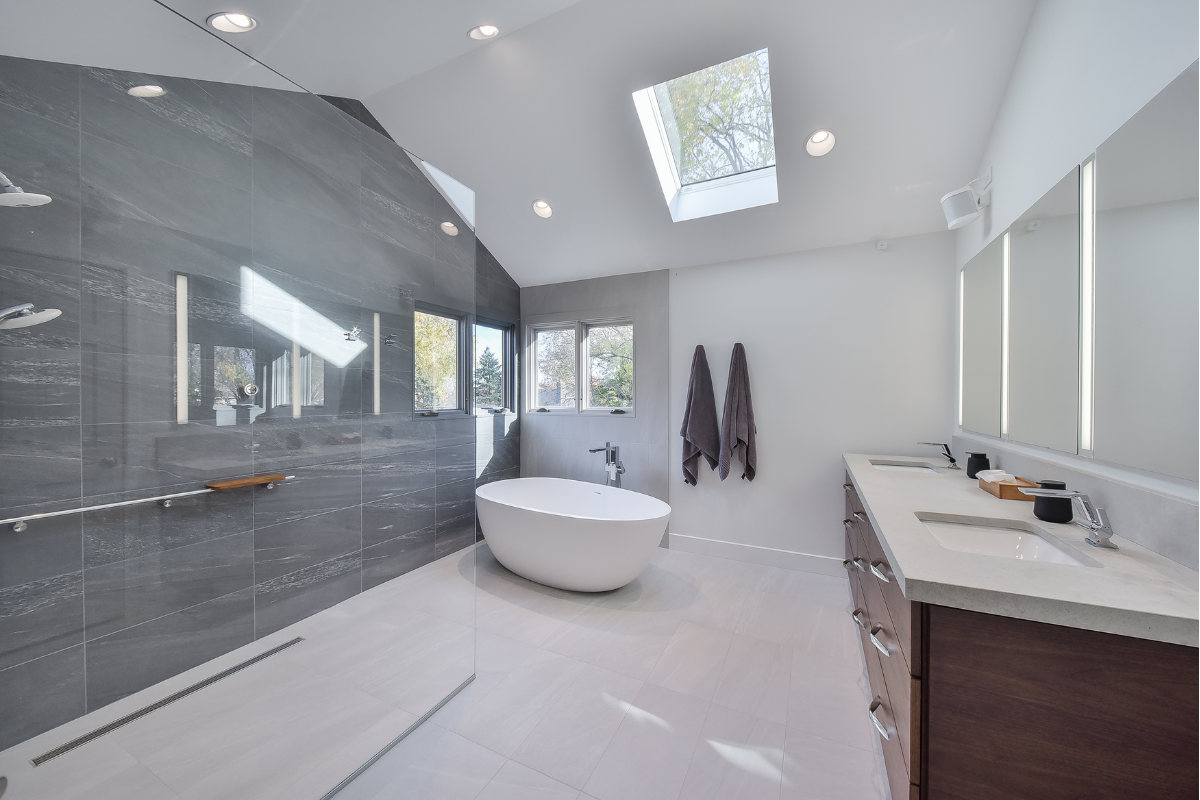 " As soon as I had a meeting with Bryan Sebring and he drew up an initial proposal, I knew I was done shopping for contractors. When you meet someone that you know you can trust implicitly to assist you with major decisions and send you to good suppliers, and whose staff you can trust in your house for 8 weeks without any homeowner supervision, your decision transcends price… "
" I would highly recommend Sebring! All those that were involved in my home remodel were both professional AND nice. Bryan provided all services that were expected and on some occasions went beyond with what was necessary just to make us happy. Thanks Sebring! "
" My experience with Sebring felt right from the start – I felt comfortable and at ease from the first meeting and throughout the entire project. The entire team was extremely friendly and professional and always helpful! They were prompt in answering questions and returning calls and very accommodating. They were clean and courteous and respectful, which I truly appreciated. I would definitely recommend using Sebring!! "
" We used Sebring to remodel our bathroom. They were very professional and the end result is just beautiful! Everyone was prompt, courteous and very skilled. The price was very fair. Justin, in particular, went out of his way to make sure everything was perfect! I highly recommend Sebring! "
Lisle Kitchen Remodeling and Design
In today's open floor plans, the kitchen is no longer just a place to cook up dinner and brew coffee. It has become the new favorite warm and cozy family area, bringing everyone together. There is much more emphasis to ensure that the style and design is in line with the new role of the kitchen. If your kitchen feels gloomy, cold and outdated, a renovation can restore it to its full glory.
Ideas From Our Experts
Here at Sebring, we have worked with hundreds of homeowners in Lisle. Our kitchen renovation experts have decades of combined experience. Our experts have seen to it that each client is left with a smile. Here are some of their best ideas on kitchen renovation.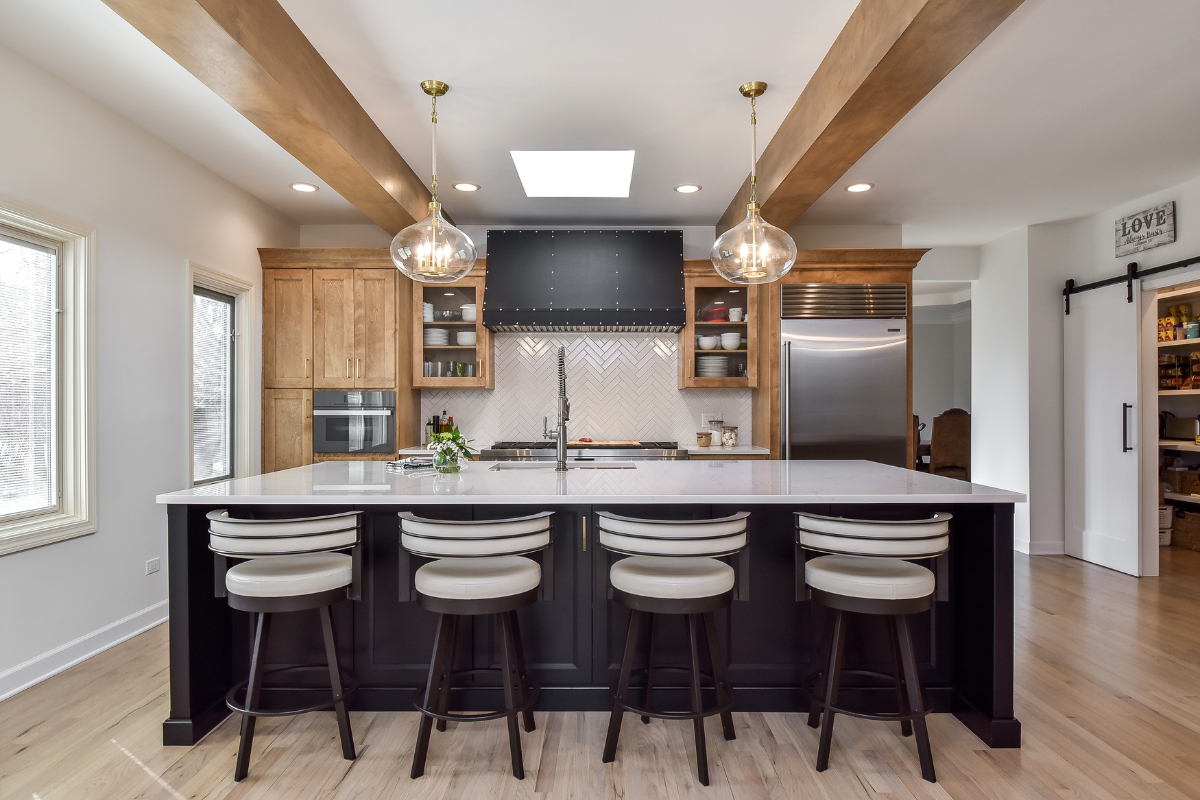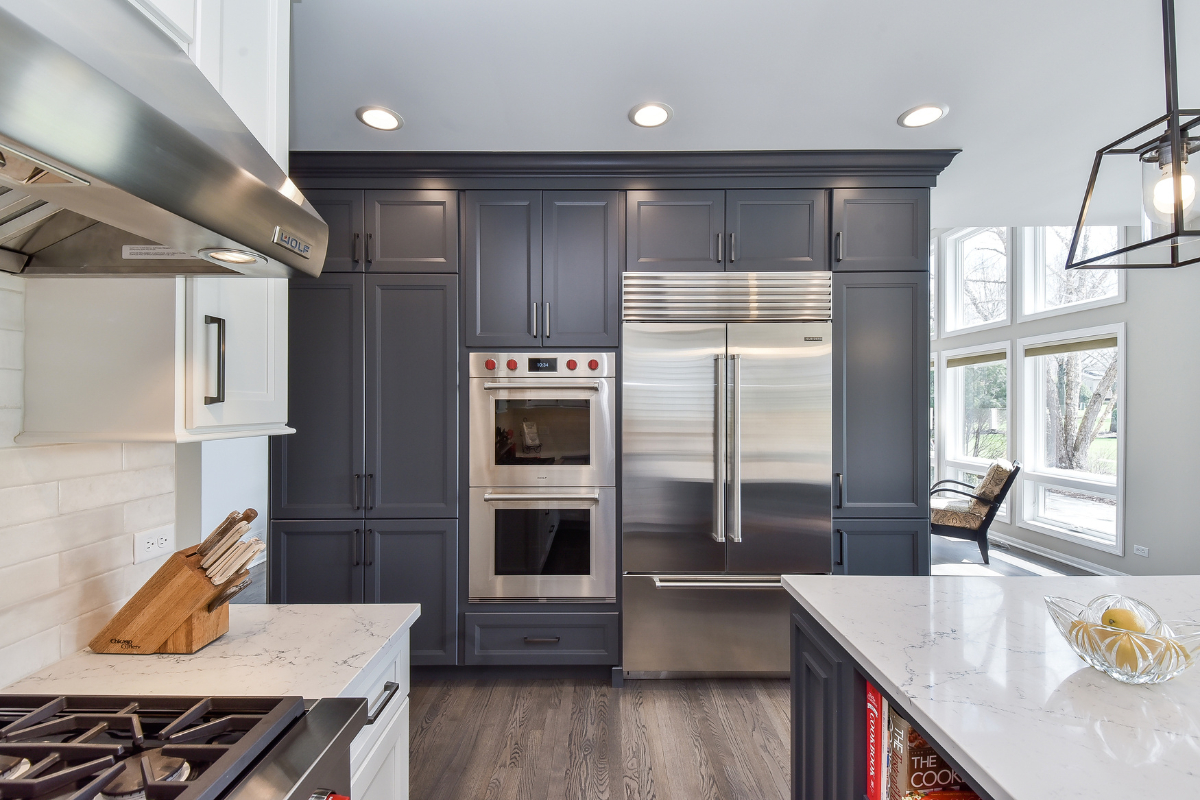 1. Improve the Functionality
A kitchen is not just about the aesthetics, it needs to be functional as well. This is something you need to consider as you plan your Lisle kitchen remodel. Plan the kitchen layout well, ensuring that movement is not inhibited and that each element is in sync. For instance, the sink should be near the food preparation area, which on the other hand should be near the fridge.
2. Balance the Aesthetics
Unless you are madly in love with a single color, a good idea is to spread out the aesthetics a little bit. Do not use the same color on the walls, the floor, the cabinets and countertops. Variations help create a unique style that is easier on the eye. Even if you love warm colors, balance them out with some cooler hues. If you are crazy about brilliant white, pare it down with darker colors.
3. Focus on Emotions
If you want to know how great a design is, focus on how it makes you feel. When you enter your kitchen, what you should feel is warmth, happiness and welcomed. As you choose your preferred style, focus on the emotions you feel.
4. Storage is Crucial
Storage space should be one of your top priorities when renovating the kitchen. Plenty of storage makes for an easy and efficient kitchen. You can decide to either replace all of your kitchen cabinetry and/or add to it. If you have a large kitchen, check whether you can squeeze in more storage options without affecting kitchen functionality.
Why Hire Sebring Design Build for Your Lisle Kitchen Remodel
Here are some of the ways we stand out from our competitors:
We offer design services. We do not just build; we also design. Our in-house designer works with Lisle clients to help them choose the best style for their needs.
Unrivaled expertise. We are known throughout Lisle for our professionalism, experience and unparalleled expertise in kitchen renovations.
We help you select the best materials. Our consultants will work with you, even go to showrooms with you, to help you choose the best materials for countertops, flooring, walls and other elements.
What are you waiting for? Call us today and enjoy the best kitchen remodeling service in Lisle.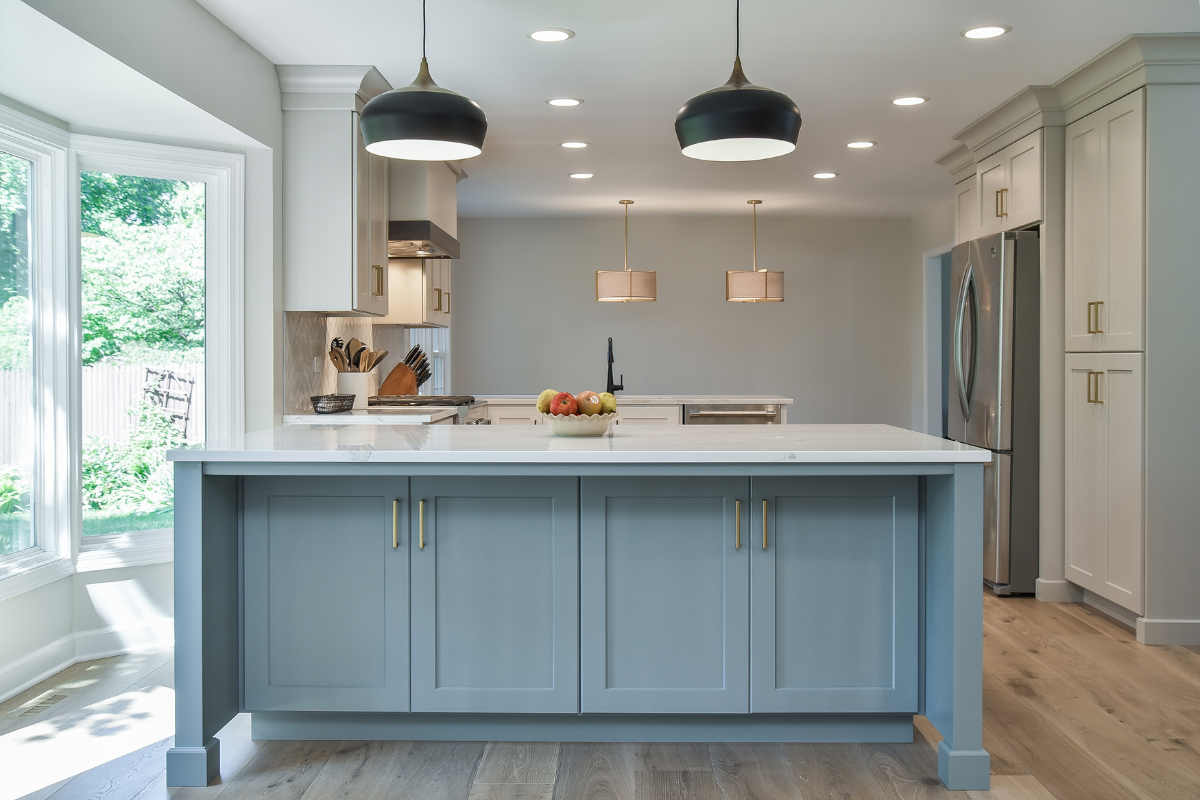 Lisle Bathroom Remodeling Design
Do you flip through magazines or watch home renovations shows and wish those bathrooms were in your house? The good news—they could be! All you need is a proper Lisle bathroom renovation and that dull cold space turns into a personal home spa that you never want to leave.
There are many reasons to do a bathroom renovation. For most homeowners, the bathroom simply becomes dated. With aging comes unavoidable signs of wear and tear. A renovation project can help restore a dated bathroom, giving it a brand new look and feel. A Lisle bathroom renovation requires major changes including: replacing flooring, wall repair and replacing aged hardware such as faucets and shower heads.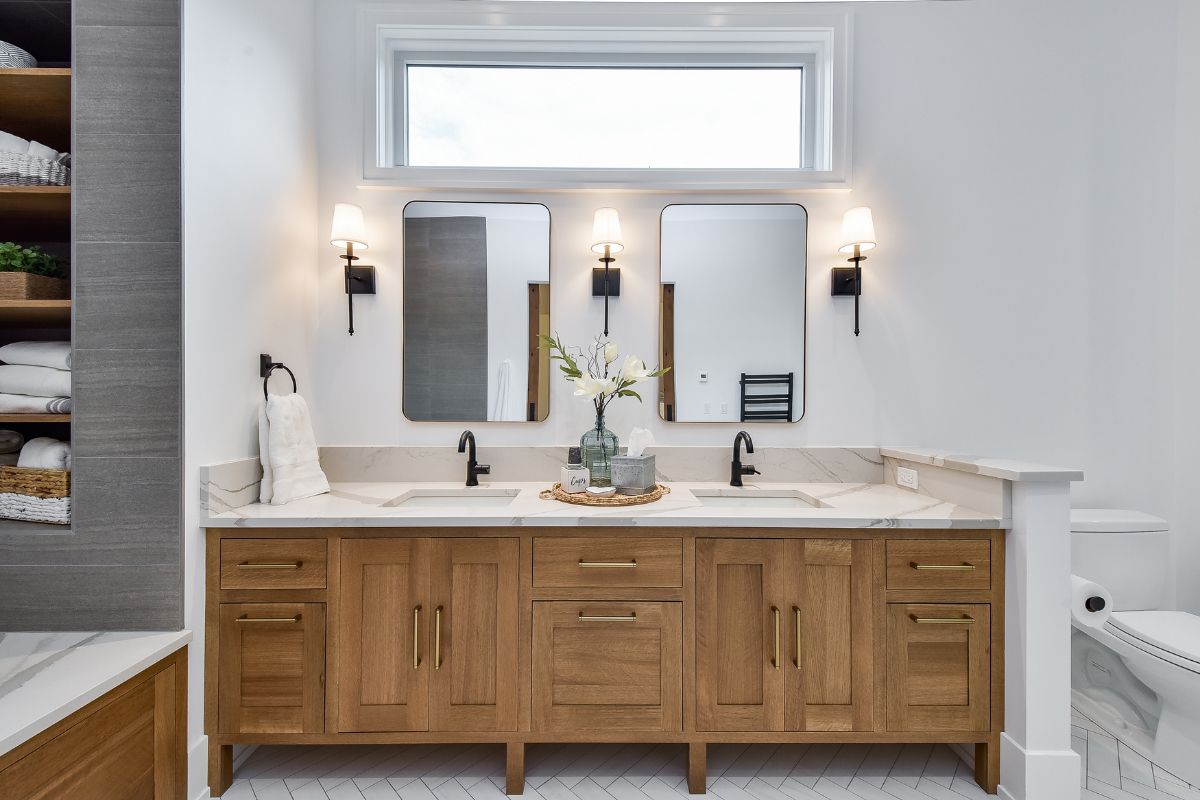 Lisle Bathroom Design Process
You may also decide to renovate the bathroom because you are tired of seeing the same old decor every day. Or you may have realized that the current design does not work very well for your needs and tastes and a change is necessary. Whatever the reason and whatever you need, our bathroom remodeling services in Lisle will help you achieve it.
If you have no idea where to start, we can help you with ideas. Having worked on hundreds of bathroom remodeling projects, we can share some of the most fun, creative and unique renovation ideas we have seen over the years. You can also head over to our home remodeling ideas page and see pictures of these bathrooms done in Lisle homes.
Lisle Bathroom Ideas
New flooring. If your flooring is old, cracked, outdated or just tired—consider new ceramic, porcelain or natural stone tile. You will be surprised at what a difference this makes in the space.
Mosaic wall tiles. Create a dramatic wall accent using beautiful mosaic wall tiles. It is a simple change that makes a big difference.
Bathroom cabinets. Cabinets will make your bathroom look warm and inviting while also giving you plenty of storage space.
More space. If your bathroom feels a bit cramped, try adding more space. You could tear down a wall or remove the bathtub. If you cannot create space, then create an illusion of it. Mirrors and neutral colors tend to heighten the perception of space.
More light. Consider enlarging the window, creating a screened wall or adding a skylight to let in more natural light. Light also tends to create the perception of more space.
Are you planning a basement renovation but have no idea where to begin? Sebring is here to help. We sit down with our clients and work together through the entire process until the project is complete.
The basement is one of the most neglected spaces in the house, as well as one of the most expansive spaces in the house. Instead of suffering from a shortage of bedrooms, bathrooms or quiet space; renovating the basement provides much needed additional space.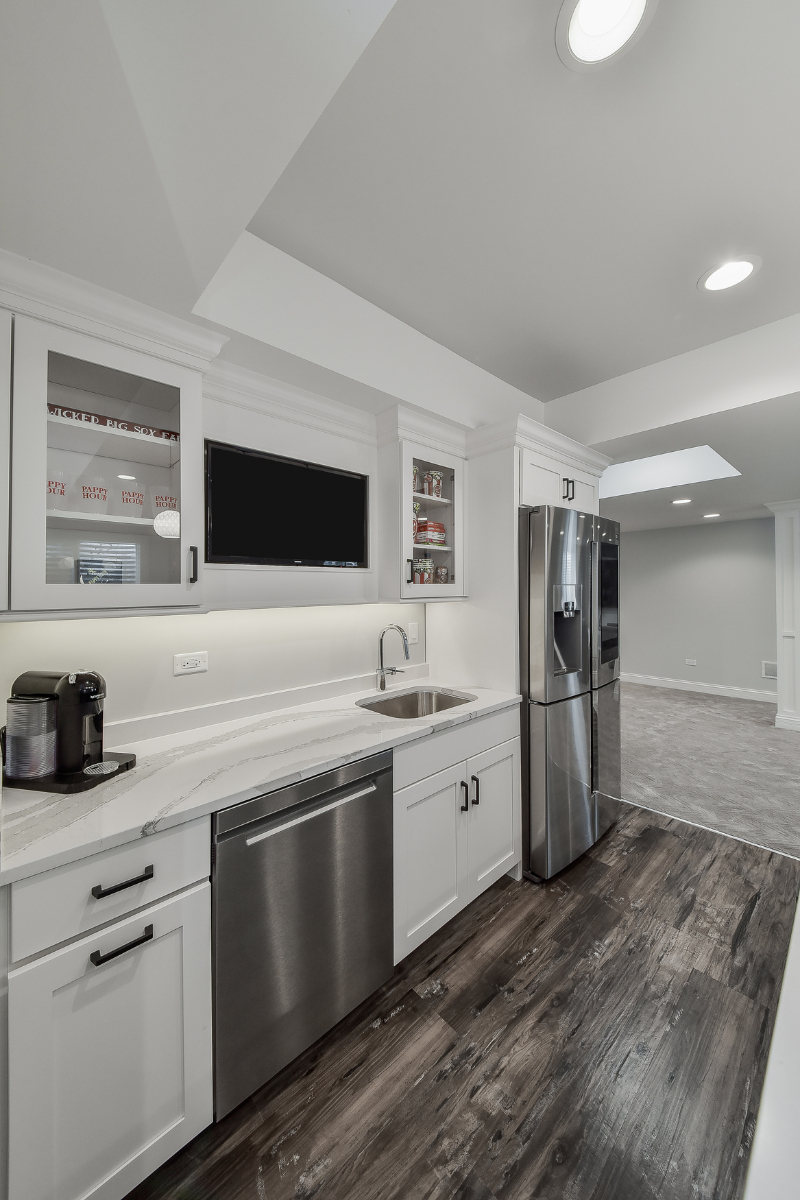 Planning Your Lisle Basement Remodel
Renovating a basement is a big project. There are a lot of things to consider with plenty of obstacles possible. With our more than 15 year's experience in Lisle, your basement could not be in a safer hands.
We have discovered one thing to be extremely crucial–planning. Planning, and planning well, establishes a clear path for the project to move along. It details out all important issues and aspects that need to be ironed out for the project to succeed. It ensures that even when the unexpected happens, we will be more than ready to handle it.
When you use our basement remodeling services in Lisle, we will work with you to craft a comprehensive plan. This involves deciding what you will do with the basement, how long it is likely to take and how much it will all cost.
What Do Your Have in Mind for Design?
You must already have some ideas of what to do with your Lisle basement. Sebring takes the time to discuss your needs and preferences. What you decide to turn your basement into should depend mostly on what your greatest need is. For example, if you keep running short of sleeping space for guests, a guest bedroom in the basement is a great idea. Here are some creative and useful ideas you can use for your basement remodeling project:
Create a playroom for the kids. Instead of finding their toys scattered all over the house, turn the basement into a fun comfortable place to play.
Create a game room for the adults. This could be great for those lazy Sunday afternoons and could also come in handy for entertaining guests. Another great idea is to add a bar area.
Turn the basement into a library or home office. The quiet secluded space also makes for the perfect location for a man/woman cave or even an art or craft room.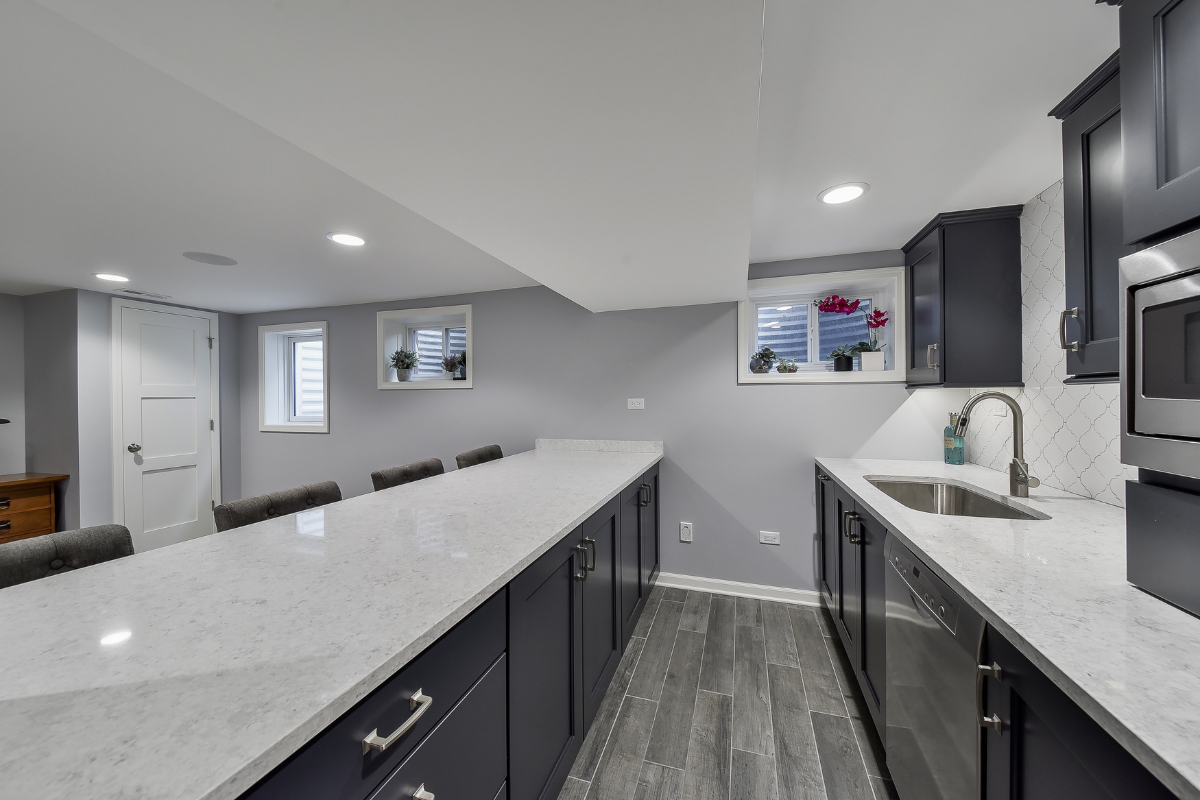 There are numerous ideas you can use from personal galleries to kitchenettes. For a sampling of our best Lisle basement remodeling ideas, visit our home renovation ideas page.
Once you find an idea you would like to explore further, do not hesitate to give us a call. We will schedule a free consultation and see how we can turn your ideas into reality. Our project cost estimator page should help you plan a rough budget for the entire project. Later on, we can help plan a more robust budget. We look forward to hearing from you!
Construction Project Management
Our project management team will assist you from demolition to final inspections. And our online construction management software will help stay organized thoughout the entire project. All communication including: material selection choices, change orders, construction schedule, all questions & all answers are neatly organized so no detail gets forgotten.
If you are looking for a home addition contractor that can make the process of adding a home addition more enjoyable, then contact us to discuss your project. Or if you need help in finding the right contractor, download our free E-book: Remodeling 101.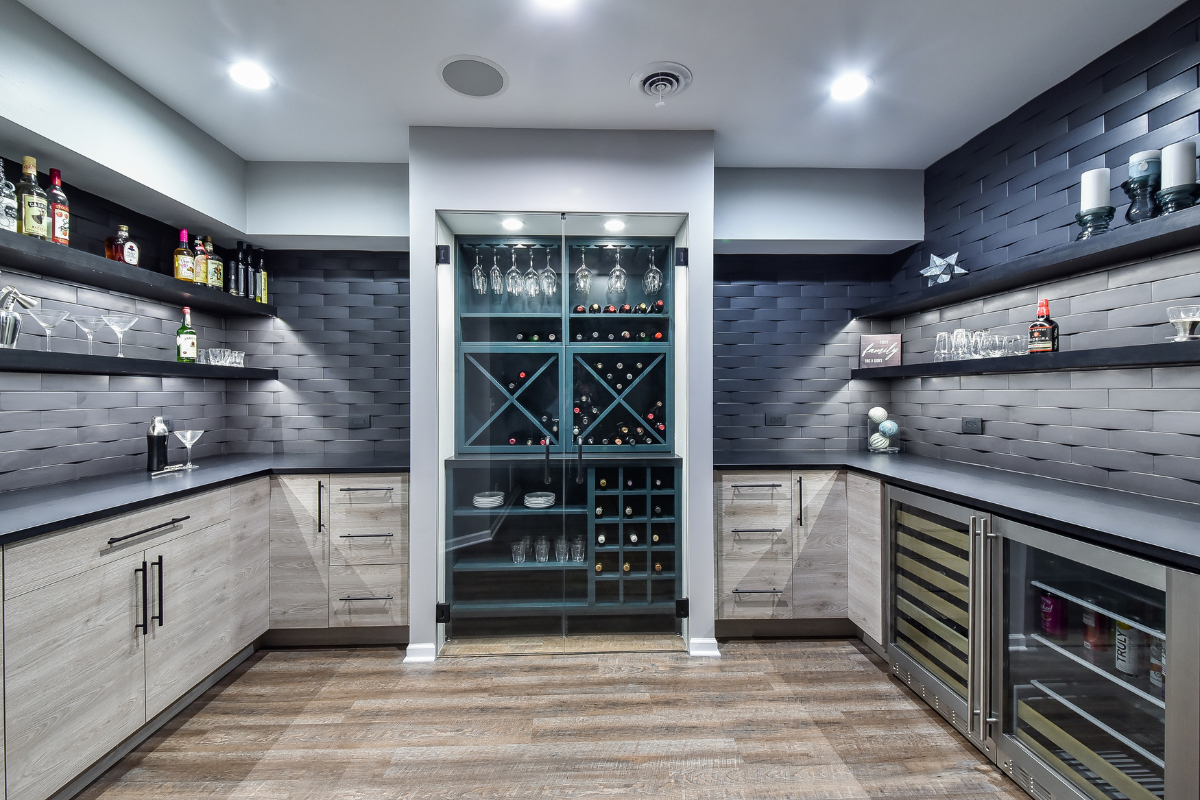 Quality Home Remodeling and Design in Lisle Illinois
Home renovations in Lisle come in all shapes and sizes. Some homeowners want to create a completely new look for their home. Others want to touch up just a few rooms while others are looking for more simple changes. Every homeowner has their own unique needs and we do our best to respond to those needs.
While you may know that your home needs a renovation, you might not be sure where to start. A good place to begin is determining the reason for the renovation. Here are some of the most common reasons homeowners decide to renovate:
Planning to sell. When there are plans to sell, homeowners may be looking to maximize the value of their home as much as possible. A well-planned renovation can lead to a higher sales price.
Repair and maintenance. No home stays brand new forever–wear and tear is common and expected. If your house has experienced considerable wear and tear, a renovation is exactly what you need. It will restore any damaged areas while giving your home a brand new look.
Decor fatigue. This occurs when you have lived with the decor for so long that it has become a bit dull and tiring. A remodeling project can breathe new life into your home, giving it a refreshingly new look and feel.
New home. If you have just purchased a home, chances are that one or two things about the decor and overall style need to be changed. A renovation is just what you need to really feel at home in the new place.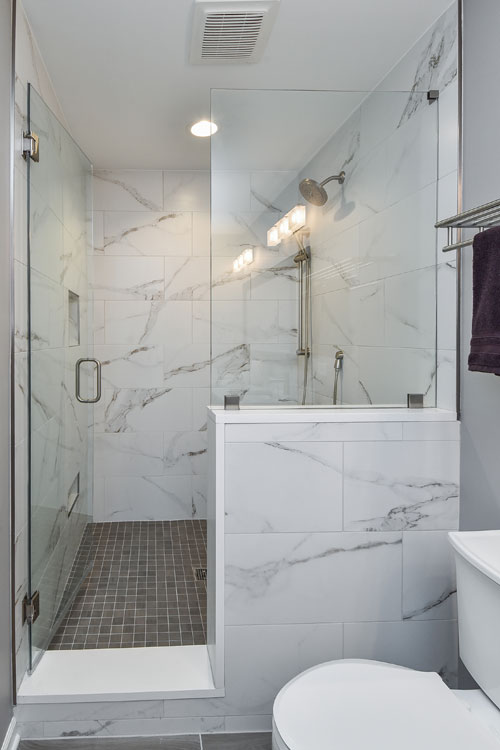 Once you know why you are renovating, planning will be easier. The next step involves extensive planning. This is especially important for major renovations where there are a lot of elements to consider and things could easily go wrong.
Planning also ensures that you stay on the right side of the law. Depending on your local code, you might need to get permits for certain renovations. Our home remodeling services in Lisle help homeowners plan everything including getting the right permits.
Reach Out to Setup Your Consultation Appointment
We want to help homeowners as much as possible without pressuring them into making any hasty decisions. This is why we offer a free no-obligation consultation, whether you decide to hire us or not.
If you are planning a home remodeling project, we are more than ready to help you. Give us a call today and our expert consultants will guide you towards getting that perfect home.