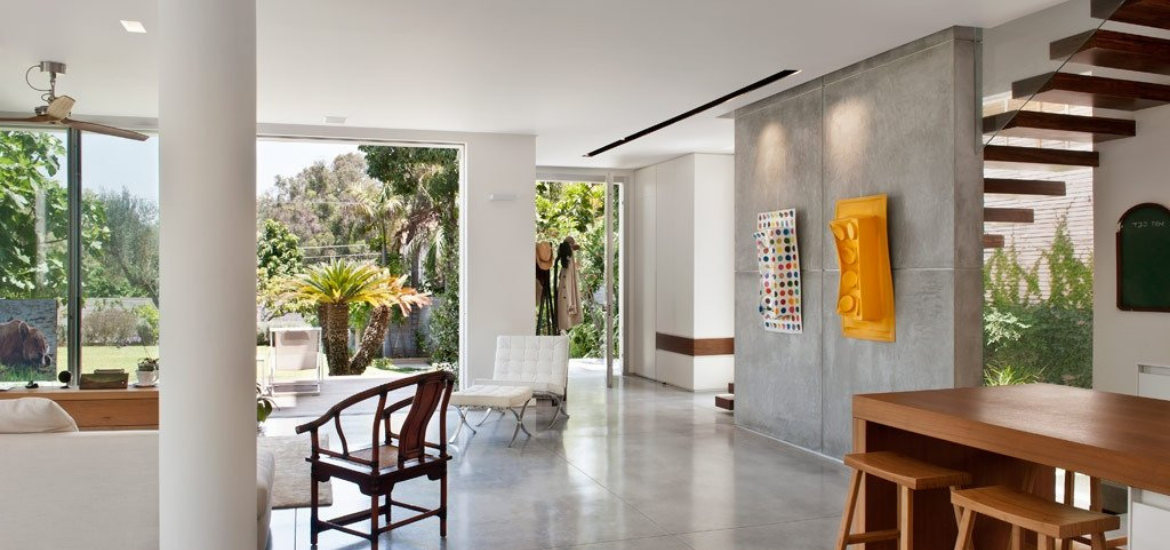 All through architectural history, designers and architects have needed to discover innovative approaches to address the issue of structure versus aesthetics in constructing houses. In particular, columns are one of those design difficulties that are fundamental for structural support. Also, to carry the heavy loads from the rooftop, upper floors, or other weight-bearing burdens to the ground to support your house, we need columns. While many think that columns must be covered, there are some unique approaches to highlight them instead. Below are interior column ideas for you to maximize and use columns as decorative features in your home.
The interminable battle among structure and design frequently leaves us with problems. It's easy to skim through the home structure process in a fanciful daze, envisioning an extensive open floor plan with enormous, spacious views that stream from room to room, making your home feel larger than it is.
However, columns are regularly unavoidable in open floor plans. In case you are faced with a remodel of space with two unavoidable columns prominently put right in the center of your open floor plan, this post is for you. For inspiration, check out our interior column design ideas.
ROUND WOOD
The columns are extra smooth because of extremely sharp knives and sanding.
FINGER JOINT PINE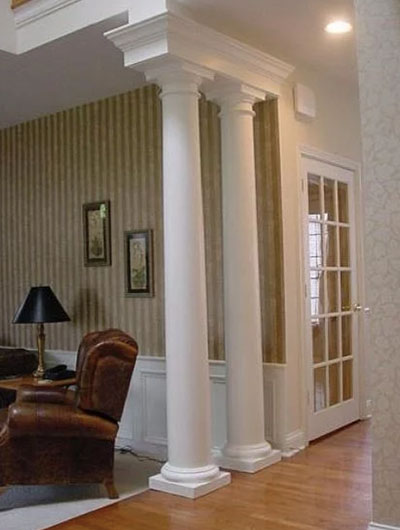 Made of Finger Jointed Pine, these paint grade columns are smooth and sophisticated.
BEACH-STYLE DINING
The columns add a luxurious vibe to this beach-style dining.
MEDITERRANEAN HALL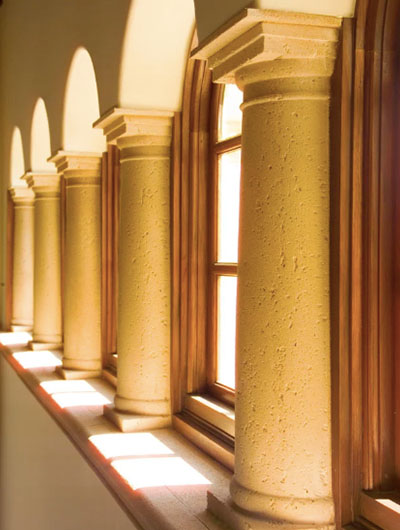 Having columns is an easy and effective way to add a Mediterranean touch to any space.
SQUARE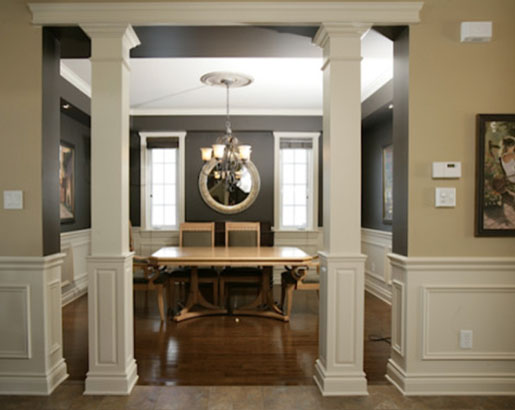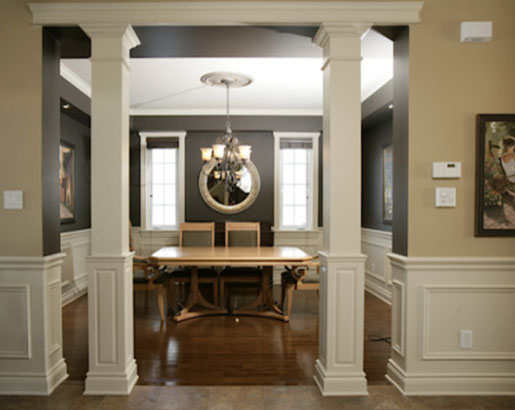 Square columns are a great alternative for more common round columns.
DECORATIVE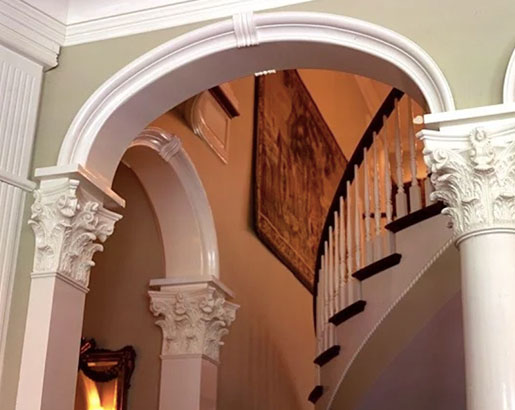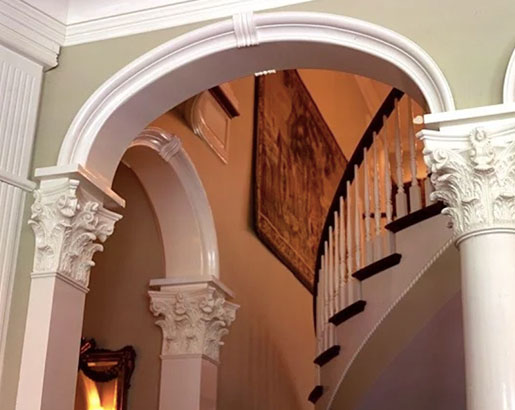 Decorative capitals are great for those who want elegance and architectural accuracy.
MODERN TRADITIONAL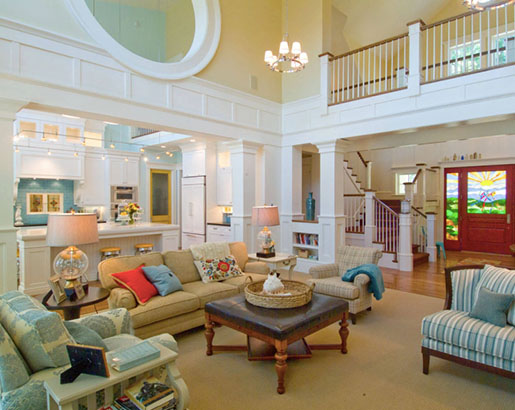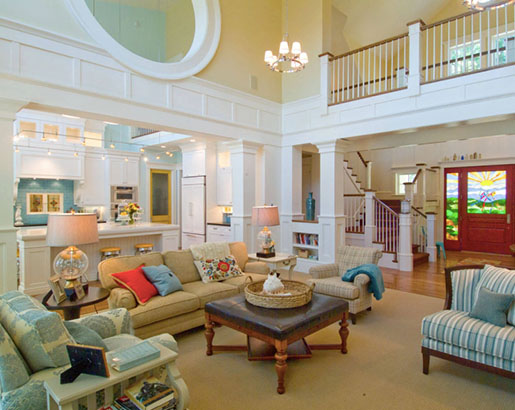 We love the modern and traditional touches on this lake house.
TRANSITIONAL ENTRY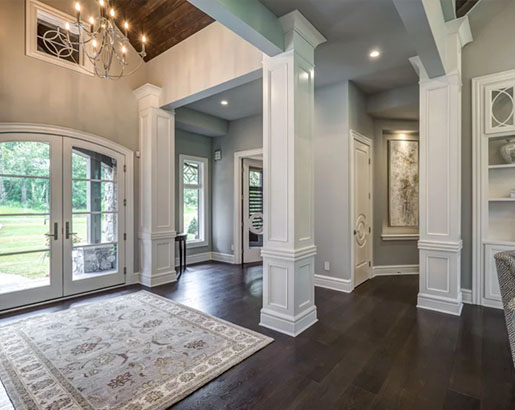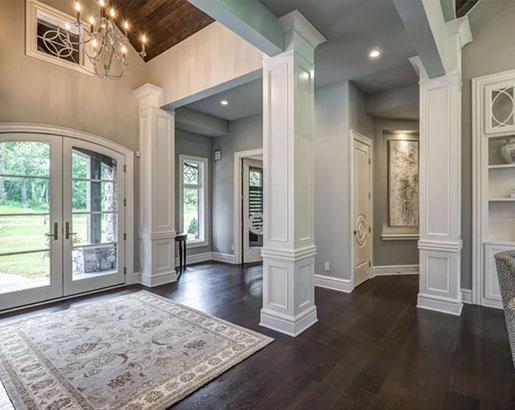 The combination of Ben Moore's Arctic Gray and Sherwin Williams' Pure White colors make these columns stand out.
WOOD + BRICKS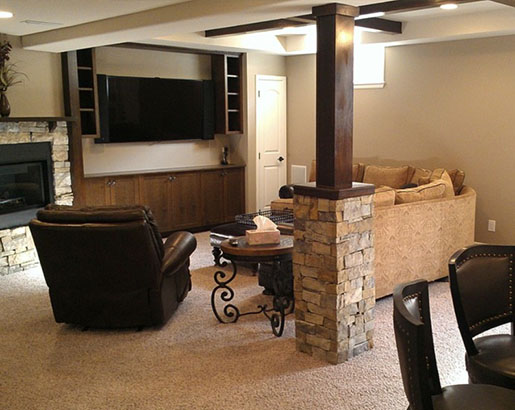 Column designs do not always need to be white and round, just like this one.
TRADITIONAL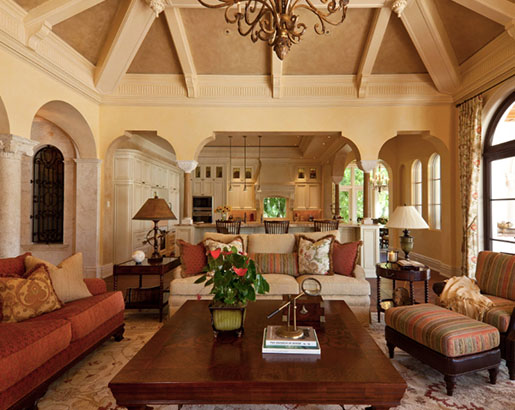 The columns are lovely accents to this traditional family room.
Interior Column Ideas For Living Room
Living room columns are an extraordinary yet basic approach to add detail and richness to your living room. The columns also help you to give a transition between the living room and dining room or kitchen, particularly in case you have an open concept kitchen.
For your living room, you can opt to utilize old style interior column ideas with appealing capitals, at the highest point of the columns. Also, classical interior column design ideas with eye-catching design subtleties can be used to make amazing details that will consistently catch the attention of the individuals in the room. Moreover, there are various ways one can utilize architectural details for the columns; settling on either basic or complicated designs
Furthermore, you can likewise utilize columns with the goal that they are the central point in the room. For example, this should be possible by arranging the furniture around the columns. Truly, giving the furniture a chance to manage how you organize your room can bring an exquisite presentation.
Homeowners can have columns made out of an assortment of materials, contingent upon their inclinations. In addition, columns can be produced using wood, stone, brick, or even concrete.
Columns work particularly well in houses with enormous open floor plans, since they give a smooth and exquisite transition. Be that as it may, you should be cautious about where you position them. For example, wooden columns fit in exceptionally well in a rustic theme.
In case your home needn't bother with a structural column to help the entire structure, you can choose faux columns. To point out, faux columns are non-structural and utilized exclusively for decoration purposes.