All through architectural history, designers and architects have needed to discover innovative approaches to address the issue of structure versus aesthetics in constructing houses. In particular, columns are one of those design difficulties that are fundamental for structural support. Also, to carry the heavy loads from the rooftop, upper floors, or other weight-bearing burdens to the ground to support your house, we need columns. While many think that columns must be covered, there are some unique approaches to highlight them instead. Below are interior column ideas for you to maximize and use columns as decorative features in your home.
The interminable battle among structure and design frequently leaves us with problems. It's easy to skim through the home structure process in a fanciful daze, envisioning an extensive open floor plan with enormous, spacious views that stream from room to room, making your home feel larger than it is.
However, columns are regularly unavoidable in open floor plans. In case you are faced with a remodel of space with two unavoidable columns prominently put right in the center of your open floor plan, this post is for you. For inspiration, check out our interior column design ideas.
ROUND WOOD
This interior column is made of marble and features a classic fluted design that adds timeless elegance to the room by Elite Mouldings Inc. The columns are extra smooth because of extremely sharp knives and sanding.
FINGER JOINT PINE
The tall, sleek columns in this photo add a touch of grandeur to the room, while their simple design keeps the space feeling modern and uncluttered by Elite Mouldings Inc. Made of Finger Jointed Pine, these paint-grade columns are smooth and sophisticated.
BEACH-STYLE DINING
The ornate capitals on these columns give a nod to traditional architecture, while the sleek white finish keeps the space by Gilles Clement Designs feeling fresh and modern. The columns add a luxurious vibe to this beach-style dining.
MEDITERRANEAN HALL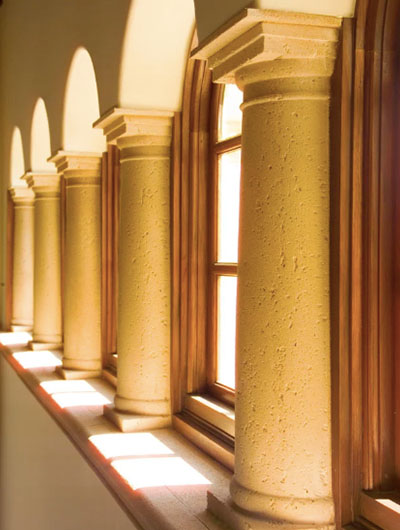 This design by MEYER ARCHITECTURE showcases a more ornate design for an interior column, featuring intricate carvings and detailed molding that add a touch of luxury to the space.
SQUARE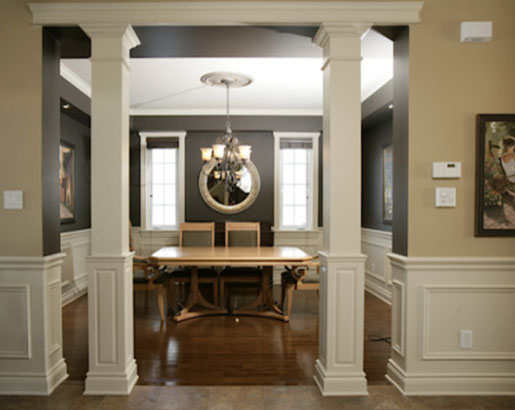 The thick, sturdy columns by Elite Mouldings Inc. in this photo add a sense of strength and stability to the room, while their decorative fluted design keeps the space feeling stylish and sophisticated.
DECORATIVE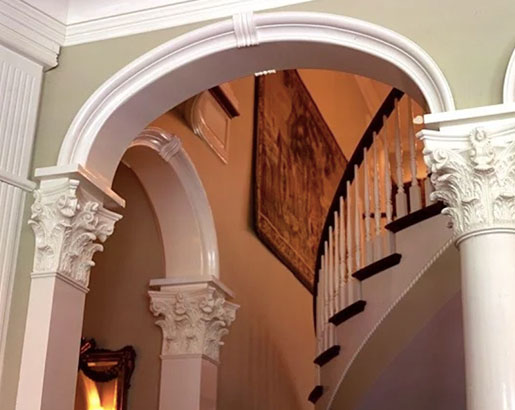 These tall, narrow columns add a sense of height and grandeur to the room by Elite Mouldings Inc., while their understated design keeps the space feeling sleek and contemporary.
TRANSITIONAL ENTRY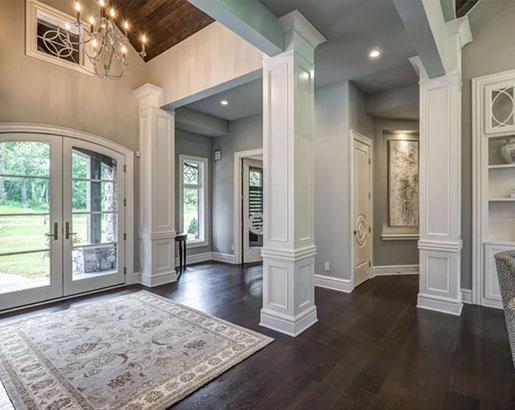 The smooth, white columns in this design by Debbie Sykes add a touch of elegance to the space, while their simple design keeps the focus on the intricate molding and decorative ceiling.
TRADITIONAL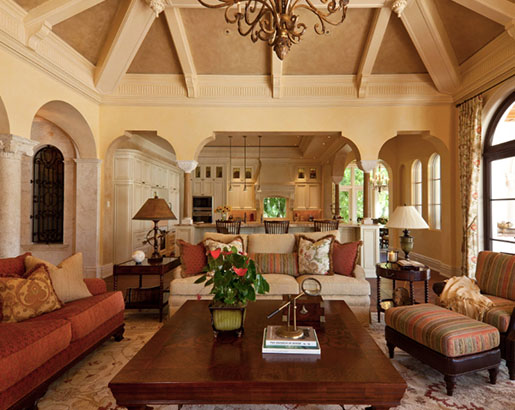 This interior column features a dramatic, curved design by Douglas Design Studio that adds a sense of movement and flows to the space, while the subtle wood grain finish adds warmth and texture.
Interior Column Ideas For Living Room
Living room columns are an extraordinary yet basic approach to add detail and richness to your living room. The columns also help you to give a transition between the living room and dining room or kitchen, particularly in case you have an open concept kitchen.
For your living room, you can opt to utilize old style interior column ideas with appealing capitals, at the highest point of the columns. Also, classical interior column design ideas with eye-catching design subtleties can be used to make amazing details that will consistently catch the attention of the individuals in the room. Moreover, there are various ways one can utilize architectural details for the columns; settling on either basic or complicated designs
Furthermore, you can likewise utilize columns with the goal that they are the central point in the room. For example, this should be possible by arranging the furniture around the columns. Truly, giving the furniture a chance to manage how you organize your room can bring an exquisite presentation.
Homeowners can have columns made out of an assortment of materials, contingent upon their inclinations. In addition, columns can be produced using wood, stone, brick, or even concrete.
Columns work particularly well in houses with enormous open floor plans, since they give a smooth and exquisite transition. Be that as it may, you should be cautious about where you position them. For example, wooden columns fit in exceptionally well in a rustic theme.
In case your home needn't bother with a structural column to help the entire structure, you can choose faux columns. To point out, faux columns are non-structural and utilized exclusively for decoration purposes.
SQUARE WOOD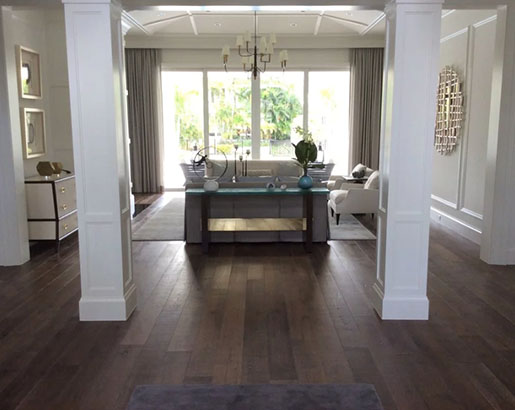 The ornate capitals and intricate carvings on these columns add a touch of old-world charm to the space by C & M Wood Flooring Center, Inc., while their sleek black finish keeps the space feeling modern and fresh.
CLASSIC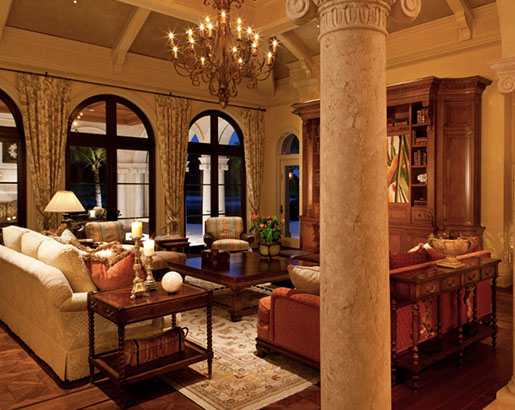 The tall, sleek columns in this design by Douglas Design Studio add a touch of drama to the room, while their simple design keeps the space feeling modern and uncluttered.
BENEATH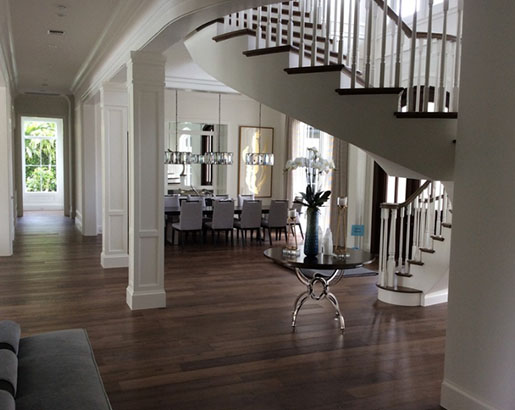 This interior column features a more ornate design by C & M Wood Flooring Center, Inc., with intricate carvings and decorative molding that add a touch of elegance to the space.
FUNCTIONAL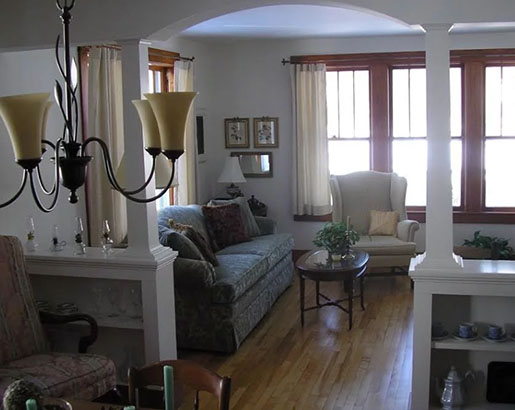 The thick, sturdy columns in this design by Schumacher Construction add a sense of strength and stability to the room, while their understated design keeps the space feeling sleek and contemporary.
Different Ways To Decorate Columns
This becomes a typical discussion among contractors and homeowners who would like to make an open floor plan by thumping down walls. The architect says an extremely significant structural column or two must remain, and all parties begin to lament a little for the ideal open space that now seems tainted. In case you wind up in this position, cheer up. Markedly, that column that originally resembled as an eyesore can turn into an element in its very own right with these interior column wraps.
First, you can use mosaic tile or wallpaper with a fascinating texture. Surely, this approach to spiff up your columns with a small investment of money and time.
Next, one of the most refreshing interior column wrap ideas is using bricks. The exposed brick walls are extremely popular in America's coolest urban areas, and there's a valid reason why. First, they add legitimacy to design that feels established in tradition and, along these lines, timeless. Particularly, you might be already acclimated with considering brick in the home as a fireplace surround. When in fact, it looks similarly as comfortable as cladding for thick columns like you see below.
On the other hand, if you're not a fan of brick's red tones, you can choose natural stones. For that rustic lodge feel, you can also pick a stacked-stone tile in a variety of tones that match your interior home column design ideas.
Moreover, wood-slatted columns proceed lightly on open-air living spaces while characterizing it as an intimate room. Besides, the space between the slats provides an impression of delicateness, with the steel frame barely noticeable underneath.
Meanwhile, who says indoor columns must be of uniform thickness? For instance, a tapered Craftsman-style column below represents the past as it supports the beam on the top.
TRANSITIONAL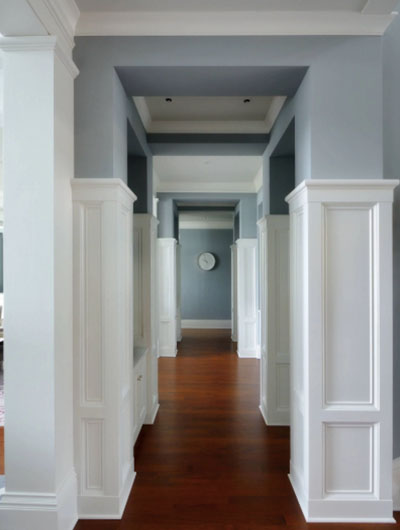 This interior column by AOME Architects features a unique, tapered design that adds visual interest to the space and helps to break up the linear lines of the room.
CRAFTSMAN STYLE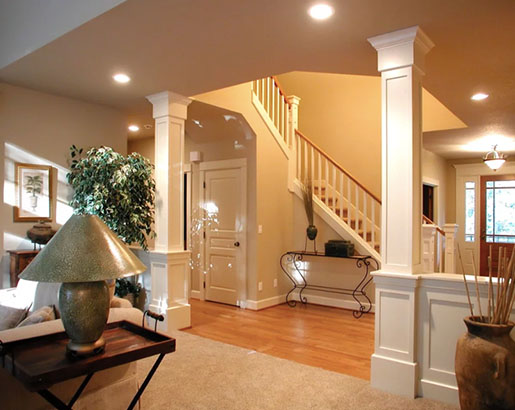 The fluted design and ornate capitals on these columns by GoManGo Enterprises give a nod to traditional architecture, while their sleek black finish keeps the space feeling modern and fresh.
Make Your Columns Functional
When designing a house, the vast majority of us become involved with the subtleties of making it look excellent by improving perspectives and having open spaces that give it an extravagant vibe. Then, the truth comes, particularly when we consult a professional who says that a huge room may require a load-bearing column in the middle to make it stable, or that the roof will require a couple of extra support columns in the middle to keep it stable even against extreme winds.
Having a column in the middle of an area can be unappealing as it removes the sentiment of receptiveness, but you can't prevent it for your home's safety. In case you are thinking about how to get around this issue, don't stress! To demonstrate, we have interior home column design ideas that you can use to transform a dull column into a particular component that mixes into your home. Moreover, we show you interior column ideas on the best way to enhance solid columns or brick pillars to add magnificence and functionality to your home.
In case an enormous open-plan space has a concrete column in the middle, consider utilizing it as a visual divider that isolates the areas. In addition, you can paint the concrete column white and goes about as a support for the wooden pillars and beams that lay on it. In this case, the design divides the area into four smaller rooms – the living room, the foyer, the dining room, and a study. As a result, the white and dark-colored tones all throughout make a dazzling minimalist atmosphere.
ECLECTIC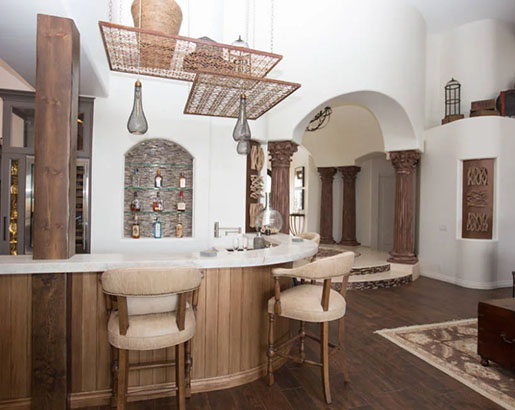 It's no secret that the interior design world is a cut above the rest, and Cosa Bella Interiors is no exception. Make your home stand out with decorative columns built just for you.
RECLAIMED WOOD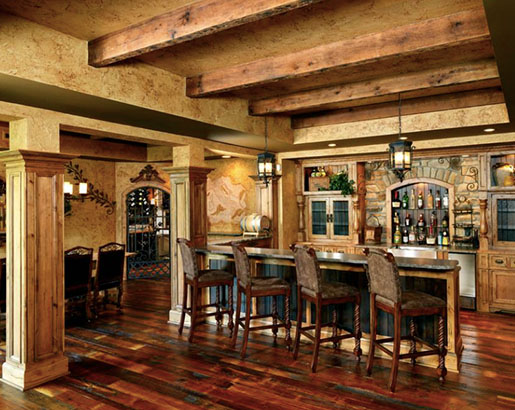 Totally Floored Inc. did an amazing job with this kitchen and dining room's design, which manages to seem both rustic and historic. The attention to detail in this country-style tavern is amazing.
Classic Columns That Won't Go Out Of Style
Round and square columns are made up of three components. The capital or cap is wider than the pillar and can be designed in a variety of ways. Doric or Tuscan caps are ideal for understated interior design. Corinthian caps are ideal for luxury and eye-catching interior decor.
Round pillars can be plain or fluted. Stunning carvings on stone or hardwood columns can be coupled with Tuscan & Doric bases to complete gorgeous columns & enrich the modern interior design with these distinctive architectural components.
Classic columns are composed of granite and marble, precious metals, and carved wood, and they lend an ancient touch to modern interior design and decor. Modern columns and pillars can also be made of less expensive materials such as treated wood, fiberglass, and PVC. Decorative columns made of inexpensive materials are highly appealing and come in various forms appropriate for simple interior design and décor in a minimalist style, classic and elegant home interiors, and relaxing rooms in a country home.
Hardwood, stone, and marble are excellent choices for bearing big loads. Fiberglass and PVC are lightweight materials that are best used for decoration. Find pillars that are simple to install and paint, and use these architectural features to add stylish accents to your modern interior design.
Other Ways To Make Use Of Columns
First, a column can be a support for a recess. A column can fill in as support for a segment wall between two areas. For example, the concrete column with stone cladding offers a mitigating natural touch to the area. Moreover, designing a wall with a smaller width compared to the column enables you to make a recess into which you can have household furniture without causing the space to seem cramped.
On the other hand, another alternative for maximizing a loadbearing column in the social space is to utilize it as the base for the wall-mounted TV. Also, the wall can be covered with a rustic wallpaper or a design of your choice to carry a comfortable vibe to the area. Likewise, you can enrich the wall with a finish that matches the theme of your home, regardless of whether it's modern, classic, or contemporary.
In apartments, it's normal to discover a loadbearing column in an odd spot, like a foot away from the outside wall. In this case, an ideal approach to utilize the dead space is to fabricate storage shelves in the niche. Besides, you can use curtains to cover the niche to make it resemble a little window.
Interior Column Ideas In Big Houses
In an enormous home with a double-height roof, columns are needed to support the structure. Setting the columns in a circle to create a border for the seating space in the living room causes the area to appear cozier, particularly in big houses. In addition, it isolates the living room from the pathway prompting the stairs. Also, covering the columns with a natural stone finish and introducing floor lighting at the base of every column make a wonderful component that adds style to the living room, aside from the quietly enlightening the zone.
Meanwhile, making household furniture that fits superbly between the wall and the column can remove the attention from the placement of the support structure in the middle of an area. In this way, we can view how the top segment of the wooden partition has glass with the goal that it doesn't compromise the natural light in the space. The bottom half can have an advantageous storage incorporated with the unit – ideal for sorting out things and keeping the living room of the house mess-free.
While structural columns are regularly present at the primary entrance to support the yard rooftop or the upper floor, you can get imaginative and break away from the conventional design of a solitary column and split it up into two. For instance, stone-clad support columns in the entrance with a hollow at the middle are ideal for setting a grower to design the space and make an all the more inviting feel.
Column Ideas Outside The House
In a home with a patio on the upper floor, while the view is the essential feature, safety is a significant aspect to be incorporated into the plan. In case the structure has a column at the edge of the patio for supporting the rooftop, the column can likewise be utilized to fix the steel and glass safety railing along the outskirt of the porch to keep the zone more secure.
On the other hand, when you have a home with an incredible view and would prefer not to obstruct it by building high boundary walls, brick columns can fill in as posts from which security fencing can be trailed around the property to secure it. Moreover, paint the columns in an appropriate shading to add a dazzling component to the outside perspective on the house. For instance, splendid red columns can improve the rustic style of the home.
This is an image roundup post, curated to showcase and promote other reputable contracting companies' and their amazing work. To have any of the images removed, please reach out to us and we would be happy to do so.
Other Great Articles to Read: