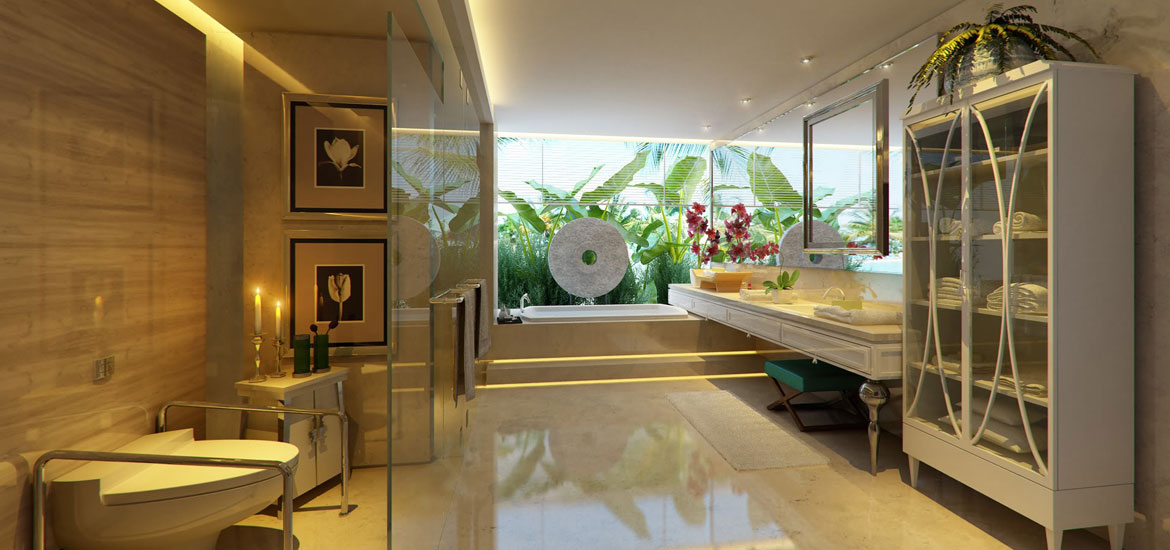 Today is a guest post written by Chuck Winkles, who is the president of New Life Bath & Kitchen in Santa Maria, California. He is proud to work with a top-notch team of professionals dedicated to remodeling excellence and customer satisfaction.



When staying in your home is the goal, you want to make sure you actually enjoy how your home looks. Design features for independent living solutions can sometimes transform your home into looking too institutional, making the space feel less like an actual home. If you want to age in place while keeping your home organized, functional, and beautiful, consider using these stylish features to keep your bathrooms and kitchens accessible – with your own stylish touch.
Showers
The slippery shower can be a dangerous place when mobility becomes a problem. Keep it safe and secure by installing non-slip floors and seats. Remember to lower faucets and the hand shower to a level that would be comfortable for a seated user.
A zero-threshold shower is the perfect design for aging in place because it removes the barrier that can cause tripping while getting in and out of the shower. Not only that, but it's stylish, bringing an open and clean appearance to any bathroom. In addition, with fewer corners for mildew to grow on, it keeps the shower cleaner.
Roll-Under Sinks
Photo by Innovate Building Solutions – Discover contemporary bathroom design inspiration
Roll-under sinks work well for people using wheelchairs. When done right, roll-under sinks enhance the space in a bathroom or kitchen by opening it up and creating a clean, organized look. A slanted mirror in the bathroom helps someone get ready comfortably. In both the kitchen and the bathroom, cabinets and drawers can be placed next to a roll-under sink for easy, organized access to items used regularly.
Decorative Grab Bar
Photo by Katherine Kawaguchi – Browse traditional bathroom ideas
These days, grab bars don't have to look like the ones you see in a hospital room. You can disguise them as the toilet paper roll or towel rack. They're still at the right height for safety, but their function is masked by their beauty.
Lowered Countertops
Lowered countertops in the kitchen make chopping onions a breeze (except for those tears!), and lowered countertops in the bathroom mean you won't struggle to brush your teeth or put on makeup if you use a wheelchair.
Oven and Stove
For safety and style, install a side-open wall oven. With the door swinging to the side, using the oven becomes as simple as opening a cabinet. No need to open a heavy oven door while balancing a casserole dish.



Keep your cooktop accessible by installing easy-to-reach controls placed at the front. Make sure they are clearly marked so they're easy to see.
And consider installing a heat-resistant counter near the oven so you can quickly and safely set down a hot pan.
Under-Counter Microwave
Photo by Neat Method San Diego – Browse traditional kitchen photos
Pulling a hot liquid out of a microwave above counter height can be dangerous. Instead, tuck the microwave out of sight under the counter. Not only will it make it easier on yourself to heat something up, you'll also save on counter space.
Faucets
Faucets that require turning can present a painful challenge to those wishing to age in place. Lever handle faucets are simple to use, with no firm grip required. Just a simple touch is all that's needed. You can even install sink controls on the side of the sink for easier access.
Shallow Sink
Photo by FabCab – Search transitional kitchen pictures
A shallow sink makes it easier to wash your fruits and vegetables, and to rinse your dishes. Make sure your sink is on the same side as your oven, if possible. But keep a counter in between, so that you can fill up a pot of water and immediately set it down.
Cabinet Shelves
Get around the problem of limited reach by keeping your cabinet shelves to no more than 10 inches deep. If you can't avoid deep shelves, have a lazy Susan installed.
Better yet, use pull-out drawers instead of cabinets. They keep pots, pans, and dishes organized beautifully, and within easy access. No more missing Tupperware lids.
Pull-Down Shelving
Photo by SVEA KITCHENS – Look for modern kitchen pictures
Use pull-down shelving in both the bathroom and kitchen. It gives you easy access to upper shelves as the shelves retract in, out, and down. And the shelving doesn't have to look industrial. Pull-down shelving can be made with stylish wooden drawers. If you use your shelving in the pantry, install a motion sensor light so you don't have to fumble for the flour in the dark.
Stay Organized, Clean, and Stylish
You don't have to give up the comforts and style you love when you transform your home to be more accessible. In fact, accessible changes can open up your rooms to provide a more organized look and and a cleaner home — while allowing you to maintain your personal style.



Check Out Some of These Great Articles
5 Questions to Ask Every Home Remodeling Contractor Before You Meet
The Many Decisions in Bathroom Remodeling
Image Sources: