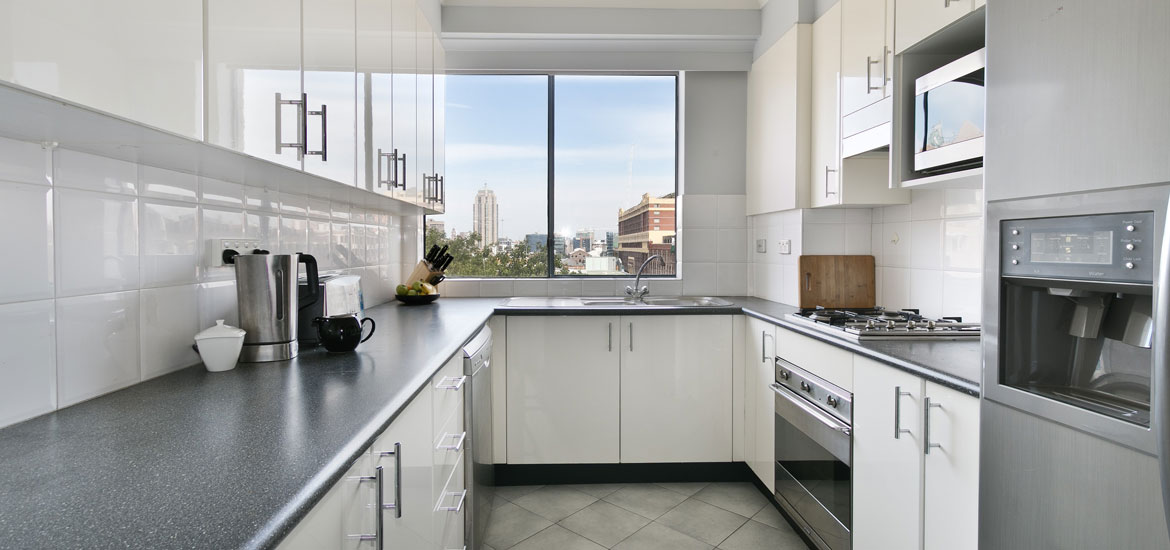 If I could have my way (don't we all wish we could!), I would design my kitchen to be the size of two very large rooms. It would have lots of counter space for food prep and to hold the immense number of appliances I've accumulated. It would feature an eat-in section, a desk area, a large range hood, and even a hang-out space with comfy seating.
Reality, however, is quite different. My kitchen is the size of a small box. Within that box, I've placed full-sized appliances, a small round table, a pantry, and enough counter space to make food prep possible. Technically, my kitchen works. From an optics perspective, it has a problem. My kitchen looks a lot smaller than it is.



Short of launching into a renovation, which isn't possible at this time, I had to come up with another way to deal with the issue. I did a little research and discovered that using color (and a few other tricks) is a quick and inexpensive way to make my small kitchen look larger.
Bright White
White is king when it comes to giving a room a spacious, airy feel. White walls seem to fall away, helping to disguise or ignore the natural boundaries within the space that might trip up the eyes. If white appeals to you, make sure you choose a high-gloss paint. Those walls will inevitably accumulate splatters and stains, and a high-gloss finish will make cleaning a breeze.
Related:
Keep it Monochrome
Choosing a countertop color that contrasts with the cabinet or wall color may be all the rage, but in a small kitchen, the opposite approach may serve you better. Stick to a monochrome look. Paint the walls in neutral and light tones. Choose colors that feature slight variations, such as brown, beige, and ivory. A monochromatic look helps unify all the elements in the kitchen. Keeping the colors light will create an open, airy feel.

Punch it Up
Just because your kitchen is small, doesn't mean you have to stay away from color completely. Warm colors, like red, orange, and yellow, are perfect for small spaces. Bright blue and green work well, too. All you need is a hint of color to add personality and energy. Use these colors as accents to highlight one specific section of the kitchen. Paint the wall behind a table red, or use orange to showcase an architectural feature, like an archway.
Need More Ideas?
Short of a renovation, paint offers the best avenue to a fresh, open, and airy kitchen. Once you've accomplished that, there's even more you can do to make your small kitchen look larger.
You can also take a look at our previous project gallery for design ideas.
Open Sight Lines
A large refrigerator, heavy wooden table and chairs … these elements create visual clutter. Choose backless or light colored seats, floating countertops, or open shelving to keep your eyes from lingering too long on any one part of the kitchen. Shiny appliances, counters, and lighting fixtures are fabulous choices for a small kitchen. Their surfaces reflect light which helps make the kitchen look larger
Install Glass
Wood cabinets are beautiful, but they can take up a lot of the visual room in a small kitchen. Consider swapping your existing wood cabinet doors for glass ones. The fact that glass allows our eyes to see right through to the back of the cabinet tricks our brains into thinking that the room is larger than it actually is.



Go Minimal
Hopefully, you have at least one window in your kitchen. Maximize the light that shines through by minimizing the window treatment. If privacy isn't an issue for you, then remove the window covering entirely, or hang a light, fabric border across the top of the window frame. If a window treatment is a must, go for blinds that can be open or closed as needed.
Over to You: How Have You Made Your Kitchen Look Larger?
Today's article was written by Range Hoods Inc, who specializes in all things kitchen with over a decade of experience. For more information or to view a great selection of range hoods, please visit their website at http://www.rangehoodsinc.com.



Check Out These Great Articles: