Initially used for barn and log-house exteriors, the board and batten style is on its way to taking the modern design world by storm. You can cover the whole exterior of your house with board and batten siding, incorporate board and batten ideas within your interior décor, or even add small accents with board and batten shutters or ceilings. Board and batten siding ideas have transformed itself from convenient, simple, and unimpressive, into modern, timeless, and rustic.
Board and batten is considered as a style of paneling that combines vertical planks of wood, known as the board, and small, narrower strips of wood, known as the batten. The batten portions cover the gaps between the boards and are actually used as protection for the joints between each wood plank, preventing moisture leakage between the individual pieces.
The board and batten style is representative of a casual, relaxed lifestyle, but maintains its elegance. It's a way to create uniqueness and is displayed as a mix-and-match situation, which is nothing less than charming. Dare to be different? One of the board and batten ideas is when the wide boards are installed underneath the narrow battens. Or, you can just get rid of the battens and overlap/overlay boards on boards.
FARMHOUSE LOOK
A modern twist on board and batten siding is showcased in this design by Argonaut Window & Door, Inc., with thin vertical planks and a warm color palette. If you want a timeless and farmhouse look, give board and batten siding a try.
WARM & RUSTIC
This rustic cabin by Blackline Renovations exudes charm with its natural wood board and batten siding and a metal roof. The designer used James Hardie Siding Panels and applied 1×2 strips vertically to achieve this look.
INTERIOR SIDING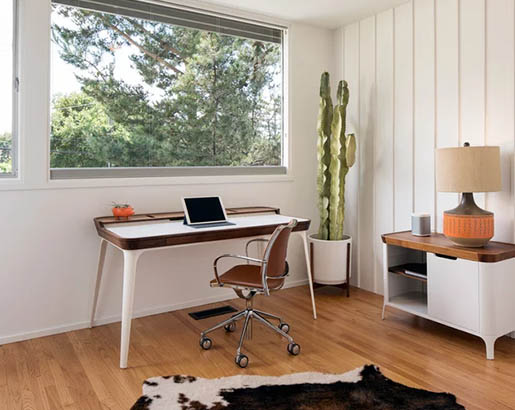 A unique pattern is created with the alternating board widths in this board and batten siding design. Add character to your wall (without adding color) with board and batten. Such a good design by Eisenmann Architecture.
WOOD CABIN
This contemporary farmhouse by Piches Architecture features a sleek board and batten siding with a dramatic black color scheme. This board and batten look for a Homewood cabin looks pristine and easy to maintain.
CLASSIC WHITE
The warm wood tones of this board and batten siding complement the natural surroundings of this mountain retreat by Zimmerman and Associates. Bring depth and texture to pure white exteriors by adding board and batten.
MODERN RANCH STYLE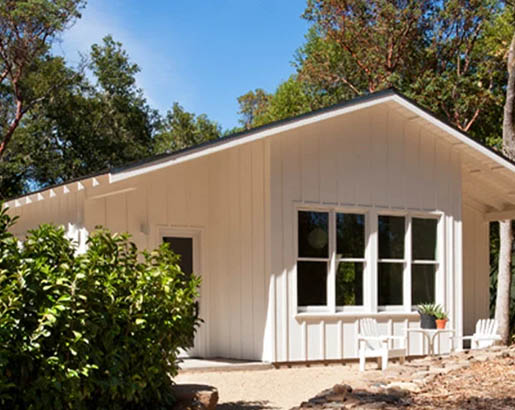 A playful mix of colors and board and batten widths adds character to this beach house design by Nick Lee Architecture. You can effectively turn any home into a stylish one just by adding board and batten.
VACATION HOME
This industrial-style home by OSMOND DESIGNS features a metal board and batten siding for a modern touch. The board and batten sidings in this vacation home give it a sophisticated edge.
Advantages Of Board And Batten Siding
The vertical aspect of the board and batten ideas provide shadows, textures, and complexity to your home, primarily when used as an exterior siding. With its nostalgic feel, board and batten achieve the highly desired rustic-chic look. It is charming and gives you that cozy feeling you've been looking for.
If you are looking to install board and batten exterior siding, you have a variety of material options available to you. In the past, wood was the most prevalent. It is naturally stunning and holds stain well, at least in the short term. But wood is vulnerable to cracks, rots, termites, and warping. Board and batten vinyl siding took over for a while, but vinyl material is still susceptible to extreme temperatures and warping and isn't always easy to paint. Cement, stone, and brick are durable and resilient, but they are heavy, difficult to install, unnatural looking, and certainly not easily interchangeable.
As of recently, a composite material has begun to dominate the board and batten exterior trend. The combination of fiber and cement has undoubtedly proved itself. Non-combustible and resistant to rot, extreme temperatures, termites, and warping, this composite material is affordable and extremely durable. Best of all, it's easy to paint, which means you can update your colored board and batten ideas as frequently as you would like. James Hardie, in particular, seems to be at the top of the game, with a thirty-year warranty on their fiber cement siding products.
WOODSTOCK CABIN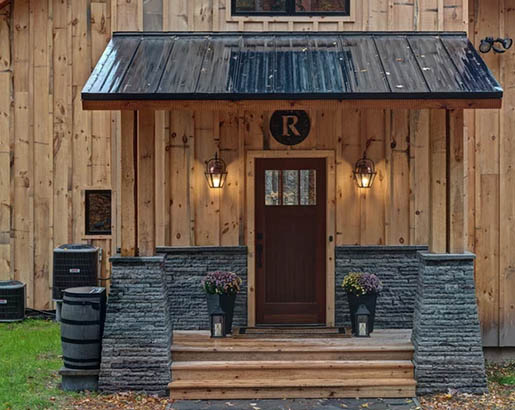 The unique angled design of this board and batten siding creates a striking visual effect. We love how raw and natural the finish is on this rustic exterior by Conklin Architecture.
RELAXED
This cozy cottage design by Tilson Homes features a classic board and batten siding in a warm wood tone with charming window boxes. Although the exterior is neutral and relaxed, the board and batten give character to the entire house.
Tips On Installing Your Own Board And Batten
For all of you DIYers, a board and batten décor is a project absolutely achievable on your own. We have compiled a few tips to make your board and batten installation a little easier:
Measure everything more than once. It is easy to assume that all your walls are straight and evenly spaced, but better safe than sorry. If you need to draw your space out, go for it. Preparation is key to a success DIY board and batten project.
Begin by purchasing 20 to 25% more material than you think you need. You can always return the materials if unused, but it will save you time and avoid last-minute shopping trips in the middle of your project.
Spend money to save time and money. Buy pre-treated or prefinished materials. This way, you can avoid sanding, and possibly even staining or painting. Yes, it will be more expensive upfront, but it will get your board and batten wall up days earlier and will save you a ridiculous amount of frustration.
If you are going to treat or paint your materials, make sure to do it before you hang them. It is recommended to finish all six sides of each plank, including the ends. Although they will not necessary be visible, unfinished portions of the boards allow more moisture to seep in, which can cause you more trouble down the road. Also, depending on the stain or paint that you purchase, prime if recommended. An exception to this recommendation is if you are going to use a paint sprayer, which provides a smooth and professional surface over a large space.
Caulk. Caulk. Caulk. In order to achieve the most professional look, do not avoid this step. Fill all nail holes in with wood filler, sand if necessary, and make sure to caulk all edges with a paint-friendly caulk, otherwise you may not be able to cover all of the filled surfaces. You can always touch up paint later if needed. This step alone can make the difference between a failed project and your new pride and joy.
Use effective tools. Don't slack on this part. The whole purpose of your DIY project is most definitely the result, but that doesn't mean that the journey is not essential. With the proper tools, you can save time, frustration, and ensure success in your board and batten endeavor.
With limitless board and batten ideas, patterns, materials, and color options, and the new composite material able to withhold frequent updates, you can keep your board and batten look up to date with any current trend. Affordable, low-maintenance, resilient, and versatile, what's not to love about board and batten? The look is time-tested and has proven itself worthy. Be part of the board and batten movement. There's no way you're going to regret it.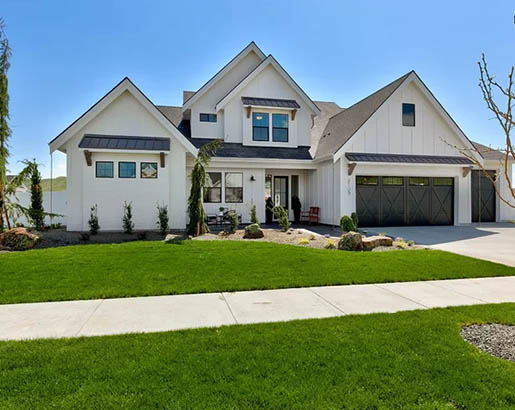 The rich wood tones of this board and batten siding add warmth to the exterior of this mountain retreat. The white color definitely makes the texture pop on this modern farmhouse-style house by Solitude Homes.
CONTEMPORARY CHARM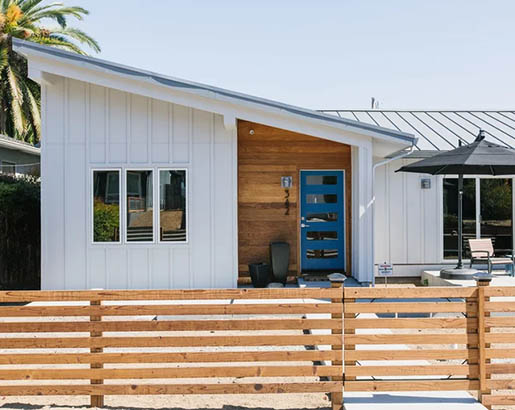 This charming farmhouse-style home by MG Custom Builders features a mix of board and batten siding in different widths and colors. The combination of wood and white paint finish on this house gives it a lot of character and a stylish edge.
Reasons To Fall In Love With Board And Batten Siding Even More
We have seen board and batten siding being utilized indoors on ceilings, as wainscoting, and as a wall covering in unfinished basements. For outdoors, in case covering an entire home in board and batten siding isn't an option, you can include it in accents as shutters or as a contrasting component for patios.
In addition, painting board and batten siding isn't a one-and-done deal, unlike painted brick houses. The paint can be overhauled, changed, and revamped with relative recurrence to suit changing trends in exterior paint colors. And, with composite materials, maintenance is simple.
Board and batten siding has a lot going for it, but it definitely won't appeal to everybody. In case you adore the trend, though, now's the time to undertake it—its popularity is likely only going up from here. Act quick, and you may be the first home on the block to rock the style.
How Much Does Vinyl Board And Batten Siding Cost?
Putting in a new board and batten siding can cost as low as $4,000 or as much as $21,000, with the typical expense around $9,000. That makes this type of siding comparable with others available in the market
Vinyl board and batten siding, in particular, costs somewhere in the range of $2 and $7 per square foot. When you include labor, it runs to an average of $10,500 for a 1,500 square foot home.
Vinyl board and batten siding is one of the more sturdy options for siding. In addition, vinyl board and batten siding resists snow, rain, and hail. An entire house work should last up to 25 years with no serious issues.
MODERN AND
TREMENDOUS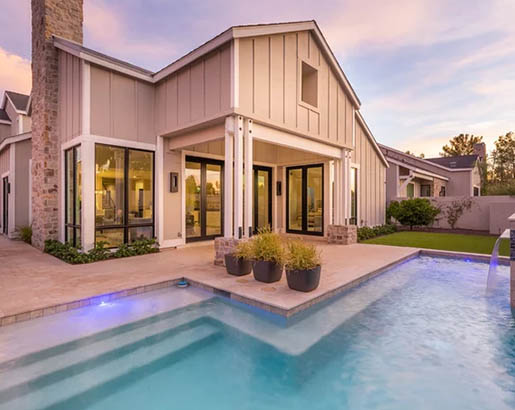 A stunning contrast is created with the whiteboard and batten siding and black roof in this modern farmhouse design by Sonora West Development, Inc. This house gives a modern spin to the classic board and batten exterior design.
Make Your Board And Batten Ideas Come To Life
Place An Order For Supplies And Materials, Organize Tools
Prepare for the project by ordering the required supplies and materials. The delivery might take time, so plan ahead before the installation. If you are using local materials, buy the materials early to provide enough time for primer coating before installation.
Consider Prefinishing Siding Product
In case you're not buying a prefinished siding item, consider painting or staining your material before installation. You need to prime the backs of the boards before putting them up in case you want to finish them after installation.
If you paint or stain all six sides of the siding boards, it gives the most excellent protection for the boards and may help avoid negative interactions between your weatherproof obstruction (asphalt felt, house wrap, etc.) and extracts and tannins from your siding boards.
Extracts from siding boards, particularly cedar, can corrupt house wraps and their water resistance. If you seal the backside of the siding boards, you can minimize the exposed house wraps.
Remove Old Siding
First, get rid of the old siding (if present). Utilize a flat shovel, flat pry bar, or something similar to expel old siding and clasp. Replace the weather-resistant barrier once you removed the siding. You have the option to take off the existing weather-resistant barrier, but it makes more sense to remove and replace it.
Check the condition of your exterior wall sheathing. You can remove and replace this also. Typically, this is a bigger work, but maybe preferred in case you want to insulate the wall cavity or replace the sheathing for screw fastening.
Start Siding Install With Skirt Board
Before installing the skirt board, you can bevel the foot edge of the board employing a 45-degree router bit to assist in directing water away from the wall. After running the router over one corner, you will then reprime and repaint the routered edge. Finally, you can now install the boards as the water table at the base of the wall.
Install The Siding Boards
Once you have the skirt board and top metal flashing in place, start introducing the sheets of your board and batten siding. You may begin adding boards anywhere along your wall without any issue.
Begin your board installation with a single board. Place the board on top of the skirt board drip blazing gapped slight (1/4″ or so) over the flashing to avoid water wicking up from the drip flashing.
When the board is set in place, utilize a level to plumb the board and then drive fasteners to join it to the wall. Drive fastener heads just flat to dodge clasp divots that can hold water. Keep in mind that fasteners need to get into solid wood.
Proceed to install boards along the wall, cutting them as required to fit around windows or additional obstructions.
Install Battens
Once you installed the boards and trim pieces, it's time to install the battens. When securing the battens, utilize a row of single centered fasteners that pass through the crevices between the boards and don't get into the boards. These fasteners should be long enough to pass 1 – 1 1/2″ into framing or the thickness of your sheathing + 1/4″ in case utilizing screws.
Proceed to install battens. When introducing battens, don't caulk the horizontal edges of the battens. The battens ought to be snug against the boards, but permit the boards to move beneath the batten in reaction to changes in humidity and temperature.
This is an image roundup post, curated to showcase and promote other reputable contracting companies' and their amazing work. To have any of the images removed, please reach out to us and we would be happy to do so.