Gone are the days when the term "bachelor pad" evoked pictures of some worn out household furniture, a heap of dirty dishes sitting on the table, and full of instant noodles, beer, and frozen meals in the kitchen.
When it comes to your bachelor pad, you would like it to be more than that. That's why we have bachelor pad ideas for you.
As a successful, strong, and independent man, you want bachelor pad ideas to reflect just like that. Whether your family is coming over for dinner, friends are making a trip to watch games, or a date is spending the night, any individual who goes to your home should have a glimpse of who you are, your likes, and preferences just by looking around your house.
Because you're always out doesn't mean you shouldn't have some space cozy and welcoming to get back home to toward the end of the day. Also, you deserve great bachelor pad bedroom ideas, especially with all the hard work you do every day.
So stop and think for a minute, folks. Regardless of whether you're starting fresh or you're hoping to take your bachelor pad to the next level, we have bachelor pad ideas apartment for you. Besides, another good news is, it doesn't need to cost you a fortune to bring bachelor pad ideas on a budget to life.
SLEEK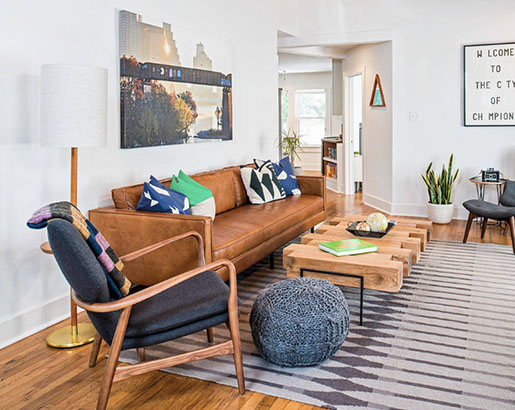 Everyone can agree that this is a very elegant living room because of its sophistication and airy feel—amazing design with all the latest must-haves. The coffee table's copper legs are what sold us on it—amazing modern style by Christen Ales Interior Design.
STYLISH
Do you long for a more modern and energizing look in your bedroom? This is the ideal layout for a bedroom at any time of day. This modern bedroom successfully combines practicality and elegance. The Picket Fence Interior Design did an amazing job.
ECLECTIC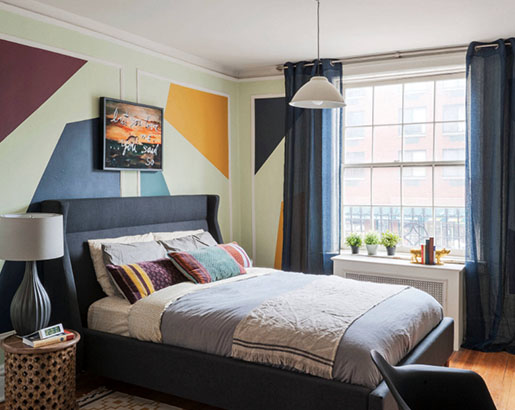 Looking to create a unique and interesting atmosphere in your bedroom? This bedroom layout is so modern and chic everyone will love it. Wow, LABLstudio outdid themselves with this stunning job on the hand-painted geometric wall.
MID-CENTURY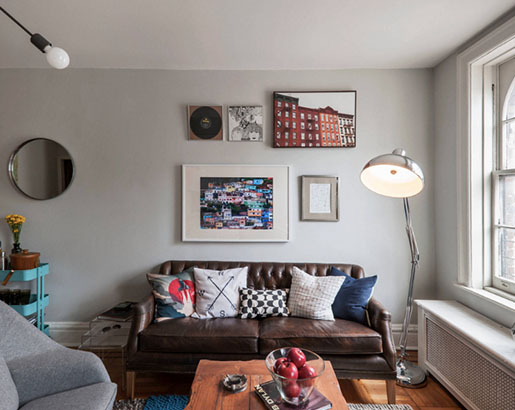 Have you thought about decorating your living room in a mid-century style? LABLstudio has created a stylish and aesthetically pleasing design—an Elegant West Village loft from the 1930s that features timeless mid-century furnishings.
CONTEMPORARY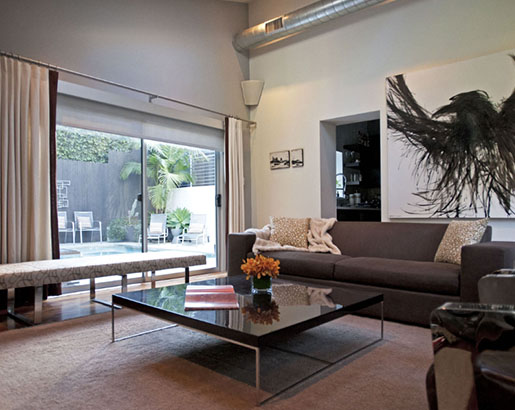 Do you feel revitalized in this ultra-modern family room? This living room was designed by Susan Corry Design, and it is the epitome of modern minimalism. An otherwise monotone room comes alive thanks to the addition of bold accents and quirky furnishings.
Tips For Decorating Your Space
Firstly, choose simple but durable furniture with edges and straight lines for your bachelor pad decor.
Secondly, leave the smooth lines and delicate curves to the girls! In addition, it is vital for furniture in the man cave to be cozy and snug. Particularly, this means having a huge sofa, which doesn't actually need to have a great silhouette but is magnificent to sit. However, you should attempt to discover a balance between looks, usefulness, and comfort for your bachelor pad ideas apartment.
Next, use racks or shelves to present your collections and memorabilia. Ultimately, this is a straightforward method for you to customize your bachelor pad and to show the things which make you glad and loose. Obviously, they would need to fit in the space, so we're discussing little stuff like action figures.
On the other hand, you can also utilize neutral tones for bachelor pad ideas for small spaces. While some colors are fragile and ladylike, some are sensational and manly. Moreover, when decorating your bachelor pad, look for hues that are neutral such as gray or beige. In any case, you should remember that decorating bachelor pad bedroom ideas like this usually give out a cold vibe. In general, bachelor pad ideas apartment like this are commonly an incredible method to begin transforming your space.
Finally, make a bachelor pad with a warm feel. Also, perfect bachelor pad ideas should astonish visitors at first. Likewise, it must also rouse a warm-welcoming sentiment of female visitors and excite the jealousy of male friends. Moreover, this might be a grand home theater, a wine cellar, or a collection of classic books. In addition, these are areas where you can showcase your collection through the years.
SUAVE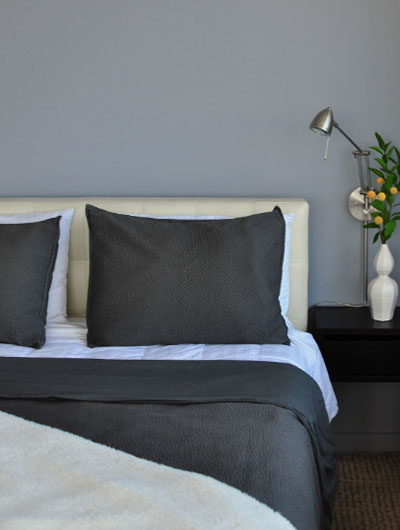 Benjamin Moore's Tundra gray paint is a nice choice for a bachelor pad. Both the hue of the sheets and the headboard are a perfect match for the wall's color. Scheer & Co. Interior Design created this clean design.
MODISH
The i3 design group created such a chic bachelor pad. It has such a clean, contemporary appearance. Enjoy preparing meals with a fully stocked kitchen. The living room, dining area, and kitchen all appear functioning.
Minimalist Approach For Bachelor Pad
Less is definitely more. Also, it would be best if you abstained from transforming your bachelor pad into a storage space with many clutter. In fact, having a few valued things is the secret to bring a cozy atmosphere. For instance, one of a kind pieces like rare paintings, vintage flags, and old sculptures stand on their own. In addition, they can be great conversation starters.
Next, conceal any type of cable. In case you have a home theater, TV, or Xbox, or some other electronic in the bachelor pad, don't let visible wiring undermine the general style of bachelor pad ideas. In addition, plan arrangement with the goal that cables can turn out to be more discreet behind furnishings or in corners. Moreover, you can utilize cable covers or secure a power strip to the back of furniture so you can keep the strips out of view. In case you can't conceal the wires, you can combine them with zip ties, or hook and loop straps so you can have them into a single unit.
On the other hand, make sure to be consistent in your bachelor pad decor. Also, you should have a theme in your bachelor pad, and albeit not everything should match, they should easily harmonize the other parts of the bachelor pad. Furthermore, matching your billiards table and the wood from your home bar adds consistency and a hint of class to your bachelor pad.
Finally, you should utilize accessories that coordinate the color palette so you can make the room more cohesive. Besides, the manner in which the bachelor pad looks will influence your emotions, disposition, and relaxed you will get.
WORK DESK
Imagine having a space all to yourself that looks so contemporary and promotes productivity simultaneously. Cantoni did such a great job with this design. This is ideal for a bachelor who is a workaholic and has a sophisticated sense of style.
CITY VIEW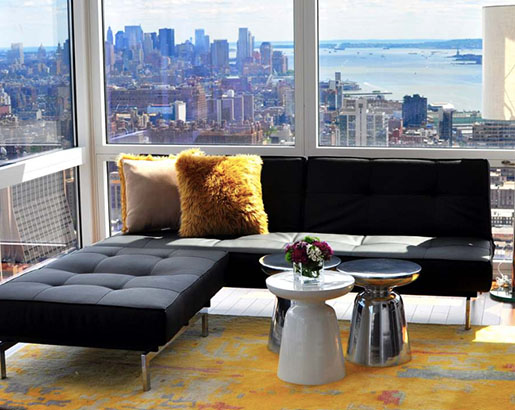 This bachelor pad design by Scheer & Co. Interior Design has a stunning city outlook! Contemporary furniture has a sleek, pricey appearance. You will feel like you can do and achieve anything with a pad like this.
Bachelor Pad Essentials
In case you have no idea where to begin, don't stress because we've made it simple for you. Below are the top things you should have when building your bachelor pad.
Wall Art
If you want an impressive bachelor pad, you can't have every single wall bare. Wall art has a tremendous effect, providing an instant statement. In particular, it's also an approach to keep the conversation flowing. Do you have a date at your space? Then talk about why you purchased that fine art.
Bed Sheets
In the event that your bedding has stains, rips, cartoon characters, or rough texture, it's the ideal opportunity for a redesign. In addition, it's surprising how much distinction great sheets and covers can make in how well you sleep, as well as how much it will impress your date or guest.
Sofa
Stylish, solid, and the ultimate bachelor pad should have a leather couch. Also, this is an investment piece that will last for a long time. Moreover, they are comfortable, and you will be glad to have one after a long day at work.
Bed Frame
Why utilize a bed frame when you can simply put the sleeping cushion on the floor, correct? Wrong! In particular, you may approve of resting on the floor, but your date likely won't be, particularly if they need to utilize a tuck-and-roll technique just to get up.
Desk
Any successful man knows the value of hard work. In order to achieve great things, sometimes you need to do extra work after office hours. Instead of sitting on your couch or bed, invest in a desk to get things done.
SNAZZY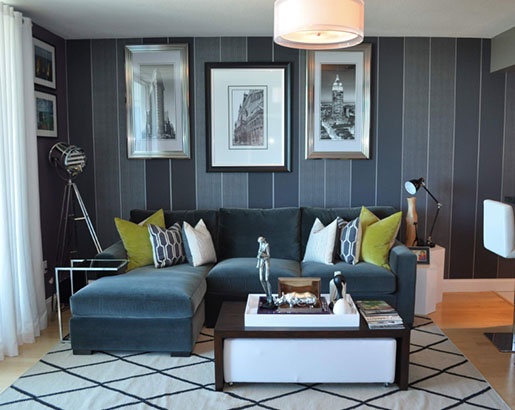 Such a sleek, light-filled living room layout exudes a glamorous vibe. The setting is very warm and inviting. Nicole White Designs Interiors LLC's design is amazing. In this modern bachelor pad, the use of lines, texture, and color is excellent.
DAPPER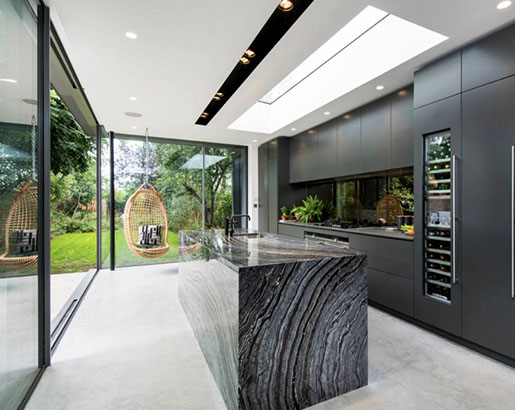 Everything in this bachelor pad design simultaneously looks so natural and refreshing because of its natural appearance. A space that is easy to maintain and tidy would have few appliances and decorations. Marek Sikora Photography managed to capture such a good design.
Bachelor Pad Ideas On A Budget
The initial stage in making a sophisticated bachelor pad on a budget is to keep away from clichés as long as possible. Moreover, clichéd design ideas immediately become outdated, quickening how soon a room may require redesigning. Of course, leather sofas are reliable—and nothing shouts manliness like hints of worn-in, aged surfaces—but numerous other manly decisions are considerably more extraordinary and unforeseen.
Besides, with leather frequently costing as much as $250 per hide, and a standard couch requiring approximately five hides for upholstery, velvet, linen, and boucle are excellent choices that minimize expenses. In addition, an interesting point while sourcing upholstery fabrics is to put aside around $35 per yard for something durable and high quality. In particular, hold back on upholstery fabrics because its possible pieces will cost more over the long haul because of tears, rips, and re-upholstery costs.
Staying with solids on staple furniture pieces is likewise economical since the pieces can quickly take on new looks with patterned blankets and throws. Also, nail head detail can be utilized to spruce up a generally simple, stable piece or bring an awesome edge to increasingly customary style furniture. Moreover, an astounding method to give essential, budget-friendly seats or barstools a very good quality update is to append nail head subtleties along the edges with a hammer, or drop them off at a nearby upholstery shop and have it done expertly.
Bachelor Pad For Small Spaces
As a bachelor, you are the king of your own palace, and how you design it is up to you. In case your palace incorporates a little bedroom, keeping the design simple provides a more sorted out, mess-free space. In particular, interior decorating hacks can make a small bachelor pad bedroom look bright, airy, and spacious. Also, by picking the correct hues, furniture, textures, and window treatments, you can make a simple room space fit for a king.
Look to the current wall hues in your bachelor pad to choose a paint color for your room. For instance, you may pick light gray wall paint for your room to supplement dark gray living room walls. For instance, light paint hues—grayish, practically beige, barely gold—will, in general, reflect more natural and artificial light to make an illusion more space in a tight room. Then, you can apply complementing paint shading to furnish a highlight wall with dimensional depth.
Next, pick no-frills furniture pieces that are practical and in scale with the size of a little room. For example, a cozy bed, dresser, and a couple of nightstands are great. Also, include a comfortable armchair or cushioned seat if space allows. Moreover, platform beds built with basic, straight lines provide a modern appearance, along with a bonus storage space below. If you want, you can also try a Murphy bed that folds conveniently into a wall when it's not being used to free up important floor space.
Finally, downplay your decor for a minimum for a comfortable, uncluttered room that is simple to keep and maintain. Besides, the couple of accessories you decide to show should express your personality. For instance, deck the walls with a large canvas print of your favorite baseball field or travel photos.
Final Considerations
A stylish bachelor pad is the epicenter of every self-sufficient man's excellence, and the living room is key to making a great impression.
Exquisite refinement is synonymous w/ the 21st-century bachelor pad, and heightened sophistication is required if one genuinely aspires to exemplify high-class grandeur.
Of course, a spectacular display of male flair begins with the living room, which should have only the most exquisite furnishings imaginable.
Leather is well-known for its ability to convey both size and style. Remember that workmanship and comfort should be used to balance out the stark appearance. As a result, a wise decorator might use a mix-and-match method with their seating configurations to maximize magnetism.
Automated technology is also required, especially if you intend to provide a plethora of sophisticated entertainment options. All tables and shelves should preferably display futuristic craftsmanship as well as inventively extravagant presentations.
Artistic minimalism is a great way to avoid hubris, and streamlined post-modernism can provide the appearance of humble shrewdness. Regardless of innate tendencies toward extravagant excess, every element should feel like a natural inclusion. The overall idea is to create a stylishly balanced nook that is both distinctive and inviting.
This is an image roundup post, curated to showcase and promote other reputable contracting companies' and their amazing work. To have any of the images removed, please reach out to us and we would be happy to do so.
Other Great Articles to Read: