Whether you're looking to give your kitchen a complete remodel or are simply looking to make a few changes to update your space, the good news is that there are plenty of ways to add detail to your kitchen. By giving your kitchen that "wow factor," you can feel inspired each and every time you step into the space. Furthermore, you can add overall value and appeal to your home.
Mixing and Matching

When most people think about kitchens, they imagine uniform cabinetry and countertop materials. However, in today's age of design, homeowners can get a little more unique with their kitchen materials. In fact, switching up kitchen cabinet materials, colors, and countertop materials can make for an interesting and modern appearance.
For example, rather than going with all white cabinetry throughout a kitchen, why not consider doing a dark wood island to create a focal point? Or, perhaps you could do a different color of cabinetry on your upper cabinets than the lower ones.
Getting Creative with Storage

Storage space is a huge asset in any kitchen–but if you're dealing with a smaller kitchen space, it can sometimes be challenging to come up with the storage space you need for a functional kitchen.
Fortunately, there are always solutions to these problems; sometimes, it just means getting a little bit creative. For example, it's not uncommon these days to find cabinets with pull-out cutting boards as a means of saving space. Nor is it difficult to find pull-out pantries or double-tiered drawers. Adding creative storage space to your kitchen will make it more functional while also giving it that "custom" feel.
Adding Decorative Molding

A little bit of decorative molding can go a long way in any kitchen. Whether crown molding is your style or you're more a fan of fluted molding, find an accent that will look great in your kitchen space and go for it. Keep in mind, however, that crown molding tends to work best on larger spaces or, at least, spaces with high ceilings. Adding thick crown molding to a smaller kitchen space can, unfortunately, make the space feel even smaller. In such cases, fluted molding may be a better option.
Taking Cabinets to the Top
In previous years, kitchens were often designed with cabinets that stopped about a half foot (or more) from the ceiling. These days, however, designers are making better use of the space afforded to them and designing kitchens with cabinets that go all the way to the ceiling.  Which is right for you, 36 inch or 42 inch cabinets?
This makes for additional storage space that homeowners appreciate. If your kitchen cabinets currently don't go all the way to the ceiling, now might be a good time to see about having them replaced with ones that do. Even if you can't easily reach the top shelves without the need for a step stool, these added shelves can still be a great place to store items and small appliances that you don't use often, freeing up space in the cabinets at eye level.
Going Bold With Colors
Last but not least, consider going bold with your color choices as you remodel or update your kitchen space. Little pops of color here and there can go a long way. Whether it's a bold purple paint color or even a tile backsplash with bright colors, the possibilities are endless.
Overall, there are many ways to go about adding detail and wow factor to your kitchen without doing anything too drastic in the process. For more information on making the most of your kitchen update, feel free to contact us today; we'd be happy to help.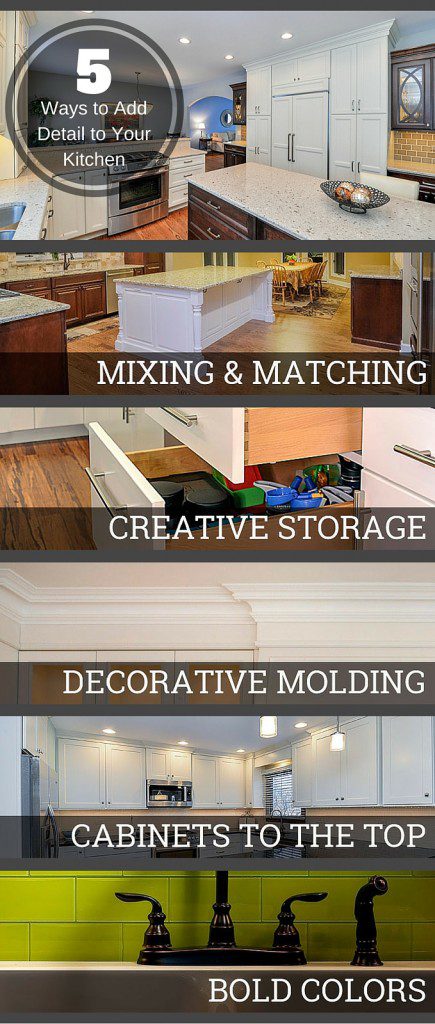 Share this Image On Your Site