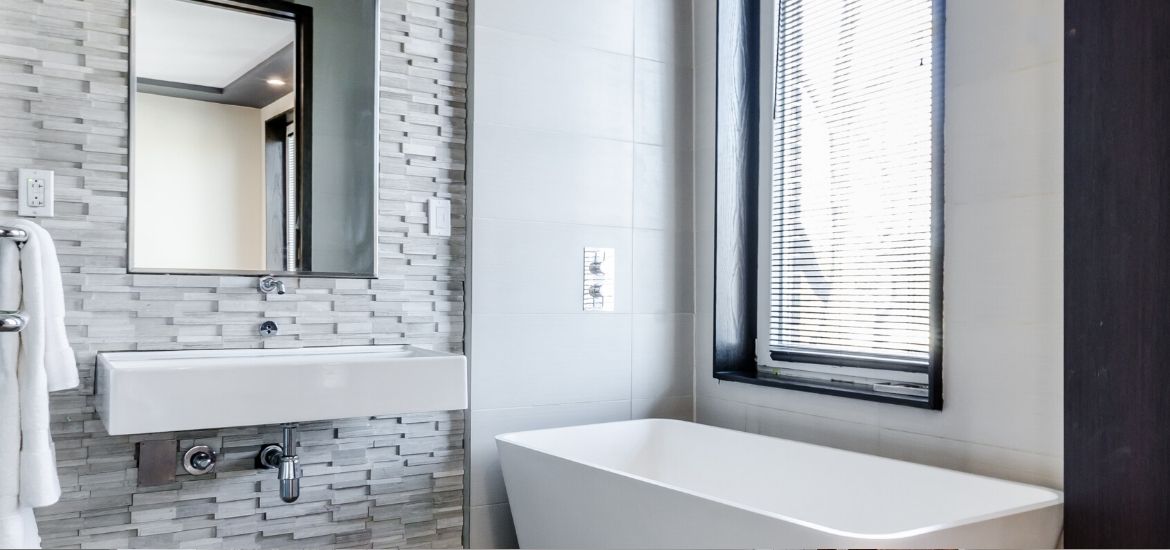 It's time to remodel your bathroom, and you're excited to swap your old fixtures for newer, more modern ones. You've already chosen your bathtub, your toilet, and your showerhead, and you're nearly done except for your bathroom sink. You've been thinking about getting a trough sink, but you don't know where to start or whether it is the right sink for your bathroom.
When it comes to designing a stylish and functional bathroom, the choice of a sink is crucial. Trough sinks have gained popularity in recent years due to their sleek and contemporary design, as well as their practicality in accommodating multiple users simultaneously.
In this review, I will check out the top-notch options that combine form and function, making them ideal for both residential and commercial spaces. Whether you're renovating your bathroom or starting from scratch, our guide will assist you in finding the perfect trough sink that suits your needs and enhances your overall bathroom aesthetic.
We understand that choosing the right trough sink involves considering various factors such as size, material, installation options, and overall durability. With our detailed analysis, you'll gain valuable insights into each sink's features, benefits, and potential drawbacks. We have taken into account customer reviews, expert opinions, and market trends to compile a comprehensive list of the best bathroom trough sinks available.
My goal is to equip you with the information you need to make an informed decision, whether you're seeking a sleek and modern design or a more traditional and rustic look.
So, if you're ready to transform your bathroom into a stunning and functional space with a stylish trough sink, join me on this journey as I review the best options on the market. Let's explore the features, pros, and cons of each sink, helping you find the perfect match for your bathroom's style, functionality, and budget.
Bathroom trough sinks are designed to be longer than the ordinary sink. Trough sinks were patterned after the watering troughs found in farms, hence the name. Because of their length, they can accommodate two or even three persons at the same time. These sinks are ideal for couples, roommates, and siblings who share a bathroom.
This type of sink can also be found in dormitories, hotels, and restaurants. Their length allows you to install two faucets at the same time. But if the sink doesn't come with a pre-drilled tap hole or it is constructed as a simple washbasin, then you can customize it and install as much as three faucets to maximize the space.
Choosing the Right Bathroom Trough Sink
Common Bathroom Trough Sink Installation Type
Bathroom trough sinks can be installed in many ways. Take a look at each installation type below to see which one is right for you.
A vessel trough sink is installed on the countertop itself. Its position makes it look quite similar to a large bowl sitting on top of a table. Vessel sinks are deeper and higher than the usual sinks. Because they sit on the countertop, make sure that the vessel trough sink you choose is not too high for you to use. Vessel sinks are a fantastic way to make your bathroom stand out, but keep in mind that unlike other sinks, you'll have to wipe the exposed back and sides of the unit to keep it clean.
Drop-in or top-mount bathroom trough sinks are installed or "dropped" into the countertop, leaving the lower portion hidden while the rim is exposed. Top-mount sinks are generally more affordable than other types of sinks. Plus, unlike a vessel sink, you only have to clean the rim and the interior of the basin.
If you want a cleaner, more seamless look, then you might want to check out undermount trough sinks. These sinks are installed underneath the bathroom counter. But unlike a drop-in sink, the rim of the undermount bathroom sink is not exposed. They are easy to clean, but they are more challenging to install. Homeowners should also have a more solid countertop as laminates are not ideal for these sinks.
Some trough sinks available today can be wall-mounted. They are installed directly into the wall, and an extended countertop or a cabinet underneath is entirely optional. Because the plumbing is hidden inside the wall, wall-mounted trough sinks are ideal for homeowners who want a cleaner, more minimalist look. Wall-mounted sinks, however, are more challenging to install.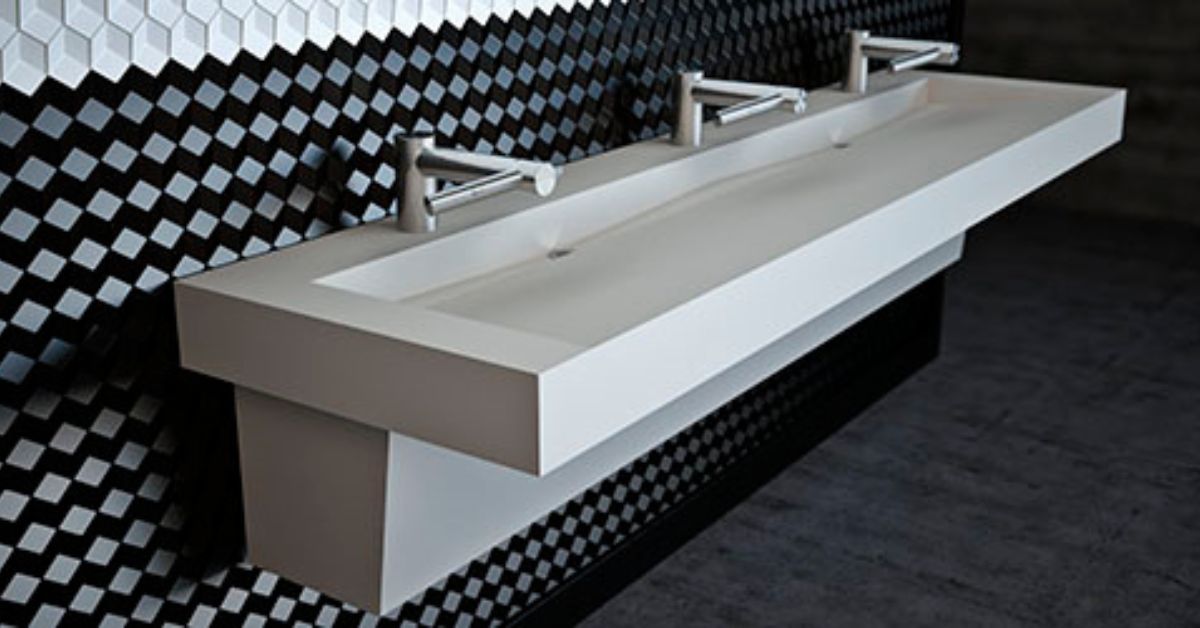 The Right Bathroom Trough Sink Material
Some of the most bathroom sinks materials include ceramic, porcelain, resin, and natural stone. Glass, stainless steel, bronze, and wood are also used to make bathroom sinks, but they are less common. Glass and bronze sinks are also more expensive than their ceramic or porcelain counterparts.
Ceramic bathroom sinks are made of coarse clay mixed with water and powder. The sinks are hardened by extreme heat after they are shaped. They are durable, and are scratch and chip-resistant. Ceramic trough sinks are also easy to clean and are affordable.
If you want something sturdier than ceramic, then porcelain bathroom sinks are something you should consider. Porcelain sinks are made of kaolin clay, and like ceramic sinks, they are hardened by subjecting them to extreme heat (up to 2,500° F). The surface of porcelain sinks is glazed to provide better water-resistance.
You can also find resin bathroom sinks in many physical and online stores today. These sinks might look a lot like natural stone but don't be fooled as they are made of poly-resin blend. They are easy to clean but take care not to use abrasive and corrosive cleaners on them. Because they are made of synthetic material, it is easy for manufacturers to create resin bathroom sinks in different colors and configurations.
Natural stone is another material used in manufacturing bathroom trough sinks. Some of the natural stones used to create these sinks include onyx, marble, granite, travertine, and sandstone. They are more expensive than resin/man-made stone, ceramic, and porcelain, but they offer a unique character to your bathroom with their one-of-a-kind coloring, shape, and veining. Even the flaws of these natural stone sinks add to their charm.
Conclusion:
The ALFI brand AB48TR Bathroom Trough Sink is the best bathroom trough sink among the products we have curated. This Italian-made trough sink is 48″ long, making it one of the longest shared sinks in the market. Finally, you can get that his-and-hers vanity you've been dreaming of so you and your spouse can finally get ready for work in peace.
The sink is designed for maximum versatility when it comes to installation. If you want a cleaner and seamless look, then go for undermount installation. But if you want to showcase and admire this trough sink in its entirety, then a drop-in or vessel installation will work beautifully, too.
It might seem disappointing for some that it doesn't have a tap platform, but its simple design allows homeowners many ways to customize it. You can install a single-hole faucet, centerset faucet, widespread faucets, or wall-mounted faucets to complete the sink. You can even install up to three faucets thanks to its length.
The ALFI brand AB48TR Bathroom Trough Sink naturally has a hefty price tag. If you're willing to spend more on a high-quality and long-lasting trough sink that will make your bathroom vanity stand out, then this might be the perfect sink for you.
Other Great Articles to Read:
To view our Amazon Associates Disclaimer, please click here.