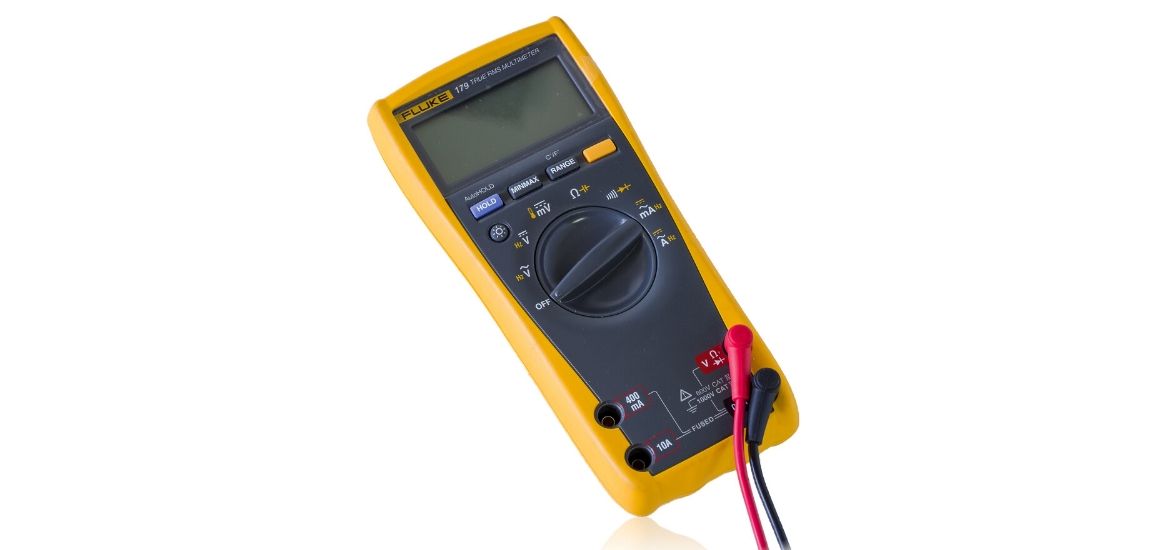 Digital multimeters are a must-have for electricians, electronic technicians, mechanics, and engineers. This device has made the electricians' and mechanics' jobs easier and a lot safer. It has been around for nearly fifty years, and each iteration seems to be better than the last.
Early digital multimeters don't seem to be much different from analog multimeters (except for the scale and the needle) because they also use manual ranging function. But today's multimeters are easier to use thanks to their auto-ranging function, large digital display, backlight, and a ton of other useful features.
You can use it to test the voltage, current, and resistance of circuits and electrical components. You can also use it to check continuity, polarity, frequency, and diodes. It has a wide variety of uses, from as simple as testing batteries to finding a bad switch to spotting a hot wire.
But finding the right device can be tricky especially in a market saturated with great and not-so-great multimeters. In this digital multimeter review, we're going to wade through hundreds of multimeters available online so we can choose the device that's well suited for your application. Check out our review below, as well as our handy multimeter buying guide so you can get started on shopping.
1.
No products found.
5.
No products found.
6.
Parts of a Digital Multimeter
(Note that we used the Fluke 115 True-RMS Digital Multimeter in this illustration. The position of the settings, as well as the number and variety of functions, may differ on other brands and models.)
Digital display. In some models, only the parameters are displayed on the screen. Other models, on the other hand, also display other data, such as a bar graph and warnings when the input is too high for your selected range.
A 'V' with a squiggly (~) line above or next to it is the symbol of alternating current or AC. Turn the rotary switch to this symbol if you want to measure alternating current or AC voltage.
If you want to measure direct current (DC) voltage, turn the rotary switch to the setting printed with a 'V' with a solid or dashed line above or next to it. This setting is used to measure a battery's voltage or check if it's still usable.
This setting is for millivolts for AC. Press the Shift (yellow) button to switch from millivolts for AC to millivolts for DC.
Ohmmeter setting. This setting is symbolized by a (Ω) and used to measure the resistance of a device.
Continuity beeper. Turn the rotary knob to this setting if you want to check if current passes through an electric circuit. You can use it to check if the switches are working as they should or if the conductor you're testing is shorted.
Diode setting. You can use this setting to test diodes. In this model, use the Shift button to switch to Capacitometer mode.
8 and 9. Frequency settings. These modes are used to measure AC (symbolized by an 'A' with a squiggly line) and DC (symbolized by an 'A' with a solid dash) frequency.
Current or input terminal. Plug in the red test lead into this terminal to measure alternating current and direct current (up to 10 A in this model).
Common terminal. This terminal is used for all measurements. This is where you plug in the black test lead.
Frequency, resistance, and voltage terminal. It can also be used to check continuity, capacitance, as well as for testing diodes.
Backlight. Push this button to turn the backlight on or to turn it off.
Test leads and probes.
Digital Multimeter Buying Guide
Manual Versus Auto-ranging Multimeters
With a manual digital multimeter, you have to find a range that is higher than the value you are trying to find. Let's say that you're trying to find the actual voltage of a 3.8V lithium-ion battery. You have to turn the dial to DC (or Bat/Batt/Battery Load in some newer multimeters) and set the dial specifically to 6 V, 9 V, or 10 V to check the voltage. Set the dial to a lower value than the battery's voltage (1.5V or 2.5V), and you'll get a faulty reading.
But with an auto-ranging digital multimeter, you only need to set the dial to DC, and you will automatically get the parameter. You don't have to know the specific range of value to get the right reading. Auto-ranging multimeters are a bit pricier than manual ranging digital multimeters, but they're easier to use and can save you time while working.
Multimeter Features
The most basic digital multimeters can measure voltage, amperage, capacitance, and resistance. Newer models can even test continuity, diode, and transistor. Some intelligent multimeters can produce a bar graph on the screen, measure temperature with a special probe, as well as have an RS-232 PC interface.
Multimeter Display
There are electricians today who still prefer to use analog multimeters because of their responsiveness. But there are instances when analog multimeters are difficult to read, especially if you work in low-light conditions or if you have poor eyesight. Accuracy can also be an issue with analog multimeters as they cannot give out readings down to tenths and hundredths.
Digital multimeters, on the other hand, are easier to read. All you have to do is probe the battery or the outlet, and its large display will automatically give you a reading. It can provide parameters down to four decimal places.
Digital multimeters allow you to identify polarity. Let's say that you've set the probes into opposite polarities. It won't damage the multimeter, but it will automatically give you a negative reading.
Choose a digital multimeter with a large and easy-to-read display. If you can afford it, choose one with a backlight. Your eyes are going to thank you for it especially if you're working in poorly lit areas, such as basements and attics.
Check out this video for a comprehensive guide on how to use a digital multimeter.
Remodeling your home is not an easy task. If you're looking for ideas, inspirations, and other important information about transforming your home, then check out the Sebring Design Build website!
Our choice for the best digital multimeter is the Milwaukee 2216-20 Digital Multimeter. Here are some of the features that set this digital multimeter apart and make it the best digital multimeter in the list.
This particular multimeter looks so simple at first glance, but that's the beauty of it. It is auto-ranging, so it's easy to use and there's not a lot of confusing numbers printed on it for you to figure out. All you have to do is turn the dial to your desired mode, and you're good to go.
It has a Hold, Min/Max, and Range setting. Plus, there's a dedicated button for the backlight for when you want the display illuminated in low-light conditions.
It has a nice heft to it, and it's neither too large to be unwieldy nor too small that it will easily slip from your grip while you're working. The housing is made of heavy-duty material, while the presence of textured overmold at the corners helps protect the unit in case you accidentally drop it or bang it against a hard surface.
It is expensive, but if you're a professional, chances are you wouldn't want to gamble the quality of your work and your safety on a cheap multimeter.
Other Great Articles to Read:
To view our Amazon Associates Disclaimer, please click here.