BATHROOM REMODELING IN HINSDALE IL
CHICAGOLAND | WESTERN SUBURBS | DUPAGE COUNTY | KANE COUNTY | WILL COUNTY
HINSDALE BATHROOM REMODELING AND DESIGN
What is your dream bathroom? Maybe it includes a beautiful rainfall shower and mosaic tile wall; perhaps a large bathtub overlooking a serene flower garden; or marble flooring with cottage-style shiplap walls.
It is time to get your dream bathroom into your actual house. Our bathroom remodeling services in Hinsdale are hinged on professionalism, integrity and quality. At Sebring, the goal is giving our clients nothing but the best.
WHATS YOUR STYLE?
Bathrooms come in all shapes and styles. We will help you create a unique, beautiful style for your bathroom that not only fits your preferences but also meets your specific needs. If you need something old and charming, then vintage is for you. If you prefer neutral colors with plenty of light, then perhaps a contemporary design is a fit.  If you are one to ogle luxe magazine bathrooms with their natural stone floors and spa-like styles, a luxury bathroom is something we can do too.
Here at Sebring, we like to think of style as representing personalities and personal tastes. Seeing as how people differ in taste and personalities, we are always ready to handle unique creative projects. So whatever you have imagined for your dream bathroom, bring it on. We can do it all.
WHY HIRE SEBRING TO REMODEL YOUR BATHROOM
Sebring has been around for more than 15 years and our remodeling experts have decades in combined experience. We do everything in our power and go the extra thousand miles to give our Hinsdale customers nothing but the best.
We start by crafting a solid plan to guide you through the remodeling process. Through our years of experience, we have created good plans that take into account every little aspect of the project, even the unexpected issues that sometimes arise.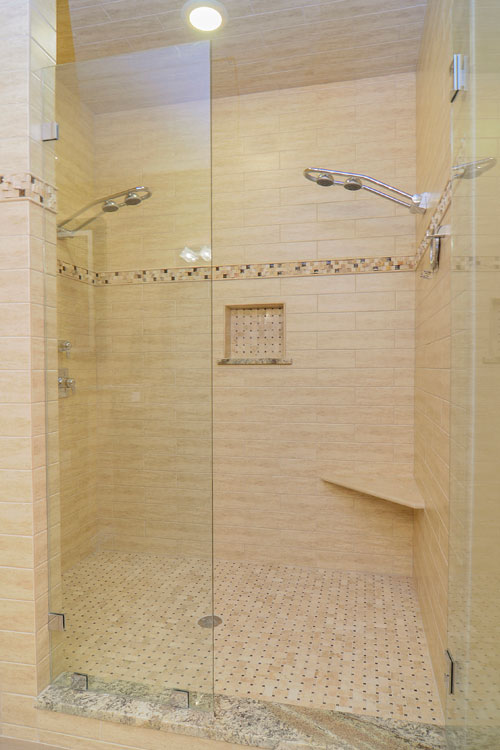 From there, we roll up our sleeves and get down to work creating what you had imagined. We spare nothing in sticking to high standards, staying within budget and keeping to the timetable. Our work priorities include integrity, clear and constant communication with our clients which includes utter honesty even when something is not going quite right and unwavering professionalism.
Year after year, we have built a sterling reputation of providing nothing but the best. In our wake, we have left a string of happy and satisfied homeowners. Call us today to arrange a free consultation and start the path towards your dream bathroom.
BUDGETING YOUR BATHROOM IN HINSDALE, IL
HINSDALE BATHROOM REMODELING PROJECTS
Brian & Sherri's Master Bathroom Remodel Pictures
Bryan Sebring
2019-04-24T09:31:51-05:00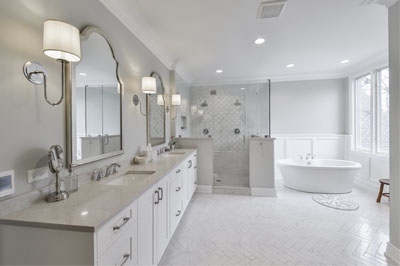 SCHEDULE YOUR BATHROOM CONSULTATION
WHAT OUR CLIENTS IN HINSDALE SAY ABOUT SEBRING
" Sebring did an excellent job remodeling our bathroom. We love the final product. Bryan Sebring had excellent ideas when scoping out the work. . .

. . . Sebring employees were very responsive, courteous and did excellent work. I would definitely use them again. I rated price as an 'A'. Although they are not the cheapest contractor I believe there is value added by having a dedicated PM, skilled employees and trusted subs. "
" Sebring performed a major remodeling of my condominium, including complete new kitchen and master bath. His workers were in my home for 8 weeks, and were always respectful, clean, and timely. Bryan's team finished the project on time and on budget. I would recommend him without reservation. "
" After sifting through several bids on a complete kitchen, bathroom, hallway makeover, we found that Sebring had the most comprehensive quote. The price wasn't the highest, nor was it the lowest, but right in the middle where it needed to be. Bryan worked with us to create our dream kitchen and bathroom, and what mattered most, was his thorough follow through. . . "
" Sebring renovated our master bath, and based on the experience I am confident in recommending them to others as a skillful and reliable contractor. Our decision followed a long and painful search/quote process with several local firms. Since Sebring had recently worked with two families in our neighborhood with good results, we felt comfortable with the choice.

Once Bryan and his team were engaged, the project proceeded on plan and stayed within our budget. We had a design in mind from the outset and asked to use a specific tile, which was no problem with Sebring. The tile work was the centerpiece of our project, and Sebring's tile guy was truly an expert. We are still ecstatic every time we enter the room!

Sebring is usually very busy, but will be clear up front with a realistic timeline. Their price was not the lowest we found – but also not the highest. Most importantly it was the best value for the results we realized. "
FREE REMODELING 101 E-BOOK