BATHROOM REMODELING IN BOLINGBROOK, IL
CHICAGOLAND | WESTERN SUBURBS | DUPAGE COUNTY | KANE COUNTY | WILL COUNTY
BOLINGBROOK BATHROOM REMODELING AND DESIGN
Are you sick of entering your bathroom each morning to see an old-dated and dingy tub? Does your bathroom have irritating drips that just won't stop? Is your bathroom so small or worn with age? If you answered yes to these questions, it is time to consider a bathroom remodel from Sebring. Whatever your remodeling ideas are, we will make them come true. We will do whatever has to be done to liven up your bathroom.  By getting help from us, you can be sure that your old bathroom design will look stylish in an instant. Just a single phone call and we will help with your Bolingbrook bathroom remodel.
PLANNING YOUR BATHROOM REMODEL IN BOLINGBROOK
Whether you live alone or you have a large family, the bathroom is among the most vital and most used rooms within your home. Before upgrading your bathroom, bear in mind that this is where you start and end your day. If you have multiple people using the bathroom at the same time, be sure to include cabinets, shampoo shelves and extra sinks. If your bathroom feels cramped, make sure that it is spacious and easy to move around. To liven up a large bathroom, you can remove the bathtub and enlarge the shower. There are a number of things that you need to take into account before remodeling your  Bolingbrook bathroom. With careful planning, you can give your bathroom a spa-like and a spacious feel.
WHY HIRE SEBRING FOR YOUR BATHROOM RENOVATION
There are many ways to liven up your shower, and to carry them out successfully, it takes experienced and skilled experts. Sebring not only knows how to execute this job, but can also do it quickly and professionally. We have the knowledge and experience to remodel any Bolingbrook bathroom and our quality of work reflects this. We are experts at installing shower heads, bathtubs, cabinets, shower benches, above toilet cabinetry and all types of tile, including glass, porcelain tile, natural stone and ceramic. Our experts can assist you by making suggestions based on your current shower and the shower of your dreams. Give us a call today. We promise to arrive on time and carry out quality work that's guaranteed to your satisfaction.
As experts in Bolingbrook bathroom remodeling, we will ensure that the final result leaves you feeling reinvigorated and relaxed. We have undertaken many bathroom renovation projects in Bolingbrook IL and the surrounding area. We pay close attention to detail and we focus on accuracy so we can meet all your needs. We have earned a good reputation over the years remodeling thousands of bathrooms. With many years of experience, we will get you the bathroom you have always desired. This is why you can rely on us to transform your bathroom into a luxurious, spa-like bathroom. Contact us today and we will we will carry out quality work that's guaranteed to your satisfaction.
BUDGETING YOUR BATHROOM IN BOLINGBROOK, IL
BOLINGBROOK BATHROOM REMODELING PROJECTS
Brian & Sherri's Master Bathroom Remodel Pictures
Bryan Sebring
2019-04-24T09:31:51-05:00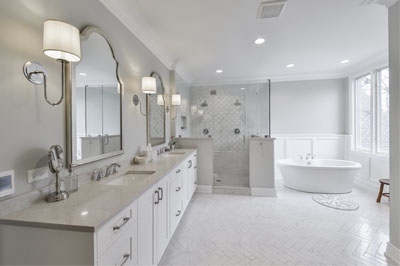 SCHEDULE YOUR BATHROOM CONSULTATION
WHAT OUR CLIENTS IN BOLINGBROOK SAY ABOUT SEBRING
" Sebring did an excellent job remodeling our bathroom. We love the final product. Bryan Sebring had excellent ideas when scoping out the work. . .

. . . Sebring employees were very responsive, courteous and did excellent work. I would definitely use them again. I rated price as an 'A'. Although they are not the cheapest contractor I believe there is value added by having a dedicated PM, skilled employees and trusted subs. "
" Sebring performed a major remodeling of my condominium, including complete new kitchen and master bath. His workers were in my home for 8 weeks, and were always respectful, clean, and timely. Bryan's team finished the project on time and on budget. I would recommend him without reservation. "
" After sifting through several bids on a complete kitchen, bathroom, hallway makeover, we found that Sebring had the most comprehensive quote. The price wasn't the highest, nor was it the lowest, but right in the middle where it needed to be. Bryan worked with us to create our dream kitchen and bathroom, and what mattered most, was his thorough follow through. . . "
" Sebring renovated our master bath, and based on the experience I am confident in recommending them to others as a skillful and reliable contractor. Our decision followed a long and painful search/quote process with several local firms. Since Sebring had recently worked with two families in our neighborhood with good results, we felt comfortable with the choice.

Once Bryan and his team were engaged, the project proceeded on plan and stayed within our budget. We had a design in mind from the outset and asked to use a specific tile, which was no problem with Sebring. The tile work was the centerpiece of our project, and Sebring's tile guy was truly an expert. We are still ecstatic every time we enter the room!

Sebring is usually very busy, but will be clear up front with a realistic timeline. Their price was not the lowest we found – but also not the highest. Most importantly it was the best value for the results we realized. "
FREE REMODELING 101 E-BOOK