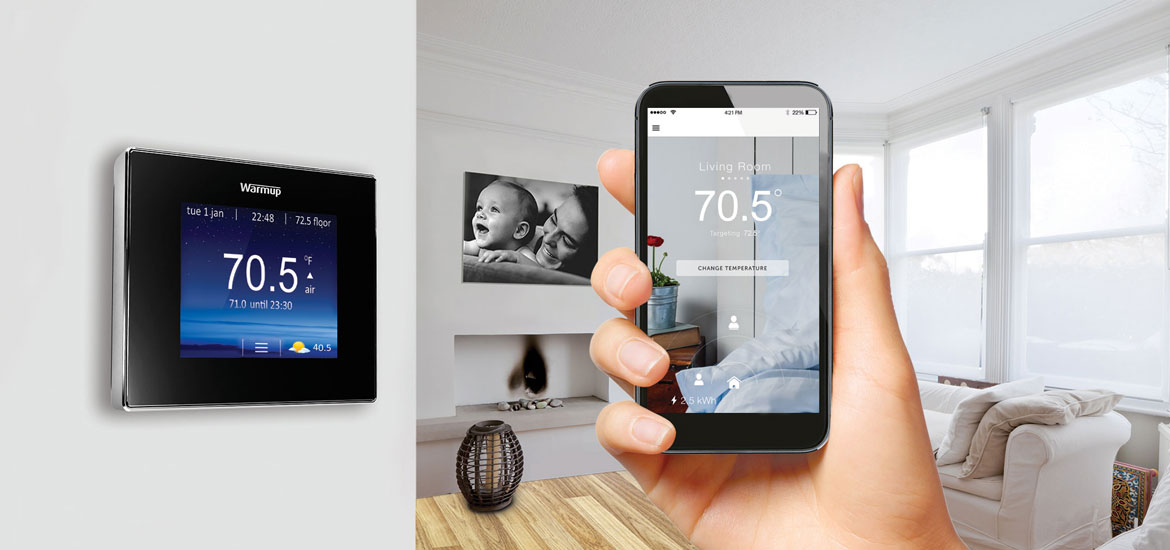 This week's article was written by Alice Warnier from Warmup Inc. Warmup is the World's best-selling floor heating brand. The North American office is located in Danbury, CT.
Which to Choose to Lower Your Energy Bills
Having the heating on all day long is both environmentally unfriendly and plays hazard with your heating bills.
It is no news that thermostats and smart home technology have stepped into the picture of an average mass-consumer to invade some market share and solve the everyday issue out for the end-users. Turning the heating on and off with a basic thermostat is last season when smart technology tells you how with one button press, you could save energy and money.
Why, then, most of the smart devices and thermostats are receiving a lukewarm reception from consumers?



Smart home devices are still a rather niche industry, yet growing (very) fast. What comes along with it is a tidal wave of terminology and techy-sounding features whereas consumers are only looking for innovation that makes their day-to-day life easier, simpler. Smart home technology has come from controlling lights, security system or heating to be expected to add value with other features as well such as saving on energy bills.
Home devices being promoted through every channel, the question remains:
What to pay attention to when considering buying a thermostat that is easy to install and saves you on heating bills? With a modern thermostat, you can enjoy comfortable temperature and save on energy costs. The investment is worthwhile, but which thermostat is the best?
Programmable Thermostat
A programmable thermostat system allows adjustable temperatures at certain times. Temperatures can be set for day or night times or alternatively for days in case of absence. Programming is carried out once, after which the heating system is controlled automatically and reliably. The system prevails the desired temperature in living spaces such as bathroom, bedroom, kitchen or basement – proven to warm the house cost-efficiently, with relatively little effort.
What is a Smart WiFi Thermostat?
Thermostats with smart systems are connected to the Internet and thus controllable via smartphone, tablet or desktop. Smart thermostats usually are equipped with a variety of functions that facilitate energy and cost-savings, combining the possibility of programming with a highly user-friendly system. WiFi connected thermostats can also learn one's routines, suggesting the most cost-efficient heating program taking heating systems to the next level as the most progressive devices to control the heating in your home.
What Thermostat is Suitable for My Heating System?
The first step would always be to check which thermostat is most compatible for you, your needs and your heating system. Most of the thermostats are suitable for either controlling electric and water-based underfloor heating system or central heating system.
How Much Do Thermostats Cost?
The price of an underfloor heating thermostat depends on the offered features: is it programmable, wifi enabled, touch-screen or customizable?



The cheapest thermostats are probably the ones where you have to move a needle. Then come the middle ones which will probably be offered in a single color, white plastic format. At the top of the pyramid there will be the electronic digital thermostat.
The thermostat warranty is also a benefit that will have an influence on the overall price. Note that most of the time, the thermostat needs to be connected by a certified electrician, so don't forget to take this cost into account as well.
Check This Out: Home Remodeling Ideas.
How Much Can You Save With a Smart Thermostat?
It is true that a smart thermostat will be a bigger investment at the beginning.
However, you should take into account the savings on your energy bills. If you go ahead with a smart thermostat, you will be able to heat your home only where you need it, thanks to the zoning capacity of the thermostat. Warmup 4iE Smart Wi-Fi thermostat offers a SmartGeoTM feature that understands when you're coming home and knows which room you are most likely to use when you come home. The 4iE will start heating these rooms first while you're approaching your place.



Besides, a smart home device will allow you to heat only when you need it thanks to the programmable feature.
Choosing a smart home device will allow you to have access to intelligent features and to realize significant energy and money savings.
Learn more about the 4iE Smart WiFi thermostat.
Check out our Other Great Articles: