Derek & Christine's Kitchen Before & After
A Fresh Kitchen & Laundry Remodel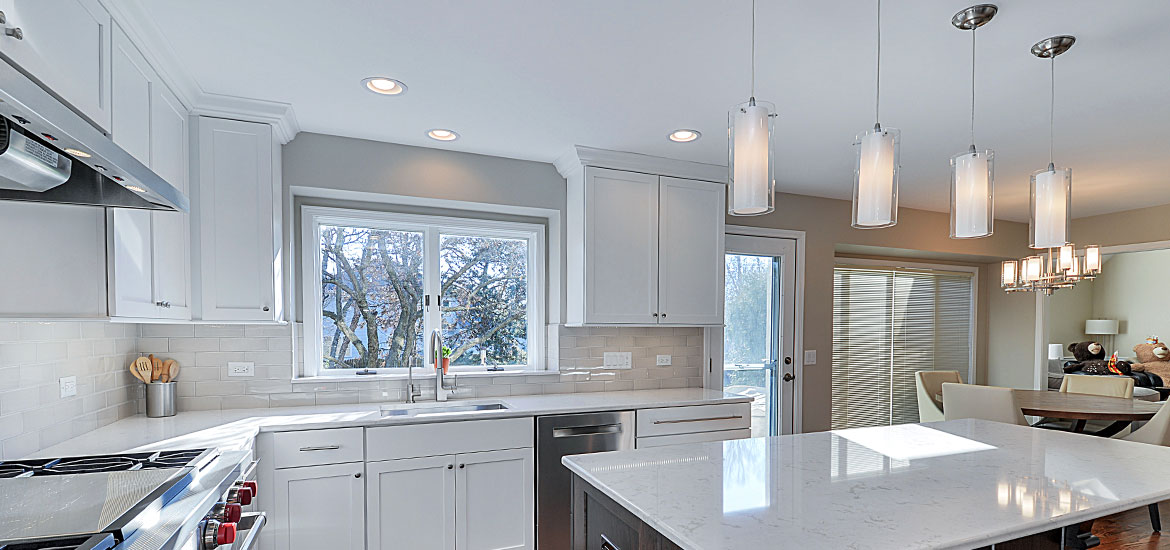 When you have a family, you understand the necessity of having a place for the kids to hang their coats and drop their backpacks.  Unfortunately years ago, the average home was not built with this in mind.  A typical mudroom is also the laundry room with a small closet attached.  There is hardly enough space to store all the shoes, let alone to do laundry.
If you find yourself with this same cramped space, you need to check out this amazing Naperville mudroom/laundry room transformation!  If you have some extra room in the adjacent room to your mudroom/laundry room, then you can do this too.
LAUNDRY ROOM / MUDROOM
Derek & Christine have an average size family and needed some extra room in their laundry room.  Like a lot of homes in Naperville, their laundry room was the entrance to their home from the garage.  This is the entrance Derek & Christine always use and they really wanted a space where they could come in, take off their coats and shoes and not be on top of each other or the washer/dryer.
TEMPORARY LAUNDRY ROOM
When we started the process of expanding their laundry area, we actually created a temporary laundry space in the basement.  This was done by adding temporary water, gas, and electrical lines, in addition to being creative and venting the dryer through a basement window.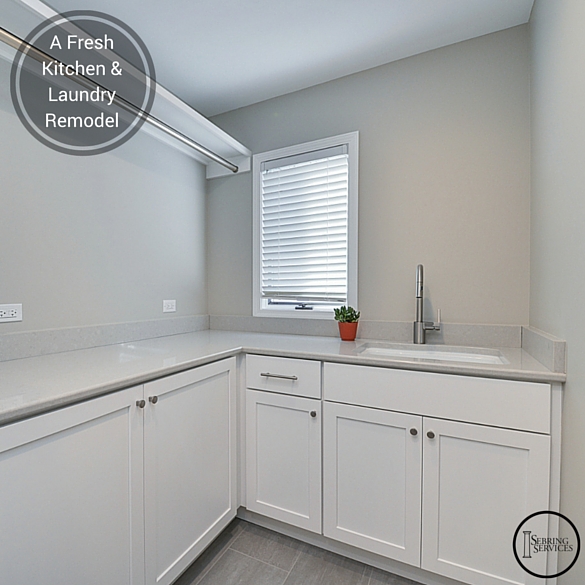 BUILT-IN LOCKERS
In this design, we pushed the laundry area back away from the door and built lockers.
The lockers were built on-site using prefinished painted cabinetry and panels.  Derek & Christine chose white, which is a very clean trendy look.  Painted cabinets come in a variety prefinished colors so if white is not for you, you can certainly choose another color.  Each locker unit has a bottom drawer for storage, three coat hooks for jackets and backpacks and a cabinet above for additional storage.
THE SEATING BENCH
The bench is Cambria, a brand of engineered quartz.  We prefer to use a solid surface material for the bench seat, like a granite or quartz in lieu of wood for its durability.  Granite or quartz are both scratch and stain resistant so they can take a beating from your kids and still look beautiful.
THE KITCHEN
We carried the same quality cabinetry line from the laundry area into the open concept kitchen.  The entire space was designed with white-on-white monotone colors, which only accentuates the amazing dark wood island that breaks up the space.
BACKSPLASH TILE
The kitchen backsplash is handcrafted stone 3×9 subway tile laid in a staggered brick pattern. Handcrafted stone has a lot of variation in size, color, texture & shade. The variation in size can cause problems when trying to align grout lines, but the variation is what defines the natural beauty of these tiles.
LIGHTING
Installing all of the lights became challenging because of the ductwork, pipes, and joist locations in the kitchen ceiling.  So instead of just cutting holes for new lights, we had to remove the entire ceiling in order to fully assess the best course of action for all the lighting.
While the pendant accent lights look great in their final locations, they were actually very difficult to install and were mounted directly to the bottom of the floor joists using skinny 1/2 inch electrical boxes.
QUALITY APPLIANCES THROUGHOUT
All of these high-quality appliances chosen are from Pirch, they included a 48 inch dual fuel range by Wolf, a 42 inch Sub-Zero built in refrigerator, and a 900 CFM range hood.  This type of range hood required a 10″ pipe, that ended up being routed through the basement because their was not enough room in the floor joists.  We also had to add Makeup Air, to allow for the large CFM range hood air flow.
HARDWOOD FLOORS
The wood floor flows through the entire area, giving it an expansive, warm tone.  This hardwood was mostly original and some filler were added to the spot where the old closet was located.  Everything was then sanded down and refinished.
PANTRY AND STORAGE
Originally, the wall where the bank of cabinets are now located was previously a small closet.  We removed it and installed a bank of cabinets to add a more ascetically pleasing pantry.  Derek & Christine did such a great job choosing materials that complemented each other.  Both the kitchen and laundry room turned out so great!
If you are looking for ideas on how to remodel your kitchen or laundry room check out portfolio page.  If you have any questions, give us a call.  We would love to talk over possibilities for your home.