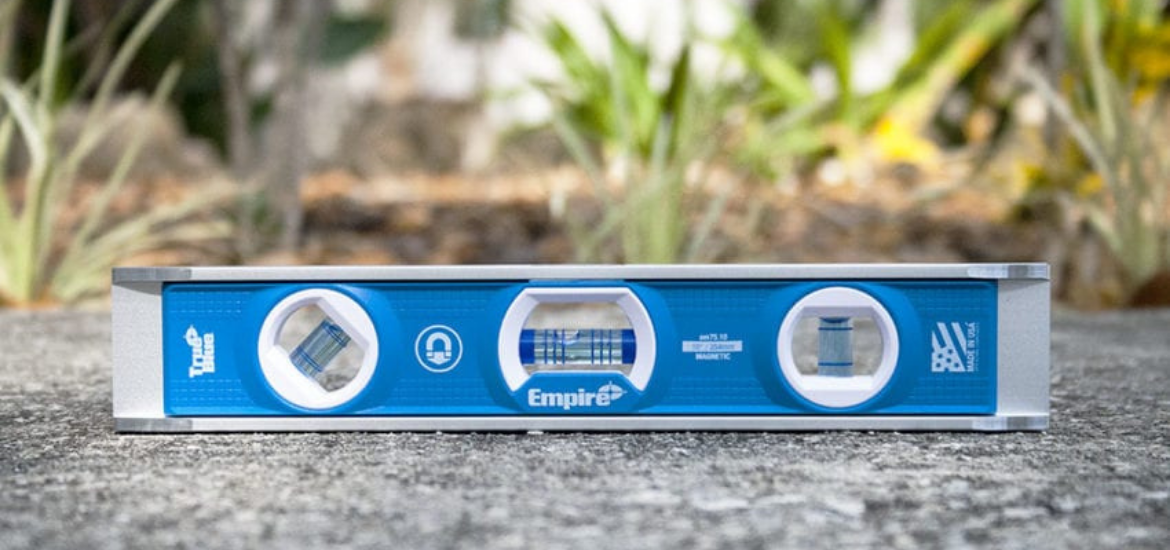 Featured Image: Protool
The carpenter's level has served you well over the years, but there are areas in your jobsite where fitting a two-feet level just isn't feasible. The solution, therefore, is to use your torpedo level. Torpedo levels are smaller than your regular carpenter's or mason's level. Its compact size makes it perfect for working in tight spaces, and its magnetic side frees up your hand to take notes or work on other things.
Choosing the best torpedo level is easy if you know what to look for. But if you're new to woodworking or plumbing and you're clueless about the features to look for in torpedo levels, then let us help you out. We have listed down and reviewed some of the best torpedo levels on the market to help you choose the right one for your application. Check out our buyer's guide too so you can get started.
A torpedo level is a tool that determines whether a surface is perfectly level (horizontal) or plumb (vertical). Some torpedo levels can also indicate whether a surface is angled correctly.
Torpedo level designs might vary, but the one constant is the presence of the glass vials filled with colored (usually fluorescein) mineral spirits or alcohol. The glass tube is only partially filled, so you'll see a bubble inside the vial. This bubble indicates if the surface is level, plumb, or if it is set at a correct angle.
There are many different types of spirit levels, and the torpedo level is just one of them. But what makes it different from other types of spirit levels?
The answer is its size. Most torpedo levels are only 9″ in length (the Milwaukee torpedo level we have reviewed above is an exception). These tools typically have aluminum, ABS plastic, or rubber frames. Their ends are tapered, and because of their compact size, they can fit into tight spaces. You can also carry them around inside your vest, jacket, or pants pocket.
Torpedo Level Buying Guide
Let's take a look at the essential features you should consider when buying a magnetic torpedo level. 
Vial Accuracy
Spirit levels determine whether a surface is level or not, so the first thing you should consider when looking for a torpedo level (or any type of level, for that matter) is whether it is accurate or not. Look for levels with a vial accuracy of 0.0005 inches/1 inch (0.5 millimeters/1 meter or 0.29°).
Frame Material
Most torpedo level frames are made of die-cast or billet aluminum, while others have an ABS plastic body with aluminum railings. All materials are durable and can withstand the rigors of the jobsite, but one material can be better than the other in some aspects.
Aluminum, for example, is durable and resilient. It has a remarkably high strength-to-weight ratio and is amazingly lightweight. Aluminum torpedo levels are also corrosion-resistant. But you have to be careful not to slam it against a hard surface to prevent dents and scratches from developing on the surface. Moreover, many aluminum torpedo levels are pricier than plastic frames.  
ABS plastic is another common material used as a torpedo level housing. Plastic torpedo levels are marginally cheaper than aluminum ones, and they are also shock and scratch-resistant. But these tools eventually warp over time, thus affecting the level's accuracy. They are also non-biodegradable and are not suitable for use in the harshest jobsites.
Highly Visible Mineral Spirit
Mineral spirits are dyed with a colorant (usually fluorescein) to make the liquid inside the vial highly visible in any jobsite. Most dyes are either green or yellow, but a few torpedo levels have their mineral spirits dyed bright blue. When choosing the right torpedo level, make sure that the color is highly visible in poorly lit workplaces or even under the sun. Make sure that it also offers a good contrast to the bubble for greater accuracy.
Magnet
Many torpedo levels come with a magnet at the base. This allows the user to place the tool on a metal pipe or shelf to determine plumb or angle hands-free. Choose a torpedo level with a set of strong magnets if your job involves a lot of determining if a metal pipe or bar is plumb or angled correctly.
The Klein Tools 935AB4V Accu-Bend™ Torpedo Level is our choice for the best torpedo level. The Milwaukee Electric Tool 48-22-5210 Torpedo Level is also a favorite, but it is too heavy to carry around in your pocket. It is also one of the priciest torpedo levels on the market. The Klein Tools torpedo level, on the other hand, strikes the perfect balance between affordability and good quality. Let's take a look at the features that make this particular torpedo level different from the rest.
This 9-inch torpedo level has a unique design. One edge has a tapered nose that lets you place it in tight spaces, while the top portion is grooved so you can determine the plumb, level, or angle of a metal pipe. This is the only torpedo level on the list that has a thumb screw on one end. This allows you to attach it to a plastic or metal pipe for convenient hands-free use.
The magnets are not just attached to the base using double-sided adhesive or something; it is locked securely at the base to prevent it from falling out. Plus, the magnets on this torpedo are stronger compared to those attached to cheaper models. Its strong magnets free up your hands so you can jot down notes or work on something else while determining the level, plumb, or angle.
Another distinct feature this aluminum torpedo level has is its extra glass vial. The most basic torpedo levels only have two to three bubble levels; one to determine level, another to determine plumb, and another to determine if the surface is angled at 45°. The Klein Tools torpedo level, on the other hand, has an extra glass vial that is set at 30°. It might not have the versatility of torpedo levels with rotating vials, but it will do if you're just going to do basic tasks in the jobsite.
From the best workstation sinks review to the latest home remodeling ideas, the Sebring Design Build blog has it all. Check out our website for design ideas, pricing information, and other helpful home remodeling information.
Other Great Articles to Read:
To view our Amazon Associates Disclaimer, please click here.