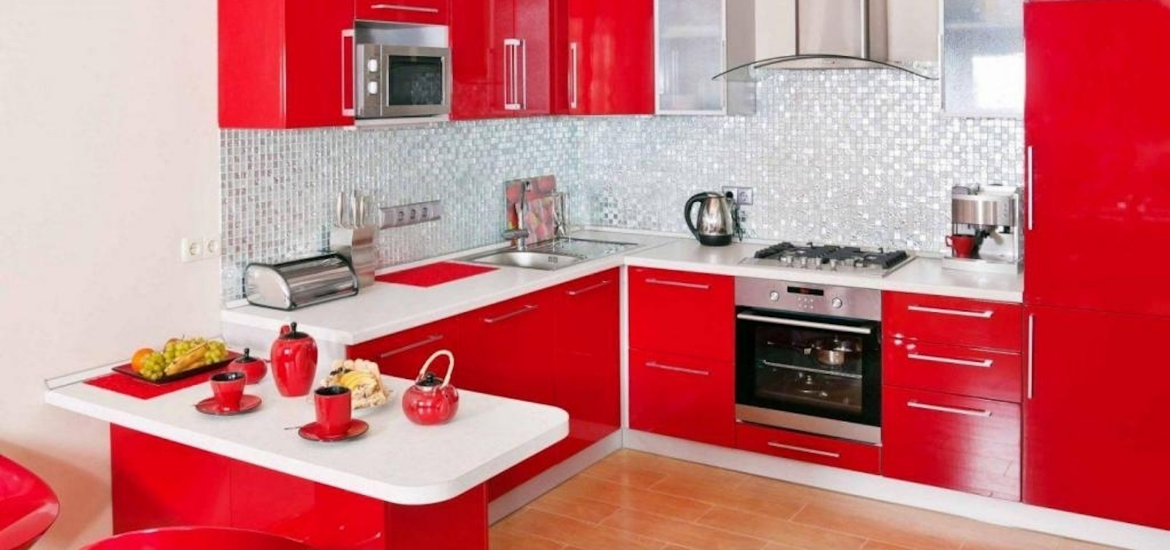 Featured Image Source: Morgan Allen Designs
If you are getting tired of white or gray kitchens, it's time to give these red kitchen cabinets a try! Include a splash of color to the most-used room in your house by adding red oak kitchen cabinets, or maybe barn red kitchen cabinets. Also, if you want to have a rustic feel, why not try distressed red kitchen cabinets? As much as we love neutral designs, there's something about bold colors that excite us! Today, we are quite obsessed with red, and we can't wait to share with you a list of red kitchen cabinet ideas.
CHERRY RED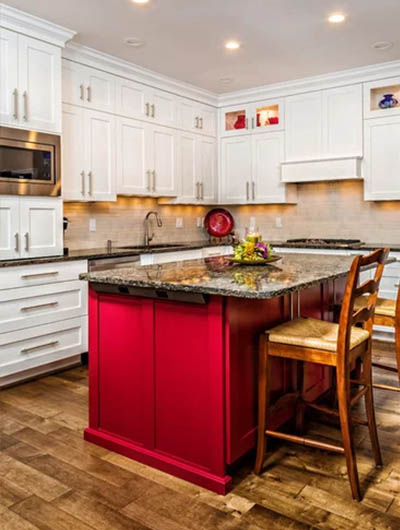 The cherry red kitchen cabinets on the island break the monotony of an all-white space.
HAND-PAINTED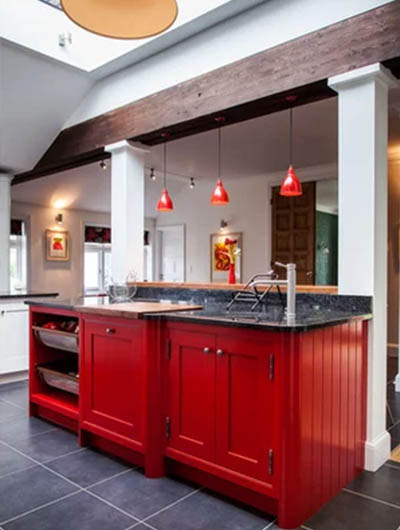 GLOSSY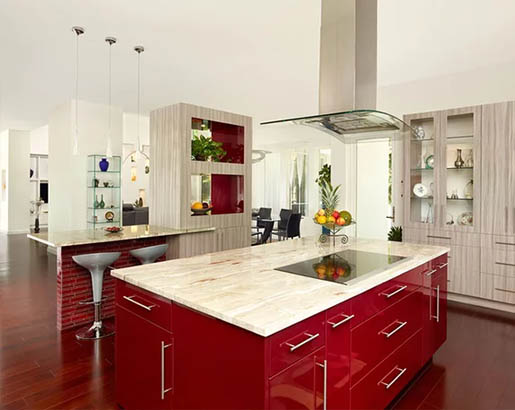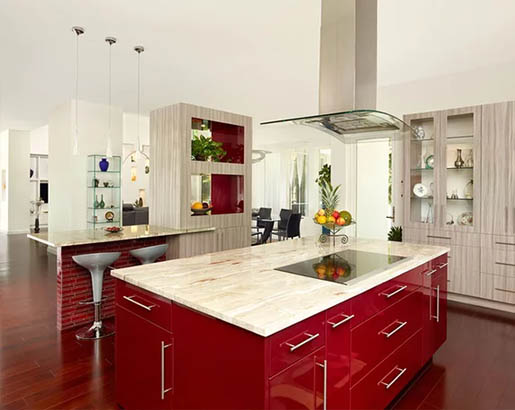 These laminated red kitchen cabinets are the highlight of the kitchen.
SLEEK RED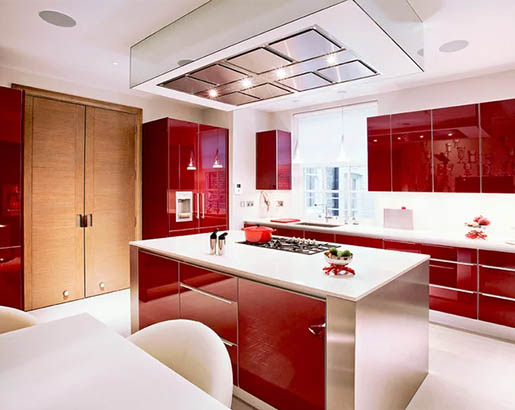 HOLLY BERRY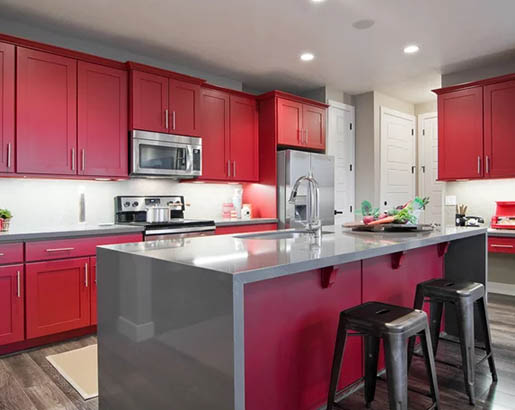 Gray and red? Why not! The combination is lovely in this kitchen.
MERLOT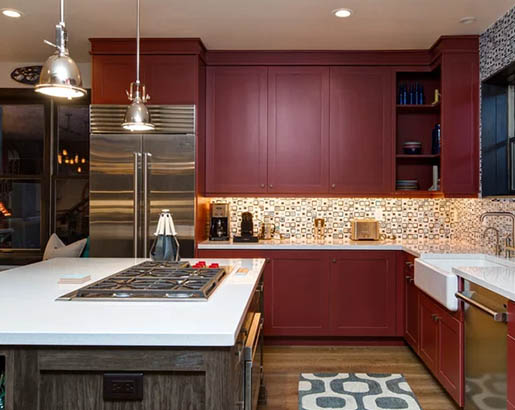 The Psychology Of Color Red
In general, red frequently depicts warm, dynamic, strong, and intense emotions. In fact, it is as an energizing and indeed aggressive color, but it can also bring out sentiments of love and comfort. Besides, red is frequently utilized to grab attention, especially in advertising and traffic signage.
Research suggests that when ladies wear red or stand against a red foundation, they are seen as more appealing and alluring, compared to ladies who don't have any red around them. Also, not surprisingly, the same can be said for men who are either wearing red or accompanied by red—the nearness of the color makes them appear more appealing and desirable.
Red is energetic and exciting. Meanwhile, when you use the color red into your kitchen, it will evoke emotions of positivity and it will give you a boost on days that you are feeling "blue." Moreover, having red on your kitchen cabinets will help lift your spirit and focus on the good things in life.
In terms of fashion, red is synonymous with confidence. In fact, they say that a girl who wears red dress, along with a red lipstick, is ready to do anything and conquer the world. If you want this kind of emotion in your kitchen, don't hesitate to introduce the color red in your kitchen cabinets.
BOLD RED
If you want to make a statement in your kitchen, go for this bold red kitchen cabinets.
SCARLET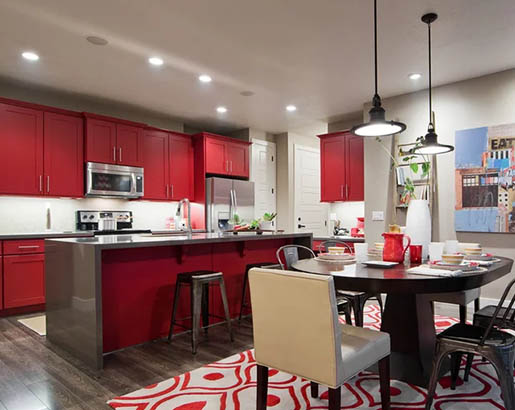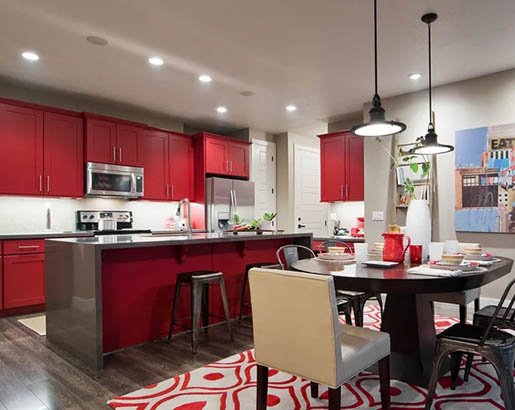 The red kitchen cabinets add tons of character to this kitchen.
RED & WHITE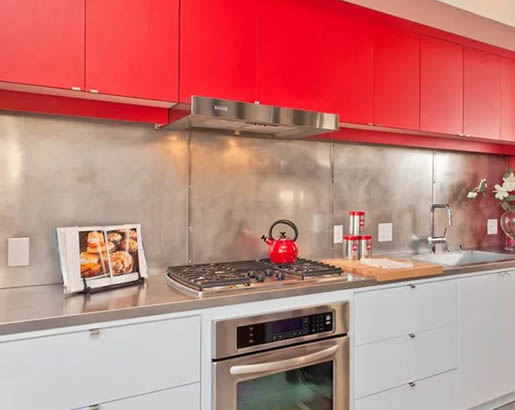 We love this combo — red for the upper cabinets and white for the lower cabinets.