The average person will spend about 1.5 years of his or her life in the bathroom. It goes without saying that bathrooms are an extremely important part of your home. Any other room in your home you are able to do without for a period of time, even the kitchen. However, the bathroom is a place that is needed if you are going to be living and dwelling in a particular home. You just simply cannot go without it!
This is often the reason many realtors have decided that the bathroom in a home is a large part of what sells it. So, whether you plan to stay in your home for the next 30 years, or are looking to put it on the market, bathroom remodeling may be something that happens in your future. The idea of remodeling your bathroom is something that can either excite you or make you run away in fear. The key is to be prepared and educated on exactly what you want from your bathroom before diving in.
Type of Bathroom Style: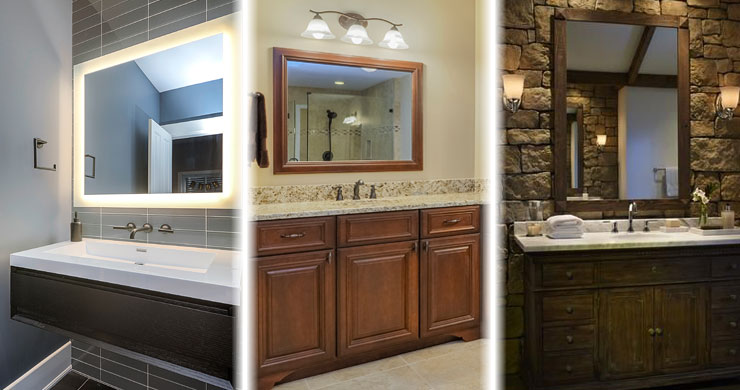 Modern/Contemporary: 

This type of style, often referred to as mid-century modern, lends itself to more of a forward-thinking style. With its possible unique corners and straight, dominant lines it is often accompanied with contrasting patterns and textiles that complete the look with that "wow factor" many people search for in a home.

Classic: 

Specifically if you live in a historical or colonial home, the classic style of bathroom is a great option. The color options and finishes typically incorporate authentic choices that are appealing to many.

Rustic: 

This bathroom style is a popular choice among many homeowners as they seek to bring the outdoors inside. With plants, rock accents, and large windows for ample light, the rustic look definitely complements the outdoors and all that nature has to offer. Which is beautiful in itself!
There are other styles of bathrooms you may be leaning towards as well, and once you decide on which style best suits your needs, you are ready to begin thinking about the finishes of your newly altered space. These will be just a few that you will need to consider.
Choose Your Flooring:
Wood plank tile: Wood plank

tile is becoming an increasingly popular option for bathroom flooring, and continues to be ever-expanding with different option and style choices. With easy cleanup, it is a wonderful option for a bathroom remodel.

Wood: 

This is another option with endless design possibilities! From rustic to modern, dark stained to light, you truly have a very diversified option with wood. You can take precautions to protect the flooring from water damage, which is a concern for some when installing real wood floors. Wood floors allow for periodic refinishing and resealing for further protection making it just as viable of an option.

Bamboo/Cork: 

This is about as environmentally friendly as one will get when choosing a bathroom flooring. Bamboo flooring look similar to wood floors, but are naturally more durable. Both are resistant to mold and mildew. Which is a great option for bathrooms!
Decide on Countertop Selection:

Granite:

Although this counter top material is one of the most expensive, it is also the most durable. With easy cleanup and a non-porous top, it ranks as one of the very best options.

Manufactured Quartz: 

This material can replicate granite, and is typically more cost-effective with some of the same qualities as granite as far as cleanliness and durability.

Tile: 

This is another great option for a countertop. If you don't mind cleaning grout lines, this proves to be a durable option with many different styles to choose from.
From flooring to cabinetry, and plumbing fixtures to countertops, bathroom remodel ideas are truly endless. Don't let this time become a stressful event; look to the professionals with their expertise to make this process not only fun, but cost-effective. Let Sebring Services help make this an experience you won't regret. At Sebring Services, the team specializes in realizing your home's potential through award-winning design, honest communication, and professional expertise.
If you have any questions or concerns, please do not hesitate to contact us. Or, hop on over to the Twitter page for more great design tips and inspiration!
This Infogrpahic is presented by DecorPlanet.com