HOME REMODELING IN PLAINFIELD, IL
CHICAGOLAND | WESTERN SUBURBS | DUPAGE COUNTY | KANE COUNTY | WILL COUNTY
PLAINFIELD HOME REMODELING & RENOVATIONS
There are a variety of reasons why you might want to consider home renovation, basement remodeling, kitchen remodeling, or bathroom remodeling in Plainfield:
You could be getting ready to sell your home. A well planned and executed home remodeling project can add significant value to your home's sale price. In such a situation, you have to be careful to keep renovations costs down; otherwise you could suffer a huge loss by spending too much on remodeling.
Your home could be showing signs of aging such as chipped paint, creaking staircases, worn out flooring and so on. A major renovation will make your house as good as new. An aging house is usually the most expensive to repair due to the fact that there are many things to take care of. Extensive planning is necessary in such a renovation to ensure that costs do not go too high and the best results are achieved.
You might be suffering from home-fatigue. When you get too comfortable with same tired décor, it is possible for some fatigue to set in. In this case, a fresh look is all that is needed.
You have just purchased a new home. If the décor in the new home is not in line with your preferences, a remodeling project will create a complete feeling of making it yours. Depending on what kind of design you are going for, renovation can range from a new coat of paint to something as extensive as room additions.
PLAINFIELD HOME REMODELING PROJECTS
Kevin & Julia's Basement Remodel Pictures
Bryan Sebring
2019-07-08T09:06:18-06:00
WHAT OUR CLIENTS IN PLAINFIELD SAY ABOUT SEBRING
" As soon as I had a meeting with Bryan Sebring and he drew up an initial proposal, I knew I was done shopping for contractors. When you meet someone that you know you can trust implicitly to assist you with major decisions and send you to good suppliers, and whose staff you can trust in your house for 8 weeks without any homeowner supervision, your decision transcends price… "
" I would highly recommend Sebring Services! All those that were involved in my home remodel were both professional AND nice. Bryan provided all services that were expected and on some occasions went beyond with what was necessary just to make us happy. Thanks Sebring Services! "
" My experience with Sebring Services felt right from the start – I felt comfortable and at ease from the first meeting and throughout the entire project. The entire team was extremely friendly and professional and always helpful! They were prompt in answering questions and returning calls and very accommodating. They were clean and courteous and respectful, which I truly appreciated. I would definitely recommend using Sebring Services!! "
" We used Sebring Services to remodel our bathroom. They were very professional and the end result is just beautiful! Everyone was prompt, courteous and very skilled. The price was very fair. Justin, in particular, went out of his way to make sure everything was perfect! I highly recommend Sebring Services! "
KITCHEN REMODELING IN PLAINFIELD IL
CHICAGOLAND | WESTERN SUBURBS | DUPAGE COUNTY | KANE COUNTY | WILL COUNTY
PLAINFIELD KITCHEN REMODELING AND DESIGN
In many ways, the kitchen is the center of the home. This is especially so with modern open floor plans where the kitchen is very much a part of the living area instead of being secluded off in another room. The kitchen is the hub of many activities, most of them bringing the family together in a warm and cozy space.
With this in mind, it makes sense that the kitchen should look its best. Some of the adjectives that should describe your Plainfield kitchen include: warm, cozy, comfortable, relaxing, spacious, bright and beautiful
BUDGETING YOUR RENOVATION IN PLAINFIELD, IL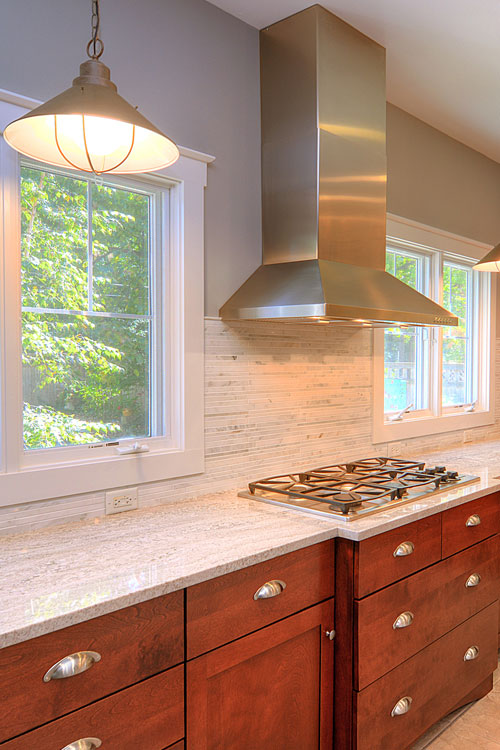 If none of these describe your kitchen, maybe it is time you made a few changes. A kitchen renovation in Plainfield is understandably daunting and even a bit scary when you consider the costs and amount of work involved. But the benefits are immense.
It adds a lot of value to a home. One of the very first places homeowners notice is the kitchen.  The appearance of the kitchen can potentially determine how fast a house sells and what is offered for it. This is important for homeowners planning to sell.
It creates a warm central point for the home. This influences the feel and look of the entire home. A warm and cozy kitchen will make the entire house feel more comfortable and welcoming.
Makes the kitchen more functional. Plainfield remodeling is not just about décor. It is also about increasing the functional efficiency of a space.
There are just a few benefits to renovating your kitchen.
UPDATING THE LOOK
An outdated looking kitchen is the primary reason most homeowners decide to remodel the kitchen. Maybe the current look feels a bit old or you have just purchased a new home and want to change the style to one that fits your tastes.
Whatever the reason, a fresh touch to the kitchen can really improve its look and feel. A drab old kitchen can be made to feel brand new. A few changes to a cold dark kitchen could turn it into a bright warm space. A boring kitchen could explode with color and style with just a few creative design ideas.  Sebring can help suggest a few ideas.  We have done numerous Plainfield kitchen renovations and we also have industry knowledge of the hottest styles and trends.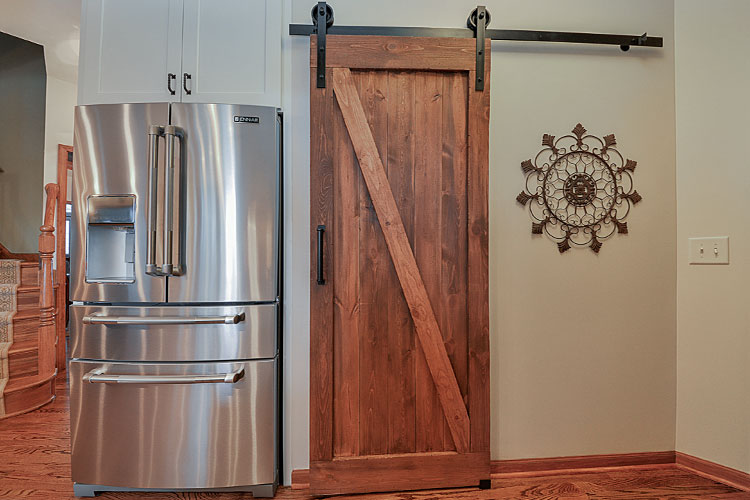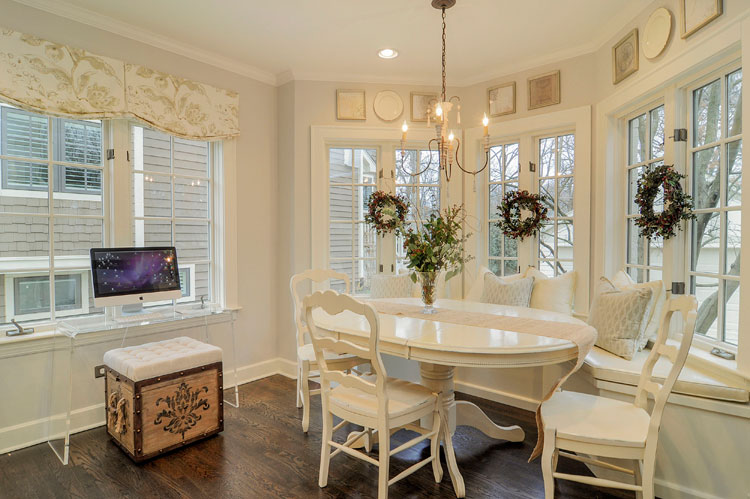 FUNCTIONAL KITCHEN REMODELING IN PLAINFIELD
For a kitchen, the functionality is just as important as the décor. A beautiful kitchen is nothing if it is too cramped. A bright uniquely styled kitchen does not help much if the sink is positioned miles away from the cooking area.
Here at Sebring, we take into consideration both the décor and function of a kitchen when renovating. We make sure that a kitchen is not only beautiful but also usable. This is what makes a complete kitchen.
For our widely acclaimed kitchen remodeling services for Plainfield, call or emails us today to arrange a free, no-obligation consultation with our kitchen remodeling experts.
BATHROOM REMODELING IN PLAINFIELD IL
CHICAGOLAND | WESTERN SUBURBS | DUPAGE COUNTY | KANE COUNTY | WILL COUNTY
PLAINFIELD BATHROOM REMODELING AND DESIGN
The bathroom is one of the most important spaces in the house. This is where you come to relax and wash away the stress and grime of the day. This is among your first stops when you come home and when you wake up in the morning. How it looks and feels can set your mood for hours to come. Instead of dull and boring, it needs to feel warm and relaxing.
If your Plainfield bathroom remodel turns out right, you will find yourself looking forward to your time spent there. It will not just be a place to clean the dirt and grime off your body, it also becomes a home spa where you can relax and enjoy some piece of mind. It can also be a place to get away from the chaos of the day.
If you are planning to sell, renovating the bathrooms is one of the best ways to add value. Prospective Plainfield homeowners care a lot about the appearance of the bathrooms and well-designed spaces will motivate them to buy.
BATHROOM REMODELING COSTS IN PLAINFIELD
Anticipated high costs may keep many homeowners from remodeling their bathroom.  Even if you are going for a luxury or spa style bathroom, don't totally abandon the thought, there are many ways you can keep costs down while still achieving a luxe look.
The most important thing is to work with a skilled and experienced contractor to help you plan your costs well. Sebring fits that bill. In the more than 15 years we have been around, we have helped plenty of Plainfield clients remodel their bathrooms on a budget.
So do not let cost worries keep you from getting the bathroom of your dreams. Contact us today to arrange a free consultation. We will discuss what you need, contribute some ideas and together, we can come up with a comprehensive remodeling plan that fits your budget.
Whether you are going for vintage style, a more modern look, a farmhouse feel or a spa look, we can do it.  Renovating your bathroom is beneficial, the advantages are plenty. Call us today for our excellent bathroom remodeling services in Plainfield.
PLANING YOUR HOME REMODEL IN PLAINFIELD
In the more than 15 years we have provided home remodeling services in Plainfield, we have realized that planning is one of the most important parts of a renovation project. The project's success depends largely on a well thought out plan.
Everything from the budget to the time table has to be taken into account when planning. You also have to consider that some unexpected issues might arise during the project. The bigger the project, the more extensive the plan is.
Here at Sebring, we have the experience, tools and skills to come up with a comprehensive plan that ensures a successful end to the renovation project. Our obsession in planning has given us a reputation of excellence and professionalism among our Plainfield, IL customers.
CONTACT US TODAY TO BEGIN YOUR PLAINFIELD HOME RENOVATION
Too often homeowners are afraid to take a big step and renovate their home. Some are afraid that it will cost too much, while others do not see the benefit in it. Working with Sebring eliminates most of the risk from the project thanks to our experience and skills. A home renovation will have different benefits to different homeowners, depending on what kind of renovation it is.
Contact us today to arrange a free no-obligation consultation. We will discuss your needs and decide the best way forward. Instead of fretting about the effort or cost of renovation, talk to the experts.  We look forward to hearing from you.
BASEMENT REMODELING IN PLAINFIELD IL
CHICAGOLAND | WESTERN SUBURBS | DUPAGE COUNTY | KANE COUNTY | WILL COUNTY
PLAINFIELD BASEMENT FINISHING & REMODELING
Do you need an extra bedroom for guests? Is your Plainfield home too chaotic to do any work from home? Are you in need of additional storage space?
If you have answered yes to any of these questions, we have a great solution for you–basement remodeling. Too often the basement is not considered as a living space. It is often neglected, resigned to holding old junk.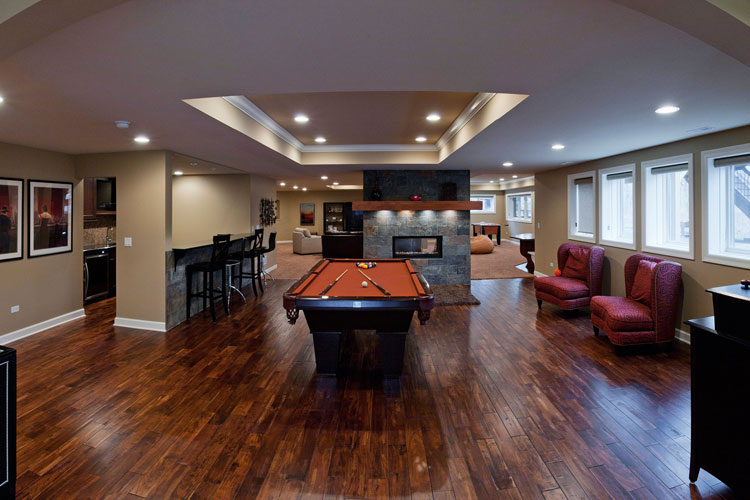 A neglected basement does not save you any money or stress. For one, it could harbor dangerous or destructive pests that could easily spread to the rest of the house. It could also be an entry point for moisture, causing the growth of mold, which is dangerous to your health. Any items stored in the basement could also be damaged by moisture or pests.
You are much better off renovating the basement into a warm livable space. In fact, you could add considerable value to your home while also enjoying the additional space. So instead of stowing the old freezer there or piling up old furniture in one corner, consider other beneficial uses for your Plainfield basement.
PLANNING YOUR BASEMENT REMODEL IN PLAINFIELD
There are so many possibilities for your basement. The first thing to consider is what would be of the greatest benefit to you. If you keep running out of sleeping space, either because of frequent guests or a growing family; then an extra bedroom in the basement is great idea. If you work from home and your home tends to get a bit chaotic and noisy, consider turning the basement into a cozy and quiet home office. If you are running out of storage space, consider creating additional designated organized storage areas in the basement.
If you are not in great need of practical space, find a fun use for the basement. For instance, it is the perfect location for a man/woman cave. You could also create a small bar and kitchenette or turn the space into a family and/or game room. If you love movies, consider having your own cinema room or home theater. If you are a music lover, a soundproof studio and/or stage area is also a great idea.
Whatever you decide to turn the basement into, the most important thing is to work with skilled and experienced Plainfield contractors like us. We have worked on numerous Plainfield basement remodels and we know the unique challenges that basement renovations bring.  Our basement remodeling services bring many years of knowledge and skill to the Plainfield area.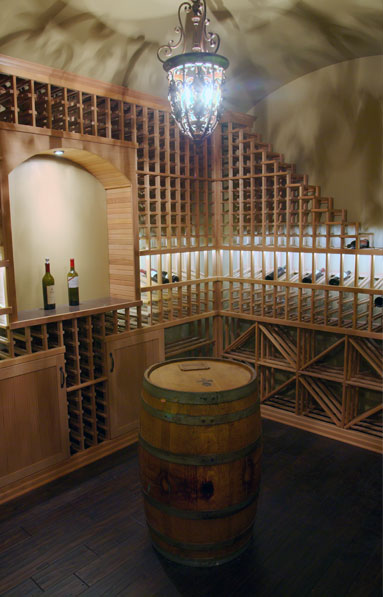 CALL US TODAY TO BEGIN YOUR PLAINFIELD BASEMENT RENOVATION
So much potential lies in one of the most neglected spaces in the house. Contact us today and see just how much value–financial and otherwise, you can get from your home. Call us to arrange a consultation with our experts and discuss the best steps forward.
HOME ADDITIONS IN PLAINFIELD, IL
CHICAGOLAND | WESTERN SUBURBS | DUPAGE COUNTY | KANE COUNTY | WILL COUNTY
ROOM ADDITION SERVICES IN PLAINFIELD
The craze for home additions is not going to stop – not any time soon at least. The need for more space, the fact that they are cozy and comfortable all year through, and can come at an affordable cost, are a few of many reasons the craze will keep soaring. Maybe you are already considering one for your home and wondering how to go about it. Here is a guide to help you build the best home additions in Plainfield. However new you are to the whole process of home additions, this article will hand you the basics that will ensure ultimately you have the space you are looking for.
PICK THE HOME ADDITION OPTION THAT MATCHES YOUR HOME DESIGN
There are several options to choose from when deciding on sunrooms; three seasons rooms, all seasons rooms, or screened in porches. It is your home design that determines the type of addition you settle on. Each  addition comes with pros and cons that you must contend with.
Three seasons rooms are fit for homeowners who need more space for the majority of the year. All seasons rooms are good all year round yet costly to build. Screened-in porches are rendered useless in extremely low temperatures, but generally the lowest-price addition. Furthermore, there is a variety of construction materials to make your room feel like a real home extension. There are also windows and roofing materials that will match your home's beauty and style.
INCLUDE FEATURES YOU LOVE
The features you include in a home addition will depend on its intended purpose. The reason for building a sunroom will dictate the materials used and design. Having the right features in an addition room helps you get the most out of it. It is also important that you consider your family's needs and wants when deciding on your new features.
ESTABLISH A BUDGET
There are numerous home addition options which can render you overwhelmed. You can easily end up with a sunroom where your family can enjoy drinks, meals, and conversations, but with no savings. That is not a recipe for peace of mind. Having a manageable budget helps you define the project. Consider using your already available resources if possible.  You can also consider financing options from reputable companies who offer easy repayment plans. We help you achieve your goals while staying within your means.
SCHEDULE YOUR CONSULTATION