HOME REMODELING IN PLAINFIELD, IL
CHICAGOLAND | WESTERN SUBURBS | DUPAGE COUNTY | KANE COUNTY | WILL COUNTY
PLAINFIELD HOME REMODELING & RENOVATIONS
There are a variety of reasons why you might want to consider home renovation, basement remodeling, kitchen remodeling, or bathroom remodeling in Plainfield:
You could be getting ready to sell your home. A well planned and executed home remodeling project can add significant value to your home's sale price. In such a situation, you have to be careful to keep renovations costs down; otherwise you could suffer a huge loss by spending too much on remodeling.
Your home could be showing signs of aging such as chipped paint, creaking staircases, worn out flooring and so on. A major renovation will make your house as good as new. An aging house is usually the most expensive to repair due to the fact that there are many things to take care of. Extensive planning is necessary in such a renovation to ensure that costs do not go too high and the best results are achieved.
You might be suffering from home-fatigue. When you get too comfortable with same tired décor, it is possible for some fatigue to set in. In this case, a fresh look is all that is needed.
You have just purchased a new home. If the décor in the new home is not in line with your preferences, a remodeling project will create a complete feeling of making it yours. Depending on what kind of design you are going for, renovation can range from a new coat of paint to something as extensive as room additions.
PLAINFIELD HOME REMODELING PROJECTS
Patrick & Katherine's Kitchen Remodel Before & After Pictures
Bryan Sebring
2021-01-20T13:30:06-06:00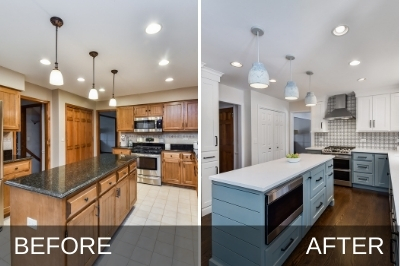 WHAT OUR CLIENTS IN PLAINFIELD SAY ABOUT SEBRING
" As soon as I had a meeting with Bryan Sebring and he drew up an initial proposal, I knew I was done shopping for contractors. When you meet someone that you know you can trust implicitly to assist you with major decisions and send you to good suppliers, and whose staff you can trust in your house for 8 weeks without any homeowner supervision, your decision transcends price… "
" I would highly recommend Sebring Services! All those that were involved in my home remodel were both professional AND nice. Bryan provided all services that were expected and on some occasions went beyond with what was necessary just to make us happy. Thanks Sebring Services! "