HOME REMODELING IN OAK BROOK, IL
CHICAGOLAND | WESTERN SUBURBS | DUPAGE COUNTY | KANE COUNTY | WILL COUNTY
OAK BROOK HOME REMODELING & RENOVATIONS
Perfect homes do not just exist in magazines and at the end of home renovation TV shows; they also exist in real life and could happen to your home. For homeowners in Oak Brook, getting that perfect home you have been dreaming of is just a renovation away. Whether you want to renovate a single room, several rooms or carry out a whole house remodel, Sebring is here to help.
WHY HIRE SEBRING TO REMODEL YOUR HOME IN OAK BROOK
Our experience in home renovation consists of unparalleled skill and knowledge. We know what it takes to turn dated homes into places of immense beauty and warmth.  Our passion lies in witnessing our clients' happiness when they see their dreams become reality.
In a home renovation, planning is extremely important. You need to know exactly what changes you want to make, what materials you will need, how long it will take and how much it will cost. When you use our home remodeling services in Oak Brook, we will work with you to create a comprehensive plan that covers every aspect of the project.
In planning a home renovation, it is best to go from room to room, detailing out what needs to be done in each space. At the same time, remember that all the rooms need to work together to create the perfect home. Here are a few things to consider for different areas of your home.
OAK BROOK LIVING ROOM REMODELING
The living room is all about warmth and friendliness. Being the first place everyone sees when they enter the house, you need a design that shouts "Welcome". Go for warm relaxing colors, infused with your preferred style:  traditional, cottage or contemporary.
Being a high traffic area, consider getting resilient flooring such as hardwood or tile that can withstand constant foot traffic. It will reduce the rate of wear and tear while also lowering the cost of maintenance.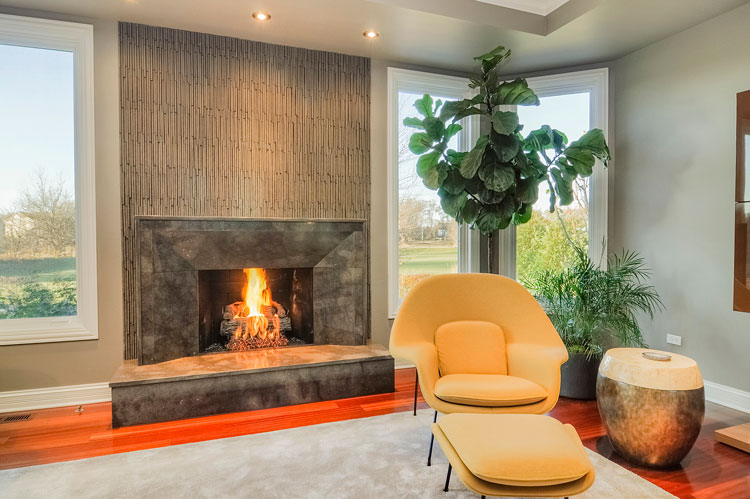 OAK BROOK KITCHEN REMODELING
The kitchen is a very important part of the house, often serving as a center of the home where the family comes together for meals and conversation. Like the living room, a warm decor works best although cooler colors such as blue and gray are starting to trend and work well too.
A kitchen renovation tends to be more challenging due to the many elements that need to be considered.  You have to think about: flooring, walls, backsplash, appliances, cabinets, countertops and so on. In many cases, it can be pricier than other types of renovations.
OAK BROOK BATHROOM REMODELING
Renovating the bathroom is all about creating a relaxing environment, somewhere that you can relax and soak away the stress of the day. Consider using a mix of colors, textures and materials to create a unique design that is just as relaxing as it is unique.
CONTACT US
A home renovation can also extend into other areas of the home such as: bedrooms, hallways and the attic. Whatever you have in mind, give us a call today and we will arrange a free no-obligation consultation to discuss your needs and available options.
BUDGETING YOUR RENOVATION IN OAK BROOK, IL
OAK BROOK HOME REMODELING PROJECTS
Kevin & Julia's Basement Remodel Pictures
Bryan Sebring
2019-07-08T09:06:18-05:00
SCHEDULE YOUR CONSULTATION
WHAT OUR CLIENTS IN OAK BROOK SAY ABOUT SEBRING
" As soon as I had a meeting with Bryan Sebring and he drew up an initial proposal, I knew I was done shopping for contractors. When you meet someone that you know you can trust implicitly to assist you with major decisions and send you to good suppliers, and whose staff you can trust in your house for 8 weeks without any homeowner supervision, your decision transcends price… "
" I would highly recommend Sebring Services! All those that were involved in my home remodel were both professional AND nice. Bryan provided all services that were expected and on some occasions went beyond with what was necessary just to make us happy. Thanks Sebring Services! "
" My experience with Sebring Services felt right from the start – I felt comfortable and at ease from the first meeting and throughout the entire project. The entire team was extremely friendly and professional and always helpful! They were prompt in answering questions and returning calls and very accommodating. They were clean and courteous and respectful, which I truly appreciated. I would definitely recommend using Sebring Services!! "
" We used Sebring Services to remodel our bathroom. They were very professional and the end result is just beautiful! Everyone was prompt, courteous and very skilled. The price was very fair. Justin, in particular, went out of his way to make sure everything was perfect! I highly recommend Sebring Services! "
FREE REMODELING 101 E-BOOK