Westmont Kitchen, Bathroom and Basement Remodeling
Chicago Suburbs | Dupage County
At some time, even the most well-maintained residence will start to feel worn out. Everything from the paint color to the wood flooring, lighting, and arrangement of furniture is identical. Is it time for a change that is desperately needed?
Renovating a home in Westmont from top to bottom may be a huge undertaking and a significant financial investment, but the result is well worth it. You not only increase the worth of your property but also breathe new life into it. It won't be your typical house anymore! When investing so much time and money into a home remodel, choosing the best specialists to do the task is crucial. Here at Sebring, we are committed to providing our services to every one of our customers with the highest levels of expertise, courtesy, and enthusiasm. We are well-versed in what it takes to complete a home renovation project and eager to put in the extra effort necessary to give your house a brand-new look.
The building, real estate, decorating, and contracting sectors all use the phrases "renovation" and "remodeling" often. While they have certain similarities, there is also a wide gap between them. The term "renovate" refers to bringing something back to its original state by applying changes and enhancements such as repainting, resurfacing, or fixing. However, to "remodel" anything is to change its current form as it is essentially "new."
To renovate, in its broadest sense, is to restore something to its original state. This phrase might mean just about anything when referring to home improvements or building projects in general. There will be maintenance, the addition of new fixtures and finishes, and the refacing of cabinets.
No matter the scope of the renovation, the structure is always faithful to its original blueprint. Despite the name change, a kitchen is still a kitchen, and an office is still an office. It can be readily replaced, repaired, or rearranged to fit a new design scheme. Changing standards frequently need renovations to bring buildings up to date.
In contrast to rehabilitation, which focuses on fixing the house, remodeling is all about making radical alterations to the building's construction, design, or intended use. Such a renovation would dramatically change the existing layout of the room, kitchen, or other space being updated. When an area is renovated, it undergoes a complete transformation regarding its look, feels, and function.
Westmont Home Remodeling Project Photos
Naperville IL Master Bath Remodel Project Photos
Bryan Sebring
2023-09-25T13:34:25-05:00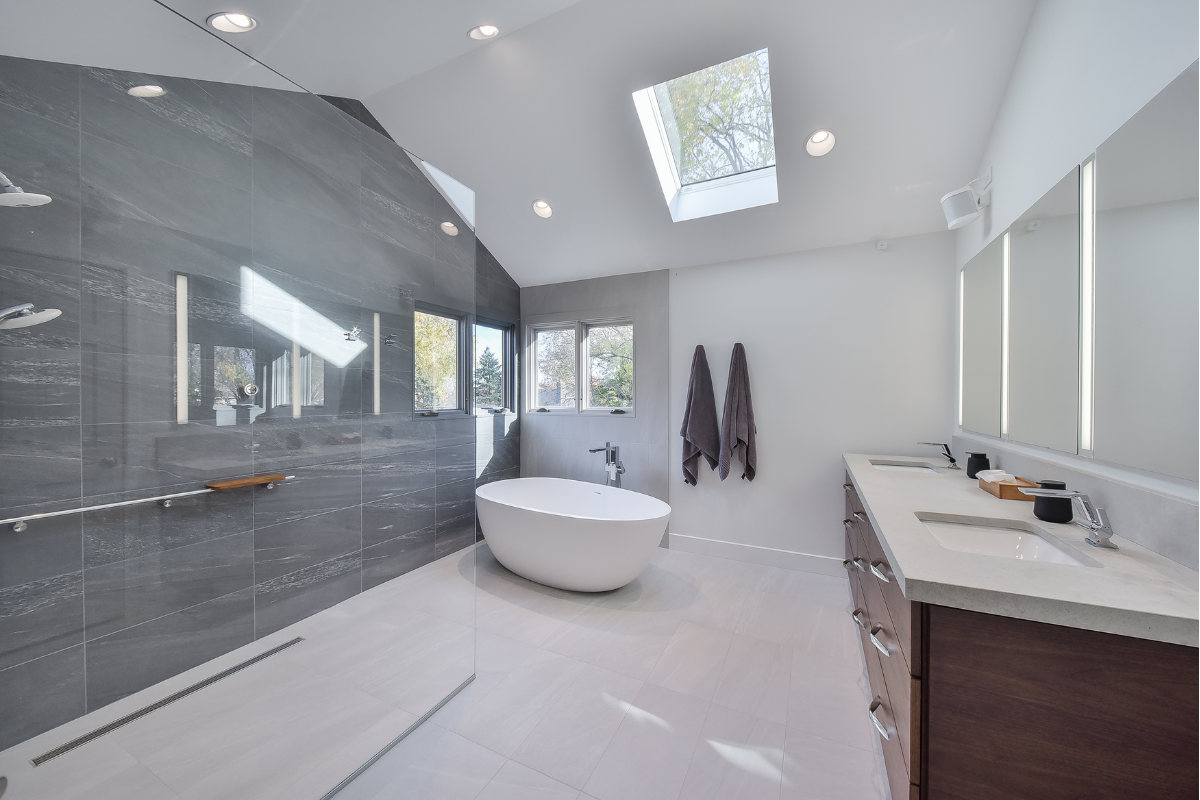 Westmont Remodeling Testimonials
" As soon as I had a meeting with Bryan Sebring and he drew up an initial proposal, I knew I was done shopping for contractors. When you meet someone that you know you can trust implicitly to assist you with major decisions and send you to good suppliers, and whose staff you can trust in your house for 8 weeks without any homeowner supervision, your decision transcends price… "
" I would highly recommend Sebring! All those that were involved in my home remodel were both professional AND nice. Bryan provided all services that were expected and on some occasions went beyond with what was necessary just to make us happy. Thanks Sebring! "
" My experience with Sebring felt right from the start – I felt comfortable and at ease from the first meeting and throughout the entire project. The entire team was extremely friendly and professional and always helpful! They were prompt in answering questions and returning calls and very accommodating. They were clean and courteous and respectful, which I truly appreciated. I would definitely recommend using Sebring!! "
" We used Sebring to remodel our bathroom. They were very professional and the end result is just beautiful! Everyone was prompt, courteous and very skilled. The price was very fair. Justin, in particular, went out of his way to make sure everything was perfect! I highly recommend Sebring! "
Westmont Kitchen Remodeling and Design
When you get home from a hard day, there's nothing better than to walk into a warm, inviting kitchen. The soothing effect of modern cabinetry and soothing paint hues is almost magical. A lovely kitchen is a great location to spend time with loved ones and prepare delicious meals on weekends.
Your kitchen needs professional renovation services if it doesn't look like this. Having a kitchen that is both functional and beautiful may do wonders for one's mood and sense of calm. Because of its central location, it serves as the hub around which the rest of the house revolves, providing sustenance and hosting happy family and friends meals. You may take steps to improve the mood of your kitchen if you feel it lacks brightness and joy. An expertly remodeled and installed kitchen can do wonders for any home.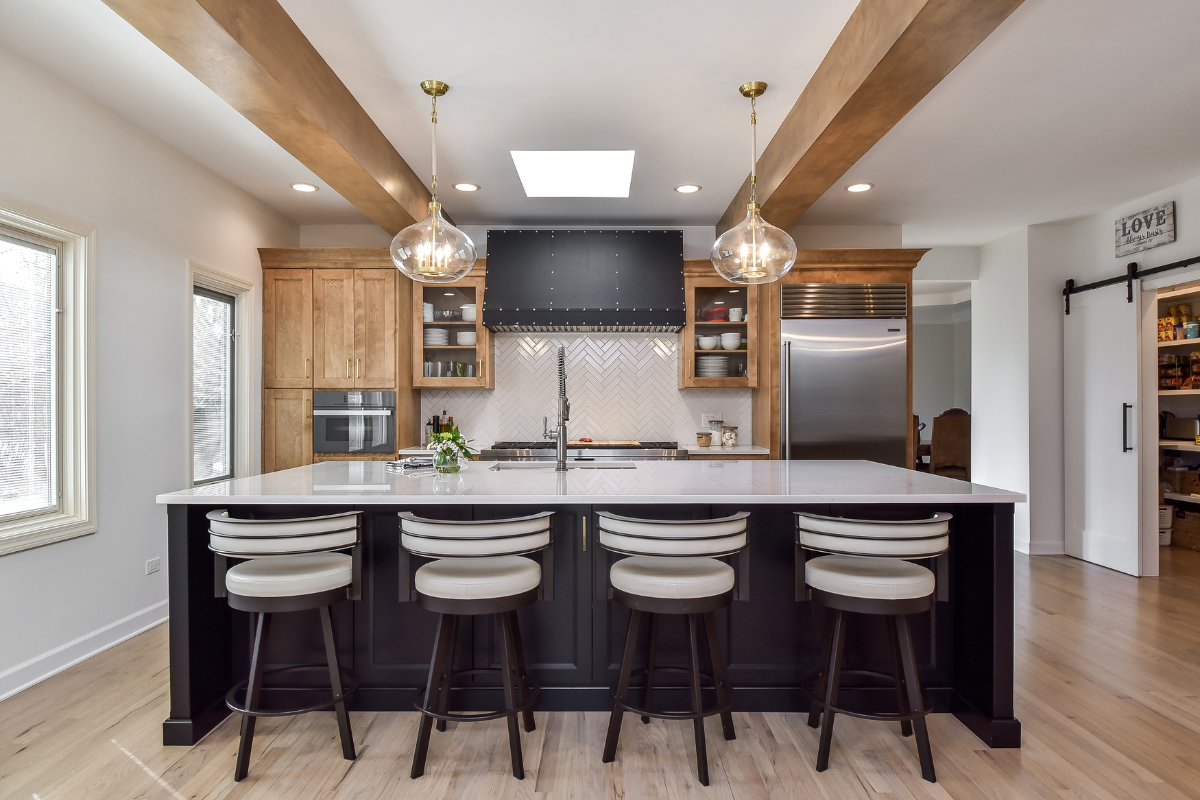 Why You Should Choose Sebring for Kitchen Remodeling in Westmont Illinois
Sebring Design Build has had the good fortune to witness personally the satisfaction our clients feel when seeing their finished kitchens. Where there was once gloom and confinement, now there is light, beauty, and joy. We're happy to offer the same to our clients in Westmont.
Both creativity and muscle are needed for a successful kitchen makeover in Westmont, Illinois. Putting together a stunning kitchen design from components like sinks and kitchen floor plans demands understanding how colors and materials complement one another and how to utilize each best. In other words, this is a form of art. Competence and expertise on a very high level are essential. Our company, Sebring Design Build, has lots of both. Whether you live in Westmont or another nearby community, our designer is here to help you realize your dream kitchen. If you're looking for ideas, browse our completed projects collection.
We conduct a thorough conversation with the customer to learn their precise needs. Even the brainstorming of original concepts is something we can assist with. The outcome is a plan for the renovation that accounts for both time and money.
The planning stage is when all the magic happens, so we give it our full attention. Together with the customer, we select the optimal palette and set of building supplies. We want to design a functional, attractive, and low-maintenance kitchen for our customers.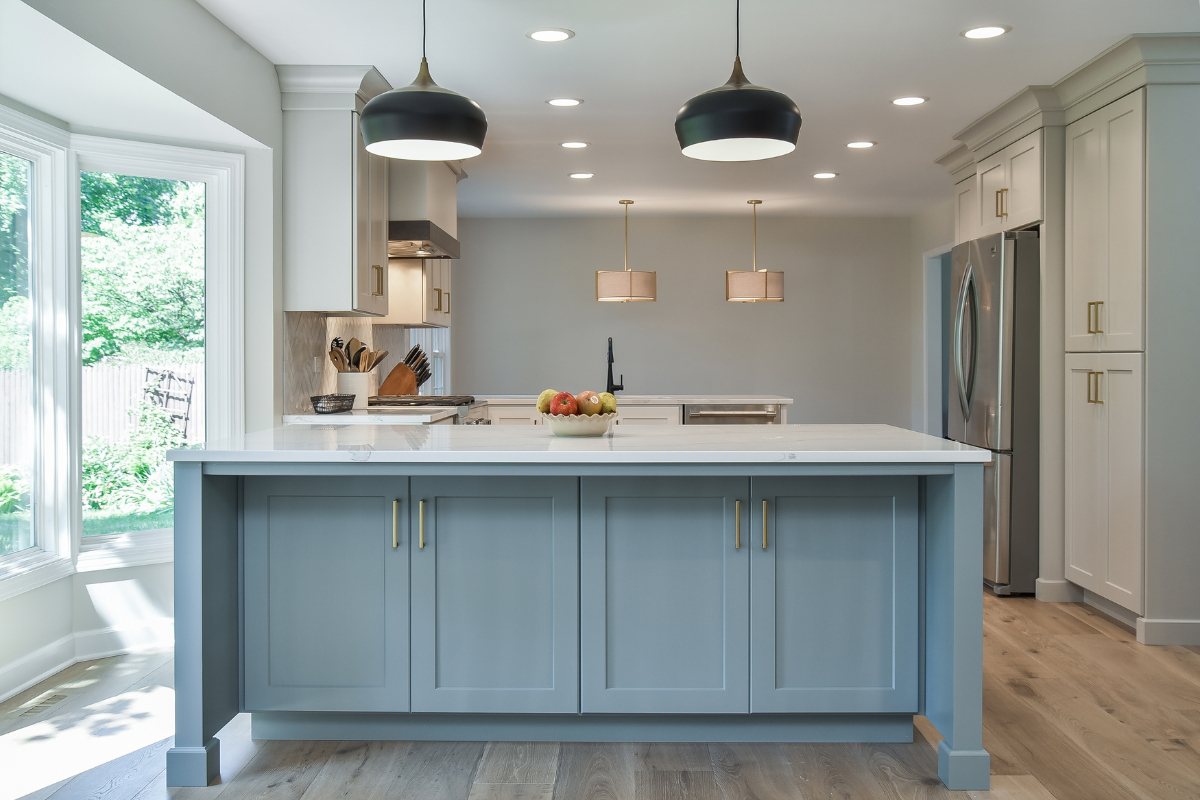 Quality Westmont Kitchen Remodeling
When contemplating a kitchen redesign, there are several factors to think about. The walls aren't the only thing to think about; the flooring, the cabinets, the quantity of natural light, the positioning of utilities, fire safety, and so on are all as important.
It takes a lot of skill to incorporate these aspects into a single, cohesive renovation strategy. Sebring Design Build has been in business for almost 15 years, during which time we have completed hundreds of kitchen renovations in the Westmont area. We've been there, done that, and solved every conceivable obstacle along the way to a successful conclusion of every project.
Only the highest quality results are guaranteed when you choose our kitchen renovation team in Westmont, Illinois. When we take on a project, we give everything we've got to make it a spectacular remodeling.
Feel free to contact us by phone or email to arrange a no-cost, no-commitment consultation at your convenience in Westmont. Let's work together to create the kitchen of your dreams.
Westmont Bathroom Remodeling and Design Services
What would your ideal bathroom look like? Perhaps there is a huge bathtub with views of a tranquil flower garden, or there are marble floors and shiplap walls in a country design.
Make your fantasy bathroom a reality in your very own home. Professionalism, honesty, and high-quality service are the cornerstones of our bathroom renovation in Westmont. At Sebring, we strive to provide nothing but the best for our customers.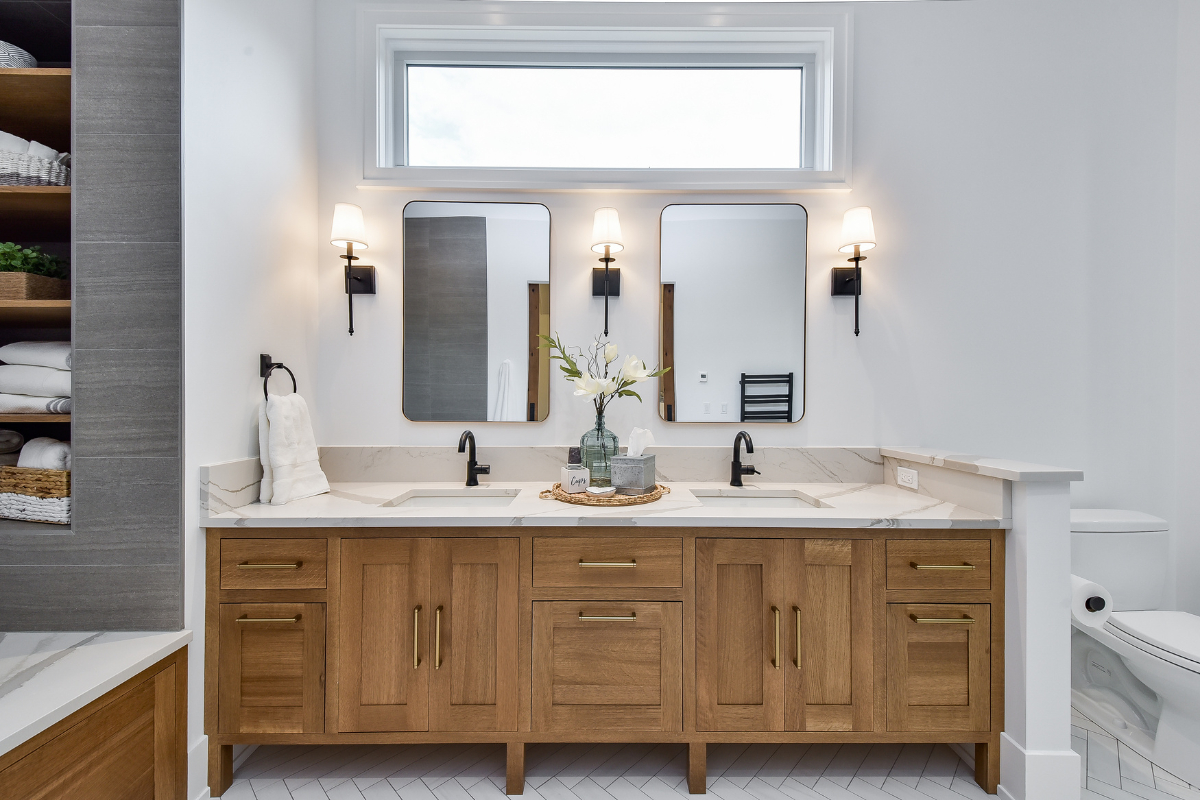 Do you need to update your bathroom? Do you find the design awkward and unsettling? Maybe you should consider updating your bathroom if this is the case. Bathroom upgrades and remodels may significantly influence the value of your home, whether you're just moving in or hoping to sell it in the near future. An increase in the asking price of your home might be the consequence of renovating the master bathroom, guest bathroom, or powder room. However, before you go out and hire a professional, you should familiarize yourself with the basics of a bathroom remodel.
If you're planning on remodeling your bathroom, there are four things you need to know beforehand:
Prepare a practical spending plan for the bathroom renovation.
Having a firm grasp of the bathroom remodel's timeline and scope is important.
Find a reliable interior design firm to handle your bathroom renovation.
Create a wish list and to-do list for the bathroom renovation!
Do You Need Help Designing Your Kitchen?
In this day and age, there is a wide variety of bathroom designs available. We'll work with you to develop a one-of-a-kind aesthetic for your bathroom that serves both your personal tastes and practical requirements. To satisfy your craving for the nostalgic and endearing, go no further than vintage. A modern layout might work for you if you're drawn to its light, airy aesthetic and muted color palette. If you're the kind to drool over bathrooms in glossy magazines, we can provide you with the same kind of spa-like, natural stone-floored abode.
At Sebring, we like to consider how one dresses as a reflection of who they are and what they value. Given that people's preferences and character traits vary, we are prepared to take on any one-of-a-kind creative endeavor. So, go ahead and create the ideal bathroom of your dreams. Together, we can do anything.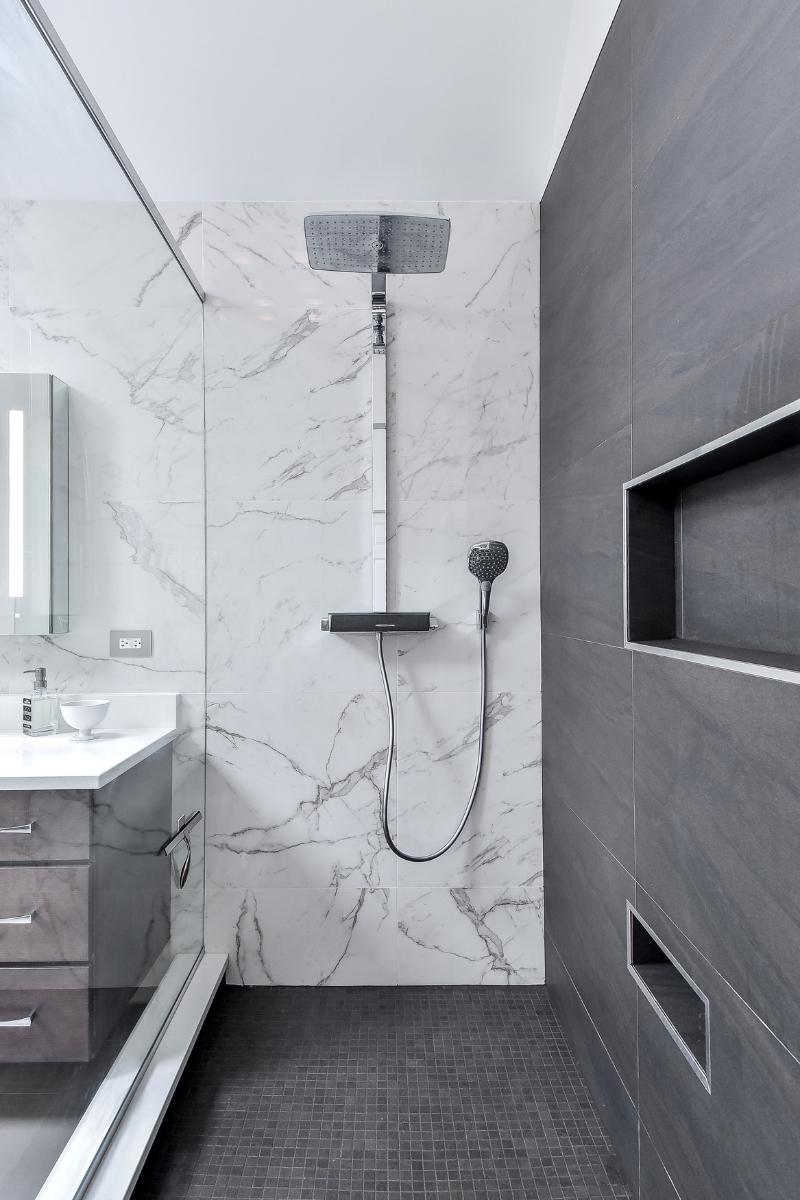 WHY HIRE SEBRING TO REMODEL YOUR BATHROOM
We have been in business for over a decade at Sebring, and our remodelers have decades of expertise between them. We spare no effort and travel the extra ten thousand kilometers to ensure that our Westmont clients receive the absolute finest service possible.
We begin by developing a comprehensive strategy to direct the renovation. With our wealth of knowledge, we have developed solid plans that account for every detail of the project, including those that may come unexpectedly.
Next, we start to work on making your Westmont property into the exact thing you've been envisioning. We make no sacrifices in terms of quality control, financial restraint, or adherence to the schedule. Our top goals in the workplace are honesty—even when things aren't going as planned—clear and frequent contact with our clients, and a dedicated approach to our job.
We've spent years perfecting our reputation as the go-to source for excellence in the industry. We have left a trail of completely content and happy house owners in our wake. If you want to start planning your ideal bathroom, call us to set up a free consultation.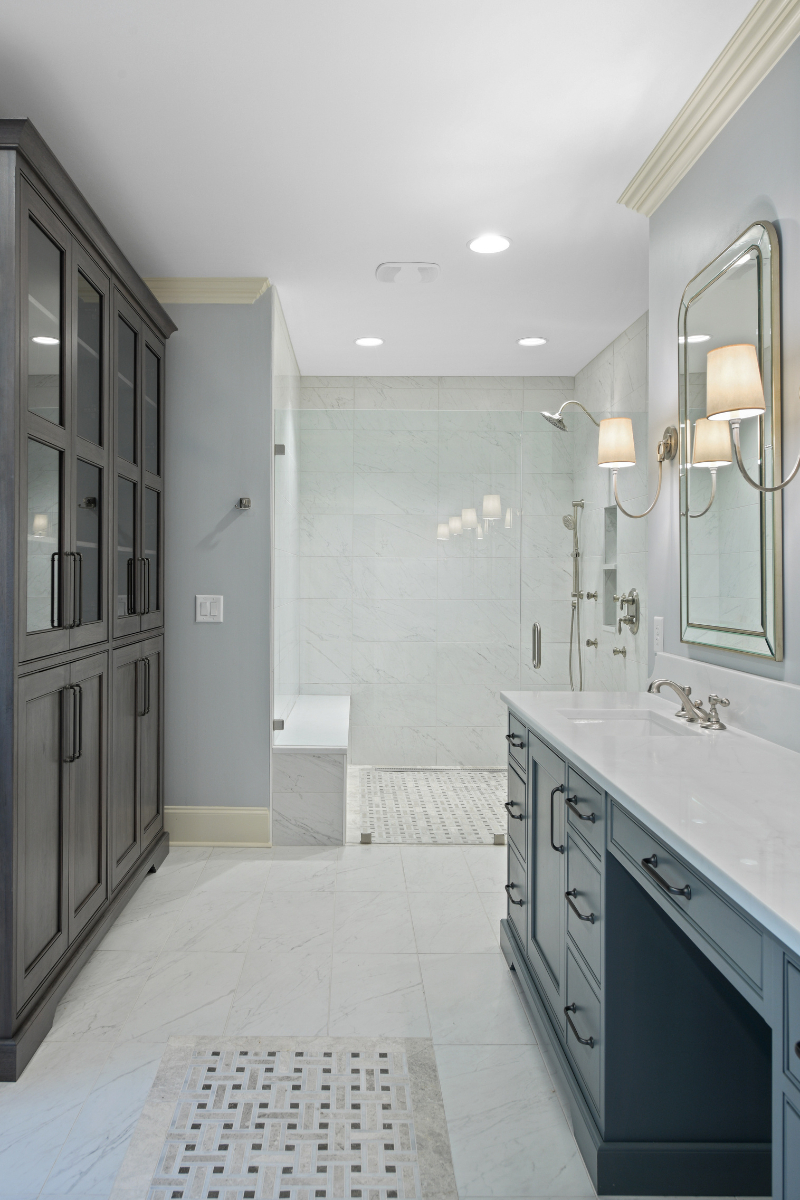 Westmont Basement Finishing and Basement Remodeling
Many people don't give much thought to the basement until something goes wrong down there. Many homeowners take advantage of this area to keep useless items out of sight. The basement is a valuable space that, if developed properly, may increase the resale value of a property.
The basement, sometimes forgotten, may be transformed into a lovely and pleasant living place with a substantial Westmont basement renovation project. For homeowners in the Westmont area, we provide high-quality basement renovation services that refresh the space while increasing the home's resale value and comfort level.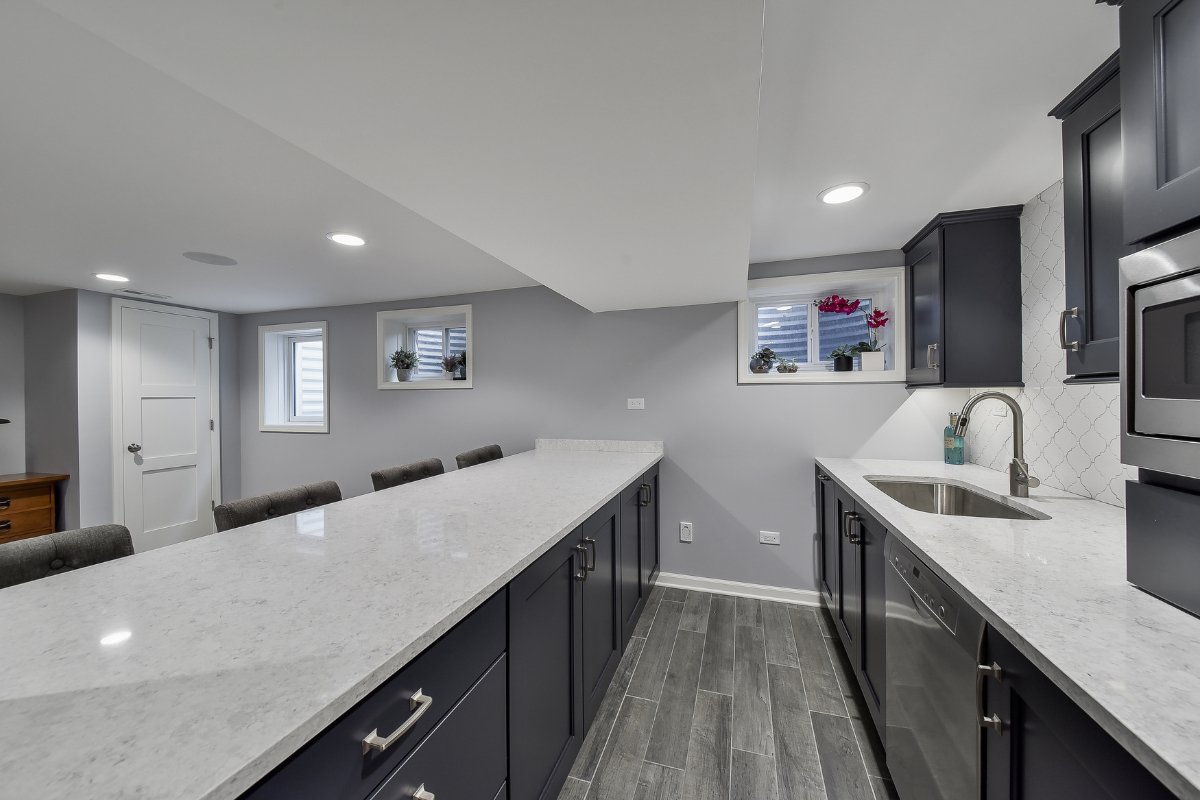 Basement Remodeling in Westmont is a challenging project. It's not the kind of thing you can decide to do on your own. It's labor intensive, and it's not cheap. Do you really want to play Russian roulette with your money instead of hiring a pro? Homeowners in Westmont should hire professionals to renovate their homes since doing so increases the likelihood that the work will be done correctly, on schedule, and to the finest quality possible.
Let us know what you have in mind for the basement since we have the expertise to make it happen. We are the ideal team for the task since we have remodeled basements for over 15 years and completed hundreds of projects.
Why Hire Sebring to Remodel Your Basement in Westmont
As a result of our experience, we have perfected the entire process, from the initial design to the finished product, which has allowed us to turn ugly basements into stunning living areas. Remodeling may be stressful, but we take the stress out of it by developing unique plans for each job. Our goal is to provide the highest quality service to our Westmont clients while being within their set budget and on schedule. In all that we do, we strive for excellence.
To properly update a basement, it takes more than simply new paint and flooring. Considering the welfare of the clients is a top priority; this may involve addressing moisture problems that, if left unchecked, might cause significant structural damage. The temperature and humidity levels in the room must be just right (heating, cooling, and humidity). Profound expertise and matchless talent are required to successfully manage a project that includes all these key aspects. Sebring offers them all since our professionals have spent years giving our consumers their ideal basements.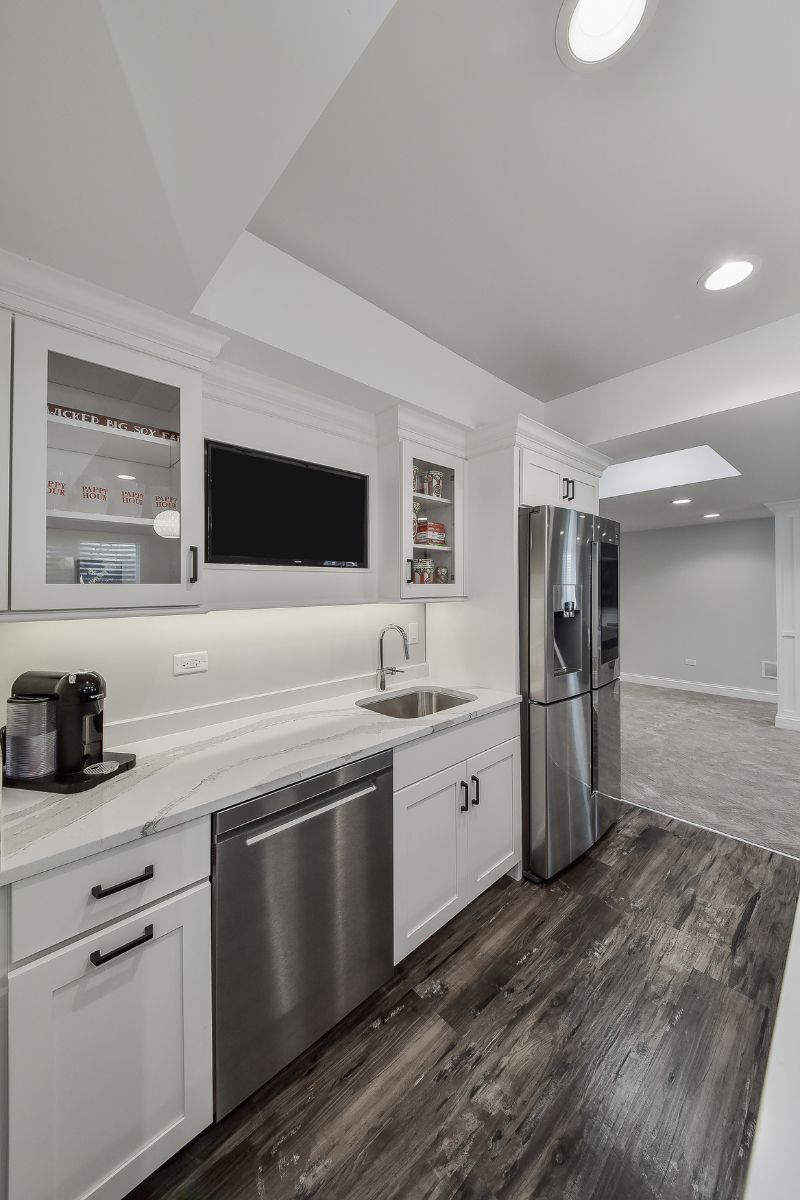 If you need help deciding what to do with your basement, we can handle that, too. Infinite variety exists. What you decide to undertake should be driven mostly by your most urgent requirements. Adding a bedroom to the basement is a great idea if you need more sleeping space but are already at capacity. A library or man/woman cave might provide peace and quiet if household activities tend to become noisy. We and our clients collaborate on the optimal utilization of the basement. This entails weighing the benefits and drawbacks of each option, and the associated costs and complexity (e.g., the price of converting it into a bedroom vs. a bar).
We are the ones to contact if you think your Westmont basement may use some updating. Get in touch with us right now if you need to.
QUALITY HOME REMODELING & DESIGN IN WESTMONT
Renovating a home in Westmont is not a hobby. The success of every project depends on a detailed strategy that accounts for every possible contingency. You should also think about your financial situation, figuring out how much it will cost to build your ideal house. Timing is also a major factor to think about. A rigid yet adaptable schedule is essential for a successful renovation. This is crucial for reducing expenses and getting the property ready for occupancy as soon as possible.
It's possible that all this seems complicated, but we're here to make it appear simple. We've been around for more than a decade, so you can assure that you're getting the most knowledgeable and competent assistance in Westmont. We have seen it all throughout the many years we have been assisting customers with home renovations. All of our projects have been huge successes because we have tackled challenging challenges, found novel approaches, and worked tirelessly. However, our favorite part of the process is witnessing the joy and relief on our customer's faces when we present them with the final product.
What drives us to do our best is the satisfaction of seeing a customer achieve a major goal. Our Westmont home renovation services are targeted toward making our clients' ideal home environments a reality.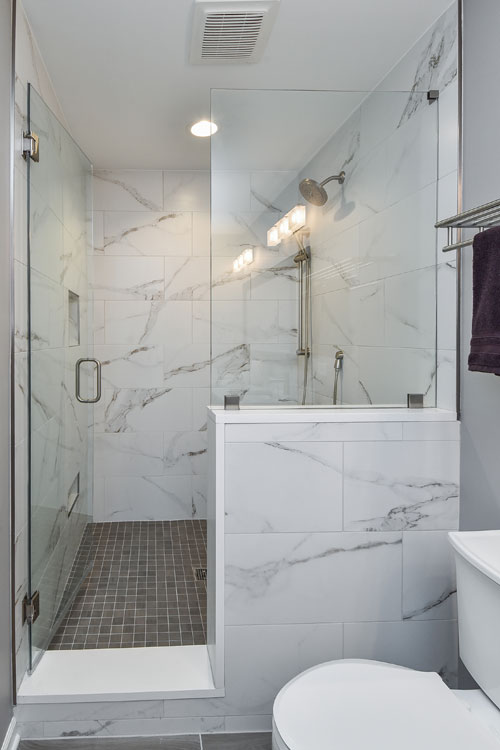 WHY HIRE US TO DESIGN AND REMODEL YOUR WESTMONT HOME
Remodeling a Westmont, Illinois home requires much preparation, knowledge, and practice. The work we conduct at Sebring Design Build is more of a duty to our customers. We can offer the best renovation services in Westmont because we don't skimp on quality.
We can work together to realize your home improvement plans, whether they include adding on to the existing structure or starting from scratch. The first thing we'll do is set up a consultation with you at no cost and with no strings attached. Get in touch with us ASAP to schedule a meeting. We then use this information to develop a detailed strategy for completing the project. So, let's get to it. It will be exciting to see people's hopes and wishes realized.